Research article

Open Access

Open Peer Review
This article has Open Peer Review reports available.
Metabolic profiling detects early effects of environmental and lifestyle exposure to cadmium in a human population
Received: 22 November 2011
Accepted: 19 June 2012
Published: 19 June 2012
Abstract
Background
The 'exposome' represents the accumulation of all environmental exposures across a lifetime. Top-down strategies are required to assess something this comprehensive, and could transform our understanding of how environmental factors affect human health. Metabolic profiling (metabonomics/metabolomics) defines an individual's metabolic phenotype, which is influenced by genotype, diet, lifestyle, health and xenobiotic exposure, and could also reveal intermediate biomarkers for disease risk that reflect adaptive response to exposure. We investigated changes in metabolism in volunteers living near a point source of environmental pollution: a closed zinc smelter with associated elevated levels of environmental cadmium.
Methods
High-resolution 1H NMR spectroscopy (metabonomics) was used to acquire urinary metabolic profiles from 178 human volunteers. The spectral data were subjected to multivariate and univariate analysis to identify metabolites that were correlated with lifestyle or biological factors. Urinary levels of 8-oxo-deoxyguanosine were also measured, using mass spectrometry, as a marker of systemic oxidative stress.
Results
Six urinary metabolites, either associated with mitochondrial metabolism (citrate, 3-hydroxyisovalerate, 4-deoxy-erythronic acid) or one-carbon metabolism (dimethylglycine, creatinine, creatine), were associated with cadmium exposure. In particular, citrate levels retained a significant correlation to urinary cadmium and smoking status after controlling for age and sex. Oxidative stress (as determined by urinary 8-oxo-deoxyguanosine levels) was elevated in individuals with high cadmium exposure, supporting the hypothesis that heavy metal accumulation was causing mitochondrial dysfunction.
Conclusions
This study shows evidence that an NMR-based metabolic profiling study in an uncontrolled human population is capable of identifying intermediate biomarkers of response to toxicants at true environmental concentrations, paving the way for exposome research.
Keywords
metabonomics
cadmium
environmental health
exposome
metabolomics
molecular epidemiology
Background
From the point of conception and throughout life, humans experience a broad range of physical, chemical and biological exposures. The health effects of such exposures will depend not only on dose but also on their interaction with each other and with the characteristics of the individual, such as age, sex and genotype. Hence, it is a persistent and significant challenge to understand how specific environmental factors produce effects on human health. Biomarkers already play an important role in characterizing both dose and effect; however, their full potential remains to be explored. Molecular profiling technologies ('-omics') have been suggested to be an important route to the discovery of novel biomarkers to improve exposure assessment in man [1]. Such techniques can also report on the biological consequences of exposure by identifying intermediate biomarkers that both correlate with exposure and predict health endpoints, termed a 'meet-in-the-middle' approach [2, 3]. Such markers would help to define the mechanism of toxicity and the etiology of disease in the human population and ultimately could inform follow-up surveillance for communities impacted by environmental pollution. It has been proposed that by combining a wide range of molecular profile data, including parallel assays of molecular adducts, metals and other exogenous species, we have the potential to define the molecular imprint of the totality of environmental exposures in an individual's lifetime, the 'exposome'[4, 5].
Metabolic profiling allows the study of an individual's metabolic phenotype [6, 7] and represents a systematic and efficient route to intermediate biomarkers. It can detect and classify the consequences of toxicant exposure in vivo [8, 9] and the approach readily translates to molecular epidemiology [10]. Here we use an NMR-based metabolic profiling approach to investigate changes in human systemic metabolism from a sample of the population living near a point source of environmental pollution. The site (Avonmouth, UK) was home to one of the world's largest smelters and large amounts of cadmium (Cd) and other potentially toxic elements were released into the local environment until its closure in early 2003 resulting in the presence of elevated concentrations of metals in air, soil and house dust in the area [11].
Cd is a toxic heavy metal of occupational and environmental concern due to its widespread contamination of sites worldwide [12, 13] and long biological half-life (10 to 30 years) [14]. Cd exposure is associated with a host of adverse effects [15], including osteoporosis, pulmonary dysfunction, hypertension and nephropathy. The kidney accumulates Cd and is the critical organ, particularly at environmental levels of exposure, with tubular proteinuria being an early effect of Cd exposure [16]. This proteinuria is usually detected as an increased excretion of low-molecular weight urinary proteins, such as N-acetyl-β-D-glucosaminidase (NAG). There is some evidence to suggest that, following high and/or prolonged exposure, these pre-clinical changes may progress to renal impairment with a decreased glomerular filtration rate [17–19], and eventually to renal failure [20].
A further concern is cancer risk; Cd is a multi-site carcinogen in both rodents [21] and humans [22] and as such has been classified as a human carcinogen by the International Agency for Research on Cancer [23] and the National Toxicology Program [24]. The mechanism of Cd carcinogenesis is thought to be multi-factorial but is as yet poorly understood. Cd has been shown to possess estrogenic activity [25–27], inhibit mismatch repair [28], alter DNA methylation [29, 30] and increase reactive oxygen species (ROS) production [31].
The diet is the major source of Cd exposure in the general non-smoking population with around 5% to 10% [32] absorption from the gastrointestinal tract. However, among smokers tobacco is also a significant source of exposure owing to the high rate of absorption from the lungs (10 to 50%) [32]. The low excretion rate of Cd and the resulting long biological half life means that Cd body burden increases slowly with age and appears to accumulate at a higher rate in women compared to men. Urinary-Cd (U-Cd) concentration is mainly influenced by the total body burden and is, hence, a marker for long term exposure, but can also increase as kidney damage occurs [14].
It has been well documented that
1
H NMR-based metabolic profiling (metabonomics/metabolomics) can detect Cd-induced perturbations of metabolism in animal models [
33
–
35
] with renal damage and biochemical changes at concentrations that were considered relatively safe in humans by the World Health Organisation [
36
]. However, there have not been any comparable investigations in human populations. In the present study, we aim to establish that NMR-based metabolic profiling could be used in molecular epidemiology to define the metabolic signatures of exposure to toxicants in the human population and link these to mechanisms of toxicity. We correlated urinary metabolic profiles of individuals living near the Avonmouth site with environmental toxicants (U-Cd) and corrected for confounding lifestyle and biological factors, such as age, sex and smoking status (Figure
1
).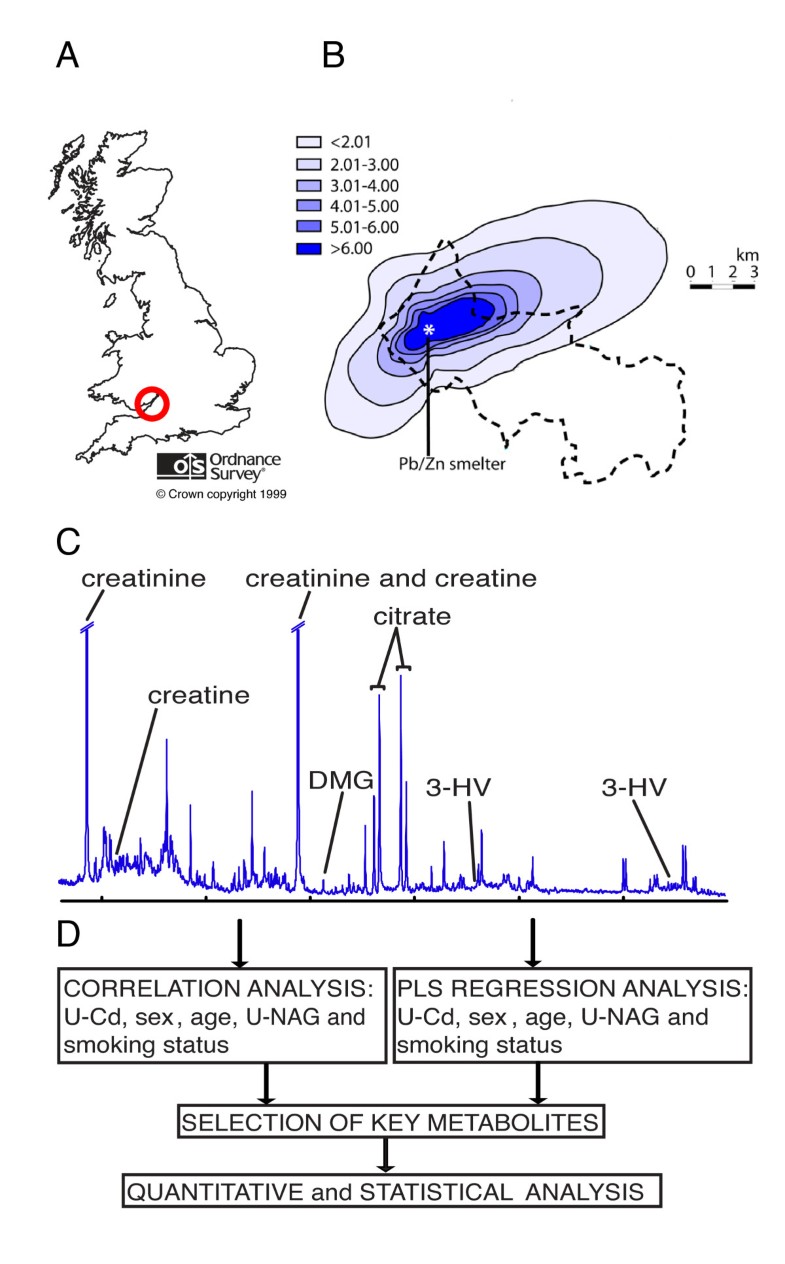 Discussion
Mechanistic evidence of chemical toxicity is vital to allow accurate risk assessment; in this context, multiple intermediate biomarkers may serve as combinatorial signatures of early molecular events of toxicity. Metabolic phenotypes can be used as an information-rich endpoint in molecular epidemiology and can define the interactions of lifestyle, environment and genes that determine diseases [10]. We have shown here that metabolic profiling can be successfully applied to a human toxicological/molecular epidemiological study, specifically in a population exposed to Cd pollution derived through environmental exposure, to define associations between the metabolome, lifestyle and exposure data, and other molecular biomarkers of tissue damage.
U-Cd concentration in the majority of individuals living at the Avonmouth site was within typical estimated levels of a normal population (0.1 to 0.6 nmol/mmol creatinine [16]), and only 25% of individuals had U-Cd levels above 0.5 nmol/mmol creatinine [37] which is the lower limit of potential risk of renal damage suggested by the Scientific Committee on Toxicity, Ecotoxicity and the Environment [48] (CSTEE). The joint FAO/WHO expert committee on food additives (JECFA) concluded that an excess prevalence of tubular renal dysfunction would not be expected below a U-Cd level of 2.5 nmol/mmol creatinine [49], considerably higher than the range of U-Cd concentrations at which we observed metabolic changes. An NMR-based metabolic profiling approach could complement exposure assessment as it details actual biochemical disturbance and could aid the determination of the mechanism of action of a chemical toxicant and the etiology of associated disease.
We identified a previously unreported association of urinary citrate to both Cd exposure and smoking. Surprisingly, citrate was positively correlated with U-Cd and negatively with smoking status, despite smoking being an important source of cadmium exposure. The increase in urinary citrate levels associated with U-Cd may result from Cd-induced tubule toxicity that affects citrate handling in the kidney [50], although we did not observe a direct association between citrate levels and tubular dysfunction (as represented by U-NAG levels). Smoking may reduce urinary citrate levels due to reduced capacity for oxidative metabolism in mitochondria. Chronic smoking is associated with a decrease of complex IV and III activity in the lymphocyte mitochondrial electron transfer chain, which returns to normal after cessation of smoking [51, 52]. There was also a positive association between U-Cd and U-8-oxodG, which is indicative of increased systemic oxidative stress and may also result from mitochondrial dysfunction. Past smokers also had intermediate urinary citrate levels relative to current smokers and those who had never smoked. This observation suggests that it may be possible to monitor biological effects of exposure in individuals who are no longer exposed to the causative agent, whether they be irreversible or slow to return to a 'normal' metabolic phenotype.
Using a non-targeted approach 3-HV was found to be negatively correlated to U-Cd, age and sex, and DMG negatively correlated to U-Cd and sex. However, after allowing for confounding factors it was not conclusively shown that these two metabolites were associated with U-Cd, possibly due to the limitation of sample numbers. Despite this, correspondence between our observations and other studies of the biochemical effects of Cd suggest that these metabolic changes may still be related to the underlying mechanisms of Cd toxicity. Cd inhibits oxidoreductases involved in vitamin D metabolism [53] and 3-HV is a product of the L-leucine mitochondrial catabolic pathway which also involves this class of enzymes. One hypothesis is that reduction in urinary 3-HV could be occurring in parallel to direct mitochondrial damage [31, 54]. Another of the six metabolites identified as correlated to U-Cd, 4-DEA, is also involved in amino acid catabolism: it is a breakdown product of threonine. Threonine deaminase converts threonine to alpha-ketobutyrate, a precursor of isoleucine, and this is further modified by reductases to 4-deoxyerythronic acid and its diastereoisomer 4-deoxythreonic acid [55] (also observed in our study but not correlated to U-Cd).
Our study had several limitations: clearly our observations need to be replicated in other larger cohorts and we did not have available repeated or alternative biological specimens from the study participants. Metabolite measurements in blood plasma for instance would provide clarification as to whether the observed associations were systemic in origin or likely to reflect mainly renal effects. A detailed analysis of the contribution of diet and activity to specific metabolite variation was also not possible. These issues are currently being examined in follow-up studies (for example, http://www.envirogenomarkers.net). In particular it will be important to evaluate the additional prognostic value of metabolomic measurements compared to established clinical pathology data and exposure assessment if the metabolites observed here associated with Cd burden are to be considered as valuable biomarkers in the future.
Conclusions
Using an NMR-based approach, we have demonstrated the capacity, in principle, of metabolic profiling to characterize the metabolic consequences of exposure to environmental toxicants, such as Cd and tobacco smoke, in a human population. We conclude that metabolic profiling has the potential to identify novel biomarkers and molecular signatures of the effects of exposure to many environmental toxicants, and thus improve risk assessment models, ultimately guiding intervention to prevent disease progression. As such, metabolic profiling represents a vital element in future initiatives to define the human exposome. In the longer term, the methods employed in the present Cd exposure study could be used on a broad scale for baseline surveys in health impact assessments for development projects, going on to play a central role in monitoring populations living near point sources of pollution such as industrial sites.
Author information
The late Lars Järup MD, PhD was involved in initiating the study and his contributions were instrumental to its success.
Abbreviations
3-HV:

3-hydroxyisovalerate
4-DEA:

4-deoxyerythronic acid
8-oxodG:

8-oxo-deoxyguanosine
CSTEE:

Scientific Committee on Toxicity, Ecotoxicity and the Environment
DMG:

dimethylglycine
FAO:

Food and Agriculture Organization
FID:

free induction decay
JECFA:

Joint FAO/WHO Expert Committee on Food Additives
MLR:

multiple linear regression
NAG:

N-acetyl-β-D-glucosaminidase
NMR:

nuclear magnetic resonance
PLS:

partial least squares
PLS-DA:

PLS-discriminant analysis
ROS:

reactive oxygen species
SEM:

standard error of the mean
TSP:

3-trimethylsilyl-1-[2, 2, 3, 3, -2H4] propionate
U-Cd:

urinary-Cd
U-NAG:

urinary-NAG.
Declarations
Acknowledgements
This work was funded by the NERC Environment and Human Health programme under project grant (NE/E00895X/1) and further supported by the ECMC (C325/A7241), the CEFIC Long Range Initiative Award for Innovative Science 2009 (recipient HCK), the EU-FP6 CarcinoGenomics project (PL037712), the EU-FP7 Envirogenomarkers Project (226756) and MRC-HPA Centre for Environment and Health. The authors would also like to thank Professor Jeremy K Nicholson for valuable discussion during the preparation of this manuscript.
Authors' Affiliations
(1)
Biomolecular Medicine, Department of Surgery and Cancer, Faculty of Medicine, Imperial College London, London, UK
(2)
MRC-HPA Centre for Environment and Health, Imperial College London, UK
(3)
Department of Epidemiology and Biostatistics, School of Public Health, Faculty of Medicine, Imperial College London, London, UK
(4)
Unit of Nutritional Epidemiology, Institute of Environmental Medicine, Karolinska Institutet, Stockholm, Sweden
(5)
Cancer Biomarkers and Prevention Group, Department of Cancer Studies and Molecular Medicine, University of Leicester, Leicester, UK
(6)
Centre for Ecology and Hydrology, Wallingford, Oxon, UK
(7)
Servei de Ressonància Magnètica Nuclear, SeRMN, Universitat Autònoma de Barcelona, Barcelona, Spain
Copyright
© Ellis et al; licensee BioMed Central Ltd. 2012
This article is published under license to BioMed Central Ltd. This is an Open Access article distributed under the terms of the Creative Commons Attribution License (http://creativecommons.org/licenses/by/2.0), which permits unrestricted use, distribution, and reproduction in any medium, provided the original work is properly cited.