Review

Open Access

Open Peer Review
This article has Open Peer Review reports available.
Depression and sickness behavior are Janus-faced responses to shared inflammatory pathways
Received: 23 April 2012
Accepted: 29 June 2012
Published: 29 June 2012
Abstract
It is of considerable translational importance whether depression is a form or a consequence of sickness behavior. Sickness behavior is a behavioral complex induced by infections and immune trauma and mediated by pro-inflammatory cytokines. It is an adaptive response that enhances recovery by conserving energy to combat acute inflammation. There are considerable phenomenological similarities between sickness behavior and depression, for example, behavioral inhibition, anorexia and weight loss, and melancholic (anhedonia), physio-somatic (fatigue, hyperalgesia, malaise), anxiety and neurocognitive symptoms. In clinical depression, however, a transition occurs to sensitization of immuno-inflammatory pathways, progressive damage by oxidative and nitrosative stress to lipids, proteins, and DNA, and autoimmune responses directed against self-epitopes. The latter mechanisms are the substrate of a neuroprogressive process, whereby multiple depressive episodes cause neural tissue damage and consequent functional and cognitive sequelae. Thus, shared immuno-inflammatory pathways underpin the physiology of sickness behavior and the pathophysiology of clinical depression explaining their partially overlapping phenomenology. Inflammation may provoke a Janus-faced response with a good, acute side, generating protective inflammation through sickness behavior and a bad, chronic side, for example, clinical depression, a lifelong disorder with positive feedback loops between (neuro)inflammation and (neuro)degenerative processes following less well defined triggers.
Keywords
depression
sickness behavior
inflammation
oxidative stress
cytokines
Introduction
The first inkling that there are phenomenological similarities between clinical depression and sickness behavior and that both conditions may share common pathways, that is, activation of the inflammatory responses system (IRS) was published in 1993 [1, 2]. Sickness behavior is a behavioral complex that is typically induced by acute infections and tissue injury in many mammalian species. The characteristic behavioral pattern consists of malaise, hyperalgesia, pyrexia, listlessness and disinterest in social interactions with the environment, lethargy, behavioral inhibition, reduction of locomotor activity, exploration and grooming, reduction of reproductive performance, anhedonia, somnolence and sleepiness, anorexia and weight loss, failure to concentrate, and anxiety. There is evidence that sickness behavior is mediated through the effects of pro-inflammatory cytokines (PICs), such as IL-1, TNFα and IL-6 [3–10]. In this context, there is abundant evidence that clinical depression is an immuno-inflammatory disorder characterized by among other things increased levels of PICs and acute phase proteins, including C-reactive protein and haptoglobin [11–20].
Characteristic symptoms of major depression include anorexia, weight loss, fatigue, lethargy, sleep disorders, hyperalgesia, reduction of locomotor activity, and failure to concentrate (American Psychiatric Association). Moreover, 'vegetative symptoms' of depression, such as anorexia, weight loss, and psychomotor retardation, are significantly associated with inflammatory markers in clinical depression, such as increased levels of plasma haptoglobin, an acute phase protein, synthesis of which is induced by the three abovementioned PICs [1, 2].
Thus, it may be concluded that there are striking behavioral and inflammatory similarities between both sickness behavior and clinical depression [
1
,
2
,
11
]. Therefore, some authors regard clinical depression as a form of sickness behavior and/or as a consequence of the sickness behavioral response [
9
]. Figure
1
shows the theory - principally derived from inflammatory translational models - that inflammatory triggers cause IRS activation and induce the production of PICs, which in turn may provoke sickness behavior and depression, thus explaining the phenomenological overlap between these conditions.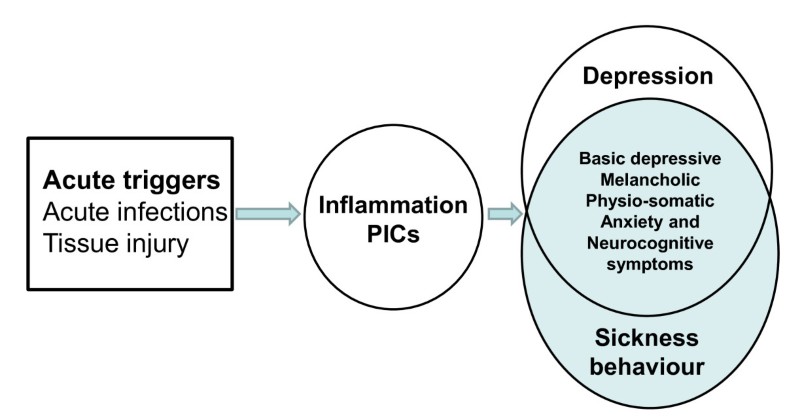 The main aims of this paper are to delineate: a) the symptomatic and behavioral similarities and dissimilarities between both clinical depression and sickness behavior; b) the staging of depression versus the course of sickness behavior; c) the shared immuno-inflammatory pathways that both underpin clinical depression and sickness behavior and may discriminate them; and d) the etiologic factors in both conditions.
Conclusions
Figure
3
compares sickness behavior with clinical depression. Sickness behavior helps to eradicate the trigger, has anti-inflammatory effects and is energy saving. As such sickness behavior enhances recovery and should be considered as part of a CIRS, which limits an overzealous immuno-inflammatory response to acute triggers. Cross-sectionally, there are phenomenological similarities between sickness behavior and the basic symptoms and melancholic, physio-somatic and anxiety symptom dimensions of clinical depression. Major differences, however, are that malaise, a core symptom of sickness behavior, occurs in some depressed patients only, whereas significant pyrexia is confined to sickness behavior. Moreover, depression is often accompanied not by anorexia and weight loss but by hyperphagia and weight gain. In most individuals, depression is a lifelong disease with a tendency towards recurrent episodes (waxing and waning), a chronic course, seasonal variation, and occasionally (hypo)manic symptoms. Moreover, sensitization and a potentially progressive deteriorating pattern characterize the course of depression. This contrasts with sickness behavior, which is defined as an acute, short lasting (19 to 43 days) behavioral pattern.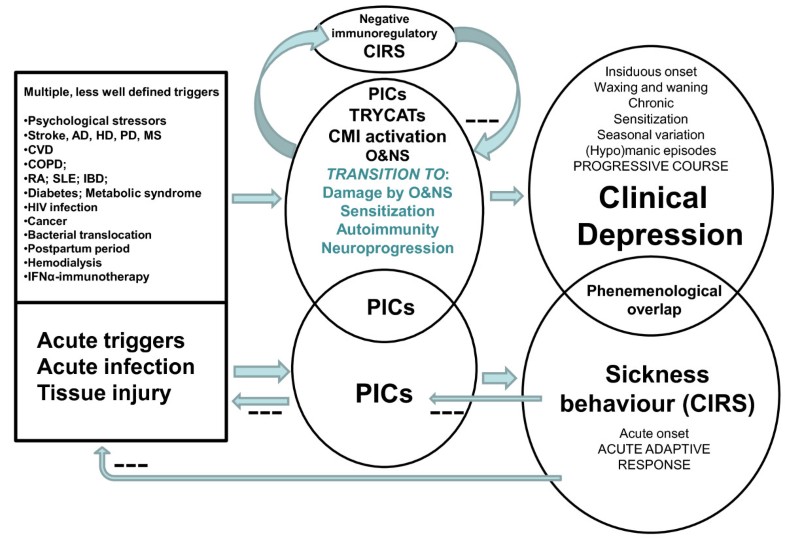 Translational studies show that inflammatory pathways may account for sickness behavior as well as clinical depression and, therefore, may explain the partial phenomenological overlap between both conditions. Clinical depression is accompanied by a CIRS that downregulates the primary immuno-inflammatory response and by a transition from inflammation and ROS/RNS overproduction to sensitization in inflammatory and CMI responses, progressive O&NS damage and autoimmune responses. The latter pathways appear to be the substrate of a neuroprogressive process, whereby multiple depressive episodes cause neural tissue damage and its functional and cognitive sequelae. Sickness behavior is also induced by immuno-inflammatory pathways, but in contrast to clinical depression, the sickness behavioral complex has beneficial CIRS effects enhancing recovery from the primary trigger. When there is no resolution of the acute inflammatory phase within 19 to 43 days, chronic inflammation may ensue causing transition to chronic inflammatory pathology. Sickness behavior plays a critical role in preventing this transition by compensating for the negative energy balance and redirecting energy to the activated immune cells.
Whereas acute infections typically elicit sickness behavior, there is not much evidence that acute pathogens play a major role in clinical depression. While traumatic life events can induce an inflammatory state often leading to clinical depression, no association between psychosocial stressors and sickness behavior has been described. Comorbid depression increases morbidity and mortality in patients with (auto)immune and (neuro)inflammatory disorders, whereas sickness behavior, when present, would tend to dampen the inflammatory pathways.
All in all, while sickness behavior is a beneficial CIRS response, clinical depression is a disabling, progressive disorder. Inflammation thus provokes a Janus-faced response with a good 'acute' protective inflammatory side, involving CIRS responses, such as sickness behavior, and a bad 'chronic' side, that can lead to clinical depression, a chronic disorder with positive feedback loops between (neuro)inflammation and (neuro)degenerative processes following less well-defined triggers. This Janus face also represents the transition of an inflammation-induced adaptive behavioral response that is conserved through evolution to an inflammation-related chronic progressive disorder, which is increasing in prevalence in industrialized societies [187].
List of abbreviations
AD:

Alzheimer disease
BCG:

bacille Calmette-Guérin
CMI:

cell-mediated immune
COPD:

chronic obstructive pulmonary disease
CRP:

C-reactive protein
CVD:

cardiovascular disorder
DSM IV TR:

The Diagnostic and Statistical Manual of Mental Disorders, fourth edition, text revision
IBD:

inflammatory bowel disease
IDO:

indoleamine 2,3-dioxygenase
IFN:

interferon
IL-1:

interleukin-1
IL-1RA:

IL-1 receptor antagonist
IRS:

inflammatory responses system
LPS:

lipopolysaccharide
mtDNA:

mitochondrial DNA
O&NS:

oxidative and nitrosative stress
PD:

Parkinson disease
PICs:

pro-inflammatory cytokines
RA:

rheumatoid arthritis
ROS/RNS:

reactive oxygen and nitrogen species
sIL-2R:

soluble IL-2 receptor
SLE:

systemic lupus erythematosus
SSRIs:

selective 5-HT reuptake inhibitors
TCAs:

tricyclic antidepressants
TNF:

tumor necrosis factor
TGF:

transforming growth factor
Th:

T helper
TRYCAT:

tryptophan catabolite.
Declarations
Acknowledgements
The authors would like to thank Bruce Charlton for extensive discussion of the text.
Authors' Affiliations
(1)
Maes Clinics @ TRIA, Piyavate Hospital, Bangkok, Thailand
(2)
School of Medicine, Deakin University, Kitchener House, Geelong, Australia
(3)
Orygen Youth Health Research Centre, Centre for Youth Mental Health, Parkville Victoria, Australia
(4)
The Mental Health Research Institute of Victoria, Parkville, Australia
(5)
Department of Psychiatry, Melbourne University, Parkville, Australia
(6)
Center for the Study of Complementary and Alternative Therapies, School of Nursing, University of Virginia, Charlottesville, USA
(7)
Department of Psychology and Neurosciences, Dalhousie University, Halifax, Canada
(8)
Department of Pharmacology, Chinese Academy Engineering Instit ute for the Development of Endangered Medicinal Resources in Southwest China, Xing Ning District, Nanning, P.R. China
(9)
CRC, Rm 30, Glasgow, UK
(10)
Department of Adult Psychiatry, Medical University of Łóź, Łóź, Poland
(11)
Department of Pharmacology, Galway University, Galway, Ireland
Copyright
© Maes et al; licensee BioMed Central Ltd. 2012
This article is published under license to BioMed Central Ltd. This is an Open Access article distributed under the terms of the Creative Commons Attribution License (http://creativecommons.org/licenses/by/2.0), which permits unrestricted use, distribution, and reproduction in any medium, provided the original work is properly cited.