Review

Open Access

Open Peer Review
This article has Open Peer Review reports available.
State of progress in treating cystic fibrosis respiratory disease
Received: 2 June 2012
Accepted: 10 August 2012
Published: 10 August 2012
Abstract
Since the discovery of the gene associated with cystic fibrosis (CF), there has been tremendous progress in the care of patients with this disease. New therapies have entered the market and are part of the standard treatment of patients with CF, and have been associated with marked improvement in survival. Now there are even more promising therapies directed at different components of the pathophysiology of this disease. In this review, our current knowledge of the pathophysiology of lung disease in patients with CF is described, along with the current treatment of CF lung disease, and the therapies in development that offer great promise to our patients.
Keywords
cystic fibrosis
pathophysiology
treatment
Introduction
Cystic fibrosis (CF) is a genetic disease resulting in complications in multiple organs, but especially involving the lungs and pancreas. CF is associated with considerable morbidity and an early demise, although the last two decades have realized a remarkable improvement in health and survival such that the median age of predicted survival now approaches 40 years [1]. This is the result of a combination of factors including the development of a sophisticated comprehensive care network and the use of several new medications developed specifically for the treatment of CF-related disease. This is a review of the current state of the treatment of CF lung disease and a look to the future development of promising treatment options.
Pathophysiology of disease in cystic fibrosis
CF is an autosomal recessive disease resulting from the inheritance of a mutant allele of the gene for cystic fibrosis transmembrane conductance regulator (CFTR) from each parent [2–4]. CFTR is a c-AMP-regulated anion channel normally expressed on the apical surfaces of specialized epithelial cells, including those of the sweat glands, pancreas, and gastrointestinal and reproductive tracts, as well as airway epithelia and submucosal glands [5, 6]. Although the transport of chloride ions across membranes is a recognized and critical CFTR function [6], there are other proposed CFTR-mediated effects, such as transport of bicarbonate [7]. Inheritance of mutant CFTR alleles is accompanied by a qualitative and/or quantitative reduction of CFTR activity at the cell surface; the extent to which CFTR activity is reduced influences the diversity and severity of pathophysiologic sequelae associated with CF [6]. Individuals carrying a single CFTR mutation may retain as little as 50% of wild-type CFTR activity but are unaffected. Persons with CF (that is, carrying two mutant CFTR alleles) in which one mutation retains residual (but reduced) CFTR function have less aggressive disease phenotypes and better overall survival than their peers who carry mutations in which very little or no CFTR activity is retained [6].
Pathophysiologic manifestations of CF arise in several organ systems in utero. Neonates with CF are identified for further screening evaluation in part based upon elevated levels of circulating immunoreactive trypsinogen caused by pancreatic ductile or duct blockage, pancreatic autodigestion, and leakage of digestive enzymes into the systemic circulation [8]. From birth, reduced CFTR activity in the sweat glands of people with CF hampers that individual's ability to recover salt from their sweat [6]. This provides the basis for the definitive test for CF: pilocarpine-induced iontophoresis (the CF 'sweat test'), with the majority of patients having chloride concentrations in sweat exceeding 60 mEq/L [8]. Reduced water and bicarbonate secretion in the gut may lead to meconium ileus in 10% to 15% of CF neonates [6]. Finally, most, if not all, males with CF are born without a palpable vas deferens [6].
Organ systems pathologies persist and evolve after birth. More than 90% of infants with CF lose all exocrine pancreatic function and experience a lifetime of pancreatic insufficiency [
6
]. The risk of CF-related diabetes mellitus increases with age, occurring in more than a quarter of individuals 25 years of age and older [
1
]. Gastrointestinal complications continue, with individuals experiencing fat and fat-soluble vitamin malabsorption and associated steatorrhea, poor growth, increased risk of gallstones and hepatobiliary disease [
6
]. Interestingly, the organ system that currently accounts for the greatest percentage of premature deaths from CF, the respiratory system, appears essentially normal at birth. Of course, respiration only begins at birth, and complications arising from reduced CFTR activity in the sinuses and respiratory tract can become apparent remarkably soon after [
9
–
16
]. A summary of the pathophysiology in the lung is shown in Figure
1
. Reduced CFTR activity results in volume depletion of the lung apical surface liquid (ASL), leading to increased adhesiveness and cohesiveness of airway phlegm, effectively plugging the small airways [
17
]. This obstruction, and associated neutrophilic inflammation, can be identified as air trapping and bronchial wall thickening using high-resolution computerized tomography [
14
,
15
]. Bacterial opportunists enter the upper and lower respiratory tract by inhalation or aspiration, from where it is not possible to clear them; their growth and expansion leads to local inflammation [
9
–
12
]. Very early, this triad of chronic obstruction, infection and inflammation sets in motion a lifelong degradation of lung anatomy and function [
6
,
16
,
18
,
19
], ultimately contributing to the untimely deaths of persons with CF; respiratory failure accounts for >80% of mortality in CF [
1
].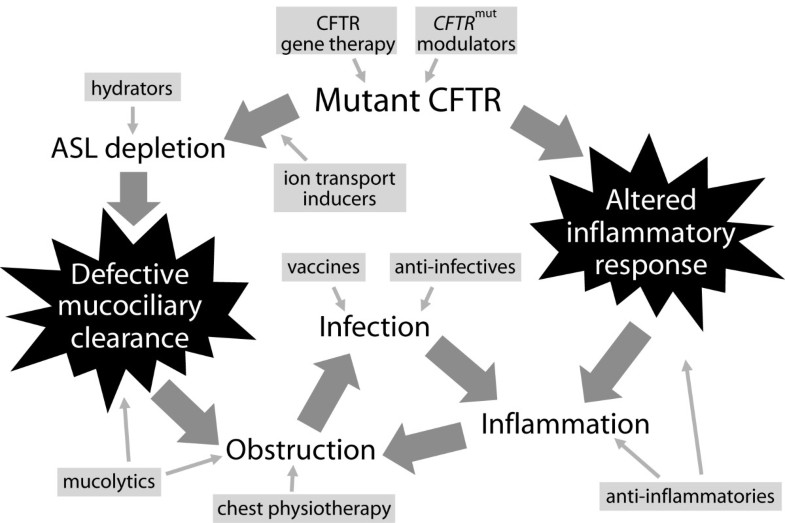 The relationship of chronic cystic fibrosis therapies to underlying pathophysiology
Chronic management of CF today is focused primarily on the mitigation of downstream pathologies that accumulate due to reduced CFTR activity in the digestive and respiratory systems. Pancreatic insufficiency and poor absorption of fat and fat-soluble vitamins are reasonably well-managed by pancreatic enzyme supplementation at every meal, consumption of a high fat and high calorie diet, and vitamin supplementation [20]. Careful attention to patient nutrition has produced dramatic improvements in nutritional status and has contributed to improved overall health for all ages of patients with CF [1]. Gastrointestinal tract obstruction, experienced by about 25% of adults with CF in their lifetime, is treated both pharmacologically and surgically [6]. Chronic pulmonary therapies target the movement of tenacious phlegm out of the respiratory tract, suppression of chronic bacterial infection and reduction of chronic local inflammation. Surgical intervention is also an important component of respiratory tract management, being common for removal of sinus polyps [21], in rare cases to arrest hemoptysis [22] and, for those with end-stage bronchiectasis, bilateral lung transplantation [23].
A primary complication of CF is the accumulation of airway phlegm that contains almost no intact mucin and consists predominantly of bacteria, inflammatory cells, polymeric DNA and F-actin, with characteristics more similar to pus than mucus. A variety of chest physiotherapies are recommended for improving clearance of airway phlegm [24]. These therapies can be combined with medications that might alter the airway phlegm, making them easier to clear from the airways.
Growth and expansion of inhaled or aspirated bacterial opportunists within the airway of patients with CF are treated with antibiotics in four distinct modalities: chronic prophylaxis to avoid (specific) bacterial infection; conversion to culture negativity upon detection of new (specific) bacterial opportunists; palliation of acutely elevated signs and symptoms of infection; and chronic suppression of established infections. CF antibiotic treatment modalities have evolved over years of trial and error, some without strong objective evidence of clinical benefit, and have features that range from the uncommon to the heretical when compared with the antibiotic management of systemic bacterial infections. Management of increased respiratory signs and symptoms (loosely defined as pulmonary exacerbations) routinely includes antibiotic treatment [25]. Although exacerbations treated with intravenous antibiotics have tended to receive the most attention from epidemiologists [26–32] and drug developers [33–37], they appear to constitute a minority of acute, antibiotic-treated events, particularly in younger patients [38]. Surprisingly, although tens of thousands of these events occur annually and they have been associated with decreased quality of life [39–41], accelerated lung function decline [27, 28] and increased mortality risk [42–45], little objective evidence of the benefit of antibiotic treatment is available and important questions as to optimal antibiotic treatment of exacerbations remain [46].
Local airway inflammation is accepted as a critical driver of lung disease progression and death [6], but therapies directly targeting local inflammation have been slow to achieve widespread use [47], in part because of the concern over treatment-associated adverse events.
Interventions more directly targeting the cystic fibrosis defect
CF disease sequelae arise from reduced CFTR function in disparate tissues, and it follows that the most comprehensive and effective treatment of CF would be reconstitution or supplementation of CFTR activity prior to the establishment of irreversible functional and structural damage. Substantial progress has been made toward this very approach, but with important limitations. As noted above, multiple pathophysiologic consequences of reduced CFTR arise in utero, necessitating downstream management of subsequent disease sequelae even in very young infants with CF. For example, fibrosis of the exocrine pancreas, when it occurs, is likely nearly complete at birth and reconstitution of CFTR function in the pancreas of neonates is unlikely to lead to pancreatic sufficiency later in life. However, the observation that the respiratory tract is, by comparison, relatively unaffected at birth suggests that reconstitution or supplementation of CFTR activity in the airway in infants with CF may have a dramatic effect on lung disease progression.
Current and future therapies
Now that we have outlined the general approaches to the various aspects of the pathophysiology of CF lung disease, we can review the details of specific therapies that are currently in use, or are in active stages of development, and could be realized as approved therapies in the near future. These are addressed in the general order of the pathophysiologic mechanisms (Figure 1).
Conclusions
The last two decades have seen a remarkable addition of effective medications and therapies to the regimen for treating CF lung disease. These therapies have improved the overall health of patients with CF and they are clearly part of the reason that expected survival has increased. However, these therapies do not offer a cure and they mainly treat downstream complications of the pathophysiology of CF lung disease, meaning that patients continue to suffer the morbidity associated with chronic airways infection and predicted survival still lags well below what is normal. In addition, these therapies add to a considerable treatment burden and so are also associated with poor adherence.
There are two main areas we need to focus on for there to be further improvement. First, we must develop new, more effective medications. Ideally, these would be directed at earlier events in the pathophysiology of disease, such as seen with ivacaftor, and perhaps earlier use of such medications would prevent, or at least delay, the development of downstream events such as chronic infection of the airways. Another approach would be to change the formulation of current medications to reduce the treatment burden, and hopefully increase adherence to the medication. An example is the development of a dry powder to replace an aerosol medication, such as tobramycin inhalation powder, which has been shown to be equivalent to tobramycin inhalation solution in terms of efficacy, but is associated with a markedly reduced treatment time and greater patient satisfaction [150]. There is also a need for the development of additional agents within the current classes to enhance the treatment options should current treatments seem to be less effective. An example is the addition of a class of inhaled antibiotics. Currently we have an aminoglycoside and a beta-lactam antibiotic approved for aerosol use in CF, and a fluoroquinolone, which is in the late stages of development [151], would add to the treatment options.
Second, there must be optimization of the currently available therapies. All of the existing therapies were developed compared to placebo and we have little information about which combination of drugs is most effective. We also do not know if there is a more effective order in which to use the medications. Comparative effectiveness research may be an effective method of identifying the optimal treatment strategy for patients, perhaps allowing elimination of some drugs for some patients, again reducing the treatment burden. Not discussed here but also very important is the development of new devices that are intended to improve the delivery of drug to the lower airways; these devices are more efficient and so can deliver the needed dose in a much smaller volume and, therefore, a much shorter time.
There are medications currently up for review by the FDA, including mannitol and tobramycin inhalation powder and another (levofloxacin inhalation solution) that is very near completion of Phase III trials, meaning the CF armamentarium could have as many as three new weapons in the very near future. These will be important options for our patients. However, it is the CFTR modulators that have generated the most excitement. Although they are not a cure, they represent our first successes at treating early events in the pathophysiology of CF lung disease, meaning they have real potential for being truly disease modifying. Although the approval of ivacaftor offers treatment to a minority of patients (<4%), the demonstration that this strategy can work offers great hope to the CF community. New medications will have to be developed for each type of mutation and having two new medications in active investigation for F508del, by far the most common CFTR mutation, brings us that much closer to making a huge difference in the lives of our patients.
Authors' Affiliations
(1)
Medical University of South Carolina, Charleston, USA
(2)
Case Western Reserve University School of Medicine, Cleveland, USA
Copyright
© Flume and Van Devanter; licensee BioMed Central Ltd. 2012
This article is published under license to BioMed Central Ltd. This is an Open Access article distributed under the terms of the Creative Commons Attribution License (http://creativecommons.org/licenses/by/2.0), which permits unrestricted use, distribution, and reproduction in any medium, provided the original work is properly cited.