Review

Open Access

Open Peer Review
This article has Open Peer Review reports available.
Evo-devo of human adolescence: beyond disease models of early puberty
Received: 31 August 2012
Accepted: 30 November 2012
Published: 29 April 2013
Abstract
Despite substantial heritability in pubertal development, much variation remains to be explained, leaving room for the influence of environmental factors to adjust its phenotypic trajectory in the service of fitness goals. Utilizing evolutionary development biology (evo-devo), we examine adolescence as an evolutionary life-history stage in its developmental context. We show that the transition from the preceding stage of juvenility entails adaptive plasticity in response to energy resources, other environmental cues, social needs of adolescence and maturation toward youth and adulthood. Using the evolutionary theory of socialization, we show that familial psychosocial stress fosters a fast life history and reproductive strategy rather than early maturation being just a risk factor for aggression and delinquency. Here we explore implications of an evolutionary-developmental-endocrinological-anthropological framework for theory building, while illuminating new directions for research.
Keywords
adolescence
evolution
juvenility
puberty
youth
Introduction
Evolutionary development biology (evo-devo) is concerned with how developmental systems evolved, while probing the consequences of these historically established systems for organismal evolution [1]. Research in evo-devo has formed around comparative embryology and morphology, evolutionary developmental genetics, and experimental epigenetics. Here we examine adolescence from an evo-devo perspective, treating this life-history stage of rapid growth and maturation in its ecological and developmental context [2].
Modern lifestyle and medicine have influenced nutritional and infectious constraints on puberty, resulting in the secular trend in pubertal development over the past 150 years. In girls, more than in boys, the change in pubertal age has been intriguing; in the last decades, the rate of precocious sexual maturation in girls has been high and increasing, and the mechanism for the 'epidemic' has been much debated, pointing fingers at toxins and perhaps other chemical products. Evidence that the timing of boys' somatic maturation is changing has recently been reviewed and remains inconclusive [3], though one Danish study documented a 3-month acceleration in male pubertal onset across a 15-year period (from 11.92 years in 1991 to 11.66 years in 2008) [4].
Evolutionary analysis highlights the fact that it is the female who is reproductively constrained in terms of the maximum number of offspring she can generate over her reproductive years. In consequence, early maturation affords a potential fitness advantage for females more than males, allowing more time to reproduce. Thus, evolutionary life-history thinking challenges the prevailing notion that early puberty is exclusively or primarily pathological in origin, viewing it rather as an adaptive response to changing life conditions. Indeed, as we hope to show, evidence indicates that since the emergence of homo sapiens there has been much change in the timing of pubertal maturation - and not just in a singular direction - and a variety of contextual factors appear to regulate pubertal development. To our way of thinking, it is a mistake to focus only on environmental toxins or even simply cast changes in pubertal timing in disease terms.
We challenge the pathological view by advancing an evolutionary perspective on the issue of juvenile transition and timing of pubertal development, as drawn from life-history theory. Toward this end we consider the anthropological record, showing that adolescence as a stage was a new development in primate life history and that over time there have been many changes in pubertal timing, both accelerating and delaying it. While acknowledging heritable individual differences in pubertal timing, we emphasize developmental plasticity and the role of the environment in regulating pubertal timing in the service of fitness goals, using hormonal and developmental mechanisms. A central claim will be that the transition from the preceding stage of juvenility to adolescence entails adaptive developmental response to energy resources, other environmental cues, social needs of adolescence and maturation toward youth and adulthood, with the latter defined as the life-history stage of reproduction (Table
1
). The plasticity which we argue characterizes adolescence is regulated by hormonal processes. We explore implications of this evolutionary-developmental-endocrinological-anthropological framework for theory building, while illuminating new directions for research.
Table 1
Developmental tasks for adolescents and young adults [67].
The adolescent tasks:

The adult tasks:

(a) integration in the peer group

(b) acceptance of physical maturity

(c) establishment of an autonomous identity

(d) achievement of independence from parents

(e) preparation of future family life

(f) achievement of sociopolitical awareness

(g) preparation for an occupation

(h) having a romantic relationship

(i) formation of close friendships

(a) taking over responsibility as a citizen

(b) the development of a firm partnership

(c) living with the partner

(d) establishing a family

(e) caring for a family

(f) starting a career

(g) becoming integrated in a social group

(h) establishing an independent household
Before and during adolescence
Preceding adolescence - the juvenile stage
All mammals, including the great apes, transit directly from infancy to juvenility without passing through the childhood stage - except humans (Figure
1
). Comparison with African apes suggests that the timing of the transition to juvenility, as measured by adrenarche, may be similar to that in humans, although the full course of age-related changes in dehydroepiandrosterone sulfate (DHEAS) and their relationship to reproductive and brain maturation are not clear [
15
].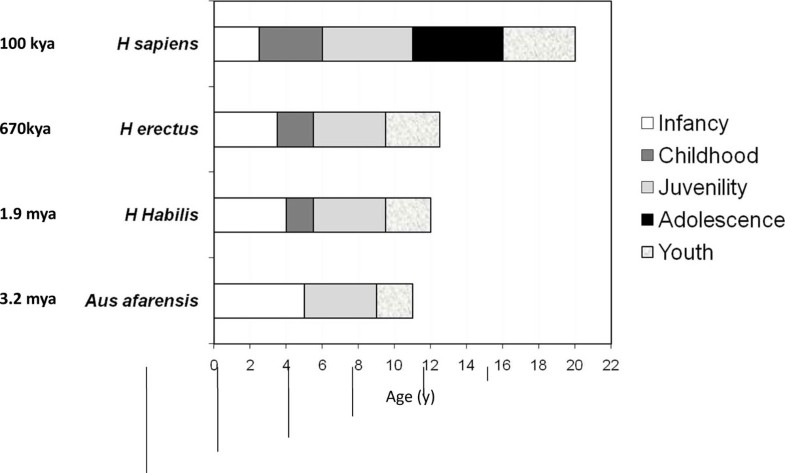 We and others have defined juvenility as a distinct life-history stage in humans, characterizing it in terms of endocrine and body composition changes resulting in changes to social assignments and psychological maturation [16, 17]. Developmental psychologists refer to this period as 'middle childhood', 'the five-to-seven-year shift' and 'the age of reason and responsibility' [18]: the brain reaches its final size - even if neuronal development is not complete - and primates, equipped with adult molars, forage independently for food and care for themselves. In modern societies the transition to juvenility coincides with the age when children go to school and compete to some extent with adults for food and space, while working out their social standing among age-mates. Coinciding with participation in adult social activities, juveniles develop a strong odor during the juvenile period; intriguingly, olfactory aversion emerges in the case of father-daughter and brother-sister, but not other family relationships, presumably for incest avoidance [19].
Del Giudice contends that juvenility (adrenarche) represents a 'switch point', a time when the environment can reprogram nascent reproductive strategies established earlier in life [17, 20]. Indeed, he argues that sex differences in attachment relationships emerge in middle childhood and have adaptive significance for sexually selected life-history strategies. Early psychosocial stress and insecure attachment during juvenility direct development towards mating-oriented reproductive strategies; insecure males tend to adopt avoidant reproductive strategy, whereas insecure females tend to adopt an anxious/ambivalent strategy (which maximize investment from kin and mates). Strategies such as those involving bearing few or many offspring are passed to future generations [17].
In social terms, juvenility offers opportunities to prepare for the social complexities of adolescence youth and adulthood - in part by assaying one's social status and standing in the competitive world of peers [17]. Transition from childhood to juvenility is marked by the onset of adrenal androgen generation (adrenarche), adiposity rebound, deceleration of growth [21], and the eruption of the first molar teeth [16]. Whereas humans and chimpanzees exhibit adrenarche, other primates such as the baboon and rhesus monkey do not, and the adrenals of most other mammals produce little or no DHEA [22]. Thus, adrenarche is a recent evolutionary event. The human and chimp DHEA-generating enzymes, 17,20-lyase, differ at only two amino acids, whereas the human/chimp enzyme differs from the baboon or rhesus enzyme by 25 to 27 residues (95% identity) [22]. Serum DHEA and DHEAS rise progressively throughout juvenility [23], with effects on a wide variety of physiological systems, including neurological [24]and immune [25], as well as somatic growth and development [21, 26]. DHEA in humans operates as a neurosteroid, affecting neurological functions and modulating mood [27, 28].
The age at transition from childhood to juvenility has been remarkably constant, especially when compared to the plasticity that characterizes other life-history features such as age of sexual maturation [29]. Comparison with the African apes suggests that the timing of adrenarche and the sex difference in chimpanzees timing of transition from infancy to juvenility may be similar to that of humans moving from childhood to juvenility [15, 30]. Assuming an important role for adrenarche in human brain maturation, Campbell argued that the increased brain size and extended lifespan of humans relative to the great apes imply changes in the timing and impact of adrenarche [15]. Thus, increases in body size evident among Homo erectus imply increases in lifespan and delayed adrenarche and reproductive maturation, and as such are a natural point at which to consider the potential role of delayed transition from childhood to adrenarche in human evolution.
Transition from juvenility to adolescence
Age and size at adolescence have strong effects on an individual's fitness because they affect reproductive potential, schedule and efficiency [31]. Emphasizing fitness goals, early transition to adolescence and the abbreviation of its duration increase the likelihood of reproduction before death, so may prove especially adaptive under conditions of ecological risk (provided nutrients are sufficient to foster maturation). Accelerated pubertal development also reduces generation time, while potentially lengthening reproductive lifespan. Alternatively, late transition into adolescence lengthens preadolescent growth and the opportunity to embody or internalize the various resources to which the individual is exposed, be those resources nutritional, social or psychological. At the same time, delayed maturation prolongs the preadolescent hazard period, which may be compensated for by continuing parental care. Ultimately, individuals face a tradeoff between maturing to reproduction young and small and maturing at large body size, since for any given growth rate earlier maturation implies smaller size at transition.
Adaptive developmental plasticity
Conclusions
This review uses an evo-devo approach and life-history theory for understanding human adolescence and especially variation in the timing of reproductive maturation. Developmental and maturational traits that respond to environmental cues enhance fecundity-survival schedules and behavioral strategies that yield the highest fitness in a given environment.
Why is it that we have a unique adolescence phase, preceded by a juvenile phase and followed by a youth phase leading to such a delayed reproduction? Like other organisms, humans evolved to withstand environmental hardships by responding in ways that maintain evolutionary fitness, even if submaximal. The means to do this is a series of predictive adaptive responses that utilize the sensitive times of transitions from one life-history stage to the next, each assigned with its own domain. The transition from juvenility to adolescence is deferred when food supply is short, programming at the same time for later fecundity and fertility and for longevity [65, 66].
The timing of puberty sheds light on the relationship between phenotypic adaptive plasticity and adaptive genetic changes. Whereas the gradual tendency to mature late over Homo's evolution is genetic, the gradual secular trend in industrial societies over the last 150 years is not, given the short timescale. The more recent tendency for earlier puberty reflects the overall quality of modern environments, allowing females to approach the extremes of their genetic range of reaction. Such evo-devo thinking demands reconsideration of the notion of 'precocious puberty'. This term implies pathology, whereas the vast majority of early puberty probably reflects normal physiological and adaptive developmental plasticity [36]. Thus, the term precocious puberty is to be reserved for those few with anatomical or genetic defects, without a precise definition in the present context.
The implications of disconnection of the mental and somatic components of human adolescence are underappreciated, and result in both mental and somatic consequences. Among them are the obesity and polycystic ovary syndrome epidemics, but also mental and social behaviors. In an American study, early-maturing girls displayed higher levels of self-reported criminality, drug abuse, social isolation, early sexual behavior and psychiatric problems [67]. Early-maturing girls, particularly those with a history of adolescent conduct disorder, were more likely to be depressed and to have many sexual partners in young adulthood compared with their counterparts. Early puberty may thus represent a social pathology in industrialized societies. The claim we make, however, is markedly different from the widespread assertion that early maturation is a risk factor for aggression and delinquency [68]. Rather, we contend here, that early life experience during infancy and childhood will be associated with a change in maturational tempo, such that harsh rearing conditions predict earlier age maturation and associated behavioral phenotypes, including perhaps aggression, delinquency and promiscuity because these responses were selected to promote fitness. This framework is quite distinct from the disease perspective that fails to appreciate the evolutionary wisdom of maturing early and behaving in opportunistic, advantage-taking ways under certain contextual conditions.
Hereditary, environmental and stochastic factors regulate puberty in a unique environment, but their relative contribution to the phenotypic outcome and the extent of stochastic epigenetic reprogramming that is required to alter human phenotypes is not known because few data are available [69]. If the environment can influence developmental and maturational trajectories during pre-adult life-history stages, how do epigenetic events influence the transition from one life-history stage to the next, growth and puberty at the molecular level? Growth and puberty are regulated by insulin, growth hormone, the insulin-like growth factors and the sex hormones, to mention a few of the control factors. These hormones drive the rate of growth and development, but it is unclear how the environment shapes the timing of the different phases of developmental events. Epigenetic mechanisms potentially play an important role.
Perhaps the most fundamental question raised by the life-history approach to adolescence concerns the uniqueness of each child in her given genetic background and current environment as they best serve her reproductive fitness. Given the evidence on the strong influence of socioeconomic conditions early in life, we have to better understand how these interact with or via endocrine mechanisms to generate signals that affect life history and adolescence.
Abbreviations
DHEA:

dehydroepiandrosterone
DHEAS:

dehydroepiandrosterone-sulfate.
Authors' Affiliations
(1)
Division of Pediatric Endocrinology, Meyer Children's Hospital, Rambam Health Care Campus, Haifa, Israel
(2)
Rappaport Family Faculty of Medicine, Technion - Israel Institute of Technology, Haifa, Israel
(3)
Department of Human and Community Development, University of California Davis, Davis, USA
(4)
Department of Special Education, King Abdulaziz University, Jeddah, Saudi Arabia
(5)
Department of Psychological Science, Birkbeck University of London, London, UK
Copyright
© Hochberg and Belsky; licensee BioMed Central Ltd. 2013
This article is published under license to BioMed Central Ltd. This is an Open Access article distributed under the terms of the Creative Commons Attribution License (http://creativecommons.org/licenses/by/2.0), which permits unrestricted use, distribution, and reproduction in any medium, provided the original work is properly cited.