Review
Open Access
Open Peer Review
This article has Open Peer Review reports available.
The collateral circulation of the heart
Received: 22 February 2013
Accepted: 17 May 2013
Published: 4 June 2013
Abstract
The coronary arteries have been regarded as end arteries for decades. However, there are functionally relevant anastomotic vessels, known as collateral arteries, which interconnect epicardial coronary arteries. These vessels provide an alternative source of blood supply to the myocardium in cases of occlusive coronary artery disease. The relevance of these collateral arteries is a matter of ongoing debate, but increasing evidence indicates a relevant protective role in patients with coronary artery disease. The collateral circulation can be assessed by different methods; the gold standard involves intracoronary pressure measurements. While the first clinical trials to therapeutically induce growth of collateral arteries have been unavailing, recent pilot studies using external counterpulsation or growth factors such as granulocyte colony stimulating factor (G-CSF) have shown promising results.
Keywords
AngiogenesisArteriogenesisCoronary artery diseaseCoronary collateral circulation
Introduction
Anastomotic channels, known as collateral vessels, connect a territory supplied by one epicardial coronary artery with that supplied by another [
1
]. Collateral arteries therefore provide an alternative source of blood supply to myocardium that has been jeopardized by occlusive coronary artery disease, and they can help to preserve myocardial function in the setting of coronary artery disease [
2
] (Figure
1
).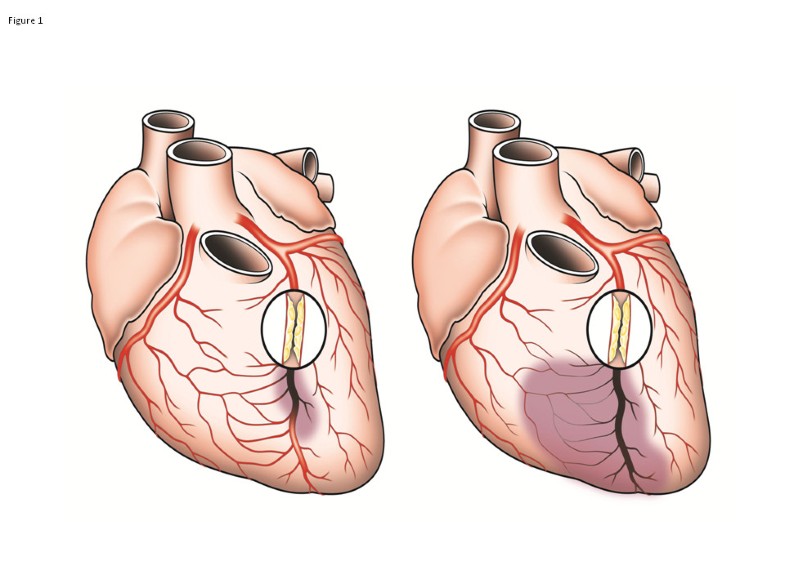 While their growth is often thought to be initiated by ischemia, collateral arteries are also present in individuals who do not have coronary disease [2, 3]. Obviously, other factors seem to play a more important role.
Although collateral blood flow after epicardial coronary occlusion may be sufficient in some patients to meet myocardial needs at rest, the prevalent view is that collateral circulation is generally not sufficient to meet myocardial demands during exercise [4] and may not prevent myocardial ischemia during coronary occlusion. To prevent myocardial ischemia during acute vessel occlusion, a flow of 20% to 25% is generally regarded as sufficient to provide the blood supply needed at rest [5]. One in four patients without coronary artery disease has sufficient collaterals as compared with one in three patients with coronary artery disease [3, 6]. The reasons for this are not fully understood, but genetic factors are likely to play a role [7–9].
Conclusions
Coronary collateral arteries serve as conduits that bridge severe stenosis or connect a territory supplied by one epicardial artery with that supplied by another. They can be recruited if required. While coronary collaterals provide substantial blood flow to the resting heart, they are often insufficient during increased myocardial oxygen demand (for example, exercise). Collateral arteries can reduce infarct size, the risk for post-infarct complications and they can also reduce mortality. Therefore, we have a considerable interest in developing methods to stimulate collateral growth. Besides known triggers of tangential shear stress and the presence of bone-marrow-derived mononuclear cells for collateral growth, first clinical proof-of-concept trials have demonstrated that collateral growth can be promoted therapeutically by physical exercise, external counterpulsation and certain growth factors and cytokines (G-CSF and GM-CSF).
Authors' information
PM is an interventional Cardiologist at University College London Hospitals UCLH, London, and part of the Yale-UCL Cardiovascular Research collaborative (http://www.drpascalmeier.com). SHS is an academic cardiologist at the University of Saarland, Germany, with a research interest in translational research in arteriogenesis/ coronary collaterals. BP is Professor Emeritus at the University of Michigan and was among the first researchers describing the existence of the coronary collateral circulation in the journal Circulation in 1959 [1]. AJL is a cardiologist and an Associate Professor at Yale University and a renowned expert in clinical research in the field of invasive cardiology and leading the Yale-UCL Cardiovascular Research collaborative. AT is a Professor for Cardiology and works as an interventional cardiologist in one of the highest volume cardiovascular centers in London, the London Chest Hospital. He is Editor-in-chief of the journal Heart. CS is a Professor of Cardiology and co-director of Cardiology at the University Hospital Bern, Switzerland. He has published widely on the topic of the coronary collateral circulation and is director of the yearly international coronary collateral symposium in Sils-Maria, Switzerland.
Declarations
Acknowledgements
This work was supported with a research grant of the Swiss National Science Foundation SNF and the Swiss Heart Foundation to CS Editorial support was provided by Vaidehee S Deshpande, PhD (UT Austin). AT acknowledges support of BartsHealth Cardiovascular Biomedical Research Unit, funded by the National Institute for Health Research.
Authors' Affiliations
(1)
The Heart Hospital London, University College London Hospitals UCLH, London, UK
(2)
Division of Cardiology, Yale Medical School, New Haven, USA
(3)
Department of Cardiology, University Hospital Saarland, Saarland, Germany
(4)
NIHR Biomedical Research Unit, Barts and the London School of Medicine and Dentistry, London Chest Hospital, London, UK
(5)
Division of Cardiology, University of Michigan Medical Center, Ann Arbor, USA
(6)
Department of Cardiology, University Hospital Bern, Bern, Switzerland
Copyright
© Meier et al.; licensee BioMed Central Ltd. 2013
This article is published under license to BioMed Central Ltd. This is an Open Access article distributed under the terms of the Creative Commons Attribution License (http://creativecommons.org/licenses/by/2.0), which permits unrestricted use, distribution, and reproduction in any medium, provided the original work is properly cited.