Minireview
Open Access
Open Peer Review
This article has Open Peer Review reports available.
Origins of increased airway smooth muscle mass in asthma
Received: 29 January 2013
Accepted: 21 May 2013
Published: 6 June 2013
Abstract
Asthma is characterized by both chronic inflammation and airway remodeling. Remodeling - the structural changes seen in asthmatic airways - is pivotal in the pathogenesis of the disease. Although significant advances have been made recently in understanding the different aspects of airway remodeling, the exact biology governing these changes remains poorly understood. There is broad agreement that, in asthma, increased airway smooth muscle mass, in part due to smooth muscle hyperplasia, is a very significant component of airway remodeling. However, significant debate persists on the origins of these airway smooth muscle cells. In this review article we will explore the natural history of airway remodeling in asthma and we will discuss the possible contribution of progenitors, stem cells and epithelial cells in mesenchymal cell changes, namely airway smooth muscle hyperplasia seen in the asthmatic airways.
Keywords
Airway remodelingAirway smooth muscleAsthmaFibrocytesMesenchymal stem cells
Introduction
The immunopathological features of asthma include chronic airway inflammation and airway remodeling [1]. Over the past few decades, the research into the pathophysiology and treatment of asthma has been primarily focused on the inflammatory side of the disease with most new therapies targeting various aspects of inflammation. Despite this, there persists a huge unmet need, especially for patients with severe asthma who have persistent debilitating symptoms and increased morbidity and mortality despite maximum anti-inflammatory therapy. Severe asthmatics account for 5 to 10% of asthma sufferers and are responsible for more than 50% of asthma related costs [2, 3].
Airway remodeling, a collective term describing the wide range of histopathological structural changes seen in the asthmatic airway wall, has been recognized for almost a century; however, significant gaps still remain in our understanding of various aspects, including its natural history, etiology, molecular and cellular basis and, more importantly, its clinical and physiological relevance. Airway remodeling is characterized by increased airway smooth muscle (ASM) mass, sub-epithelial fibrosis, goblet cell hyperplasia, sub-mucosal mucus gland hypertrophy, neoangiogenesis, an abnormally fragile epithelium and an increased number of activated fibroblasts and myofibroblasts with subsequent increased deposition of extracellular matrix proteins [4–7]. Although most of the aforementioned characteristics of airway remodeling contribute to the airway narrowing seen in asthma, increased ASM mass, due to both ASM hyperplasia and hypertrophy, and sub-epithelial fibrosis, are the most critical. ASM mass is a major component responsible for bronchoconstriction of airways in response to stimuli and, together with sub-epithelial myofibroblast hyperplasia, is the major determinant of persistent airflow obstruction [8, 9]. Myofibroblasts are contractile mesenchymal cells located in the submucosa between the airway smooth muscle bundle and the epithelium. In addition to secreting extracellular matrix proteins, myofibroblasts have similar characteristics and function to ASM and probably represent part of the spectrum of plasticity of mesenchymal cells (fibroblasts ⇔ myofibroblasts ⇔ ASM).
In this review we will attempt to explore the underlying mechanisms leading to increased ASM mass in the asthmatic airways and the possible implications in developing new asthma therapies.
What is the stimulus and natural history of airway remodelling?
Before attempting to unfold the origins of increased ASM mass in asthma it is important to try and understand the natural history of airway remodeling, including its initiation, its progress and, importantly, its relation to airway inflammation. The airway is exposed to a number of potential stimuli including pathogens, pollutants and allergens. The role of these stimuli in the genesis of airway remodeling, particularly with regard to ASM mass, is poorly understood. In an allergen challenge study of asthmatics who had bronchial biopsies pre-, and one and seven days post-challenge, sub-epithelial fibroblast number and activation, and reticular basement membrane (RBM) thickening, increased and persisted over the seven days and was associated with increased airway hyper-responsiveness. In contrast, inflammation observed at day one had resolved by day seven [10]. This suggests that remodeling occurs in response to allergen challenge; is related to airway dysfunction, might require inflammation for its initiation, but is not dependent upon persistent inflammation.
Viruses are the most common cause of asthma exacerbations and are, therefore, possibly involved in the induction of remodeling although the evidence is scanty. Rhinovirus in vitro can promote the release of matrix proteins from cultured ASM suggesting it may influence remodeling [11]. Another surprising factor that influences remodeling is the pure mechanical force that is generated by constriction of airways. Bronchoconstriction induced by using the indirect ASM spasmogen methacholine, was found to promote RBM thickening [12]. However, whether any of these stimuli affect ASM mass is unknown.
The natural history of airway remodeling is unknown. Whether a single or a few airway insults over weeks to months, versus several repeated insults over many years, are required to cause airway remodeling is unclear. What is clear, interestingly, is that changes in RBM thickness and ASM mass occur early in the natural history of asthma. Increased RBM thickness is present in preschool children with wheeze, and only those who also show signs of airway remodeling are subsequently diagnosed with asthma at school age [13, 14].
The dynamic relationship between inflammation and remodeling is poorly understood. The classical paradigm was that repeated inflammation of the airways, mainly due to exaggerated T-helper type-2 immune response, leads to defective repair and remodeling. However, there is increasing evidence discrediting this simple concept. In children with established severe disease, RBM thickening and increased ASM mass are present and dissociated from inflammation [15]. Similarly, Cokugras et al. reported in 10 children with moderate asthma evidence of remodeling preceding inflammation [16]. All these observations raise important questions about the timescales required for the establishment of airway remodeling and the timing of interventions to alter the natural history of the disease.
What are the origins of increased ASM mass in asthma?
In humans, ASM is a normal component of both large and small airways. The exact physiological function of ASM has always been a controversial issue with some claiming that it plays a role in maintaining bronchial tone and lung ventilation, while others consider it a vestigial ruminant with no function akin to the intestinal appendix [17].
The increase in ASM volume in asthma is caused by both hyperplasia and hypertrophy [
8
,
18
]. Although there is general agreement that ASM hyperplasia seems to be more dominant and significant, its origin remains uncertain. These new ASM cells might be a consequence of increased proliferation and/or prolonged survival of pre-existing ASM; or could result from recruitment of non-ASM cells that would transform and differentiate into ASM. These potential ASM progenitors include true multipotent mesenchymal progenitor and stem cells, either located within airway tissues or derived from peripheral blood, and airway epithelial cells which can migrate and transform into a mesenchymal cell phenotype through a biological process called epithelial-mesenchymal transition (EMT) (Figure
1
).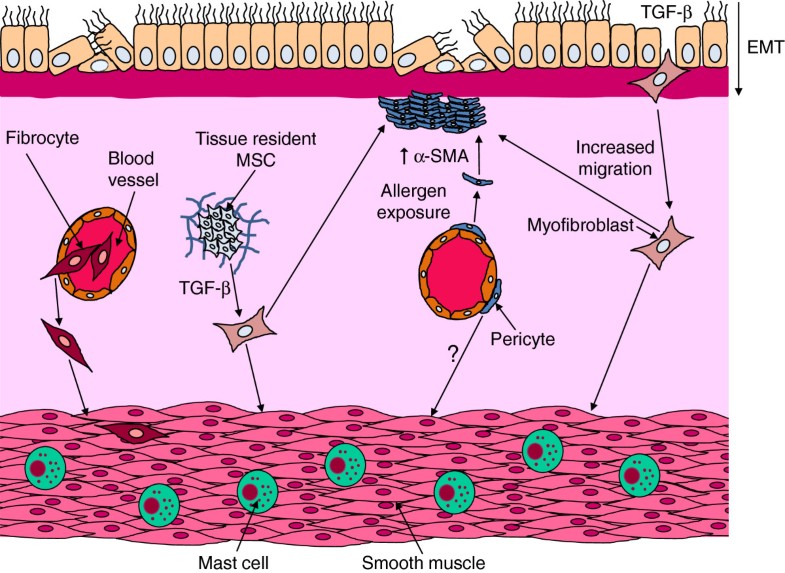 Conclusion
The factors governing ASM and myofibroblast hyperplasia in asthma are still not fully understood. Further human studies following experimental challenges or novel interventions, that impact upon airway remodeling, such as thermoplasty, are required. Thermoplasty is a newly licensed therapy for severe asthma that applies thermal energy to the airway wall via a bronchoscope. In early animal studies and in humans receiving thermoplasty prior to lung resection for cancer, ASM mass is reduced, suggesting that the improved exacerbation frequency and health status following therapy in asthma may be in part due to a reduction in ASM mass [52]. Importantly, to date this has not been confirmed in asthma. How the airway responds to this thermal injury might shed light not only upon the mechanism of action of this therapy, but also provide insights into airway repair in response to injury. Such studies will help to determine the relationship between these structural changes and disordered airway function. As discussed, the role of mesenchymal stem and progenitor cells in airway smooth muscle remodeling in asthma is obscure. There is a significant possibility that a degree of heterogeneity exists among these cells with some having immunomodulatory properties that ought to be promoted and others having pro-remodeling properties that ought to be suppressed, although this remains to be proven. In conclusion, the last few decades have advanced greatly our understanding of the role of inflammation in asthma. The challenge for the next decade is to understand the mechanisms driving airway remodeling, particularly increased ASM mass and its clinical relevance, to inform the development of new therapies.
Authors' information
RB is a clinical research fellow in the Department of Infection, Immunity and Inflammation at the University of Leicester. He is also a part-time PhD student in the same department and his future thesis will be focused on the relation between remodeling and function in the asthmatic airways. RS is a Postdoctoral Research Associate in the Department of Infection, Immunity and Inflammation at the University of Leicester. Her special interests include the mechanisms involved in airway remodeling in asthma. CEB is a Wellcome Senior Research Fellow and Clinical Professor in Respiratory Medicine. His research in focused on the immunopathogenesis of airways disease, including asthma and COPD.
Abbreviations
ASM:

Airway smooth muscle
BMSC:

Bone marrow stromal cells
EMT:

Epithelial-mesenchymal transition
IL:

Interleukin
MSCs:

Mesenchymal stem cells
RBM:

Reticular basement membrane
TGF-β:

Transforming growth factor-beta.
Declarations
Acknowledgments
This review was funded by a Wellcome Senior Clinical Fellowship (CEB) and by AirPROM (FP7 270194). This article is supported by the National Institute for Health Research Leicester Respiratory Biomedical Research Unit. The views expressed are those of the authors and not necessarily those of the NHS, the NIHR or the Department of Health.
Authors' Affiliations
(1)
Department of Infection, Immunity and Inflammation, Institute for Lung Health, University of Leicester, Leicester, UK
Copyright
© Berair et al.; licensee BioMed Central Ltd. 2013
This article is published under license to BioMed Central Ltd. This is an Open Access article distributed under the terms of the Creative Commons Attribution License (http://creativecommons.org/licenses/by/2.0), which permits unrestricted use, distribution, and reproduction in any medium, provided the original work is properly cited.