Opinion

Open Access

Open Peer Review
This article has Open Peer Review reports available.
The intergenerational effects of war on the health of children
Received: 6 October 2013
Accepted: 26 February 2014
Published: 2 April 2014
Abstract
Background
The short- and medium-term effects of conflict on population health are reasonably well documented. Less considered are its consequences across generations and potential harms to the health of children yet to be born.
Discussion
Looking first at the nature and effects of exposures during conflict, and then at the potential routes through which harm may propagate within families, we consider the intergenerational effects of four features of conflict: violence, challenges to mental health, infection and malnutrition. Conflict-driven harms are transmitted through a complex permissive environment that includes biological, cultural and economic factors, and feedback loops between sources of harm and weaknesses in individual and societal resilience to them. We discuss the multiplicative effects of ongoing conflict when hostilities are prolonged.
Summary
We summarize many instances in which the effects of war can propagate across generations. We hope that the evidence laid out in the article will stimulate research and – more importantly – contribute to the discussion of the costs of war; particularly in the longer-term in post-conflict situations in which interventions need to be sustained and adapted over many years.
Keywords
War
Conflict
Developmental origins
Children
Mental health
Background
The adverse effects of war on the health of children have been well documented [
1
–
4
], but less well known is how exposure to violence can propagate effects across generations. Conflict causes injury, illness and breakdown in the structures that provide preventive, curative and ameliorative care. It has profound effects on society that form a permissive framework for the effects we describe. The mediators of loss are many, but include population displacement and breakdown of health services and schooling, on a background of economic decline and supply constraint. Figure
1
shows how these indirect effects are related with conflict and have a pervasive influence that reaches down to the next generation.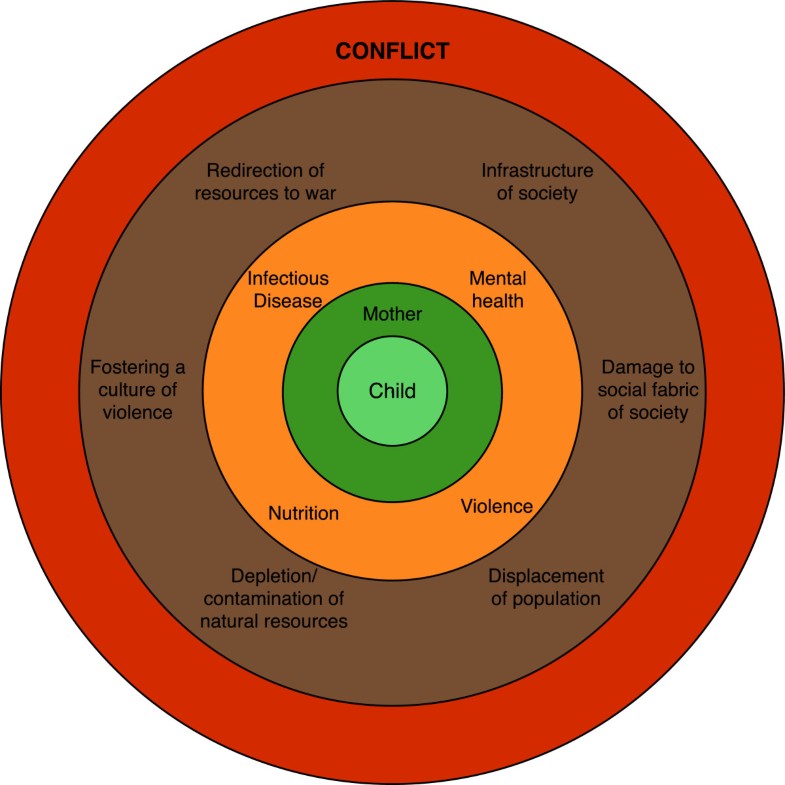 Conflicts or wars, as defined by the World Health Organizationa, are becoming increasingly complex and involve multiple state and non-state actors [6]. In the last 20 years, conflicts have occurred in 37% of countries. In 2010, there were 30 armed conflicts involving at least one state, 26 non-state conflicts and 18 armed groups involved in one-sided violence [7, 8]. It is difficult to know if the nature of conflict has changed, but recent wars provide evidence of the targeting of health facilities to weaken opposition forces and populations. Even schools are coming under attack, either deliberately or as collateral damage [9, 10]. The association between conflict and poverty means that conflict-affected populations face major challenges after fighting has ceased. Economic development is affected by war in a number of ways that involve a combination of reduced output and increased expenditure, for example on security, and weakened systems of governance [11]. Most modern wars are short-lived and occur within national boundaries, but some, such as recent conflicts in South Sudan and Afghanistan, continue for decades [6]. Economic breakdown within conflict-afflicted states makes some countries among the poorest in the world, with approximately a third being defined as low-income (gross national income per capita <US$995). The World Bank judges that 80% of the world's 20 poorest countries have experienced major conflicts [12], and it has been estimated that conflict leads to a reduction in annual economic output of 1% to 3% [13, 14].
That harms to health may be long-lasting within an individual's lifetime is well established, but there is increasing awareness that adverse effects may continue through intergenerational biological mechanisms. Our life course is sensitive to the environments in which we, our mothers, and grandmothers were conceived and grew up. Many exposures during development are mediated by maternal phenotype and reflect stresses to which mothers were originally exposed. Figure
2
illustrates how the effects of conflict can be mediated through harm to mothers. Recent work has emphasized that maternal physiology and behavior can buffer their offspring against ecological stresses, but this is only partial [
15
], such that exposure to conflict in one generation may potentially propagate adverse effects to subsequent generations. Epigenetic modifications to DNA expression have emerged as key biological mechanisms contributing to such intergenerational transmission, although direct transmission of epigenetic marks themselves appears rare and the primary impact of maternal phenotype is its influence on
de novo
marks in the offspring [
16
,
17
].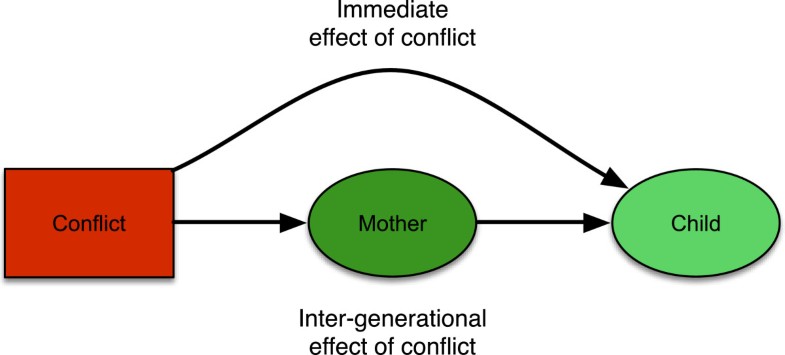 Greater awareness of the potential intergenerational consequences of conflict may lead to their early recognition and improved diagnosis and response. Documentation of the consequences will also add to the overall evidence on the effects of conflict on health, which may weigh more heavily in the balance when violent conflict is an option. A war may end, but its effects do not, and – in an example of intergenerational justice - those who resort to conflict may be held accountable for harms to the health of future generations. For this review, we searched the Medline, Psychinfo and Google Scholar databases using the search strategy described in Additional file 1. Only articles published in English were included, with no date restrictions. After finding an article, we considered the reference list or suggested articles for further evidence. This was supplemented by a general search of the literature on conflict/war and specific searches as questions arose. We summarize the evidence of how four features of conflict - violence, challenges to mental health, infections and malnutrition - may harm more than one generation, responding to emerging ideas about the epigenetic transmission of physiology [18, 19]. We also discuss the multiplicative effects of ongoing conflict when hostilities are prolonged.
Discussion
We have given examples of how conflict can have long-lasting intergenerational effects, working through parental exposure to violence, mental health stressors, infection and nutrition (summarized in Table
2
). Much has been written about the health effects of war but the literature on its enduring effects is sparse. With our growing understanding of the developmental origins of health and disease, it is becoming evident that the extreme conditions that conflict imposes can have effects that last for generations, making a 'brief' conflict a misnomer. Many interrelated pathways have been identified between parental exposure and subsequent generations, but further evidence is required to estimate the magnitude of their effects. Given the range of conflict scenarios, there is likely to be a great deal of heterogeneity.
Table 2
Summary of maternal and intergenerational effects
Key areas

Maternal exposure - possible consequences

Intergenerational associations - increased risk of

Violence

Domestic violence

Congenital malformations

Mental illness/physical trauma

Low birth weight

Rape

Perinatal morbidity and mortality

Trafficking and prostitution

Premature birth

Altered physical and mental development

Neglect and abuse

Mental health

PTSD

Impaired growth

Depression

Poor educational attainment

Anxiety

Neuroendocrine and immune system modulation

Psychosomatic disorders

Infection

Drug and alcohol abuse

Mental illness

Higher suicide rates

Social functioning impairment

Infectious diseases and health systems

Increased transmission of infectious diseases

Fetal or infant mortality

Malnutrition

Disability

Obstetric complications

Cardiovascular disease

Increase in maternal mortality

Congenital malformations

Impaired cognitive development

Nutrition

Malnutrition including micronutrient deficiencies

Neonatal mortality

Obstetric complications

Low birth weight

Maternal mortality

Malnutrition/under-nutrition

Impaired growth and development

Educational under-attainment

Congenital abnormalities

Non-communicable diseases

Future reproductive capacity
Our categorization of potential exposures and effects is illustrative and artificial in the sense that their interactions are complex. Physiological and pathological effects of stressors – trauma, infection, malnutrition – are linked in a complex system with institutional factors, such as education and health system challenges, and social factors, such as cultures of alcohol use and violence. Prior conflict creates a population with a reduced capacity to cope with adversity, and ongoing or subsequent conflict may compound this and exacerbate the adverse health effects. The prevention of conflict and its effects on health are crucially important public health concerns [11], but the intergenerational picture has received little attention so far. In many cases, the causal link between conflict and intergenerational outcomes is lacking, and the paucity of research reflects at least partly the challenges of working in current or recent conflict zones. Where evidence from conflict situations is limited, we have hypothesized on the basis of available evidence or discussed evidence from non-conflict situations.
Intergenerational justice
Similar to the growing calls for consideration of future generations in climate change debates, we call for policy makers to consider them with respect to conflict. The notion of intergenerational justice emphasizes a temporal dimension, giving future generations rights that those currently alive should maintain. The extent to which existing legislative powers can be used to uphold these rights is uncertain, but legal bodies could potentially extend their scope to the violation of the rights of future beings. Statutes such as the UN Convention on the Rights of the Child (Articles 38 and 39) already exist to protect the rights of children in war [192]. The arguments we lay out are aligned with gender-based social justice since in many parts of the world women receive fewer resources in general and particularly in terms of access to healthcare [193]. The idea of intergenerational justice can also be aligned with a present day rights-based approach to help protect not only the current population but also future generations. In this sense, we do not see a clash between the two.
It is not within the scope of this paper to adequately review the interventions that may be of benefit in preventing the future adverse effects of war, but we have tried to summarize the main categories in Box 2. Many of these are the same as those required for the current population, but the imperative to protect certain groups, such as pregnant women, is reinforced. Past conflicts may have led to positive changes, such as the removal of oppressive regimes, as well as negative impacts. However, our discussion highlights the importance of minimizing the likelihood of conflict when seeking such positive changes. Interventions to break the cycle of transmission should be examined at the point at which governing bodies and non-state actors are considering going to war, and in its aftermath, as well as during conflict. In examining the health of a population, previous insults need to be considered in order to understand fully the situation and to initiate solutions. Importantly, policy makers should bear in mind that a population may take multiple generations for the adverse health effects of conflict to be negated as a region attempts to return to its premorbid state or moves on to a new post-conflict one and it is possible that a return to the previous state may never happen if conflict changes the status quo within a given area. Conflict-related public health interventions need to be sustained for a number of years and adapted over time to cope with changing needs.
Summary
In this article, we summarize how the effects of war can propagate across generations. We hope this review will stimulate debate and research on the long-term and intergenerational health effects of conflict and their mechanisms and contribute to the discussion of the costs of war. The evidence we have included strengthens the position that violent conflict should be avoided and indicates that intergenerational effects should be included routinely in the anticipated and estimated consequences of war.
Endnote
aWHO definition of conflict: 'The instrumental use of [armed] violence by people who identify themselves as members of a group – whether this group is transitory or has a more permanent identity – against another group or set of individuals, in order to achieve political, economic or social objectives'. Wars are armed conflicts with more than 1,000 battle-related deaths in any one year.
Box 1: Biological effects of PTSD
Increased stress levels in mothers can act in a similar fashion to under-nutrition, potentially mediated by changes in the hypothalamic-pituitary-adrenal (HPA) axis [194]. Occurrence of PTSD is thought to be influenced by epigenetic changes, with possibly both genome-wide and specific changes in genes such as DLGP2 [195]. Exposure to massive stress during pregnancy has been associated with epigenetic programming of the HPA axis in utero, leading to an increased susceptibility to mental illness in the child [90]. The mechanism by which this is believed to occur is that traumatic events lead to epigenetic changes to the glucocorticoid GR gene that subsequently alter offspring cortisol response to future events. Radtke et al. showed lasting effects of the methylation of glucocorticoid receptor genes associated with intimate partner violence against the mother around the time of pregnancy [91]. These findings from research on humans are supported by animal studies. For example, expression of the glucocorticoid receptor gene in the rodent hippocampus is modulated by the level of care received by the mother [196, 197]. Further to this, the administration of drugs that alter DNA methylation can reverse altered behavior, as shown by the use of the demethylating substance trichostatin and methylating substance methionine [198, 199].
Box 2: Using the evidence of intergenerational consequences of conflict: some possible strategies
Prevent the onset of war and violent conflict
When conflict starts, all options to reach an alternative peaceful solution have rarely been exhausted [200]. There may be strong political or economic motivations behind the decision to go to war or resort to violent conflict. These may include the need to do so for 'humanitarian' reasons, although recent military action initiated on this basis has caused such a degree of mortality, morbidity and destruction that the humanitarian reason has been rather discredited. However, there is potentially a case to be made for going to war to prevent death, injury and destruction.
Viewed objectively, there will be a range of reasons for going to war or taking violent action and a range of reasons for not doing so; evidence of the health consequences of taking violent action will fall within the latter. The greater this evidence is, the harder it will be to justify war. Intergenerational consequences for health are an under-researched result of war that could tip the balance against it, help put a brake on the push to war and ensure that other peaceful options are pursued as a priority.
Factor in a longer-term perspective if contemplating going to war
The link between the likely longer-term health consequences of going to war and the conflict itself can be hard to establish definitively. The more time passes, the more possible confounders have to be taken into account, making direct causal links difficult to prove. However, combining disciplines and research to illustrate these links in the area of child health can be compelling, as there is a general consensus that children should be protected during war and that future generations are innocent. This makes a growing body of evidence that supports the link between conflict and future health problems for children a strong advocacy tool for conflict prevention.
Ensure a long-term component to interventions both during and after conflict, taking long term consequences into account
The type of interventions used to meet health needs caused by conflict, and the resources that are dedicated to them, should be decided on the basis of need. Much work has been done on how those needs can be accurately assessed [201] and minimum standards of response assured [202]. If need can be shown to be more long-lasting and serious than previously thought, particularly in relation to mother and child health, it could influence needs assessments, minimum standards and intervention planning. This would also help make the case for sufficient and appropriate resource allocation.
Ensure extra care is provided for vulnerable groups, particularly pregnant women
Evidence of the intergenerational health consequences of violent conflict will reinforce the degree of vulnerability of pregnant women to health shocks. Pregnant and lactating women are already recognized as a priority group for humanitarian health programs [203], but there is still much to be done before programs are fully integrated, effective and adequately resourced. A better understanding of the consequences of not having optimal and well-resourced programs will be a strong advocacy tool to use with donors and others.
Upholding international conventions to safeguard children through intergenerational justice
International law that relates to the rights of children is almost universally recognized and key parts of it are considered to be customary law [204]. Better established links between violent conflict and the health and wellbeing of children not yet born could contribute to holding those who initiate war or violent conflict to account for the consequences of their actions. This, in turn, would be a further restraining factor on initiating violent conflict.
Abbreviations
CI:

confidence interval
HPA:

hypothalamic-pituitary-adrenal
IDP:

internally displaced person
OR:

odds ratio
PTSD:

post-traumatic stress disorder
UNHCR:

United Nations High Commissioner for Refugees.
Declarations
Acknowledgements
Ruwan Ratnayake, The International Rescue Committee, advised on the content and commented on a draft version. There was no specific funding for this research. D Devakumar (092121) and D Osrin (091561) are supported by Wellcome Trust Research fellowships.
Authors' Affiliations
(1)
Institute for Global Health, University College London, London, UK
(3)
Royal Tropical Institute, Amsterdam, The Netherlands
(4)
Childhood Nutrition Research Centre, Institute of Child Health, University College London, London, UK
Copyright
© Devakumar et al.; licensee BioMed Central Ltd. 2014
This article is published under license to BioMed Central Ltd. This is an Open Access article distributed under the terms of the Creative Commons Attribution License (http://creativecommons.org/licenses/by/2.0), which permits unrestricted use, distribution, and reproduction in any medium, provided the original work is properly credited. The Creative Commons Public Domain Dedication waiver (http://creativecommons.org/publicdomain/zero/1.0/) applies to the data made available in this article, unless otherwise stated.