Opinion

Open Access

Open Peer Review
This article has Open Peer Review reports available.
Central pathways causing fatigue in neuro-inflammatory and autoimmune illnesses
Received: 19 November 2014
Accepted: 17 December 2014
Published: 6 February 2015
Abstract
Background
The genesis of severe fatigue and disability in people following acute pathogen invasion involves the activation of Toll-like receptors followed by the upregulation of proinflammatory cytokines and the activation of microglia and astrocytes. Many patients suffering from neuroinflammatory and autoimmune diseases, such as multiple sclerosis, Parkinson's disease and systemic lupus erythematosus, also commonly suffer from severe disabling fatigue. Such patients also present with chronic peripheral immune activation and systemic inflammation in the guise of elevated proinflammtory cytokines, oxidative stress and activated Toll-like receptors. This is also true of many patients presenting with severe, apparently idiopathic, fatigue accompanied by profound levels of physical and cognitive disability often afforded the non-specific diagnosis of chronic fatigue syndrome.
Discussion
Multiple lines of evidence demonstrate a positive association between the degree of peripheral immune activation, inflammation and oxidative stress, gray matter atrophy, glucose hypometabolism and cerebral hypoperfusion in illness, such as multiple sclerosis, Parkinson's disease and chronic fatigue syndrome. Most, if not all, of these abnormalities can be explained by a reduction in the numbers and function of astrocytes secondary to peripheral immune activation and inflammation. This is also true of the widespread mitochondrial dysfunction seen in otherwise normal tissue in neuroinflammatory, neurodegenerative and autoimmune diseases and in many patients with disabling, apparently idiopathic, fatigue. Given the strong association between peripheral immune activation and neuroinflammation with the genesis of fatigue the latter group of patients should be examined using FLAIR magnetic resonance imaging (MRI) and tested for the presence of peripheral immune activation.
Summary
It is concluded that peripheral inflammation and immune activation, together with the subsequent activation of glial cells and mitochondrial damage, likely account for the severe levels of intractable fatigue and disability seen in many patients with neuroimmune and autoimmune diseases.This would also appear to be the case for many patients afforded a diagnosis of Chronic Fatigue Syndrome.
Keywords
Immune
Inflammation
Oxidative stress
Toll-like receptor
Fatigue
Mitochondria
Multiple sclerosis
Chronic fatigue syndrome
Parkinson's disease
Background
There is copious evidence establishing the causative role of peripheral immune activation and inflammation, evidenced by elevated levels of proinflammatory cytokines in the genesis of debilitating fatigue in neuro-inflammatory, autoimmune and inflammatory disorders [1,2]. Activation of pathogen recognition receptors by pathogen associated molecular patterns leads to the production of nuclear factor NF-kappaB and subsequent production of proinflammatory cytokines by the myeloid differentiation primary response gene (88) (MYD88), which is a universal adapter protein that is used by almost all Toll-like receptors (TLRs) in dependent and independent pathways [3-5]. Systemic inflammatory stimuli, resulting from the presence of proinflammatory cytokines in the peripheral circulation, enter the brain via a number of routes [1,6] activating microglia and astrocytes inducing the production of proinflammatory cytokines and other neurotoxins leading to an environment of neuroinflammation [7,8]. This sequence of events ultimately underpins the genesis of fatigue and other signs and symptoms associated with acute pathogen invasion [1,9,10]. Many people suffering from a range of neuroimmune and autoimmune diseases also suffer from debilitating or intractable fatigue.
The existence of chronically activated immune and inflammatory pathways in the periphery and their causative role in the genesis of neuroinflammation has been established in a range of neuroinflammatory and neurodegenerative diseases, such as multiple sclerosis, Alzheimer's and Parkinson's disease [11-16]. Many individuals with neuroinflammatory and neurodegenerative diseases also suffer from fatigue. For example, upwards of 80% of multiple sclerosis patients suffer from fatigue [17]. A study by Beiske and Svensson reported that between 37% and 57% of patients with Parkinson's disease also experience incapacitating fatigue [18]. Fatigue is one of the characteristics of major depression [19,20]. Chronic systemic inflammation and the presence of activated microglia are also found in patients with major depression [19-22]. Chronic systemic inflammation and immune activation is also an invariant finding in many patients diagnosed with chronic fatigue syndrome (CFS) even without evidence of increased pathogen load [17].
Severe chronic fatigue is also experienced by many people with an autoimmune disease. Thus, upwards of 67% of people with Sjogren's syndrome [23], 76% of patients with systemic lupus erythromatosis (SLE) [24] and 70% of people with rheumatoid arthritis [25] suffer incapacitating levels of fatigue. Peripheral systemic inflammation and immune activation, as evidenced by elevated levels of proinflammatory cytokines and other inflammogens, is seen in patients with rheumatoid arthritis [26,27], SLE [28,29] and Sjogren's syndrome [30,31]. It is interesting to note that neurological sequelae are seen in up to 80% of patients with SLE and 70% of patients with primary Sjögren's syndrome [32,33]. In addition, the presence of neuroinflammation, in the shape of activated microglia, has been confirmed in patients with SLE [34]. Neurological complications are also commonplace in patients with rheumatoid arthritis [35].
The question arises as to the factors involved in creating a chronically activated immune system in these patients. While there is some evidence linking viral infections to the development of multiple sclerosis [36,37], the situation in Parkinson's disease is different, where there is considerable evidence suggesting environmental toxins in the etiopathogenesis of the illness [38]. One of the key drivers in the development of chronic immune activation in the absence of bacteria or virus infection is the development of chronic inflammation as evidenced by elevated levels of cytokines and oxidative and nitrosative stress (O and NS) and characterized by activated NF-kappaB [6,39]. Indeed, the production of proinflammatory cytokines and other inflammatory molecules by macrophages and other sentinel cells, even in the absence of pathogen invasion, and the subsequent activation of NF-kappaB are early events in the genesis of chronic inflammation [40,41]. Activation of this transcription factor leads to the upregulation of cytokines and O and NS [6,42-44]. These players can engage in a feed-forward manner to maintain and amplify chronic inflammation and immune activation in a TLR radical cycle [4].
Briefly, elevated levels of proinflammatory cytokines can amplify the activity of NF-kappaB by stimulating the canonical pathway leading to a cycle of mutually elevated activity [45,46]. The relation between O and NS and NF-kappaB is a little more complex, but the upregulation of O and NS can directly increase the activity of NF-kappaB [47]. Moreover, O and NS may damage lipids, proteins and DNA, leading to the formation of redox-derived damage-associated molecular pattern molecules (DAMPs) [48,49]. Once formed, these redox-derived DAMPS engage with TLRs further amplifying production of NF-kappaB, cytokines and O and NS [4,50]. Hence, chronic inflammation and immune activation can be maintained and amplified by engagement of TLRs by DAMPS [4].
Chronically elevated levels of NF-kappaB, proinflammatory cytokines and O and NS, in turn, lead to a disruption of epithelial tight junctions in the intestine allowing translocation of gram-negative bacteria, containing lipopolysaccharides, into the circulation, which can further amplify the TLR-radical cycle by acting as a pathogen-associated molecular pattern (PAMP) [1]. Translocation of bacterial lipopolysaccharides (LPS) from the gut and engagement with TLRs, due to a state of increased intestinal permeability driven by the effector molecules of chronic inflammation is another cause of chronic immune activation that may play a role in major depression, CFS, neuro-inflammatory disorders and some systemic autoimmune disorders [6,7]. For example, further evidence of chronic immune activation in these neuroimmune and autoimmune illnesses is provided by data demonstrating TLR activation and upregulation in multiple sclerosis (MS) [51] and SLE [52].
Given the established association between chronic inflammation and the genesis of incapacitating fatigue [1], the TLR-radical cycle can potentially explain the development of incapacitating fatigue in patients suffering from these and other illnesses. This association may be explained by chronically increased levels of proinflammatory cytokines and reactive oxygen and nitrogen species (ROS/RNS) produced by the TLR-radical cycle upon stimulation by PAMPs and DAMPs [4]. We have reviewed previously that some proinflammatory cytokines, including IL-1β, TNF-α and IL-6, and increased O and NS processes may cause fatigue in some vulnerable individuals [1,4,6,7]. Mitochondrial dysfunction likely plays a major role in the progression of MS. Electron transport chain (ETC) complex I, complex III and complex IV activity is grossly reduced in normal appearing gray matter and in normal tissue within the motor cortex in patients suffering from this illness [53,54]. There is also direct evidence of globally impaired energy production and longitudinal depletion of ATP levels leads to increased levels of physical disability [55]. Multiple lines of evidence demonstrate the existence of mitochondrial dysfunction in many, but by no means all, patients afforded a diagnosis of CFS [56]. These abnormalities include loss of mitochondrial membrane integrity and oxidative corruption of translocatory proteins [57,58]. Other findings include abnormal muscle mitochondrial morphology and defective aerobic metabolism uncharacteristic of muscle disuse [59]. Several other teams have reported significant downregulation of oxidative phosphorylation in striated muscle [60,61]. Complex I deficiency is seen in the frontal cortex and substantia nigra of Parkinson's disease patients [62], and this defect is also observed in peripheral tissues, such as skeletal muscle [63], strongly indicating a widespread reduction in complex I activity in Parkinson's disease. Impaired complex III function has also been reported in the platelets and lymphocytes of patients with this illness [64]. There is also accumulating evidence that inflammation and subsequent mitochondrial dysfunction drive the symptoms of major depression [65,66]. Localized or global mitochondrial dysfunction is also an invariant feature of autoimmune diseases. Persistent mitochondrial membrane hyperpolarization and increased O and NS production combined with depleted levels of glutathione and ATP is an invariant characteristic of T cells in SLE [67,68]. The release of DAMPS into the systemic circulation, consequent to necrosis, acts as a mechanism by which localized mitochondrial pathology can lead to self-perpetuating systemic inflammation which, in turn, amplifies mitochondrial dysfunction in a vicious feed-forward loop [56,69]. The association between chronic oxidative stress, systemic inflammation and mitochondrial dysfunction and chronic oxidative stress is also firmly established in Sjogren's syndrome [70]. There is also evidence of widespread nitric oxide (NO)-induced inhibition of complex III and V of the ETC in patients with rheumatoid arthritis [71,72]. The causative role of chronic inflammation and oxidative stress and mitochondrial dysfunction is explained by the presence of elevated levels of ROS and RNS in such environments. These entities cause damage to proteins, DNA and lipid membranes [56]. NO and peroxynitrite have the capacity to inhibit crucial enzymes within the ETC and can inactivate crucial enzymes in the tricarboxylic acid cycle leading to, often critical, reductions in the generation of ATP [7]. Peroxynitrite, in particular, also has a destructive influence on the mitochondrial membrane leading to the loss of potential difference between the outer and inner membrane needed to manufacture ATP [7]. The products of lipid peroxidation driven by elevated levels of ROS are also toxic to mitochondrial membranes. It is noteworthy that inhibition of the ETC leads to the formation of even higher concentrations of oxygen radical species which, in turn, leads to further impairment of mitochondrial function [7]. Needless to say there are numerous studies demonstrating that the origin of severe intractable fatigue seen in people with syndromic mitochondrial diseases lies in mitochondrial pathology and depleted generation of ATP. The reader is referred to the work of [56] for further details.
In this narrative review we will review the evidence pertaining to the genesis of intractable debilitating fatigue in multiple sclerosis, Parkinson's disease, SLE, Sjogren's disease, rheumatoid arthritis, major depression and CFS with a view of forming a conclusion as to whether such evidence justifies the viewpoint that the debilitating fatigue commonly suffered by those patients diagnosed with various illnesses is immune, inflammation or O and NS-mediated either directly or indirectly by causing abnormalities such as mitochondrial dysfunctions and central, neuropathological or functional processes [
56
,
73
-
75
]. These specific disorders were selected as examples along a spectrum of imbalance involving various degrees of activation of immune-inflammatory and O and NS pathways, and mitochondrial and brain metabolic dysfunctions in systemic auto-immune, immune-inflammatory and neurodegenerative disorders. Figure
1
shows the underlying processes and pathways associated with secondary fatigue, which we will discuss in the following sections.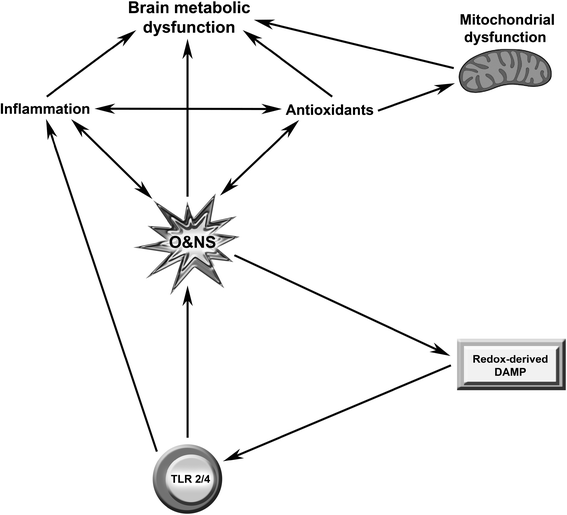 Summary and conclusion
Figure
3
shows a diagram illustrating the causal links being described in the above sections synthesizing the significant pathways that lead to secondary fatigue in these different neurodegenerative and systemic (auto)immune disorders. There is clear evidence of a positive relationship between fatigue severity and levels of disability in MS. It is of interest that levels of peripheral inflammation, oxidative stress and TNF-α also display a positive correlation with objective markers of disease activity and disability levels and that levels of proinflammatory cytokines correlate positively with levels of fatigue. The existence of gray matter atrophy before the advent of white matter abnormalities, and the existence of metabolic abnormalities before the advent of gray matter pathology, rather argues against the proposition that the chronic peripheral immune activation and oxidative stress seen in early disease is secondary to the release of inflammatory mediators from the CNS. These observations, coupled with data demonstrating that the severity of neuro-inflammation depends on the level of peripheral immune activation and that inflammation drives the development of disease, emphasizes the likely causative role of peripheral pathology. The strong association between the severity of fatigue and disability and the level and geographical distribution of glucose hypometabolism and gray matter hypoperfusion strongly indicates that these elements are driven by generic rather than disease specific pathology. These kinds of generic abnormalities are also evident in Parkinson's Disease where peripheral immune activation, oxidative stress, GM atrophy and widespread glucose hypometabolism are all evidenced in the very earliest stages of disease development. It is also noteworthy that the prevalence of severe intractable fatigue increases with the degree of disease progression and that the degree of peripheral inflammation and levels of proinflammatory cytokines are predictive of disease development and severity. When viewed as a whole these observations also support the view that severe intractable fatigue results from processes which are not disease specific but involved in disease pathogenesis. The existence of chronic peripheral inflammation and immune activation together with GM atrophy and glucose hypometabolism in patients with first episode depression is now a textbook truism. Interestingly, the pattern of neuroimaging abnormalities and GM pathology appears to be quite distinct from that seen in patients with neuroimmune and autoimmune diseases for reasons which are not yet clear. This pattern of peripheral inflammation and immune activation is also found in autoimmune diseases with levels of oxidative stress and proinflammatory cytokines having a causative role in the pathophysiology of SLE and displaying positive correlations with objective markers of disease severity. This is also true of patients with Sjogren's syndrome where objective markers of disease activity are reduced by cytokine blockade. There is also evidence demonstrating that the severity of fatigue is associated with the degree of white matter hyperintensities in people with SLE and evidence that the neuropathology in Sjogren's syndrome is immune mediated. The widespread mitochondrial dysfunction seen in people with autoimmune diseases could also make a significant contribution to the development of fatigue. Widespread mitochondrial dysfunction, in otherwise normal tissue, is also seen in patients with MS, Parkinson's disease and in many patients with apparently idiopathic fatigue. Given that many such patients also display evidence of peripheral immune activation, oxidative stress, gray matter pathology, glucose hypometabolism, hypoperfusion and metabolic abnormalities in the prefrontal cortex, basal ganglia and elsewhere, it would seem reasonable to investigate all such patients for the presence of these abnormalities. Standard MRI is unlikely to be helpful but other approaches discussed in the main body combined with serum measures of immune activation and oxidative stress may well bear fruit.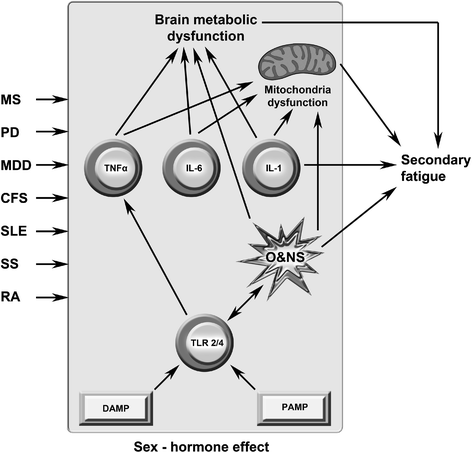 As these mechanisms are extensively inter-related, it should be underscored that without a solid prospective timeline and known systems biomedicine, it has remained difficult to distinguish causation from association. Therefore, future research should delineate: 1) the overwhelmingly complex and dynamic interactions between these different pathways and the intracellular networks that modulate them; and 2) the multifactorial triggers that cause secondary fatigue by activating the networks/pathways in those disorders, including viral and bacterial infections, bacterial translocation, psychosocial stressors, exposure to adjuvants, nicotine dependence, sex- and gender-related factors, and so on. Towards this end, a systems biomedicine approach is essential to delineate the genetic and molecular signature of fatigue in these disorders and the non-linear interactions between the many pathways, networks, and trigger and genetic factors that underpin secondary fatigue.
Multi-targeting these interlinked dysfunctions may show benefit in these diseases. For example, a number of antioxidant compounds have demonstrated efficacy in modifying pathways leading to chronic inflammation, oxidative stress and immune dysregulation at relatively high doses for a long duration [7]. N-acetyl-cysteine is an example of a multi-target therapeutic approach having the capacity to decrease the levels of ROS/RNS, increase the levels of cellular antioxidants, such as reduced glutathione, and normalize the production of proinflammatory cytokines and immune cell functions [397]. This supplement has demonstrated the capacity to improve fatigue and disease activity in SLE, CFS and major and bipolar depression [7,398]. Omega-3 polyunsaturated fatty acids (PUFAs) and zinc are also very effective antioxidants and anti-inflammatory compounds and supplementation has produced clinical benefit in patients diagnosed with depression and chronic fatigue syndrome [7,399,400]. Omega-3 PUFAs also show a clinical efficacy in SLE and rheumatoid arthritis [398,401,402]. Curcumin, another nutraceutical with anti-inflammatory and antioxidative effects, is useful in the treatment of depression and rheumatoid arthritis [403,404]. Coenzyme Q10 is another powerful antioxidant and anti-inflammatory compound which also has positive effects on mitochondrial function and which displays disease modifying effects in Parkinson's disease and produced clinical benefit in patients with a diagnosis of CFS [56]. Other approaches aimed at upregulating antioxidant defenses include N acetylcysteine, methylfolate and dimethyl fumarate, with the latter displaying disease modifying properties in MS [140]. Methylfolate produces a similar quantum of benefit in MDD as antidepressants and can often be effective in treatment-resistant depression [140].
It is concluded that there are sufficient robust multiple lines of evidence to support the proposition that the severe fatigue and profound disability experienced by people with the neurodegenerative, neuro-immune and autoimmune diseases discussed here is largely driven by peripheral immune activation and systemic inflammation either directly or indirectly by inducing mitochondrial damage.
Declarations
Funding
There was no specific funding for this specific study.
We confirm that we have read the Journal's position on issues involved in ethical publication and affirm that this report is consistent with those guidelines.
Authors' Affiliations
(1)
Tir Na Nog, Llanelli, UK
(2)
IMPACT Strategic Research Centre, School of Medicine, Deakin University, Geelong, Australia
(3)
Department of Psychiatry and The Florey Institute of Neuroscience and Mental Health, Orygen, The National Centre of Excellence in Youth Mental Health, The University of Melbourne, Parkville, Australia
(4)
Centre for Molecular and Medical Research, School of Medicine, Deakin University, Geelong, Australia
(5)
Department of Psychiatry, Faculty of Medicine, Chulalongkorn University, Bangkok, Thailand
Copyright
© Morris et al.; licensee BioMed Central. 2015
This is an Open Access article distributed under the terms of the Creative Commons Attribution License (http://creativecommons.org/licenses/by/4.0), which permits unrestricted use, distribution, and reproduction in any medium, provided the original work is properly credited. The Creative Commons Public Domain Dedication waiver (http://creativecommons.org/publicdomain/zero/1.0/) applies to the data made available in this article, unless otherwise stated.