Review

Open Access

Open Peer Review
This article has Open Peer Review reports available.
Targeted therapies for ER+/HER2- metastatic breast cancer
Received: 12 February 2015
Accepted: 14 May 2015
Published: 9 June 2015
Abstract
The majority of breast cancers present with estrogen receptor (ER)-positive and human epidermal growth factor receptor (HER2)-negative features and might benefit from endocrine therapy. Although endocrine therapy has notably evolved during the last decades, the invariable appearance of endocrine resistance, either primary or secondary, remains an important issue in this type of tumor. The improvement of our understanding of the cancer genome has identified some promising targets that might be responsible or linked to endocrine resistance, including alterations affecting main signaling pathways like PI3K/Akt/mTOR and CCND1/CDK4-6 as well as the identification of new ESR1 somatic mutations, leading to an array of new targeted therapies that might circumvent or prevent endocrine resistance. In this review, we have summarized the main targeted therapies that are currently being tested in ER+ breast cancer, the rationale behind them, and the new agents and combinational treatments to come.
Keywords
Breast cancer
Targeted therapy
Cancer genome
Endocrine therapy resistance
Introduction
Endocrine therapy represents a major treatment in all settings of the disease for breast cancers expressing estrogen receptor (ER)-α, which accounts for around 70 % of tumors [1, 2]. During the last two decades, third-generation aromatase inhibitors (AIs), such as anastrozole, letrozole, and exemestane, have become the standard endocrine treatment in postmenopausal women both in advanced and early disease, contributing to an improvement in median survival from 28 to 45 months between the late 1980s and late 1990s [3]. Despite the efficacy of these compounds, response rates for first-line metastatic patients have been described as up to 40 %, with all initial responders eventually developing resistance over time [4]. After progression on an AI, it might still be indicated to pursue with another endocrine agent like fulvestrant, unless there is significant visceral burden and rapid tempo of disease [5]. Other possibilities include treatment with a selective estrogen receptor modulator like tamoxifen or even hormone additive therapies, such as the use of progestins (medroxyprogesterone acetate) [6] and estrogen (ethinyl estradiol) [7, 8].
Due to its clinical significance, extensive research has been made in order to determine the potential mechanisms of endocrine resistance. Initial studies had identified the loss of ER expression as responsible for primary resistance, as well as polymorphisms of
CYP2D6
and
CYP19A1
as being responsible for the lack of benefit from tamoxifen and aromatase inhibitors, respectively [
9
–
12
], although further studies have not been able to confirm these findings [
12
,
13
]. For both primary as well as secondary resistance, one of the main responsible mechanisms is thought to be the interaction between ER and growth factor receptor signaling via either the phosphatidylinositol-3-kinase (PI3K)/protein kinase B (Akt)/mammalian target of rapamycin (mTOR) pathway, or the mitogen-activated protein kinase (MAPK) pathway which promotes ER phosphorylation (therefore activation) via a non-classical genomic pathway [
14
] (Fig.
1
). More recently, high-throughput technologies studies in ER-positive metastatic breast cancer samples have identified a large number of molecular aberrations in potential driver genes such as
PIK3CA
mutations,
FGFR1
and
CCND1
amplifications (11 %), and
ESR1
mutations (4 %) [
12
,
15
–
19
], some of them previously linked to endocrine resistance. This, in addition to the recent interest in the cell cycle regulation pathway cyclin D1/cyclin-dependent kinases [
20
], has resulted in the appearance of several therapies targeting these pathways in order to circumvent or delay the development of endocrine resistance.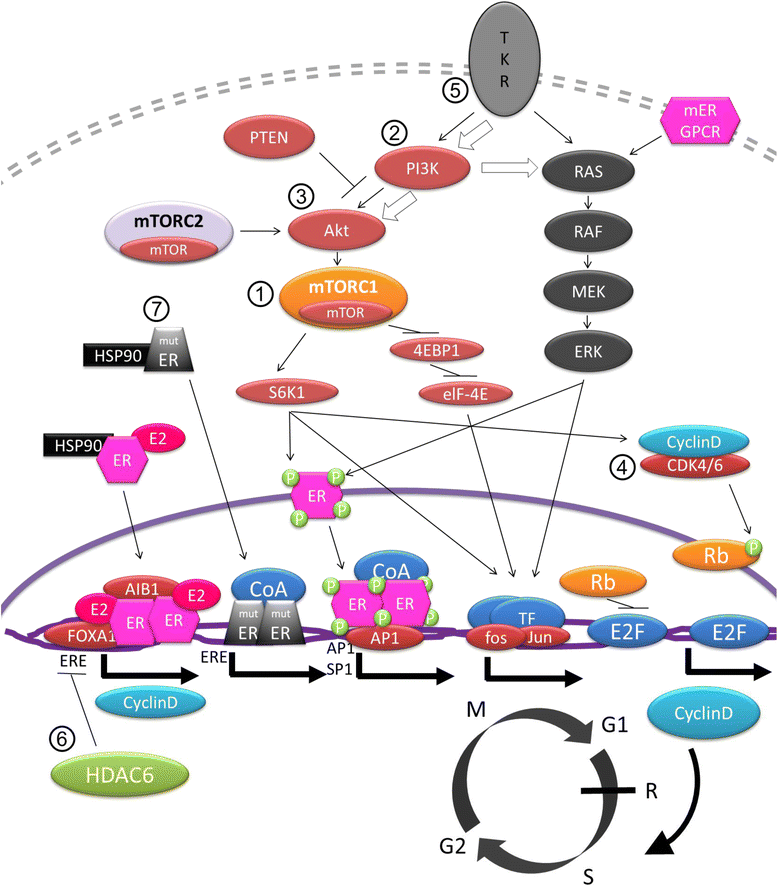 In this review, we summarize the rationale and the key clinical data obtained to date with targeting therapies for ER+/human epidermal growth factor receptor (HER)2- advanced breast cancer. This review is complementary to the one reported in the same journal by Migliaccio et al. [21], since it will discuss mostly new targeted therapies and mechanisms of resistance.
Conclusion
The mechanism of resistance to endocrine therapy in patients with ER-positive breast cancer remains a major issue. Previous studies had already identified a cross-talk between the ER pathway and growth factors pathways, mostly PI3K/Akt/mTOR and RAS/RAF/MAPK, as a main potential mechanism responsible for endocrine resistance. Moreover, the use of high-throughput technologies has identified several molecular aberrations present in breast tumors including PIK3CA mutations, AKT, FGFR1, and CCDN1 amplifications, as well as PTEN loss that contribute to the activation of these pathways and therefore might propitiate endocrine resistance via non-classical activation of ER. These findings have been made in parallel to the development of targeted therapies against these driver genes, leading to the approval of two new targeted therapies: everolimus and palbociclib against mTOR and CDK4/6, respectively, in combination with hormonotherapy to circumvent endocrine resistance. More recently, the discovery of somatic ESR1 mutations in tumors previously treated with endocrine therapy has directed attention to a new mechanism of resistance to endocrine deprivation. This, in addition to the results of currently ongoing clinical trials including combinations of different targeted therapies and a more comprehensive knowledge of the main molecular aberrations, will revolutionize the future management of ER-positive breast cancer.
Many challenges still remain though, as we try to identify the subsets of patients most likely to benefit from these novel targeted agents. A strategy for biological markers-driven selection of target agents for each patient and an integrated form for detecting reproducible key molecular alterations which cause endocrine resistance are mandatory for future precision medicine in this subset of breast cancer.
Abbreviations
AI:

Aromatase inhibitor
Akt:

Protein kinase B
CBR:

Clinical benefit rate
CDK:

Cyclin-dependent kinases
CI:

Confidential interval
ER:

Estrogen receptor
FGFR:

Fibroblast growth factor receptor
GPCR:

G-protein-coupled receptor
HDAC:

Histone deacetylases
HER:

Human epidermal growth factor receptor
HR:

Hazard ratio
HR:

Hormone receptor
HSP:

Heat shock protein
IGFR:

Insulin-like growth factor receptor
IRS:

Insulin receptor substrate
MAPK:

Mitogen-activated protein kinases
mTOR:

mammalian target of rapamycin
mTORC:

mTOR complex 1
nsAI:

non-steroidal AI
OS:

Overall survival
PFS:

Progression-free survival
PGDFR:

Platelet-derived growth factor receptor
PgR:

Progesterone receptor
PI3K:

Phosphatidylinositol-3-kinase
qPCR:

quantitative polymerase chain reaction
S6K1:

Ribosomal protein S6 kinase beta-1
SERD:

Selective ER down-regulator
SERM:

Selective estrogen receptor modulator
TTP:

Time to progression
VEGFR:

Vascular endothelial growth factor receptor
Authors' Affiliations
(1)
Department of Breast and Endocrine Surgery, Graduate School of Medical Sciences, Kumamoto University, Kumamoto, Japan
(2)
Department of Medical Oncology, Gustave Roussy Cancer Campus, Villejuif, France
(3)
INSERM Unit U981, Gustave Roussy Cancer Campus, Villejuif, France
(4)
Department of Medical Oncology and INSERM Unit U981, Gustave Roussy Cancer Campus, Villejuif, France
Copyright
© Yamamoto-Ibusuki et al. 2015
This article is published under license to BioMed Central Ltd. This is an Open Access article distributed under the terms of the Creative Commons Attribution License (http://creativecommons.org/licenses/by/4.0), which permits unrestricted use, distribution, and reproduction in any medium, provided the original work is properly credited. The Creative Commons Public Domain Dedication waiver (http://creativecommons.org/publicdomain/zero/1.0/) applies to the data made available in this article, unless otherwise stated.