Opinion
Open Access
Open Peer Review
This article has Open Peer Review reports available.
A proposed panel of biomarkers of healthy ageing
Received: 4 June 2015
Accepted: 1 September 2015
Published: 15 September 2015
Abstract
Background
There is no criterion reference for assessing healthy ageing and this creates difficulties when conducting and comparing research on ageing across studies. A cardinal feature of ageing is loss of function which translates into wide-ranging consequences for the individual and for family, carers and society. We undertook comprehensive reviews of the literature searching for biomarkers of ageing on five ageing-related domains including physical capability and cognitive, physiological and musculoskeletal, endocrine and immune functions. Where available, we used existing systematic reviews, meta-analyses and other authoritative reports such as the recently launched NIH Toolbox for assessment of neurological and behavioural function, which includes test batteries for cognitive and motor function (the latter described here as physical capability). We invited international experts to comment on our draft recommendations. In addition, we hosted an experts workshop in Newcastle, UK, on 22–23 October 2012, aiming to help capture the state-of-the-art in this complex area and to provide an opportunity for the wider ageing research community to critique the proposed panel of biomarkers.
Discussion
Here we have identified important biomarkers of healthy ageing classified as subdomains of the main areas proposed. Cardiovascular and lung function, glucose metabolism and musculoskeletal function are key subdomains of physiological function. Strength, locomotion, balance and dexterity are key physical capability subdomains. Memory, processing speed and executive function emerged as key subdomains of cognitive function. Markers of the HPA-axis, sex hormones and growth hormones were important biomarkers of endocrine function. Finally, inflammatory factors were identified as important biomarkers of immune function.
Summary
We present recommendations for a panel of biomarkers that address these major areas of function which decline during ageing. This biomarker panel may have utility in epidemiological studies of human ageing, in health surveys of older people and as outcomes in intervention studies that aim to promote healthy ageing. Further, the inclusion of the same common panel of measures of healthy ageing in diverse study designs and populations may enhance the value of those studies by allowing the harmonisation of surrogate endpoints or outcome measures, thus facilitating less equivocal comparisons between studies and the pooling of data across studies.
Keywords
BiomarkersAgeingPhysical capabilityCognitive functionPhysiological functionMusculoskeletal functionEndocrine functionImmune function
Background
Healthy ageing and wellbeing are common goals in modern societies. The major demographic shift towards higher proportions of older people within the population in many countries worldwide, and the recognition that much of the costs of health and social care in economically-developed countries is concentrated in the last decade or two of life, have sharpened the research focus on ageing [1].
Research on healthy ageing encompasses: the biological processes contributing to ageing per se; the socio-economic and environmental exposures across life which modulate ageing and the risk of age-related frailty, disability and disease; and the development of interventions which may modulate the ageing trajectory [2, 3]. Such research needs measures of biological ageing at the individual level which, in addition to chronological age, can characterise and quantify important functions which are subject to decline at faster, or slower, rates during individual human ageing. Biomarkers of healthy ageing would have utility as surrogate endpoints [4] or outcome measures in trials of interventions designed to extend healthspan and public health-related population surveys would benefit from reliable, readily-measured indices of healthy ageing. However, there is no criterion reference for assessing healthy ageing and this creates difficulties when conducting and comparing research on ageing across studies.
Over the last 50 years [5–7] there have been several attempts to develop markers of ageing but the complexity of the ageing phenotype [8] brings both conceptual and practical difficulties. Despite earlier efforts [9–12], there is currently no universally accepted definition of biomarkers of ageing or criteria for their selection, which has resulted in a lack of robust, validated tools for assessing healthy ageing [6–8]. The American Federation for Aging Research (AFAR) proposed that biomarkers of ageing: '1) must predict the rate of aging (it should tell exactly where a person is in their total lifespan and it must be a better predictor of lifespan than chronological age); 2) it must monitor a basic process that underlies the aging process, not the effects of disease; 3) it must be able to be tested repeatedly without harming the person (for example a blood test or an imaging technique); 4) it must be something that works in humans and in laboratory animals, such as mice (so that it can be tested in laboratory animals before being validated in humans)'. Biomarkers fulfilling all of the above AFAR criteria are unlikely to exist [6], and several candidate biomarkers of ageing have emerged in the past few decades but none has proved universally suitable for, or robust in, measuring or predicting the degree of ageing at either population or individual levels [13].
Ageing affects all cells, organs and tissues and, in the majority of body systems, is characterised by the gradual loss of function. When extensive, such functional losses have profound effects which impact on the individual and on family members and carers and have wide-ranging consequences for society. Here we aim to identify a panel of objective biomarkers of healthy ageing in humans where healthy ageing is defined as the maintenance of function for the maximal period of time [3]. Having functionality and pragmatism as our guiding principles, this work focused on those biomarkers which characterise and quantify important functions subject to deterioration in mean levels during ageing and for which there are robust, readily applied tools/instruments for their assessment. We focused attention on the domains of physical capability, cognition, physiological and musculoskeletal functions, and endocrine, immune and sensory functions. However, we recognise that there are important subjective features of the healthy ageing phenotype, including psychological and social wellbeing, which are not covered here [14–16]. In addition, there may be important bidirectional relationships between healthy ageing and wellbeing which are outside the scope of the present work. Our proposed panel of markers was selected from those which are best established, for which there is robust evidence supporting strong associations with ageing phenotypes, and which are likely to be cost-effective and practical for use in larger-scale studies. Most literature focuses on morbidity and mortality as ageing phenotypes or endpoints and there is no independent, criterion reference measure of healthy ageing against which existing or novel biomarkers may be assessed. On this basis and in line with current efforts to standardise definitions and roles of biomarkers [4], the proposed panel of biomarkers comprises a set of surrogate endpoints of important functions influenced by the ageing process.
Discussion
We aimed to identify objectively assessed biomarkers that are commonly used in population-based studies and applicable in a range of settings (that is, not limited to use in a laboratory/clinic setting), capable of distinguishing between healthy and unhealthy ageing between individuals at older ages, and which change within individuals over time. Where possible, we sought evidence of replication of the proposed marker in different cohorts and using different study designs. The research base in some domains, for example measures of age-related immune function proved to be less well developed than in others, for example measures of physical capability, so that our recommendations in the former domains are more tentative. To help fill the remaining gaps, we also aimed to identify priorities for further research on biomarkers of healthy ageing and these are summarised below in the sections headed 'Areas lacking adequate evidence'.
The process used to develop recommendations included: 1) undertaking comprehensive reviews of the literature relevant to each domain using, where available, existing systematic reviews, meta-analyses and other authoritative reports such as the recently launched NIH Toolbox for assessment of neurological and behavioural function, which includes test batteries for cognitive and motor function (the latter described here as physical capability) [
14
]; 2) we invited international experts to comment on our draft recommendations; and 3) we hosted an experts workshop in Newcastle, UK, on 22–23 October 2012, aiming to help capture the state-of-the-art in this complex area and to provide an opportunity for the wider ageing research community to critique the proposed panel of biomarkers (Fig.
1
). In this report we also highlight areas needing further research.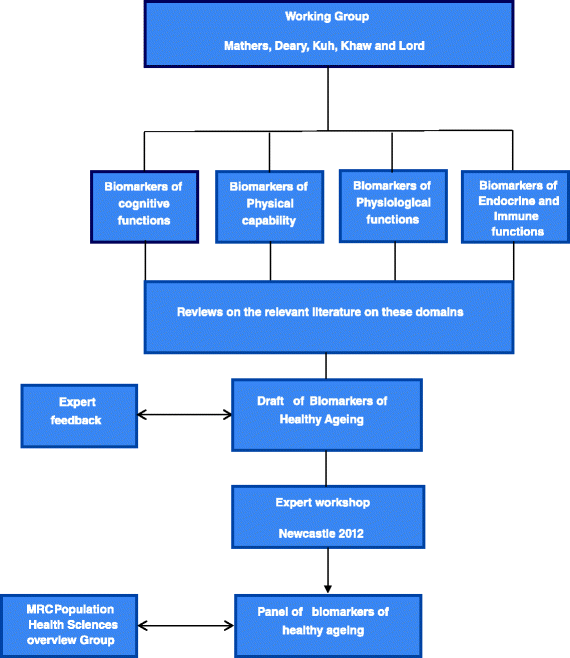 This work has been developed at the request of the Medical Research Council (MRC) to address this gap and a version of the report, including details of the evidence used in their derivation, can be found on the MRC website as a resource for the community [17].
Summary
We have proposed a panel of measures of healthy ageing which we hope will be of utility to researchers undertaking cross-sectional and longitudinal studies, and, potentially, as surrogate endpoints or outcome measures for interventions to enhance healthy ageing. We have selected these biomarkers with the concept that, for pragmatic purposes, healthy ageing can be operationalised as preserved physical, cognitive, physiological, endocrine, immune and metabolic functions. The proposed panel of biomarkers of healthy ageing are well-established individually, are commonly used in several settings and study designs, have analytic and clinical validity and relevance, and some have proven value in clinical practice and health-related research. In addition, for some, their predictive value has been replicated in different cohorts, and therefore are currently the strongest surrogate endpoints of important ageing-related functions and the ageing process itself [4]. The proposed panel includes biomarkers such as blood pressure, fasting glucose and HbA1C, bone mineral density, and blood lipids, each of which is considered disease-defining and do not match item two of the AFAR definition criteria. However, these biomarkers appear to be predictive of biological age and of the rate of ageing in younger healthy subjects [54]. In these examples, changes in the biomarkers appear to reflect subtle changes in ageing-related processes (likely driven by differences in the rate of accumulation of molecular damage) rather than frank disease. We are aware that there is scientific interest in a number of 'emerging' biomarkers of ageing, some of which are being explored in research initiatives such as the Europe-wide MARK-AGE consortium [55]. As evidence of their utility becomes available, further biomarkers could be added to, or substituted for items in, the current panel.
From the available evidence it was not possible to rank the domains or sub-domains proposed nor to suggest how information from the various domains might be aggregated to provide a 'healthy ageing' score – even assuming that such a score is conceptually valid or of practical utility. However, combinations of some of these biomarkers appear to predict biological age and the rate of ageing among young adults [54, 56], as well as frailty [57, 58], and further research in this area should help to identify whether the proposed biomarkers can be combined to produce an overall 'ageing score' and the circumstances in which such a score has practical utility.
A further generic limitation of our work is uncertainty about the validity in very old people of putative biomarkers of healthy ageing which appear robust in younger-old individuals. Indeed, in some cases the reverse may apply, for example higher BP in very old people may be protective [13]. Here we have used a restricted canvas to focus on biologically well-understood objective measures, which could be employed globally in a wide range of different types of study. Adoption of this approach may facilitate the comparability, and pooling, of data from a greater number of studies than is possible at present and so enhance research on healthy ageing.
Abbreviations
ADLs:

Activities of daily living
AFAR:

American Federation for Aging Research
BMI:

Body mass index
CV:

Cardiovascular
CVD:

Cardiovascular disease
DHEAS:

Dehydroepiandrosterone sulphate
FEV:

Forced expiratory volume
HALCyon:

Healthy Ageing across the Life Course
HbA1C:

Glycated haemoglobin
IL:

Interleukin
IRP:

Immune risk profile
MRC:

Medical Research Council
NK cell:

Natural killer cell
TNF:

Tumor necrosis factor
Declarations
Acknowledgements
We acknowledge Professor Timothy Salthouse (University of Virginia, Charlottesville, VA, USA) and Professor Fergus Craik (University of Toronto, Toronto, ON, Canada) for their comments on the development of the cognitive section described in this paper; Sathya Karunananthan (McGill University, Montréal, QC, Canada) and Professor Howard Bergman (McGill University) for their contributions to the physical capability section; Professor Andrew Steptoe for his valuable comments and suggestions on the draft version of the MRC report; Professor Richard Gershon (Northwestern University, Evanston, IL, USA), Professor Joe Verghese (Albert Einstein College of Medicine, Bronx, NY, USA), Professor Christian Drevon (University of Oslo, Oslo, Norway), Professor Rudi Westendorp (University of Leiden, Leiden, Netherlands), Professor Marion McMurdo (University of Dundee, Dundee, UK) and Professor Naveed Sattar (Glasgow University, Glasgow, UK) for their contributions to the Workshop on Biomarkers of Healthy Ageing held in Newcastle, UK, on 22–23 October 2012.
We acknowledge the support and contribution to discussion of all expert participants of the Workshop on Biomarkers of Healthy Ageing.
JL and JCM are members of the LiveWell Programme, which is funded by the Lifelong Health and Wellbeing (LLHW) cross-council programme initiative in partnership with the UK health departments. JCM's research through the Centre for Ageing and Vitality is also funded by the LLHW initiative. The LLHW funding partners are: Biotechnology and Biological Sciences Research Council (BBSRC); Engineering and Physical Sciences Research Council; Economic and Social Research Council; MRC; Chief Scientist Office of the Scottish Government Health Directorates; National Institute for Health Research/the Department of Health; the Health and Social Care Research and Development of the Public Health Agency (Northern Ireland); and Wales Office of Research and Development for Health and Social Care, Welsh Assembly Government. JN and IJD are members of the University of Edinburgh Centre for Cognitive Ageing and Cognitive Epidemiology, part of the cross-council Lifelong Health and Wellbeing Initiative (MR/K026992/1). Funding from the BBSRC and MRC is gratefully acknowledged. DK and RC acknowledge MRC funding (grant code MC_UU_12019/04) and support in conducting literature reviews on physical capability from Renata Bryce and Sathya Karunananthan.
Funding
This work was funded by an MRC grant (G0900686).
The funding source had no involvement in the design, data collection, analysis and interpretation of data, writing of this report, or the decision to submit the article for publication. The information and views set out in this article are those of the authors and do not necessarily reflect the official opinion of the funders.
Open AccessThis article is distributed under the terms of the Creative Commons Attribution 4.0 International License (http://creativecommons.org/licenses/by/4.0/), which permits unrestricted use, distribution, and reproduction in any medium, provided you give appropriate credit to the original author(s) and the source, provide a link to the Creative Commons license, and indicate if changes were made. The Creative Commons Public Domain Dedication waiver (http://creativecommons.org/publicdomain/zero/1.0/) applies to the data made available in this article, unless otherwise stated.
Authors' Affiliations
(1)
Human Nutrition Research Centre, Institute of Cellular Medicine and Newcastle University Institute for Ageing, Newcastle University, Biomedical Research Building, Newcastle upon Tyne, UK
(2)
MRC Unit for Lifelong Health and Ageing, MRC Unit for Lifelong Health and Ageing at UCL, London, UK
(3)
Centre for Cognitive Ageing and Cognitive Epidemiology, University of Edinburgh, Edinburgh, UK
(4)
School of Sport, Exercise and Rehabilitation Sciences, University of Birmingham, Birmingham, UK
(5)
University of Cambridge, Addenbrooke's University Hospital, Cambridge, UK
(6)
MRC-ARUK Centre for Musculoskeletal Ageing Research, University of Birmingham, Birmingham, UK