Research article
Open Access
Open Peer Review
This article has Open Peer Review reports available.
Interpreting whole genome sequencing for investigating tuberculosis transmission: a systematic review
Received: 27 November 2015
Accepted: 23 January 2016
Published: 23 March 2016
Abstract
Background
Whole genome sequencing (WGS) is becoming an important part of epidemiological investigations of infectious diseases due to greater resolution and cost reductions compared to traditional typing approaches. Many public health and clinical teams will increasingly use WGS to investigate clusters of potential pathogen transmission, making it crucial to understand the benefits and assumptions of the analytical methods for investigating the data. We aimed to understand how different approaches affect inferences of transmission dynamics and outline limitations of the methods.
Methods
We comprehensively searched electronic databases for studies that presented methods used to interpret WGS data for investigating tuberculosis (TB) transmission. Two authors independently selected studies for inclusion and extracted data. Due to considerable methodological heterogeneity between studies, we present summary data with accompanying narrative synthesis rather than pooled analyses.
Results
Twenty-five studies met our inclusion criteria. Despite the range of interpretation tools, the usefulness of WGS data in understanding TB transmission often depends on the amount of genetic diversity in the setting. Where diversity is small, distinguishing re-infections from relapses may be impossible; interpretation may be aided by the use of epidemiological data, examining minor variants and deep sequencing. Conversely, when within-host diversity is large, due to genetic hitchhiking or co-infection of two dissimilar strains, it is critical to understand how it arose. Greater understanding of microevolution and mixed infection will enhance interpretation of WGS data.
Conclusions
As sequencing studies have sampled more intensely and integrated multiple sources of information, the understanding of TB transmission and diversity has grown, but there is still much to be learnt about the origins of diversity that will affect inferences from these data. Public health teams and researchers should combine epidemiological, clinical and WGS data to strengthen investigations of transmission.
Keywords
Whole genome sequencingTuberculosisTransmissionSystematic review
Background
The ability of whole genome sequencing (WGS) [1] to discriminate between pathogen strains that are indistinguishable using other typing methods has greatly advanced the field of molecular epidemiology. More discrimination is useful for surveillance and outbreak source identification [2], and can lend support to putative transmission events and their direction, particularly for pathogens with little genetic diversity [3]. Despite this advantage, previous reviews of WGS for tuberculosis (TB) [4, 5] and infectious disease in general [1, 6, 7], have highlighted variation in the methods for producing and analysing data leading to heterogeneous results that are difficult to compare. Whilst the capacity to generate WGS data has grown substantially, our understanding of how best to use these data is incomplete.
Although the limited diversity and complicated natural history of TB infection needs special consideration, many of the methods discussed in this review are also employed for studying transmission of other pathogens (e.g. SARS coronavirus [8], methicillin-resistant Staphylococcus aureus [9] and Clostridium difficile [10]) and many of the issues raised will apply to these pathogens. TB molecular epidemiology using WGS has focussed on four aspects of transmission within outbreaks [5, 6]: identifying chains of transmission; differentiating between relapse and re-infection; measuring within-host diversity and its impact on transmission; and identifying primary versus acquired drug resistance. Awareness of the methods and their limitations should underpin the choice of analytical approaches. This review describes the methods used to analyse WGS data, their limitations and implications for clinical application.
Methods
The study was conducted, where relevant, in accordance with the Preferred Reporting Items for Systematic Reviews and Meta-Analyses (PRISMA) statement.
Search strategy and study selection
Wiley Online Library, ScienceDirect, PubMed, Embase plus Embase Classic, CINAHL, MEDLINE and the Web of Science Core Collection were searched on 14 July 2015 for the key terms and variants of 'genome sequencing', 'tuberculosis' and 'transmission', with no date or language restrictions (see full search strategy in Additional file
1
: Appendix A). The reference lists of included articles were also checked for any relevant missing articles. Papers were double-screened by H-AH and JRW and included if they analysed WGS data to investigate the transmission of
Mycobacterium tuberculosis
(
M.tb
), according to any of the four topics prioritised for this review (Fig.
1
). Disagreements were resolved by HRS. Reviews, opinion pieces, studies in non-human subjects and of other mycobacteria were excluded.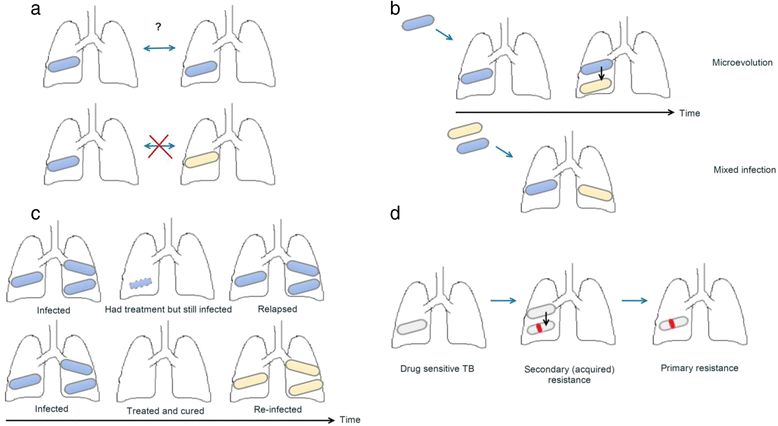 Data extraction
Data from each study were extracted by H-AH and HRS independently into a pre-designed spreadsheet that included participant characteristics, the protocol for bioinformatics analysis and the definition of mixed infections, in line with STROME-ID guidelines [11] (Additional file 2: Appendix B). Discrepancies between the reviewers were discussed until consensus was reached.
Data synthesis and quality assessment
The heterogeneity in methods presented and the results of the included publications rendered meta-analysis inappropriate, thus a narrative synthesis of the main findings is presented. Criteria from STROME-ID and Newcastle-Ottawa were adapted (Additional file 3: Appendix C) to evaluate the molecular and classical epidemiological aspects of study quality as either 'adequate', 'inadequate' or 'unknown'. H-AH performed the quality assessment and HRS independently confirmed 10 % of the results. Discrepancies between the reviewers were discussed until consensus was reached.
Protocol and registration
This review was registered on PROSPERO (CRD42014015633).
Results
Of 358 papers identified after de-duplication (Fig.
2
), 25 (reporting on 25 studies) met our inclusion criteria with 97 % inter-reviewer agreement (Additional file
4
: Appendix D). Studies investigated one or more of the following: the possibility of transmission regardless of direction (12 studies) [
12
–
23
]; the direction of transmission (9 studies) [
13
,
14
,
16
,
18
,
24
–
28
]; the nature of TB recurrences (4 studies) [
18
,
24
,
29
,
30
]; within-host strain diversity in the context of transmission (7 studies) [
12
,
13
,
18
,
21
,
29
–
31
]; and the emergence of drug resistance (6 studies) [
23
,
32
–
36
]. These studies encompassed a wide range of populations (ages, ethnicities, co-morbidities), countries with varying TB burdens and differing dominant lineage.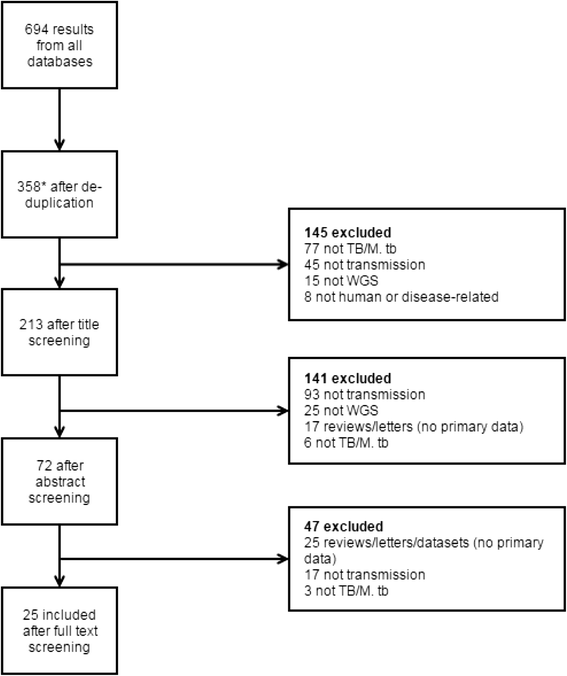 Discussion
Main findings: implications of analytical approaches on WGS inferences
We have identified the range of analytical approaches in using WGS data to infer transmission and its direction, investigate recurrence, describe the impact of within-host variation and assess transmission of resistant strains.
SNP thresholds are common amongst the studies reviewed for defining transmission as well as distinguishing relapse from re-infection [29, 30] and microevolution from mixed infections [21]. They are simple to implement but have limitations. The appropriate value for a SNP threshold is context-specific and will be affected by study-specific factors such as strain diversity in the setting [31, 43], the definition of a quality read, the extent of within-host diversity [15, 22, 25, 31, 38] and the number of amplification steps [1, 44–47] (Additional file 5: Appendix E). Such factors may partially account for apparently conflicting results concerning the SNP differences between linked cases in different studies complicating the comparison of studies: three studies found epidemiological links between cases with larger than 12 SNP differences [15, 22, 31], defined by Walker and colleagues as the upper limit of the SNP distance between epidemiologically linked pairs.
The use of a threshold for transmission relies on finding epidemiologically linked pairs [21]; however, many links may be undetected [48], and the presence or absence of these links does not always prove or disprove transmission. In high incidence settings with endemic strains but no epidemiological links [43], a threshold could suggest transmission incorrectly. Contrarily, unidentified cases may bridge the gap between isolates with large SNP distances, resulting in a mixture of large and small SNP distances for epidemiologically and non-epidemiologically linked isolates [22] that provides no useful cut-off. An alternative to a strict threshold would be to consider the probability of transmission using an approximation to the pairwise distribution of genetic distances [49].
Many studies used the threshold without considering the time between samples, which could erroneously exclude remote transmission events where a large number of SNPs have accumulated. Fundamentally, a threshold relies on a constant mutation rate and despite good agreement for the mutation rate of M.tb across multiple epidemiological studies [14, 15, 18, 21], a recent study [15] suggests that the relationship between SNPs and time is affected by resistance and therefore potentially other factors [13] by increasing the mutation rate. This may be because of hitchhiking SNPs (mutations that become fixed because they are physically attached to sites, such as drug resistance genes, that are being selected for [50]) or mutator phenotypes, but there have been many conflicting results [51–56]. The ability of a strain to mutate significantly in a fairly short time would mean a fixed threshold could disregard transmission and classify a relapse as a re-infection or microevolution as mixed infection. Hence it is important to quantify the effect of these factors on the mutation rate, in vivo or otherwise.
The within-host mutation rate could similarly be used to investigate the likelihood of relapse versus re-infection and microevolution versus mixed infection. There is uncertainty around whether the mutation rate differs during latency compared to active disease [57, 58]. A lower mutation rate during latency would give rise to less divergence between two cases in a transmission chain with a short latency period, than one with a long latency period. However, the results from the studies reviewed are contradictory [18, 21] and thus more investigation is needed.
Phylogenetic trees have also been used to investigate the possibility of transmission between individuals [
15
]. Although these trees portray useful information about sequence relatedness, phylogenetic trees are not equivalent to transmission trees [
38
,
59
] and due to their structure, it cannot always be the case that transmission pairs are phylogenetically paired (Fig.
3
). Thus excluding transmission on this basis can be misleading. However, phylogenetic trees have been used to resolve transmission in a Bayesian inference framework, which can be useful particularly when manually inspecting SNPs is challenging [
25
]. This approach assumes dense sampling of cases, which is not often possible without active case finding or with frequent migration. WGS data may leave considerable uncertainty about transmission, which can be mitigated using data such as smear positivity, time since negative tuberculin skin test and individuals' locations [
25
].

One of the key gains of WGS in M.tb epidemiology is the ability to use SNP accumulation to determine the direction of transmission, as recombination is considered to be absent [60]. Nevertheless, for such a precise method that considers the position and type of each SNP, sequencing errors misinterpreted as SNPs can have a big impact on the inference [61] and homoplasy, although unlikely [62], can be problematic. Inferred direction also depends on the choice of reference genome.
Limited genomic variation, due to the slow M.tb mutation rate [13, 27, 63], also hampers methods for determining the direction of transmission. Information on timing of exposure and infectiousness for contacts and cases may help resolve transmission direction [16, 27], although this may conflict with the quantitative interpretation of SNPs [15, 22]. Discordance can be due to 'casual' contact resulting in transmission, reactivations from historic infection, poor epidemiological data, or limitations of WGS. Integrating multiple sources of data and allowing for uncertainty in the epidemiological data may allow the best possible understanding of transmission. It is also important to sample within-host diversity thoroughly, but this has practical difficulties. Firstly, a single sputum sample may not contain the full diversity of mycobacteria present in the lungs [64] and may mislead inferences as variants are introduced and purified constantly. A potential solution could be to do longitudinal sampling [4, 65]. Deep sequencing and examination of minor variants can also reveal diversity, and has been attempted in the context of transmission [66]. Secondly, the methods of culturing [67] and obtaining material for sequencing (e.g. selecting single colonies versus sweeping an entire culture plate) can affect the apparent extent of diversity [68, 69].
These difficulties with sampling, and the presence of diversity, may increase the chances of recovering two different strains from individuals linked in transmission. A study by Liu and colleagues presented evidence of multiple strains in an individual's lung more than 14 SNPs apart that likely occurred due to microevolution after infection [70]. This phenomenon could result in transmission being ruled out if diversity is not detected, particularly if a strict threshold cut-off is used to identify transmission events. However, we are still unable to know how commonly we underestimate diversity, as multiple sampling or sampling directly from lesions is not typically done. Determination of this would make it easier to understand the frequency of undetected diversity, and thus how important it is to be considered by clinicians and researchers.
Studies looking to differentiate between transmission of drug-resistant strains and acquisition of drug resistance have used similar methods to each other. However, they have differed in whether they needed all isolates within a phylogenetic cluster to share the same resistance-conferring mutation in order to conclude that there was transmission of drug-resistant strains [33, 34]. If they share the same mutation then it is more probable that the mutation arose in an ancestor to the phylogenetic cluster; i.e. the individual earlier in the transmission chain and then the strain was transmitted. However, by assuming this, transmission will be excluded when resistance arose in the middle of a transmission chain and susceptible ancestral isolates are sampled and clustered with the drug-resistant descendants.
Building transmission networks and incorporating resistance mutation data to compare between transmission pairs provides an alternative approach to resolve where resistance is being transmitted versus acquired, aiding interventions.
Several methods are available for examining within-host diversity. Heterozygous base calls have been used to determine microevolution and mixed infections, using WGS; however, a variable and arbitrarily defined threshold number of calls has been used to categorise mixed infection. Incorrectly classifying mixed infections and microevolution can affect inferences about transmission and recurrent disease; better distinction between the two is a topic for future research. With limited diversity, co-infection with strains of the same lineage [29] will not lead to switching between branches of the phylogenetic tree and consequently mixed infections will be missed [12].
Strengths and limitations
The systematic nature of this review has allowed us to assess available methods for using WGS as a tool for understanding TB epidemiology in detail. However, due to the sometimes small number of studies and the variable approaches to generating sequencing data, quantitative synthesis was not possible. Standard epidemiological quality criteria were often not applicable due to the nature of the investigations.
Comparison with recent reviews
Recent reviews of WGS for TB have highlighted its use for outbreaks as well as for identifying drug resistance-conferring mutations or reconstructing the evolutionary history of M.tb [71, 72]. Kao et al. [1] and Croucher et al. [73] looked at WGS for pathogen outbreak investigations generally, while Takiff et al. [72], Le et al. [74] and Walker et al. [5] reviewed the use of WGS for outbreak investigations of tuberculosis. Our review extends the commentary on the subjects mentioned by these reviews, such as SNP thresholds, relapse versus re-infection and the accumulation of SNPs for determining direction of transmission, and focusses more on the limitations of these methods, as opposed to reviewing the outcomes and their meaning for tuberculosis transmission.
Conclusions
Applications of WGS for TB have been similar to other infectious diseases; for example, Bayesian inference has been used to infer SARS transmission networks from WGS [8] and the topology of phylogenetic trees has been used to infer outbreaks of Staphylococcus aureus [9]. However, because TB is a complex and variable disease, inference of transmission from WGS data for M.tb is more difficult. For example, because the latency period is so unpredictable (lasting from weeks to decades) there is uncertainty in ascertaining when an individual was infected and thus the extent to which the infecting strain might have differed from the sampled strain, making inferences of transmission difficult. This is exacerbated by the fact that we have had very little insight into the transmission bottleneck (the number of bacteria transmitted during an infection event), and thus the amount of diversity which may have been transmitted. This has been researched more successfully using WGS for several non-airborne infections (e.g. hepatitis C virus [75]). The need for culturing also provides a barrier to the use of WGS as a rapid public health diagnostic for M.tb, as the bacterium is particularly slow-growing.
The WGS studies reviewed here have revealed several findings important for understanding transmission of TB. Diversity plays a significant role in inference of transmission; the finding that there can be large numbers of SNPs between cross-sectional samples from a patient has made it clear that we should be careful when interpreting WGS data. In contrast, many studies have shown that transmission can occur without any diversity arising, which makes it important for us to use other sources of data when trying to build a network of transmission. By using WGS as well as more traditional typing [68], studies have been able to identify superinfection [30], indicating that there may be limited cross-immunity between strains of M.tb. There have also been multiple comparisons of MIRU-VNTR and WGS for defining outbreaks. This has revealed that the two markers are not always entirely consistent; for example, there were recorded instances of MIRU-VNTR differences between isolates without SNPs and vice-versa [30].
We have highlighted the limitations and implications of using different approaches for the analysis of WGS data to investigate transmission, and summarise our findings and recommendations in Table
4
. Several conclusions can be drawn from this review. Firstly, SNP thresholds have a wide range of applications; however, the genetic distances between sequences should be considered in light of local TB incidence, strain diversity, the time between the samples, potential hitchhiking and homoplasy. Consideration of factors that affect mutation rates is essential. Secondly, epidemiological data and clinical history remain critical to outbreak investigations, especially when sequence data lacks variation. Finally, knowing how diversity arises will help resolve transmission. Better characterisation of microevolution and mixed infection will require better sampling, deeper sequencing and investigation of the within-host mutation rate.
Table 4
Findings and recommendations
| Over-arching findings from included papers | Recommendations |
| --- | --- |
| Suggested SNP thresholds for evidence of transmission are heterogeneous and sensitive to the finding of epidemiological links, SNP calling protocols and culturing/sampling, thus potentially are not transferrable between settings and/or studies | When setting study-specific SNP thresholds consider the time between samples, mutation rate, evolutionary pressure the strain may have been subjected to, and the endemicity of strains. Consider alternative approaches for determining transmission, including Bayesian approaches |
| The distinction between relapse and re-infection for repeated instances of TB disease has been made empirically (by examining the distribution of SNP distances between the initially infecting and subsequently infecting strains) | While existing thresholds appear adequate for clinical trials, consideration of epidemiological and clinical data is important, as well as a better idea of the within-host mutation rate when more accurate classification is required |
| The lack of diversity within M.tb complicates the use of WGS for inferring transmission patterns (17/25 studies found identical samples). Recent case studies show that there may be more diversity that is not identified by commonly used WGS methods | Deep sequencing, multiple samples and looking at shared minor variants (mutations present at low frequencies) will enhance detection of diversity. Epidemiological data, and consideration of associated uncertainty due to missing contact information, will also be necessary |
| Examining resistance-conferring mutations shared by phylogenetic clusters is a common method for identifying transmission of drug-resistant strains. However, phylogenetic clusters do not necessarily correspond to transmission clusters | Reconstruction of the transmission tree followed by an examination of the drug resistance patterns between linked individuals may be more appropriate |
Abbreviations
M.tb :

Mycobacterium tuberculosis
MDR:

multi-drug-resistant
MIRU-VNTR:

mycobacterial interspersed repetitive units-variable number tandem repeats
PRISMA:

Preferred Reporting Items for Systematic Reviews and Meta-Analyses
SNP:

single nucleotide polymorphism
TB:

tuberculosis
WGS:

whole genome sequencing
Declarations
Funding
H-AH is funded by an Engineering and Physical Sciences Research Council (EPSRC) PhD studentship. CC is funded by the EPSRC (EP/K026003/1). HRS is supported by the National Institute for Health Research (NIHR) Post Doctoral Fellowship (PDF-2014-07-008). CJ is funded by the NIHR and IA is funded both by the NIHR and the Medical Research Council (MRC). The views expressed in this publication are those of the authors and not necessarily those of the National Health Service (NHS), the NIHR or the Department of Health (DH). JRW is funded by the University College London IMPACT scheme. No funding bodies were involved in the writing of the manuscript or in the decision to submit the manuscript for publication.
Open AccessThis article is distributed under the terms of the Creative Commons Attribution 4.0 International License (http://creativecommons.org/licenses/by/4.0/), which permits unrestricted use, distribution, and reproduction in any medium, provided you give appropriate credit to the original author(s) and the source, provide a link to the Creative Commons license, and indicate if changes were made. The Creative Commons Public Domain Dedication waiver (http://creativecommons.org/publicdomain/zero/1.0/) applies to the data made available in this article, unless otherwise stated.
Authors' Affiliations
(1)
CoMPLEX, University College London, London, UK
(2)
Centre for Infectious Disease Epidemiology, Infection and Population Health, University College London, London, UK
(3)
Department of Mathematics, Imperial College London, London, UK
(4)
Medical Research Council Clinical Trials Unit, London, UK