Erratum to: Modeling the spread of polio in an IPV-vaccinated population: lessons learned from the 2013 silent outbreak in southern Israel
Published: 19 August 2016
After publication of the original article [
1
], it came to the authors' attention that there was an labelling error contained within the caption of Fig.
4
. The
a, b, c
labelling in the caption did not correctly correspond to the panels within the Figure itself. The article has been updated to rectify this error, and Fig.
4
is published with the correct caption in the erratum.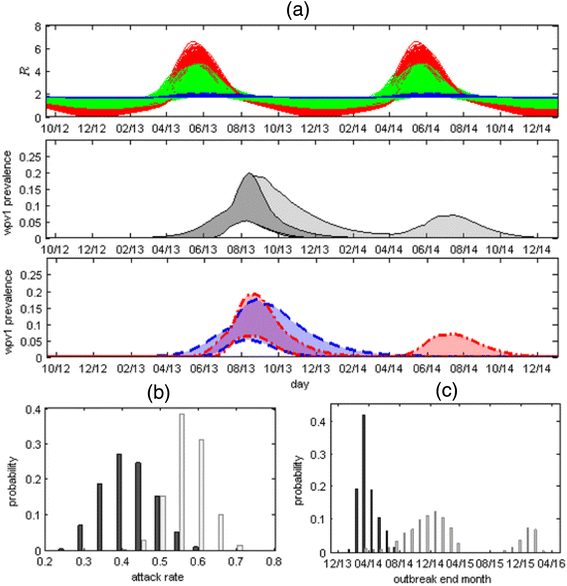 Open AccessThis article is distributed under the terms of the Creative Commons Attribution 4.0 International License (http://creativecommons.org/licenses/by/4.0/), which permits unrestricted use, distribution, and reproduction in any medium, provided you give appropriate credit to the original author(s) and the source, provide a link to the Creative Commons license, and indicate if changes were made. The Creative Commons Public Domain Dedication waiver (http://creativecommons.org/publicdomain/zero/1.0/) applies to the data made available in this article, unless otherwise stated.
(1)
Bio-statistical Unit, The Gertner Institute for Epidemiology and Health Policy Research, Chaim Sheba Medical Center, Tel Hashomer, 52621, Israel
(2)
Biomathematics Unit, Department of Zoology, Faculty of Life Sciences, Tel Aviv University, 69978 Tel Aviv, Israel
(3)
Public Health Services, Ministry of Health, Jerusalem, Israel
(4)
Faculty for Health Sciences, Ben-Gurion University of the Negev, Beer-Sheva, Israel
(5)
Department of Mathematics, ORT Braude College, Karmiel, Israel
(6)
Central Virology Laboratory, Ministry of Health, Chaim Sheba Medical Center, Tel Hashomer, Israel
(7)
School of Public Health, the Sackler Faculty of Medicine, Tel Aviv University, Tel Aviv, Israel
(8)
Public Health England Immunisation, Hepatitis and Blood Safety Department, 61, Colindale Avenue, London, UK