Opinion

Open Access

Open Peer Review
This article has Open Peer Review reports available.
Undernutrition and malaria in pregnancy – a dangerous dyad?
Received: 11 June 2016
Accepted: 15 September 2016
Published: 19 September 2016
Abstract
Background
In low-resource settings, malaria and macronutrient undernutrition are major health problems in pregnancy, contributing significantly to adverse pregnancy outcomes such as preterm birth and fetal growth restriction. Affected pregnancies may result in stillbirth and neonatal death, and surviving children are at risk of poor growth and infection in infancy, and of non-communicable diseases in adulthood. Populations exposed to macronutrient undernutrition frequently reside in malaria-endemic areas, and seasonal peaks of low food supply and malaria transmission tend to coincide. Despite these geographic and temporal overlaps, integrated approaches to these twin challenges are infrequent.
Discussion
This opinion article examines the current evidence for malaria-macronutrition interactions and discusses possible mechanisms whereby macronutrient undernutrition and malaria may interact to worsen pregnancy outcomes. Macronutrient undernutrition dysregulates the immune response. In pregnant women, undernutrition may worsen the already increased susceptibility to malarial infection and could impair development of protective immunity to malaria, and is likely to exacerbate the impact of placental malaria on fetal growth. Malarial infection, in turn, can drive nutritional depletion; poor gestational weight gain and weight loss in pregnancy increases the risk of adverse pregnancy outcomes. Despite a commendable number of studies and trials that, in isolation, attempt to address the challenges of malaria and undernutrition in pregnancy, few dare to venture beyond the 'single disease – single solution' paradigm. We believe that this may be a lost opportunity: researching malaria–nutrition interactions, and designing and implementing integrated interventions to prevent and treat these commonly co-existing and intertwining conditions, may markedly reduce the high burden of preterm birth and fetal growth restriction in affected areas.
Conclusion
We call for more collaboration between researchers studying malaria and nutrition in pregnancy, and propose a research agenda to address this important twin health problem.
Keywords
Pregnancy
Malaria
Nutrition
Low birthweight
Fetal growth restriction
Background
Pregnancy and early childhood (the first 1000 days of life) are critical periods that determine short- and long-term health outcomes [1]. In low- and middle-income countries (LMICs), two important barriers to a successful pregnancy outcome are maternal undernutrition, which contributes to 800,000 neonatal deaths annually [2], and malaria, estimated to cause approximately 900,000 low birthweight (LBW) deliveries and over 100,000 infant deaths annually [3, 4]. Infant undernutrition, including fetal growth restriction (FGR), contributes to 45 % of deaths in children under 5 years, and may lead to chronic disease in adulthood [2, 5]. Ending the malaria epidemic and addressing the nutritional needs of children, adolescent girls and pregnant women form key components of the recently-launched Global Strategy for Women's Children's and Adolescent's Health for 2016–2030 [6].
The World Health Organization's (WHO) Sustainable Development Goals include ending hunger and malnutrition; reducing maternal, newborn and child mortality; and ending infections such as malaria [
7
]. In LMICs, populations are often affected by both hunger and malaria [
2
,
8
], and the two may interact (Fig.
1
). Nutritional status and intake of specific nutrients may affect immunity, modulating an individual's ability to control and clear infection [
9
]. In turn, infection and associated inflammatory processes increase energy expenditure and protein catabolism, draining nutritional reserves. Of the many potential nutrition-infection interactions in pregnancy [
10
], malaria is especially important, being the leading preventable cause of LBW in Africa.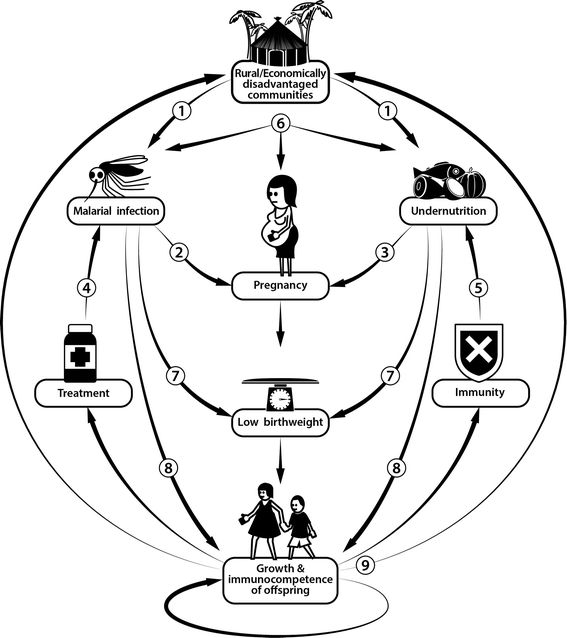 A growing body of evidence suggests that malaria and maternal undernutrition interact to worsen pregnancy outcomes. However, interventions to protect pregnant women and their fetuses from macronutrient undernutrition and gestational malaria remain poorly integrated. Our belief is that maternal nutrient deficiency remains a neglected public health problem, and that few successful interventions in this area have adequately dealt with malaria as a cofactor. In this call for increased collaboration between malaria and nutrition experts, we discuss the evidence for malaria–nutrition interactions in pregnancy, with a focus on macronutrient undernutrition, as this remains relatively understudied, notwithstanding the importance of micronutrient deficiencies. Macronutrient undernutrition refers to insufficient consumption of carbohydrates, fats and proteins, and is typically assessed using anthropometric measures in resource-limited settings. We summarise currently available tools to prevent and treat macronutrient undernutrition and malaria in pregnancy and outline key research questions that may advance our understanding of gestational malaria–nutrition interactions with a view to developing novel approaches to improve pregnancy outcomes in LMICs.
Conclusions
Macronutrient undernutrition, alone and in concert with placental malaria, can deleteriously impact fetal growth, and could affect both immunocompetence (and infection risk and mortality in the offspring), and long-term health. To meet the World Health Assembly's targets for improving nutrition status, including decreases in maternal anaemia and LBW, improvement of malaria prevention will also be necessary given the major contributions of malaria to both LBW and anaemia.
Joint efforts by nutritionists and malaria experts are needed to determine the burden and significance of malaria-nutrition interactions in pregnancy, and to develop interventions that protect pregnant women and their children from this dangerous dyad.
Abbreviations
BMI:

body mass index
FGR:

fetal growth restriction
LBW:

low birthweight
LMICs:

low-and-middle-income countries
LNS:

lipid-based nutrient supplements
MUAC:

mid-upper arm circumference
PTB:

preterm birth
Th:

T helper cell
WHO:

World Health Organization
Declarations
Acknowledgements
We thank Bernard Brabin and R Matthew Chico for comments on the manuscript, and Albert Serra-Pou for assistance in preparing Fig. 1. JEC received funding from the National Institute of Allergy and Infectious Diseases at the National Institutes of Health 'Training in Infectious Disease Epidemiology' training grant #5-T32-AI070114. SJR is supported by a Program Grant from the National Health and Medical Research Council of Australia. The funders had no role in the design, writing, or decision to publish this study.
Authors' contributions
HWU and SJR wrote the first draft, SJR developed the concept, and PA, JEC and KGD commented on subsequent drafts of the article. All authors read and approved the final version of the manuscript.
Competing interests
The authors declare that have no competing interests.
Open AccessThis article is distributed under the terms of the Creative Commons Attribution 4.0 International License (http://creativecommons.org/licenses/by/4.0/), which permits unrestricted use, distribution, and reproduction in any medium, provided you give appropriate credit to the original author(s) and the source, provide a link to the Creative Commons license, and indicate if changes were made. The Creative Commons Public Domain Dedication waiver (http://creativecommons.org/publicdomain/zero/1.0/) applies to the data made available in this article, unless otherwise stated.
Authors' Affiliations
(1)
Department of Medicine at the Doherty Institute, The University of Melbourne, Melbourne, Australia
(2)
Simpson Centre for Reproductive Health, Edinburgh Royal Infirmary, Edinburgh, UK
(3)
Department of Paediatrics, University of Tampere School of Medicine, Tampere, Finland
(4)
Department for International Health, University of Tampere School of Medicine, Tampere, Finland
(5)
Department of Paediatrics, Tampere University Hospital, Tampere, Finland
(6)
Department of Epidemiology, University of North Carolina-Chapel Hill, Chapel Hill, USA
(7)
Program in International and Community Nutrition and Department of Nutrition, University of California, Davis, USA