Erratum to: Artemether-lumefantrine treatment of uncomplicated Plasmodium falciparum malaria: a systematic review and meta-analysis of day 7 lumefantrine concentrations and therapeutic response using individual patient data
WorldWide Antimalarial Resistance Network (WWARN) Lumefantrine PK/PD Study Group

1, 2

Email author
Published: 20 December 2016
After publication of the original article [
1
], it came to the authors' attention that there is an error in the originally-published version of Fig.
2
. The labelling of the x-axis for Fig.
2
is not correct. The last two values of the x-axis should read: "5-11" instead of "5", and "12+" instead of "6".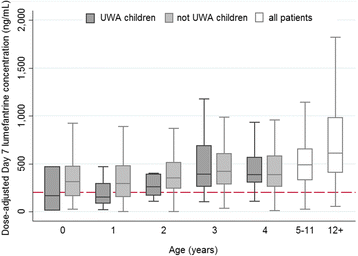 The correct version of Fig. 2 is published in this erratum.
Open AccessThis article is distributed under the terms of the Creative Commons Attribution 4.0 International License (http://creativecommons.org/licenses/by/4.0/), which permits unrestricted use, distribution, and reproduction in any medium, provided you give appropriate credit to the original author(s) and the source, provide a link to the Creative Commons license, and indicate if changes were made. The Creative Commons Public Domain Dedication waiver (http://creativecommons.org/publicdomain/zero/1.0/) applies to the data made available in this article, unless otherwise stated.
(1)
WorldWide Antimalarial Resistance Network (WWARN), Oxford, UK
(2)
Division of Clinical Pharmacology, Department of Medicine, University of Cape Town, Cape Town, South Africa
WWARN Lumefantrine PK/PD Study Group. Artemether-lumefantrine treatment of uncomplicated Plasmodium falciparum malaria: a systematic review and meta-analysis of day 7 lumefantrine concentrations and therapeutic response using individual patient data. BMC Med. 2015;13:227. doi:10.1186/s12916-015-0456-7.