Review

Open Access

Open Peer Review
This article has Open Peer Review reports available.
Genome editing for inborn errors of metabolism: advancing towards the clinic
Received: 2 November 2016
Accepted: 19 January 2017
Published: 27 February 2017
Abstract
Inborn errors of metabolism (IEM) include many disorders for which current treatments aim to ameliorate disease manifestations, but are not curative. Advances in the field of genome editing have recently resulted in the in vivo correction of murine models of IEM. Site-specific endonucleases, such as zinc-finger nucleases and the CRISPR/Cas9 system, in combination with delivery vectors engineered to target disease tissue, have enabled correction of mutations in disease models of hemophilia B, hereditary tyrosinemia type I, ornithine transcarbamylase deficiency, and lysosomal storage disorders. These in vivo gene correction studies, as well as an overview of genome editing and future directions for the field, are reviewed and discussed herein.
Keywords
Inborn errors of metabolismGenome editingCRISPR/Cas9Zinc-finger nucleasesLiver metabolic disorders
Background
Inborn errors of metabolism (IEM) are genetic disorders typically caused by an enzyme deficiency. As a consequence of the defect, insufficient conversion of substrate into metabolic product occurs, which can produce pathology by a variety of mechanisms, including the accumulation of toxic metabolites upstream of the block, reduction of essential downstream compounds, feedback inhibition or activation by the proximal metabolite on the same or different pathway, or abnormal alternative substrate metabolism [1]. Traditional therapies for IEM aim to reduce substrates, remove toxic intermediates, and/or supplement essential downstream products. Activation of alternative pathways for disposal of toxic intermediates is also employed, as in the case of urea cycle disorders [2], and for some conditions, enzyme replacement therapy is available. While an understanding of the pathophysiology of IEM has led to the development of more focused treatments, the correction of the underlying genetic mutation still remains as the ultimate therapeutic goal. With the advent of genome editing, a single treatment offering permanent and effective therapy may soon be realized. In this review, we discuss recent examples of in vivo genome editing for correction of preclinical models of IEM, disorders where the first clinical applications of genome editing may likely be implemented.
As the principal site for many intermediary metabolic reactions, the liver is the main target organ to correct for improving disease-related phenotypes [3]. Of the three major cell types in the liver, the majority of cells (~70%) are hepatocytes. The degree to which hepatocytes must be corrected to achieve therapeutic benefit for a given IEM depends on factors intrinsic to the perturbed biochemical pathway, and enzymopathy. Some disorders, such as hemophilia, require minimal activity to correct the associated bleeding propensity, while others, such as the proximal urea cycle disorder ornithine transcarbamylase (OTC) will require more activity, and larger numbers of cells corrected, to normalize metabolism [4]. Enzyme replacement via elective liver or combined liver-kidney transplantation is considered for conditions such as urea cycle disorders or organic acidemias when the clinical phenotype is severe [5–7]. Because most metabolic diseases are caused by loss-of-function mutations that occur in enzymes widely expressed in hepatocytes, gene therapy may thus represent a treatment option that could avoid the surgical complications of transplantation, yet provide the full benefits of liver replacement.
Adeno-associated viruses (AAVs)
The ideal gene transfer vector will safely and efficiently deliver a therapeutic gene (transgene) only to cells of the target tissue. Liver-directed gene therapy has historically relied on the use of viral vectors because of their superior efficiency in delivering transgenes to cells in vivo. Due to promising characteristics associated with safety and efficacy, AAV has emerged as the most promising among viral vector candidates for preclinical gene therapy studies targeting the liver.
AAV is a single-stranded DNA virus that has been configured for use in gene therapy by removal of the endogenous viral coding sequences, allowing transgenes up to 4.7 kb to be inserted. AAV has a favorable safety profile for clinical translation as a gene therapy vector. AAVs have an absolute requirement for auxiliary genes from a co-infecting adenovirus or herpes virus for replication and are therefore helper-dependent. Additionally, wild-type AAV infections are poor activators of the immune system [8] and are not recognized to cause human disease. Because AAV is largely maintained as an episome, the risk of insertional mutagenesis is greatly reduced compared to integrating vectors, such as those based on retroviruses. AAV infection in human cells in the absence of a co-infecting virus leads to a low level of preferential integration at a locus on chromosome 19 known as AAVS1 [9]. In addition to these promising safety features, AAV can transduce both dividing and non-dividing cells, and is therefore effective in neonatal as well as adult disease models. A most powerful feature is that the AAV genome can be packaged within capsid proteins, each demonstrating distinct tropisms, which can greatly enhance the efficiency of gene transfer to specific tissues. For example, pseudotyping of the AAV2 genome with the capsid from AAV serotype 8 can endow a vector with the ability to completely transduce the liver [10, 11]. To facilitate the characterization and application of AAV, novel platforms for large-scale clinical-grade vector production have been developed [12]. While much research has been performed proving the efficacy of AAV as a gene therapy vector, more investigation is necessary to fully understand its safety profile.
Despite the great therapeutic potential of AAV vectors, several studies have shown that low levels of AAV integration into the genome do occur and can exhibit genotoxic effects [13, 14] dependent upon vector configuration and dose [14]. The outcome of murine studies on the clinical translation of AAV requires further investigation because many vector integrations that were associated with hepatocellular carcinoma (HCC) were located in a small, non-conserved microRNA (miR341). Subsequently, an unrelated study documented AAV2 integrations in known cancer genes in 11 of 193 HCCs derived from humans [15]. Because the majority of the 11 HCCs with AAV integrations derived from the livers of non-cirrhotic patients without known risk factors for HCC, the authors suggested a role of AAV2 in HCC development. Until the underlying mechanisms between AAV integrations and HCCs are fully defined, the genotoxic potential of AAV needs to be considered in future therapies relying on this vector. One solution to mitigating AAV-mediated genotoxicity would be to use genome editing to either repair the pathogenic mutation at the locus directly by targeting integration of a therapeutic cDNA into the disease gene, or correction into a "safe harbor", a genomic locus not known to be adversely affected by insertion and expression of an engineered transgene. Thus, genome editing could mitigate the genotoxic effects of uncontrolled vector integration. New genome engineering technologies are making targeted genetic manipulations possible, and will be discussed next, with representative examples.
Genome editing using site-specific endonucleases
The field of genome editing has evolved to address the need for improving the efficiency and specificity of traditional genome modification achieved by homologous recombination (HR). Genome engineering tools typically introduce a double-stranded break at a specific target in DNA, activating endogenous cellular repair pathways, thereby increasing the frequency of HR by several orders of magnitude [
16
,
17
]. The double stranded break can then be repaired by non-homologous end joining (NHEJ), which leads to insertion or deletion of a small number of nucleotides (indels) at the break, or corrected via homology-directed repair (HDR), which can result in specific base-pair changes when a donor template is introduced at the site of the break [
18
–
20
]. Several genome editing technologies exist, with in vivo studies performed to date relying on zinc-finger nucleases (ZFNs), transcription activator-like effector nucleases (TALENs), or the CRISPR-Cas9 system (Fig.
1
). Zinc-finger nucleases (ZFNs) were the first synthetically engineered genome editing reagents. ZFNs combine a
Fok
I restriction enzyme domain with a zinc-finger DNA binding module to target double stranded breaks in DNA [
21
].
Fok
I functions as a dimer; consequently, for genome editing, ZFNs are designed in pairs that bind regions flanking the target site [
22
]. TALENs emerged as an alternative to ZFNs for genome editing. TALENs are similar to ZFNs and comprise a non-specific
Fok
I nuclease domain fused to a customizable DNA-binding domain. This DNA-binding domain is composed of highly conserved repeats derived from transcription activator-like effectors, which are proteins secreted by
Xanthomonas spp.
bacteria to alter gene transcription in host plant cells [
23
]. More recently, the clustered regularly interspaced short palindromic repeats or CRISPR-Cas9 system was identified as an RNA-guided immune system used by bacteria to protect against invading foreign viruses and other pathogens [
24
]. The CRISPR system from
Streptococcus pyogenes
, repurposed for genome engineering, consists of two basic components, the Cas9 endonuclease (SpCas9) and a guide RNA (gRNA). The gRNA contains a programmable recognition domain capable of binding and cleaving any genomic target proximal to a motif called the
p
rotospacer adjacent motif (PAM), which is specific to the bacterial strain from which the CRISPR system is derived. CRISPR has evolved in a few short years to become a common genome editing tool, used to manipulate genes in vitro [
25
–
27
] and even to correct disease-causing mutations in mouse models such as IEM, discussed below.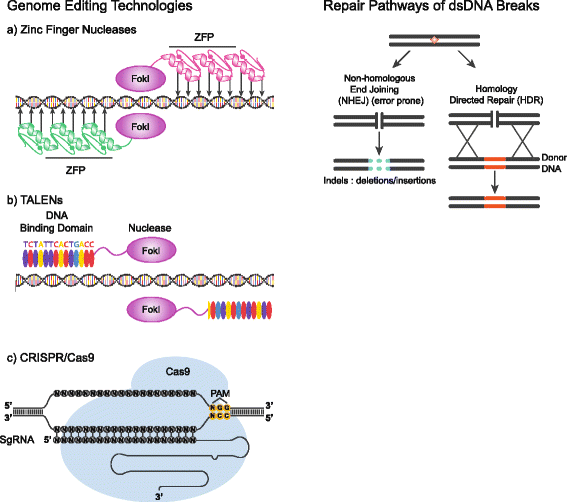 Many IEM are ideal candidates for genome editing correction because they are typically severe, liver-dominant in terms of symptoms and pathophysiology, well-defined in terms of clinical phenotypes, and yet have largely insufficient or inadequate therapy. For some, it is known that a low level of gene correction could significantly ameliorate the disease phenotype. Preclinical models of such disorders include hemophilia B [28], hereditary tyrosinemia type I [29], and ornithine transcarbamylase deficiency [30]. Hemophilia B, in particular, has been a pillar of the gene therapy field because the factor IX (FIX) gene fits readily into an AAV, and a low-level of protein correction leads to measurable improvements in biomarkers and restoration of hemostasis. It logically has followed that hemophilia B was the first disorder for which a preclinical mouse model was corrected by genome editing [31]. This study and subsequent studies utilizing genome editing for correction of hemophilia B as well as other IEMs are reviewed in the following section.
Preclinical models corrected via in vivo genome editing
Alternative strategies – the genome editing toolbox
Improvements to CRISPR and new reagents
Expression of genome editing components in a manner that is both efficient and non-toxic to the cell presents a barrier to application of most editing systems in vivo. The well-characterized CRISPR/Cas9 from S. pyogenes is encoded by a cDNA of 4.2 kb, and while feasible to package in an AAV, is too large for inclusion of the regulatory elements that would lead to enhanced levels of protein expression. By identifying and characterizing orthologous Cas9 proteins such as those from S. thermophilus (StCas9) [50], N. meningitidis (NmCas9) [51], and S. aureus (SaCas9) [52], which are smaller in size but show similar activity to the SpCas9, the Cas9 nuclease can now be packaged efficiently.
The identification and characterization of distinct CRISPR systems could expand the genome editing toolbox to engineer sites not previously amenable. The well-studied Cas9 CRISPR systems are classified as class 2 type II systems. A putative class 2 type V system has been identified, possessing an endonuclease domain known as Cpf1 [53]. Unlike Cas9, Cpf1 introduces a staggered, double-stranded DNA break distal from the PAM. Insertion of a donor template having complementary overhangs to such a staggered break could be significantly more efficient than repair of the blunt-ended DNA breaks produced by Cas9, leading to increased hepatocyte correction in disease models. Two Cpf1 orthologs were initially characterized and shown to have activity in a human HEK293 cell line. These orthologs have been further assayed in two independent studies for their on-target activity and genome-wide specificity [54, 55]. Both studies showed that the Cpf1 endonuclease from Lachnospiraceae bacterium (LbCpf1) and Acidaminococcus sp (AsCpf1) exhibit robust mutagenicity in human cell lines. Sites in the DNMT1 gene were assayed for on-target specificity. Both studies identified nucleotides 1–18 downstream from the PAM as necessary for Cpf1 activity; double mismatches in this region abrogated Cpf1-mediated indels. Both studies also found that, at the sites assayed, Cpf1 showed greater fidelity than SpCas9 without being less efficient. Whether AsCpf1 and LbCpf1 are as effective at cleaving DNA targets at other sites in the genome, and with superior specificity, remains to be investigated.
In addition to DNA editing, new native and synthetic CRISPR systems are being identified and engineered for manipulating RNA. L. shahii C2c2 is a putative class 2 type VI system which cuts RNA via two HEPN RNase domains [56]. C2c2 cleaves ssRNA dependent on target sequence and secondary structure. Interestingly, C2c2 is activated not only to cleave its intended target, but once active, indiscriminately cleaves RNA in a non-specific manner culminating in programmed cell death (PCD). A more detailed understanding of the mode by which C2c2 induces PCD would allow C2c2 to be used to trigger PCD or dormancy in specific cells such as cancer cells expressing a particular transcript or cells infected by a specific pathogen. The application of C2c2 in this manner would require absolute on-target specificity.
Elucidation of the mechanisms by which Cas9 targets and binds DNA has led to engineering of novel Cas9 variants with improved range or improved specificity. By manipulating the PAM recognition domain, Cas9 variants with expanded target ranges have been generated [57, 58]. Additionally, amino acid mutations have been introduced in the endonuclease to reduce non-specific DNA binding, improving specificity [59]. Capitalizing on CRISPR's robust DNA-recognition ability, a new technology executes conversion of a single DNA base pair from cytosine to uracil [60]. This technology, designated as base editor, fuses the cytidine deaminase enzyme APOBEC1 to a catalytically inactive Cas9 (dCas9) endonuclease (BE1). Using insights from CRISPR's DNA binding and cleavage mechanisms, BE1 has been enhanced in subsequent generations (BE3). The BE3 system successfully corrected a single base pair mutation after nucleofection in two cell culture disease models, at higher efficiencies and with lower indel formation than the wild-type SpCas9 plus a donor ssDNA. A hindrance to the application of this technology is that the base editor converts any cytosine in the target site, thereby requiring strict target selection. Additionally, off-target indels are replaced by off-target C-U conversions that might be more frequent given the higher efficiency compared to SpCas9 at the on-target site. Further adjustment to reduce the base pair conversion window, combined with careful target selection, would be required to refine this technology for translational use.
Tissue-specific genome editing
Genome editing in the brain and other tissues of the central nervous system is of paramount interest for neurodegenerative diseases as well as lysosomal storage disorders, but gene transfer has proven difficult due, in part, to the blood brain barrier. An in vivo study quantified the efficiency and nature of indels in primary neurons after AAV-mediated delivery of SpCas9 [61]. MeCP2, a protein ubiquitously expressed in the brain and implicated in Rett syndrome, was successfully knocked-down in adult male C57BL6 mice, with indel levels as high as 67.5%. Multiplex genome editing from a dual-AAV vector system enabled concurrent knockdown of Dnmt1, Dnmt3a, and Dnmt3b, genes responsible for memory formation and learning. Simultaneous editing of the three loci was observed in approximately 35% of all transduced neurons with only 0–1.6% off-target cleavage. The ability to manipulate multiple genes in a tissue-specific context, and in the brain in particular, should allow for further elucidation of disease-related gene function and could ultimately lead to simultaneous correction of multiple mutations.
Duchenne muscular dystrophy (DMD) is a progressive muscle degenerative disease caused by mutations in the dystrophin gene that disrupt the reading frame and lead to loss of functional dystrophin expression. Milder forms of DMD are caused by in-frame deletions in the dystrophin gene, resulting in expression of a truncated but partially functional protein. Therapies that aim to restore the dystrophin reading frame could therefore be effective. Three independent studies used CRISPR to restore the reading frame in the mdx mouse model of DMD, which expresses a truncated dystrophin [62]. In one study, two AAV8 vectors separately delivered SaCas9 and two gRNAs targeting the intronic regions flanking the mutated exon 23. Exon 23 was shown to be deleted from 2% of alleles, with only 3% indels at the target site and less than 1% indels at the top off-target site for both guides [63]. A second study used a similar design but delivered CRISPR components using a serotype 9 vector, which efficiently transduces skeletal and cardiac muscle. SaCas9 activity was enhanced by modification of the gRNA scaffold, which led to improved exon 23 excision (39% by deep sequencing) with minimal off-target activity [64]. A third study used AAV9 vectors, but delivered the SpCas9 under expression of a truncated promoter, with the two guide RNAs on a separate vector. Dystrophin expression at up to 25% was restored in myofibers as measured by immunostaining [65]. Dystrophin expression as low as 3–15% can alleviate pathogenesis in cardiac and skeletal muscle; thus, these studies demonstrate the benefit of using CRISPR for in vivo multiplex editing of disease models showing tissue-specific pathology.
Conclusions
Hurdles and future directions for genome editing therapeutics: the 0.1%
As CRISPR-Cas9 approaches the clinic, understanding the host response to the Cas9 protein and AAV vector components is essential. Delineating these responses and developing strategies to manage them will be critical to achieving clinical success. Although AAV are capable of priming CD8+ T cell responses towards a transgene, lack of co-stimulatory signals can result in impaired proliferation and cytokine secretion, generating passive tolerance [66–68]. However, a certain degree of inflammation due to factors such as serotype can yield a robust CD8+ response [69]. A recent study attempted to characterize the host response to AAV9-delivery of a split Cas9 system, for which the Cas9 coding sequence was distributed between two vectors and reconstituted post-translationally [70]. Cas9 expression in the tibialis interior muscle of adult male C57Bl6 mice increased the frequency of antigen-specific T-cells among injected mice; Cas9-specific antibodies were also observed. The vector stimulated AAV capsid-specific antibodies, but in contrast to Cas9, the epitopes were shared between individually treated animals. Two weeks after administration, no significant muscle cell damage or repair response was observed despite the presence of CD8+ T cells. Managing the host response to AAV-delivery of CRISPR components will rely on understanding the implications of immune activation when cell damage may yet be undetectable. Determining whether host immune response to AAV-Cas9-CRISPR interferes with on- and off-targeting, as well as studying the host response in clinically relevant disease models, requires further study.
An important safety issue for genome editing is the accurate assessment of off-target cleavage by endonucleases and mitigating the effects of non-specific activity. Understanding the interaction between synthetic editing systems and DNA cleavage has led to the development of algorithms to appraise likely off-target activity [71–73]. In general, genome editing systems found to be highly effective at mediating on-target cleavage conversely tend to show increased off-target activity. High fidelity Cas9 variants have reduced on-target activity and non-specific interaction with the DNA backbone thereby diminishing the overall affinity of a Cas9/gRNA complex for a particular on-target or off-target site [59]. This is important for gene repair systems relying on HDR, where a high number of cutting events must occur to achieve even a modest level of therapeutic correction. In a recent study targeting correction of the β-globin gene implicated in sickle-cell disease, hematopoietic stem/progenitor cells were edited ex vivo using a ribonucleoprotein complex of recombinant Cas9 protein and an in vitro transcribed gRNA [74]. Despite appreciable levels of HDR in CD34+ hematopoietic stem/progenitor cells, off-target activity of up to 80% was measured at the top-scoring site (OT1), with chromosomal translocations occurring between the on-target and off-target sites. To reduce off-target effects, two high-fidelity Cas9 variants were tested. These variants did not lead to indel formation at OT1, but exhibited a five-fold decrease in indels at the on-target site, leading to the use of the wild-type Cas9 for further experimental use. Another approach to reducing or eliminating off-target activity is through the use of the StCas9, NmCas9, and SaCas9 orthologs. These orthologs recognize longer PAM sequences relative to the widely used SpCas9 system, and therefore have a longer recognition sequence. This increased length requirement reduces the frequency of potential off-target sites within the genome and several studies have shown that these Cas9 orthologs have less off-target effects when tested in a direct comparison with SpCas9 [75–77]. Until more powerful high-fidelity Cas9 variants are engineered, the use of promiscuous wild-type Cas9 endonucleases in combination with assaying for off-target cleavage remains the method of choice for gene correction studies.
Although adeno-associated viral vectors have been utilized substantially for in vivo delivery of genome editing components, limitations are associated with these vectors, including reduced DNA packaging capacity and the potential for long-term expression of the dispatched endonuclease. Non-viral gene therapy vectors have the potential to address these limitations, particularly with respect to safety. Vectors such as lipid nanoparticles formulated with improved polymers can lead to transient in vivo expression of the well-characterized SpCas9, reducing the hazards posed by off-target effects and host immune response while improving genome editing efficiency [38]. Alternative delivery of CRISPR components as ribonucleoproteins with single-stranded DNA donors would be a more economical method of rapid, highly efficient gene manipulation [74]. Enhancement and innovation of non-viral delivery of genome editing reagents could address many of the current safety issues surrounding the in vivo applications of CRISPR-Cas9 technology.
Correction of a disease-causing mutation from a single treatment given at birth is the goal towards which genome editing therapies for IEM are directed. The widespread implementation of newborn screening has made it possible to detect a number of IEM at a pre-symptomatic stage when medical intervention has the ability to alter the natural history of the disease. Now, as the field of genome editing matures, the objective of the field appears within reach; specifically, the correction of a mutation at the endogenous locus. To that end, the rapid development of highly specific Cas9 orthologs that can be efficiently packaged into AAV is encouraging as are improvements in non-viral delivery platforms. However, current genome editing practices have shortcomings – most rely on cellular repair pathways that are not well understood, leading to low efficiency of correction and an unintended alteration of non-targeted coding sequences. A more thorough comprehension of DNA repair mechanisms after cleavage by Cas9 and other CRISPR systems should improve genome editing specificity, while the development of novel selection strategies that give a competitive advantage to gene-corrected cells could reduce some of the issues with efficiency.
Already, a better understanding of CRISPR mechanisms has led to improvements in the technology. Temporal control over CRISPR expression has been achieved with the development of a chemically inducible CRISPR system [78]. By modifying Cas9 to high-fidelity variants, as well as fusing catalytically inactive Cas9 to a FokI endonuclease domain, the specificity has improved [59, 79]. In a Cas9 devoid approach, triplex-forming peptide nucleic acids have mediated HDR repair, and when delivered via polymer nanoparticles with a donor template, enabled up to 4% gene editing in thalassemic mice [80]. Recently, genome editing has been applied in the clinic to HIV [80], a fatal infection whose current treatment regimen involves a cocktail of toxic drugs, taken for the life of the patient. ZFNs designed to eradicate expression of chemokine receptor 5 (CCR5), a co-receptor commonly used by HIV for entry into CD4 T cells, reportedly increased the median CD4 T cell count by three-fold in study participants, augmenting their natural anti-viral immunity [81]. Initial therapeutic applications of genome editing such as this one have relied on its effectiveness at mediating gene knockout; achieving precise gene correction will require improvements. As CRISPR technology upgrades, the enhancement to efficiency and safety will bring genome editing closer to the clinic for patients with IEMs, especially those in need of improved therapies.
Declarations
Acknowledgements
Not applicable.
Funding
JLS and CPV were supported by the intramural research program of the National Human Genome Research Institute in the National Institutes of Health. This work was supported in part by the Cancer Prevention and Research Institute of Texas (RR140081 to GB).
Availability of data and materials
Not applicable.
Authors' contributions
CPV conceived the idea for the review. JLS drafted the manuscript. CML, GB and CPV edited the manuscript. All authors approved the final manuscript.
Competing interests
The authors declare that they have no competing interests.
Consent for publication
Not applicable.
Ethics approval and consent to participate
Not applicable.
Open AccessThis article is distributed under the terms of the Creative Commons Attribution 4.0 International License (http://creativecommons.org/licenses/by/4.0/), which permits unrestricted use, distribution, and reproduction in any medium, provided you give appropriate credit to the original author(s) and the source, provide a link to the Creative Commons license, and indicate if changes were made. The Creative Commons Public Domain Dedication waiver (http://creativecommons.org/publicdomain/zero/1.0/) applies to the data made available in this article, unless otherwise stated.
Authors' Affiliations
(1)
Department of Biomedical Engineering, SUNY Stony Brook, Stony Brook, USA
(2)
Medical Genomics and Metabolic Genetics Branch, National Human Genome Research Institute, National Institutes of Health, Bethesda, USA
(3)
Department of Bioengineering, Rice University, Houston, USA