Research article

Open Access

Open Peer Review
This article has Open Peer Review reports available.
Simple rules for evidence translation in complex systems: A qualitative study
Received: 5 February 2018
Accepted: 14 May 2018
Published: 20 June 2018
Abstract
Background
Ensuring patients benefit from the latest medical and technical advances remains a major challenge, with rational-linear and reductionist approaches to translating evidence into practice proving inefficient and ineffective. Complexity thinking, which emphasises interconnectedness and unpredictability, offers insights to inform evidence translation theories and strategies. Drawing on detailed insights into complex micro-systems, this research aimed to advance empirical and theoretical understanding of the reality of making and sustaining improvements in complex healthcare systems.
Methods
Using analytical auto-ethnography, including documentary analysis and literature review, we assimilated learning from 5 years of observation of 22 evidence translation projects (UK). We used a grounded theory approach to develop substantive theory and a conceptual framework. Results were interpreted using complexity theory and 'simple rules' were identified reflecting the practical strategies that enhanced project progress.
Results
The framework for Successful Healthcare Improvement From Translating Evidence in complex systems (SHIFT-Evidence) positions the challenge of evidence translation within the dynamic context of the health system. SHIFT-Evidence is summarised by three strategic principles, namely (1) 'act scientifically and pragmatically' – knowledge of existing evidence needs to be combined with knowledge of the unique initial conditions of a system, and interventions need to adapt as the complex system responds and learning emerges about unpredictable effects; (2) 'embrace complexity' – evidence-based interventions only work if related practices and processes of care within the complex system are functional, and evidence-translation efforts need to identify and address any problems with usual care, recognising that this typically includes a range of interdependent parts of the system; and (3) 'engage and empower' – evidence translation and system navigation requires commitment and insights from staff and patients with experience of the local system, and changes need to align with their motivations and concerns. Twelve associated 'simple rules' are presented to provide actionable guidance to support evidence translation and improvement in complex systems.
Conclusion
By recognising how agency, interconnectedness and unpredictability influences evidence translation in complex systems, SHIFT-Evidence provides a tool to guide practice and research. The 'simple rules' have potential to provide a common platform for academics, practitioners, patients and policymakers to collaborate when intervening to achieve improvements in healthcare.
Keywords
Complex systemsComplexity theoryComplex adaptive systemsFrameworkEvidence translationImplementationQuality improvement
Background
There is an urgent need to improve the delivery of high quality healthcare, including the need to improve patient safety and reduce harm [1–3], to ensure care is patient centred and compassionate [4, 5], to improve health and wellbeing [6], and to reduce inequalities at the local, regional, national and global scale [7–9], all within an increasingly constrained financial environment [10, 11].
To address these challenges, there is a need to bridge the gap between the production of research evidence and the consistent delivery of evidence-based care in routine practice [12–15]. There is growing acknowledgement that translation of evidence is often ineffective and inefficient, and there is a need to develop a scientific and practical understanding of how to implement evidence into practice and achieve fast and reliable improvements in care [16–18].
Traditional approaches to translating evidence into practice have taken a rational-linear approach (where knowledge is created by one set of experts and passed on to another set to be implemented) [19, 20]. Evaluations have focused on identifying simple causal relationships between interventions and outcomes, aiming to produce generalisable knowledge about what works [16]. To establish causal relationships, studies tend to be conducted in controlled environments, where interference from context variables is considered problematic and controlled for by randomisation and protocol design [17].
It is increasingly recognised that context matters; having an 'appropriate' context can support an intervention achieve its outcome [21]. Approaches to translating evidence into practice have taken an interest in how interventions can be adapted to work in different settings [22, 23], and many researchers have turned to realist evaluations in an attempt to understand 'what works, for whom, in what settings' and establish more nuanced and caveated causal statements [21, 24].
When designing intervention and implementation strategies, as well as when conducting rigorous evaluations, there is a tendency to reduce messy real world situations into the individual component parts in an attempt to determine the relationships between them. Doing so risks overlooking the complex and intricate patterns that emerge from their interactions.
Complexity sciences provide an alternative approach to studying interventions in complex systems such as healthcare. Complexity science originated in physical chemistry as a 'push-back' against traditional reductionist approaches [25]. Put simply, life is more than molecules and atoms – it is the complex patterns of organisation that emerge between them [26, 27]. Similarly, it has been proposed that healthcare can be considered as a complex system [28, 29] (or complex adaptive system) [30, 31], with the whole being more than simply the sum of its parts. On their own, the professionals, equipment and devices in any healthcare setting achieve nothing; it is the interactions between them, and with patients, that result in the delivery of care.
Complex systems are characterised as a dynamic network of agents acting in parallel, constantly reacting to what the other agents are doing, which in turn influences the behaviour of the network as a whole [32]. The interconnected nature of their interactions can lead to uncertainty and surprise as systems self-organise and evolve over time in response to internal and external stimuli and feedback loops [28, 33]. This non-linearity means that complex systems can defy orchestrated intervention, wherein seemingly obvious solutions can have minimal impact on system behaviour (e.g. policy resistance) [34], whilst small changes can have big unanticipated consequences. Such systems have strong historical path dependencies, meaning that initial conditions are influenced by historic events and patterns, and that they can markedly influence what happens in the future.
On the one hand, complex systems are highly dynamic, continually responding and adapting to internal and external stimuli. While, on the other, they can demonstrate inertia where embedded behaviours remain unchanged and even temporary perturbations or major structural alterations can fail to disrupt existing norms [34, 35]. From these unpredictable and evolving systems emerge patterns, behaviours, structures and routines which define the system and guide behaviours within it [33, 36]. Complexity theorists propose that 'simple rules' offer a means of understanding and managaing the emergent behaviour of complex systems [26, 34].
The use of complexity science as a lens to understand healthcare systems is increasing [36]. To date, research studies have predominantly focused on describing healthcare systems as complex, yet there is less understanding of how to predict or intervene [37]. Advances have tended to be theoretical with the purpose of guiding evaluations or further research [38, 39]. Whilst there is an increased use of the term complexity, there is little evidence that the concepts of complex systems have been applied to the design of interventions or implementation strategies [40]. As such, Braithwaite et al. [36] have called for a greater clarity about how to study and apply the principles of complex systems in practice.
This study aims to develop a deeper explanation of evidence translation in healthcare using a complex systems lens, thereby contributing to both the fields of implementation science and complexity science. Drawing on detailed insights into complex micro-systems, this research advances empirical and theoretical understanding. A primary focus is given to understanding the implications of complexity theory with an objective of identifying a series of 'simple rules' about how to intervene in complex systems. The 'simple rules' aim to make complexity navigable (whilst recognising that it will never be simple), providing actionable guidance to both practice and research.
Methods
Study design
The study was conducted using an analytical auto-ethnography and grounded theory approach (Fig.
1
). An analytical auto-ethnographic approach was adopted reflecting that the authors of this paper were full members of the research setting (conducting ethnography of 'our own people' as members of the "core team" (Fig.
1
)), visible as such a member in published texts, and committed to developing theoretical understandings of broader social phenomena [
41
].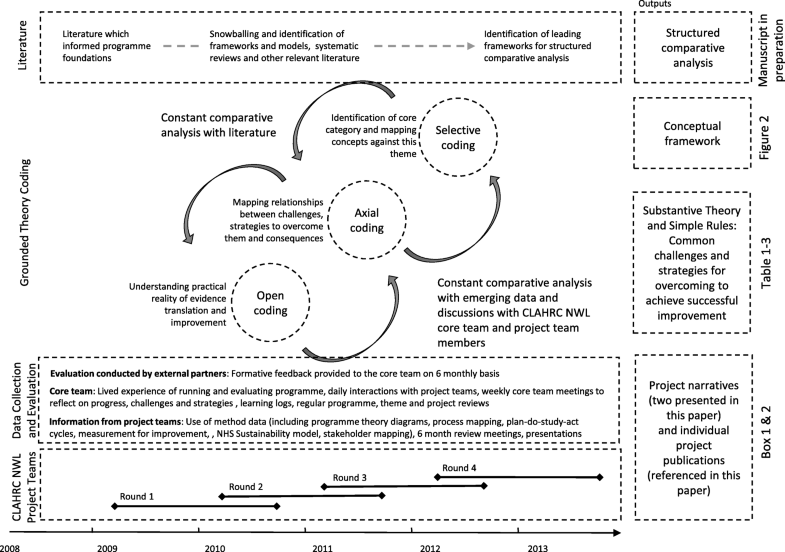 Empirical data was collected through participant observation and document analysis of the National Institute of Health Research (NIHR) Collaboration for Leadership in Applied Health Research and Care (CLAHRC), Northwest London (NWL) programme (UK), and 22 evidence translation projects (Additional file 1). This allowed direct access to and observation of actions, events, scenes and people in real-time over a 5-year period, with opportunities to follow-up on emergent patterns and problems. Concurrently, extensive literature was reviewed using a snowballing approach to identify frameworks, models, systematic reviews and other relevant literature (further details on data collection and literature review can be found in Additional file 2).
A grounded theory approach guided the data collection and analysis [42, 43]. Data was analysed using open, axial and selective coding, in parallel with theoretical sampling, to explore emergent categories and themes over time. This iterative analysis led to a process of 'abduction' to make sense of material that did not 'fit' into pre-established categories (including published frameworks and theories), thereby reconceptualising the challenge of evidence translation and improvement into a new substantive theory (to provide explanations and predictions related to the specific context of study) and conceptual framework (indicating how aspects of the theory are connected to each other). Further details are provided in Additional files 2 and 3.
This exploratory research approach was chosen to ensure that the resulting findings were empirically informed and theoretically grounded in the practical reality of evidence translation and improvement in real world (complex) settings. We chose not to build exclusively on any existing theories as no single existing framework fit well with our experiences. Whilst several fields of study were relevant, no single frameworks brought together concepts from different fields, including knowledge translation, implementation, improvement and complexity.
Results from the grounded theory analysis were interpreted through complex systems thinking [26, 28, 34, 35]. Emphasis was placed on developing a series of 'simple rules', which were identified through establishing relationships between challenges experienced by the project teams, and the actions and strategies that, if taken, had a positive effect on project progress and outcomes or, if they were absent or overlooked, were observed to have a detrimental impact.
Setting
The NIHR established the CLAHRC programme in England to accelerate the translation of evidence into practice for the benefit of patients. Thirteen regional CLAHRC programmes were funded, each led by academic and healthcare partnerships and with autonomy to decide how they would approach 'closing' the translational gap [44–46].
The CLAHRC NWL approach brought together healthcare staff, including clinical, managerial and support staff (hereafter referred to as 'staff') with patients, carers, family members and the wider community (hereafter, 'patients') and academic partners from a diverse range of disciplines (hereafter, 'academics') into project teams of 5–15 people to translate evidence into practice in their local micro-systems. Project teams used a suite of quality improvement tools and methods, including the model for improvement, action-effect diagrams and plan-do-study-act cycles, process mapping, statistical process control, stakeholder engagement, and patient and public involvement combined with iterative evaluation, to guide and support the implementation process [47–51].
During the first 5 years of the CLAHRC NWL (2008–2013), 22 diverse topics considered of clinical importance were explored with 55 teams over four rounds of 18-month projects (Fig. 1) in various settings (acute, community, primary care, mental health, etc.) (Additional file 1). All projects had a common goal of translating existing evidence into practice to achieve improvements in quality of care provision, with the aspiration of delivering corresponding improvements in patient outcomes. Two detailed case study examples are presented in the results section (Boxes 1 and 2).
This paper represents a consolidation of cross-project learning from the programme and peer-reviewed literature. Existing publications relating to evaluation of individual projects, cross-project analysis, use of quality improvement approaches, and external programme evaluations are listed in Additional file 1.
Results
Results are divided into two sections. Firstly, the new conceptual framework Successful Healthcare Improvements From Translation of Evidence into practice (SHIFT-Evidence) is presented, introducing the three strategic principles of the framework, namely 'act scientifically and pragmatically', 'embrace complexity' and 'engage and empower', and the 12 'simple rules'.
Secondly, there is a detailed presentation of the 12 'simple rules' and accompanying substantive theory. The results demonstrate how the theory and rules emerged from the empirical data and how understanding is enhanced by application of a complex systems lens. The presentation of the rules and substantive theory is accompanied by two illustrative case examples from CLAHRC NWL projects to bring to life the practical reality of evidence translation.
Discussion
SHIFT-Evidence provides a comprehensive overview of the challenges and corresponding actions required for successful implementation and improvement. These are summarised as three strategic principles and 12 'simple rules'. Exploration of the practical reality of making changes in frontline care settings reveals the need to reconceptualise the challenge of evidence translation to take account of system complexity.
Conclusion
SHIFT-Evidence is a unique framework with explanatory and predictive power grounded in the practical reality of evidence translation and improvement in healthcare. It advances thinking about how to intervene in complex systems, namely that, to achieve successful improvements from evidence translation in healthcare, it is necessary to 'act scientifically and pragmatically' whilst 'embracing the complexity' of the setting in which change takes place and 'engaging and empowering' those responsible for and affected by the change.
A series of 12 action-orientated 'simple rules' are proposed to guide patients, practitioners, managers, policymakers and academics to intervene in complex systems. We propose that efforts to translate evidence into practice should be reconceptualised from focusing on simple relationships between interventions and outcomes to understanding the complex and nuanced work required when 'intervening to achieve an improvement'. This better reflects the iterative and negotiated process required to test multiple interventions whilst noticing and responding to learning that emerges from the system over an extended period of time.
Box 1: A project narrative of evidence translation for community-acquired pneumonia (CAP)
This 18-month Collaboration for Leadership in Applied Health Research and Care (CLAHRC) North West London (NWL) project aimed to improve the timeliness and effectiveness of initial treatment of CAP during emergency hospital admission in order to improve patient outcomes and experience.
Outline of problem (primarily explored during months 0–6)
Evidence-based treatment for CAP was identified by the project team through a review of the 137 national guideline recommendations [105]. Core recommendations requiring completion within 4 h of a patient arriving at hospital included oxygen assessment and treatment, measuring pneumonia severity and providing appropriate antibiotics.

The project leads believed all clinicians were aware of the treatment guidelines. Doctors agreed they knew the evidence and were confident that they and their clinical teams were delivering high-quality evidence-based care; thus, the project was considered unnecessary by many senior clinicians.

A baseline audit of local practice showed 0% of patients received all evidence-based care elements, with compliance ranging from 13% to 90% for the individual elements. Further investigation revealed that junior doctors' awareness of evidence was lower than expected, and that doctors, pharmacists and nurses needed to coordinate their work within the few first hours of hospital admission.
Initial solutions (tested and implemented during months 7–18)
An intervention was developed grouping the evidence-based care elements onto a single page paper-based 'care bundle' [106–108], designed to prompt action for all staff, including junior doctors, and coordinate care between professionals.

The team collected weekly data on the extent to which each care element was delivered within 4 h. Following the initial implementation, low compliance persisted with < 5% of patients receiving all elements.

To address poor uptake, the bundle was iterated 15 times over 12 months until the design and content was accepted by different clinical groups, the wording was clarified and the bundle deemed compatible with other usual care and documentation practices.

During this initial phase it emerged that improvements needed to be addressed in the wider system, including updating oxygen and antibiotic prescribing policies and the lack of a process for ordering appropriate microbiological tests. Review of patient data also raised concerns about the accuracy of the initial diagnosis of CAP at first assessment.

Four other sites across NWL engaged with the programme to adopt the CAP care bundle (cross site engagement started at month 12 of the original timeline, and continued for a further 18 months). New sites were motivated by data showing the care bundle improved delivery of evidence-based care but all spent several months appraising the evidence and intervention against their local experiences, knowledge, system and context before implementation commenced.
Key learning about complexity
Coordinated solutions were required that involved different professions working with senior executives to change policies and overcome barriers. These actions, combined with better staff education and awareness of CAP and the care bundle, improved delivery of timely care.

Despite initial success, many factors continued to threaten sustained success on the original site. Regular review of compliance data enabled factors causing variation to be identified and addressed. For example, when measures showed a sudden drop in compliance, the original team investigated and identified junior doctors' rotation as a contributing factor. They devised ways to improve junior doctor training and awareness at induction.

Staff from different sites met together and learned that their challenges were common. Much of the knowledge shared was tacit, and passed on through discussions rather than written or formalised knowledge exchange.

Other sites experienced similar factors to the original site that influenced their sustained success, including staff turnover and the emergence of conflicting organisational improvement priorities.
Outcomes
Although initially reluctant, rigorous weekly measurement allowed the team in the first site to track progress, identify potential improvements and, ultimately, to demonstrate success. Over 12 months, variation in delivery of the individual care elements reduced from 13–90% before the bundle to 74–92% afterwards, and overall compliance increased from 0% to 49% [109].

Two sites achieved sustainable use of the bundle 1 year after the formal end of the project by integrating the bundle into the routine admission process. One site maintained measurement of CAP bundle compliance to continue monitoring and responding to variation in use and maintained high levels of compliance.
Box 2: A project narrative of evidence translation in medicines management (MM)
The 18-monthCollaboration for Leadership in Applied Health Research and Care (CLAHRC) North West London (NWL) MM project aimed to implement an evidence-based post-discharge follow-up phone call [110, 111] to support patients whose medications had been changed during an emergency admission.
Outline of problem (primarily explored during months 0–6)
The follow-up phone call intervention was intended to ensure patients understood their new medicines regimen. The project team expected the introduction of phone calls to be straightforward, but quickly discovered that they needed to address many related issues.

Obtaining information about patients' medication history to inform the follow-up phone call was a major problem, requiring triangulation of information from several sources after hospital admission. The availability of this information was recognised as a systemic problem which directly affected the ability to complete medicines reconciliation at discharge.

Separate medication lists were maintained by up to four different professional groups for their own purpose (doctors, pharmacists, nurses and physiotherapists) with little awareness of each other's documentation practices. This silo-working increased the risk of medication errors. For example, a patient with arthritis was unable to open bottles with a child-proof top. The physiotherapist was aware of this, but the pharmacy was not and continued to dispense medications in inaccessible containers.
Initial solutions (tested and implemented during months 7–12)
Staff recognised that they would need to redesign the process, and renegotiate their roles to coordinate their work more effectively. A single agreed medicines reconciliation form was introduced, which allowed them to assess the quality of medicines reconciliation.

Patients involved with the project challenged assumptions about relying on clinicians and organisations for this information. In a spin off project, clinical teams worked with patients to develop a patient-held 'My Medications Passport', which could act as an information source to support medicines reconciliation and help patients take greater ownership of their medication histories [112, 113].
Key learning about complexity
Investigation into the causes of medication errors revealed several variables affecting the process, including the number of patients being admitted, the complexity of each patient's condition, and the number and type of medications per patient. These variables were further influenced by staff working practices, including the time available to reconcile an individual patient's medications. Variation in doctors' performance prompted the team to improve teaching for junior doctors emphasising the importance of documenting medication changes using standardised procedures for recording and reconciling medicines. Junior doctors assumed someone else completed the medication documentation, so the team worked with them until it was accepted as a routine responsibility.
The team had to negotiate with the executive team to secure the appropriate budget and permission for the changes in medicine reconciliation to take place. Delivering longer term changes required permission or support from people outside the team, including the education leads responsible for doctors' induction.

Aligning the project to organisational priorities took time and effort, and helped secure vital resources, including executive support, to further champion the work and permission for team members to be released to support the project.

At the start of the project, medicines reconciliation had poor visibility within the hospital and was not an organisational priority. The team worked to increase its profile, identifying how the work related to key hospital concerns, including the importance of medicines reconciliation to admissions avoidance, how it linked to the safe and effective flow of patients through emergency care, and how it contributed cost-savings by avoiding inappropriate prescribing.
Outcomes
During the project, the error rate in medicines reconciliation reduced from 24% to an average of 11%. Week-to-week variation reduced from 0%–74% to 0%–32% [94]; at this point the follow-up phone calls were re-instigated [114].
Abbreviations
CAP:

community-acquired pneumonia
CLAHRC:

Collaboration for Leadership in Applied Health Research and Care
MM:

medicines management
NIHR:

National Institute of Health Research
NWL:

Northwest London
SHIFT-Evidence:

Successful Healthcare Improvement From Translating Evidence into complex systems
Declarations
Acknowledgements
Authors would like to thank Dr Catherine French, Stuart Green, Rachel Matthews, Laura Lennox, Ganesh Sathyamoorthy and Dr Tom Woodcock for their advice and support in development of the framework and review of the text; and Dr Vanessa Marvin and Dr Sarah Elkin, who were leaders of the Medicines Management and Community Acquired Pneumonia projects and reviewed and commented on the case studies used in this paper. This paper would not have been possible without the hard work of these colleagues, and all the CLAHRC NWL community. The authors would also like to thank Lizzie Raby for the SHIFT-Evidence graphic design.
Funding
This article is based on independent research commissioned by the National Institute for Health Research (NIHR) under the Collaborations for Leadership in Applied Health Research and Care (CLAHRC) programme for North West London. JR was also financially supported by an Improvement Science Fellowship from the Health Foundation. The views expressed in this publication are those of the authors and not necessarily those of the Health Foundation, the NHS, the NIHR or the Department of Health and Social Care.
Availability of data and materials
The datasets used and/or analysed during the current study are available from the corresponding author on reasonable request.
Authors' contributions
JR, CD and DB came up with the concept for the research. JR, CH and CD conducted auto ethnographic observations, analysed data and conducted extensive literature review. JR drafted the first version of the paper. All authors made major contributions to writing the manuscript. All authors read and approved the final manuscript.
Ethics approval and consent to participate
All CLAHRC NWL projects discussed in this manuscript independently applied for ethics, e.g. [114], or obtained ethics waivers, e.g. [115].
The independent evaluation of CLAHRC NWL by Imperial College Business School was approved by Central London Research Ethics Committee (REC approval number 09/H0718/35) [116].
Information from these studies was reviewed using secondary analysis to inform the research presented in this paper.
In line with precedent for auto-ethnographic observations in organisations, further ethical approval was not obtained for the research presented in this paper (e.g. [117–119]). Field permissions were obtained from project teams and organisational leaders at CLAHRC NWL.
Competing interests
The authors declare that they have no competing interests.
Publisher's Note
Springer Nature remains neutral with regard to jurisdictional claims in published maps and institutional affiliations.
Open AccessThis article is distributed under the terms of the Creative Commons Attribution 4.0 International License (http://creativecommons.org/licenses/by/4.0/), which permits unrestricted use, distribution, and reproduction in any medium, provided you give appropriate credit to the original author(s) and the source, provide a link to the Creative Commons license, and indicate if changes were made. The Creative Commons Public Domain Dedication waiver (http://creativecommons.org/publicdomain/zero/1.0/) applies to the data made available in this article, unless otherwise stated.
Authors' Affiliations
(1)
National Institute of Health Research (NIHR) Collaboration for Leadership in Applied Health Research and Care (CLAHRC) Northwest London, Chelsea and Westminster Hospital, Imperial College, London, UK