Minireview

Open Access

Open Peer Review
This article has Open Peer Review reports available.
The role of copeptin as a diagnostic and prognostic biomarker for risk stratification in the emergency department
Christian H Nickel

1

Email author

,

Roland Bingisser

1 and

Nils G Morgenthaler

2
Received: 2 September 2011
Accepted: 20 January 2012
Published: 20 January 2012
Abstract
The hypothalamic-pituitary-adrenal axis is activated in response to stress. One of the activated hypothalamic hormones is arginine vasopressin, a hormone involved in hemodynamics and osmoregulation. Copeptin, the C-terminal part of the arginine vasopressin precursor peptide, is a sensitive and stable surrogate marker for arginine vasopressin release. Measurement of copeptin levels has been shown to be useful in a variety of clinical scenarios, particularly as a prognostic marker in patients with acute diseases such as lower respiratory tract infection, heart disease and stroke. The measurement of copeptin levels may provide crucial information for risk stratification in a variety of clinical situations. As such, the emergency department appears to be the ideal setting for its potential use. This review summarizes the recent progress towards determining the prognostic and diagnostic value of copeptin in the emergency department.
Keywords
Emergency DepartmentAtrial Natriuretic PeptideLower Respiratory Tract InfectionTolvaptanArginine Vasopressin
Introduction
Risk stratification is a core task in emergency medicine. Novel biomarkers such as pro-calcitonin and copeptin have emerged to assist clinicians with decision-making. Elevated pro-calcitonin levels, for example, might help to decide whether administration of antibiotics in lower respiratory tract infections is necessary [1, 2].
Arginine vasopressin (AVP), also known as antidiuretic hormone, is one of the key hormones of the hypothalamic-pituitary-adrenal (HPA) axis. Copeptin, a peptide of 39 amino acids, is the C-terminal part of pro-AVP and is released together with AVP during processing of the precursor peptide (see Figure
1
) [
3
]. Copeptin and AVP are secreted from the neurohypophysis upon hemodynamic or osmotic stimuli (see Figure
2
). AVP is also involved in the endocrine stress response. Corticotropin-releasing hormone and AVP appear to have a synergistic effect, resulting in adrenocorticotropic hormone (ACTH) and cortisol release [
4
–
7
]. High cortisol levels reflect a higher degree of stress, but are dependent on the integrity of the HPA-axis [
8
,
9
]. Copeptin appears to be superior to cortisol in determination of the stress level, as cortisol is further downstream in the stress response, has a strong circadian rhythm and is also challenging to measure as a free hormone [
10
].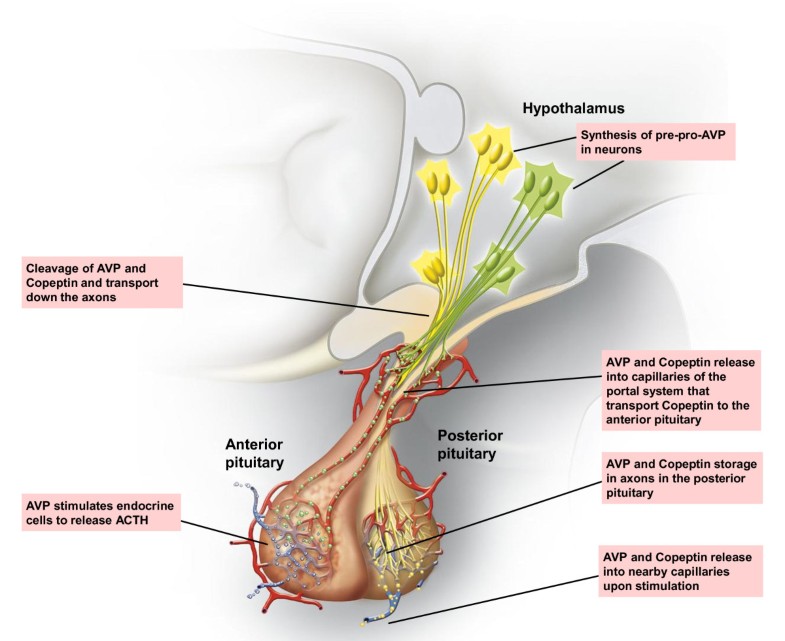 In contrast to AVP and cortisol, copeptin is stable both in serum and plasma at room temperature and can be easily measured ex vivo as a 'shadow' fragment of AVP in the circulation [11, 12], in manual or fully automated chemiluminescence assays. Copeptin results are available within one hour, which is crucial for any useful biomarker in the emergency department (ED) setting.
This mini review outlines the potential prognostic and diagnostic use of copeptin in the ED in the context of a number of different possible clinical conditions and summarizes the recent progress made in this field.
Conclusion
AVP is a substantial part of the endocrine stress response, resulting in ACTH and cortisol release. The trigger for the rapid release of AVP and copeptin in acute disease is not yet clear. Possibly, the body responds to acute and life-threatening diseases by immediate AVP and copeptin release. Copeptin as a biomarker appears to reflect the individual stress level [10].
In the ED, copeptin may be a clinically useful non-specific prognostic marker reflecting disease severity in patients with a wide array of diseases, such as lower respiratory tract infections, heart failure and stroke. Copeptin might assist with risk stratification, resource allocation and disposition planning. However, future studies are needed to evaluate ideal cut-off levels in these clinical scenarios. Additionally, intervention trials are needed to show that determination of copeptin levels in the emergency setting improves patient care.
The concept of a readily available biomarker with the ability to improve prognostic accuracy of known risk stratification tools, such as risk scores, is attractive. Is copeptin, perhaps, the long awaited biomarker that discerns 'sick' from 'not sick'?
Declarations
Acknowledgements
Thanks to Karen Delport-Lehnen MD for helpful discussions.
Authors' Affiliations
(1)
Emergency Department, University Hospital, Basel, Switzerland
(2)
Institut für Experimentelle Endokrinologie und Endokrinologisches Forschungszentrum, Campus Virchow, Germany
Copyright
© Nickel et al; licensee BioMed Central Ltd. 2012
This article is published under license to BioMed Central Ltd. This is an Open Access article distributed under the terms of the Creative Commons Attribution License (http://creativecommons.org/licenses/by/2.0), which permits unrestricted use, distribution, and reproduction in any medium, provided the original work is properly cited.