Review
Open Access
Open Peer Review
This article has Open Peer Review reports available.
Mechanisms and impact of the frequent exacerbator phenotype in chronic obstructive pulmonary disease
Received: 17 May 2013
Accepted: 9 July 2013
Published: 14 August 2013
Abstract
Exacerbations of chronic obstructive pulmonary disease (COPD) are important events that carry significant consequences for patients. Some patients experience frequent exacerbations, and are now recognized as a distinct clinical subgroup, the 'frequent exacerbator' phenotype. This is relatively stable over time, occurs across disease severity, and is associated with poorer health outcomes. These patients are therefore a priority for research and treatment. The pathophysiology underlying the frequent exacerbator phenotype is complex, with increased airway and systemic inflammation, dynamic lung hyperinflation, changes in lower airway bacterial colonization and a possible increased susceptibility to viral infection. Frequent exacerbators are also at increased risk from comorbid extrapulmonary diseases including cardiovascular disease, gastroesophageal reflux, depression, osteoporosis and cognitive impairment. Overall these patients have poorer health status, accelerated forced expiratory volume over 1 s (FEV1) decline, worsened quality of life, and increased hospital admissions and mortality, contributing to increased exacerbation susceptibility and perpetuation of the frequent exacerbator phenotype. This review article sets out the definition and importance of the frequent exacerbator phenotype, with a detailed examination of its pathophysiology, impact and interaction with other comorbidities.
Keywords
Chronic obstructive pulmonary disease (COPD)ExacerbationsFrequent exacerbator phenotypeComorbidities
Introduction
Exacerbations of chronic obstructive pulmonary disease (COPD) are episodes of symptom worsening in COPD that have both short-term and longer-term consequences [1]. They are associated with increased airway and systemic inflammation and also increases in dynamic hyperinflation leading to classical exacerbation symptoms [2]. COPD exacerbations are major drivers of health status in COPD, and are important causes of hospital admission and death. Exacerbations are also key outcomes for therapies in COPD and thus there has been much progress in their understanding in recent times.
It has also been recognized that some patients with COPD are particularly susceptible to exacerbations and these patients have been termed 'frequent exacerbators', in contrast to patients with infrequent exacerbations who experience few exacerbations over time. The frequent exacerbator phenotype has now been recognized as a major phenotype in patients with COPD and occurs across disease severities. The Evaluation of COPD Longitudinally to Identify Predictive Surrogate Endpoints (ECLIPSE) exacerbation study showed that even in patients defined as grade 2 according to the Global Initiative for Chronic Obstructive Pulmonary Disease (GOLD) (forced expiratory volume over 1 s (FEV1) 50% to 80% predicted), 22% of the COPD population were frequent exacerbators [
3
] (Figure
1
). Therefore, this review will describe the pathophysiology and impact of the frequent exacerbator phenotype and will also address the interaction with comorbidity, as illustrated in Figure
2
.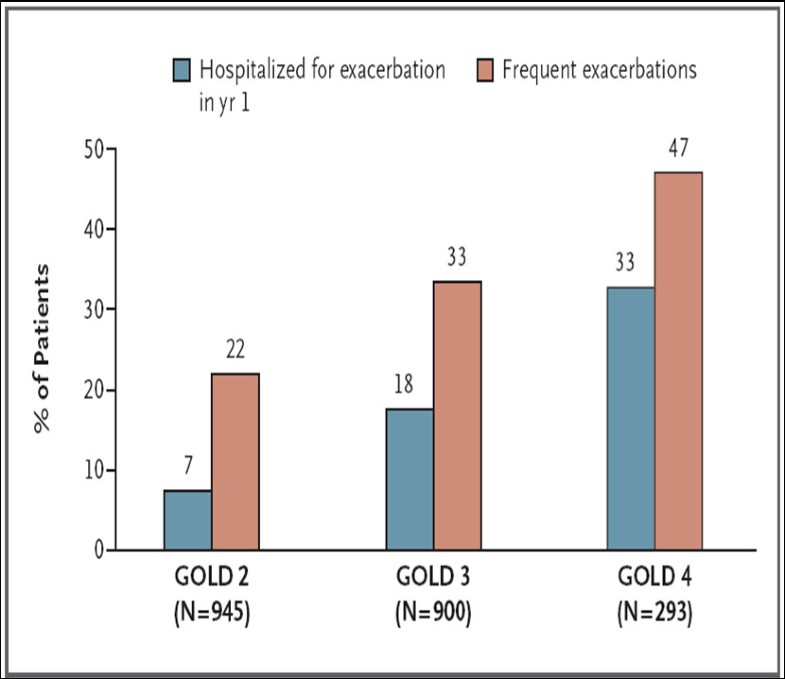 Definition of COPD exacerbations and the frequent exacerbator phenotype
COPD exacerbations have been defined in two ways. Exacerbations are episodes of worsening of symptoms, and can be defined in terms of a persisting deterioration in respiratory symptoms outside normal day-to-day variation, In the London COPD cohort work [4], an exacerbation is defined as an increase of two major symptoms (either dyspnea, increased sputum purulence or increased sputum volume), or one major and one minor symptom (cough, wheezing, cold, nasal discharge, sore throat), sustained for 2 days or longer. Use of such a definition requires some form of daily monitoring with either a diary or an electronic device, but allows a complete count of all exacerbation events. It has been shown that exacerbations are often unreported and untreated and that these untreated exacerbations also affect health status [4–6]. Symptom measures for COPD exacerbations are therefore likely to be optimal for exacerbation detection in clinical trials [7].
Recently the EXACT-PRO ('EXAcerbations of Chronic Pulmonary Disease Tool - Patient-Reported Outcome') device has been developed as a validated outcome tool for COPD exacerbations and this is based on detecting changes in symptoms and thus registering events whether treated or untreated [8]. Epidemiological studies and clinical trials have both used healthcare utilization (HCU) as a measure of COPD exacerbations, though as explained above, these definitions are inaccurate, will vary with different healthcare systems, and will miss untreated events. Furthermore, many patients with COPD are slow to perceive exacerbation symptoms and thus will tend not to report exacerbations for therapy. It should also be noted that COPD exacerbations may mimic or coexist with other conditions, such as pneumonia, congestive cardiac failure, pneumothorax or pulmonary embolism, and thus it is important in clinical practice to accurately confirm the diagnosis and exclude other conditions.
Thus, the precise definition of the frequent exacerbator phenotype is problematic and will represent the number of exacerbations where a stable phenotype is present over time. The ECLIPSE exacerbation analysis showed that when a patient has two or more HCU exacerbations per year in 1 year, they have around a 68% chance of having two or more in the third year [3]. However, if both treated and untreated events are counted, as in the London cohort of patients with COPD, then the exacerbation rate for a stable phenotype will be larger. Further studies are required to address this issue.
Pathophysiology of frequent COPD exacerbations
The heterogeneity of COPD exacerbations reflects their dependence on a complex spectrum of interacting factors. Susceptibility to exacerbations and the basis of the frequent exacerbator is therefore probably multifactorial. Identifying contributory factors, such as background airway inflammation, airway microbial patterns and host immunological responses, may provide potential targets in the effort to alter a patient's exacerbation frequency phenotype.
Impact of frequent exacerbations in patients with COPD
Exacerbation frequency and comorbidities
Conclusions
This review has described the impact of the frequent exacerbator phenotype on patients with COPD and their considerable morbidity. Frequent exacerbators can be identified across the COPD disease spectrum and must be targeted for effective exacerbation prevention, both with pharmacological and non-pharmacological agents. Susceptibility to respiratory viral infection is likely to be an important mechanism in frequent exacerbators and novel interventions need to be developed to reduce viral infection at exacerbation. There is now some evidence that interventional therapy with an anti-inflammatory agent can modify the frequent exacerbator phenotype such that patients become infrequent exacerbators [110].
By understanding the mechanisms of development of frequent exacerbations, and applying appropriate interventions, we will be at last able to impact on the health status of this high-risk patient group.
Abbreviations
CAT:

COPD assessment test
COPD:

Chronic obstructive pulmonary disease
CRP:

C reactive protein
CRQ:

Chronic respiratory questionnaire
CT:

Computerized tomography
ECLIPSE:

Evaluation of COPD longitudinally to identify predictive surrogate endpoints
FACIT-Fatigue:

Functional assessment of chronic illness therapy-fatigue scale
FEV1:

Forced expiratory volume over 1 s
GOLD:

Global initiative for chronic obstructive pulmonary disease
GORD:

Gastroesophageal reflux disease
ICAM:

Intracellular adhesion molecule
IHD:

Ischemic heart disease
IL:

Interleukin
MBL:

Mannose-binding lectin
SGRQ:

St George's respiratory questionnaire.
Authors' Affiliations
(1)
Centre for Respiratory Medicine, Royal Free Campus, University College London, London, UK
Copyright
© Wedzicha et al.; licensee BioMed Central Ltd. 2013
This article is published under license to BioMed Central Ltd. This is an Open Access article distributed under the terms of the Creative Commons Attribution License (http://creativecommons.org/licenses/by/2.0), which permits unrestricted use, distribution, and reproduction in any medium, provided the original work is properly cited.