Opinion

Open Access

Open Peer Review
This article has Open Peer Review reports available.
The link between chronic periodontitis and COPD: a common role for the neutrophil?
Received: 29 January 2013
Accepted: 1 November 2013
Published: 13 November 2013
Abstract
Background
The possible relationship between chronic inflammatory diseases and their co-morbidities has become an increasing focus of research. Both chronic periodontitis and chronic obstructive pulmonary disease are neutrophilic, inflammatory conditions characterized by the loss of local connective tissue. Evidence suggests an association and perhaps a causal link between the two diseases. However, the nature of any relationship between them is unclear, but if pathophysiologically established may have wide-reaching implications for targeted treatments to improve outcomes and prognosis.
Discussion
There have been a number of epidemiological studies undertaken demonstrating an independent association between chronic periodontitis and chronic obstructive pulmonary disease. However, many of them have significant limitations, and drawing firm conclusions regarding causality may be premature. Although the pathology of both these diseases is complex and involves many cell types, such as CD8 positive cells and macrophages, both conditions are predominantly characterized by neutrophilic inflammation. Increasingly, there is evidence that the two conditions are underpinned by similar pathophysiological processes, especially centered on the functions of the neutrophil. These include a disturbance in protease/anti-protease and redox state balance. The association demonstrated by epidemiological studies, as well as emerging similarities in pathogenesis at the level of the neutrophil, suggest a basis for testing the effects of treatment for one condition upon the severity of the other.
Summary
Although the evidence of an independent association between chronic periodontitis and chronic obstructive pulmonary disease grows stronger, there remains a lack of definitive studies designed to establish causality and treatment effects. There is a need for future research to be focused on answering these questions.
Keywords
Chronic obstructive pulmonary disease
Emphysema
Neutrophil
Neutrophil extracellular trap
Oxidative stress
Periodontal diseases
Protease/proteinase
Background
Periodontitis is a common infectious disease of the mouth affecting the supporting structures of the teeth. Around half of adults are affected by significant periodontal pocket and attachment loss [1], with around 11% of adults having chronic periodontitis [2]. Although chronic periodontitis involves a complex interplay of cytokines and cell types, it is mainly considered a neutrophil-mediated disease [3]. Plaque build-up allows the growth of anaerobic bacteria [4], which via a series of mechanisms leads to the recruitment and activation of neutrophils. Excessive or unopposed exposure of the connective tissue to the neutrophils' enzymes causes its destruction. Left untreated, chronic periodontitis causes loss of ligamentous support and alveolar bone, resulting in tooth loss [5].
Chronic obstructive pulmonary disease (COPD) affects around 200 million people worldwide and is a major cause of morbidity and mortality [6]. It is important to emphasize that COPD is a generic term that is defined by the presence of airflow obstruction. It consists of several pathological subtypes, such as emphysema, small airways disease and chronic bronchitis, that are distinct entities although often combined in a single patient. Throughout this review, COPD is used unless distinct pathological entities are known. COPD is a complex disease involving many types of immune responses that recruit many types of innate and adaptive immune cells, as well as the potential involvement of autoantibodies [7]. As with chronic periodontitis, it is recognized predominantly as a chronic neutrophilic inflammatory disorder and enzymes from the neutrophil granules are implicated in the pathogenesis of the disease [8].
Both chronic periodontitis and COPD have a common element of host susceptibility to environmental factors. For example, it is widely accepted that smoking is a risk factor for developing COPD, however the disease only affects a minority of smokers, implying intrinsic and genetic factors that may negate the effect of smoking [
9
]. Similarly, a complex interaction of environmental and genetic factors has been described in periodontitis [
5
]. It has been hypothesized that, despite some variations in the triggers and possibly susceptibility factors, the pathological mechanism in both diseases converges on activating and utilizing neutrophils. In both diseases, the released neutrophil molecules have the capacity to cause the pathological changes seen in connective tissue [
10
], as summarized below, leading to two identical processes in different tissues with a chronic destructive outcome (Figure
1
).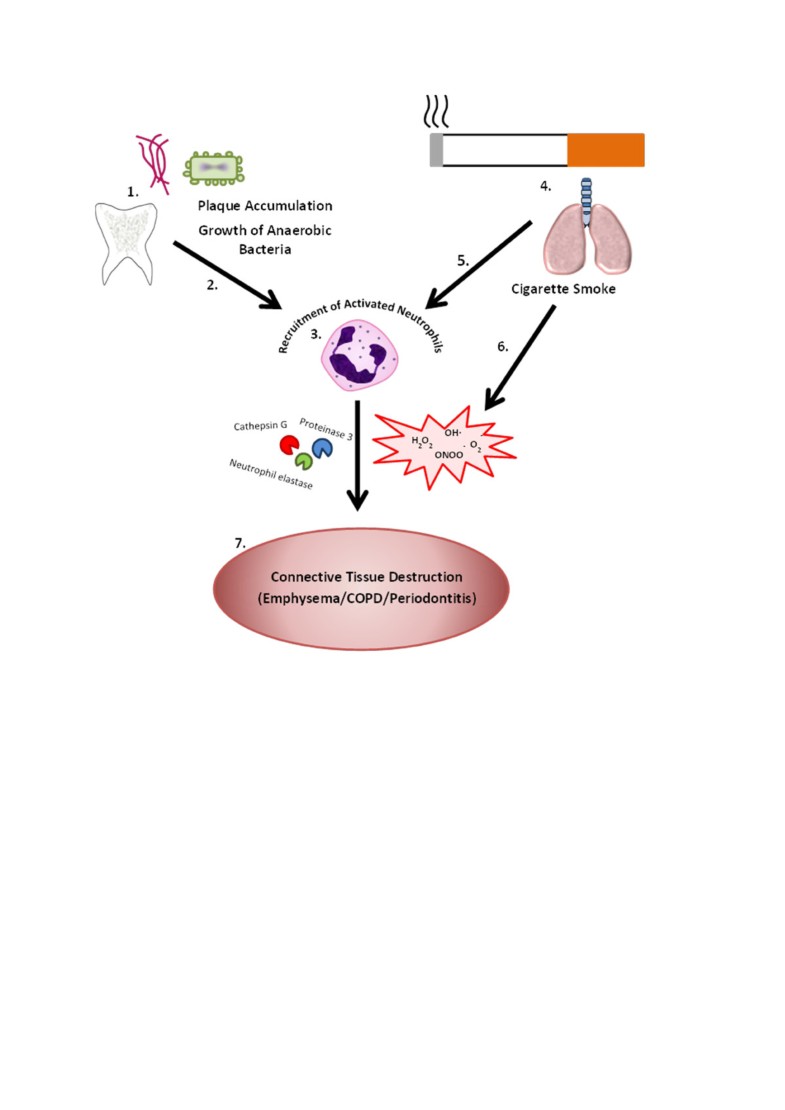 There has been growing interest in the hypothesis that COPD forms part of a 'chronic systemic inflammatory syndrome' [11]. Patients with COPD have higher levels of circulating inflammatory cytokines including C-reactive protein, IL-8 and TNFα [12], which have been shown to relate to disease severity [13]. This up-regulation of cytokines also relates to low body mass index and peripheral muscle dysfunction [14]. These same inflammatory markers and cytokines can be found in patients with vascular disease and diabetes [15], and clustering of chronic inflammatory diseases is recognized in patients with COPD [14]. The presence of this systemic inflammatory syndrome and associated co-morbidities has a detrimental effect on morbidity and mortality [16].
In periodontitis, a complex interaction between inflammatory conditions has also been recognized. Again, a local inflammatory process is present in response to bacteria, but increased levels of systemic inflammation are also recognized, with higher circulating pro-inflammatory cytokines including C-reactive protein and TNFα [17]. Patients with severe chronic periodontitis have an increased risk of developing cardiovascular disease, thought, in part, to be due to the effect of the systemic cytokines, but also bacterial products, on vascular endothelial cells, resulting in the development and progression of atheroma and vascular plaque [18]. There is evidence that chronic periodontitis is also associated with an increased likelihood of stroke [19], osteoporosis [20], diabetes [21] and rheumatoid arthritis [22], through variations of the same mechanisms related to the general systemic inflammatory milieu.
It is unclear whether the relationship between these chronic diseases represents 'overspill' of local inflammation from one organ into the systemic circulation, or a systemic inflammatory process affecting multiple organ systems. This article reviews the available epidemiological and pathophysiological evidence to date and will determine whether a basis for an association exists between COPD and periodontitis, and, if so, the implications for further investigation and treatment.
A PubMed search was performed using the terms 'COPD', 'emphysema' and 'periodontitis', as well as 'epidemiology' and 'neutrophil'. Publications were generally confined to the last 10 years, but older significant publications were not excluded. Relevant articles identified from the reference lists of articles identified by the initial search strategy were also included.
Summary
COPD (especially the emphysema sub-type) and periodontitis are believed to share a similar pathophysiology, namely inflammation and the destruction of the local connective tissue. There is evidence that the neutrophil is a key cell in the inflammatory response to both diseases, and that its proteases and ROS can propagate inflammation and cause damage to the components of the connective tissue. To cause the disease state, an imbalance has to occur between these degradative proteins and their inhibitors, and current research is focused on the factors that lead to this imbalance. Neutrophil function is clearly abnormal in COPD and may be central to the pathophysiology but it is not known whether a similar defect is present in patients with periodontitis. Further studies looking at the existence of shared pathological processes and the effect of specific interventions in either disease on the other will shed more light on any link between the conditions. However, this will require appropriately powered randomized controlled trials to investigate causality and understand the pathological basis of the diseases.
Authors' information
AU is a clinical research fellow in the University of Birmingham and at the Queen Elizabeth Hospital, Birmingham; RS is Professor of Medicine at the University of Birmingham and at the Queen Elizabeth Hospital, Birmingham.
Abbreviations
AAT:

α1-antitrypsin
COPD:

Chronic obstructive pulmonary disease
IL:

Interleukin
MMP:

Matrix metalloproteinase
NETs:

Neutrophil extracellular traps
ROS:

Reactive oxygen species
TNF-α:

Tumor necrosis factor α.
Authors' Affiliations
(1)
Lung Investigation Unit, Queen Elizabeth Hospital, Edgbaston, UK
Copyright
© Usher and Stockley; licensee BioMed Central Ltd. 2013
This article is published under license to BioMed Central Ltd. This is an open access article distributed under the terms of the Creative Commons Attribution License (http://creativecommons.org/licenses/by/2.0), which permits unrestricted use, distribution, and reproduction in any medium, provided the original work is properly cited.