Research article

Open Access

Open Peer Review
This article has Open Peer Review reports available.
Hormone-replacement therapy influences gene expression profiles and is associated with breast-cancer prognosis: a cohort study
Received: 26 January 2006
Accepted: 30 June 2006
Published: 30 June 2006
Abstract
Background
Postmenopausal hormone-replacement therapy (HRT) increases breast-cancer risk. The influence of HRT on the biology of the primary tumor, however, is not well understood.
Methods
We obtained breast-cancer gene expression profiles using Affymetrix human genome U133A arrays. We examined the relationship between HRT-regulated gene profiles, tumor characteristics, and recurrence-free survival in 72 postmenopausal women.
Results
HRT use in patients with estrogen receptor (ER) protein positive tumors (n = 72) was associated with an altered regulation of 276 genes. Expression profiles based on these genes clustered ER-positive tumors into two molecular subclasses, one of which was associated with HRT use and had significantly better recurrence free survival despite lower ER levels. A comparison with external data suggested that gene regulation in tumors associated with HRT was negatively correlated with gene regulation induced by short-term estrogen exposure, but positively correlated with the effect of tamoxifen.
Conclusion
Our findings suggest that post-menopausal HRT use is associated with a distinct gene expression profile related to better recurrence-free survival and lower ER protein levels. Tentatively, HRT-associated gene expression in tumors resembles the effect of tamoxifen exposure on MCF-7 cells.
Keywords
Estrogen ReceptorTamoxifenValidation CohortAdjuvant Hormonal TherapyLocal False Discovery Rate
Background
There is convincing evidence that users of HRT are at increased risk of breast cancer, that risk increases with duration of use, and that the risk is substantially greater for combined estrogen-progestin than for estrogen-only HRT [1–4]. The impact of HRT use on breast-cancer prognosis and clinical characteristics is, however, not well understood. Results from a large randomized clinical trial, the Women's Health Initiative, indicate a poorer outlook in users of combined estrogen-progestin therapy, represented by a larger proportion of tumors with lymph-node metastases and by differentiated tumors [3, 4]. In contrast, observational studies have repeatedly reported less malignant clinical features as well as improved prognosis in HRT users [5–8]. This finding may be due to biases such as closer medical surveillance and reduced sensitivity and specificity of mammography screening in women on HRT, and the exclusion of women with preclinical breast-cancer lesions before initiation of hormone therapy [5, 8].
The effect of estrogen is mediated through its receptors in concert with co-activators and co-repressors [9–12]. Through transcriptional mechanisms involving the ER, estrogens regulate proliferation and cell cycle progression. In addition, estrogens have also been postulated to influence the regulation of cell death and genomic instability of cells [12].
Expression microarrays have been employed in the analysis of breast cancers and can provide better prognostic information compared with standard clinical and pathological parameters [13–17]. Microarray analyses appear to be able to discriminate sporadic versus hereditary breast cancer [18] and to identify array profiles that are strongly associated with ER status [13, 14, 16]. In vitro studies have confirmed consistent effects of exogenous estrogens on gene expression in human cell lines [19, 20] and in animals [21].
In this study, we aimed to compare gene expression of breast cancers in HRT users and non-users and to correlate the expression pattern to recurrence-free survival. We further investigated whether the gene expression pattern-survival relation would hold in an independent cohort of patients with breast cancer. Finally, we explored the possible mechanism behind such a link by comparison with external gene-expression data from an estrogen- and tamoxifen-treated cell line.
Results
Non-HRT users were older than HRT users at time of diagnosis (p = 0.001; Table 1), but no difference in average tumor size (p = 0.39) or proportion of patients with lymph-node metastasis (p = 1.0) was evident. Significantly more ER negative tumors were seen in HRT users (31% versus 11%, p = 0.02). No difference in progesterone-receptor status, recurrence-free survival (defined as lack of distant metastases or death within 5 years of diagnosis) or Elston grade was seen between users and non-users of HRT (Table 1). Comparisons using only patients with ER-positive tumors yielded similar results.
A preliminary study of the distribution of t statistics comparing gene expression between HRT users and non-users for all 88 patients indicated that the observed differences are almost exclusively due to the differences observed in the ER-positive tumors, whereas the ER-negative tumors contribute little or no information on differential expression (see supplementary Figure
1
and the associated discussion in
additional file 1
). As the difference in expression profiles between HRT-users and non-users was confined to ER-positive tumors, we limited all further analysis to this group (n = 72).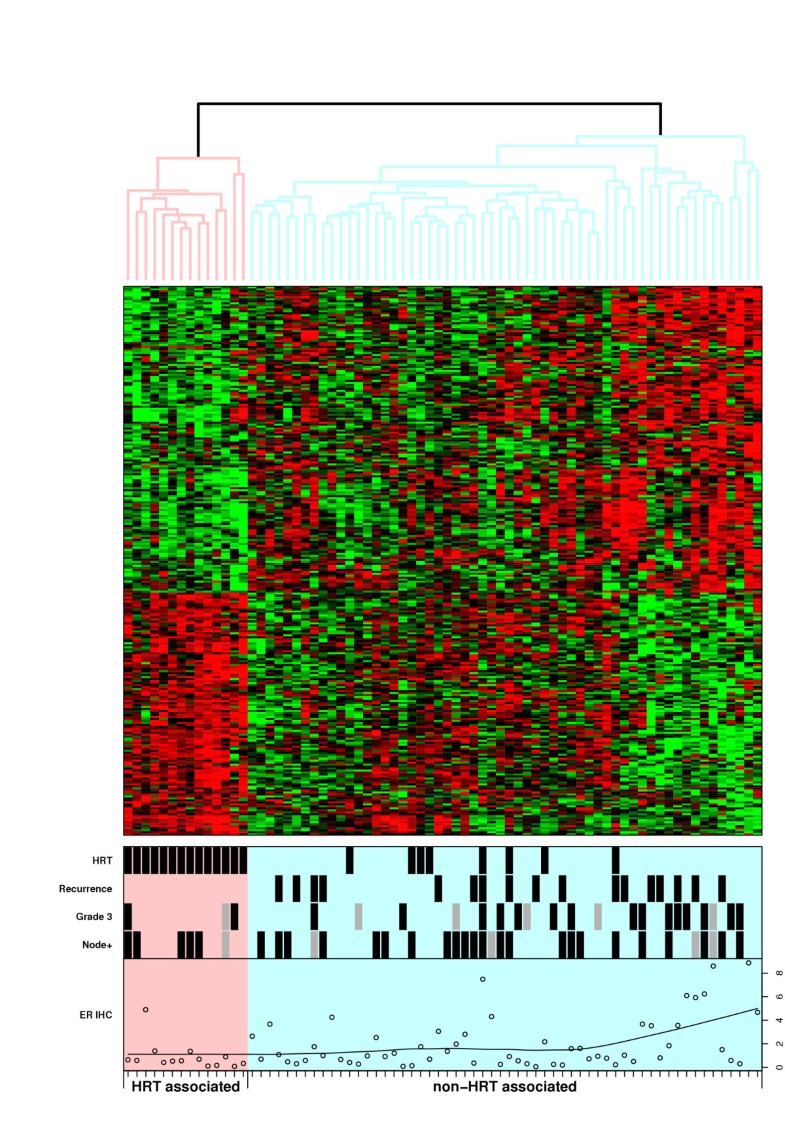 Among the 72 patients with ER-positive tumors, 22 were HRT users and 3 (14%) experienced recurrence or death due to breast cancer within 5 years of diagnosis. Recurrence among non-users was seen in 14 patients (28%; p = 0.24).
We observed 331 genes to be differentially expressed between HRT users and non-users, with a local FDR ≤ 0.2, of which 54% were down-regulated in HRT users. We also found 580 genes that were correlated with age in non-users of HRT with a local FDR ≤ 0.4. We removed the 55 genes that were on both lists, which yielded an age-adjusted HRT associated gene list of 276 genes (The annotated list of genes can be found in additional file 2).
Molecular classification of patients based on HRT- associated genes
The 72 ER-positive cancers were grouped using hierarchical clustering on the expression profiles of the 276 genes (Figure 1). Each column corresponds to a patient labeled according to HRT use, recurrence or death within 5 years, Elston grade 3, lymph node metastasis, and ER protein levels. Two distinct clusters emerged. Obviously, these clusters differed significantly in the proportion of patients receiving HRT (100% in the HRT-associated cluster versus 13% in the non-HRT-associated cluster, p < 10E-9). There was, however, no significant difference with regard to type and duration of HRT use between the groups. In the HRT-associated cluster, 11 (77%) out of 13 patients used combined therapy with estrogen and progesterone, and the average duration of HRT use was 6.2 years. The corresponding figures in the non-HRT associated cluster were 4 (50%) out of 8 HRT users (p = 0.34) and 8.8 years (p = 0.42), respectively.
The clusters differed significantly with regard to ER protein levels (p = 0.02), but not Elston grade (p = 0.67) or lymph node status (p = 1.00). All patients in the HRT-associated cluster were recurrence free 5 years after diagnosis and thus, had a significantly better recurrence-free survival (p = 0.03), even after adjusting for Elston grade, tumour size, lymph node status, PR status, HRT use, and age in the multivariate model (p = 0.001, see supplementary Table 1 in additional file 1).
Validation of molecular classification
In the validation cohort, the clustering split the 131 tumors into two groups of 68 non-HRT-like and 63 HRT-like expression profiles (Figure
2
). Each column corresponds to a patient labeled according to recurrence or death within 5 years, Elston grade 3, lymph-node metastasis, and ER protein levels. As no HRT information was available for the validation cohort, the data could only be used to confirm the prognostic potential of the clustering. Tumors with HRT-associated profiles had better recurrence-free survival (p = 0.02), lower Elston grade (p = 0.02), lower protein levels of ER (p = 0.02), and were more often node-negative. When only patients treated with adjuvant tamoxifen (n = 51) were included, we found patients in the HRT-associated cluster to have a significantly better survival (p = 0.04), even after adjusting for the effects of Elston grade, lymph node status, PR status, tumor size, and age at time of diagnosis in the multivariate model (p = 0.001, see supplementary Table
1
in
additional file 1
). For patients not receiving adjuvant hormonal therapy (n = 80), the the survival difference between the clusters was still significant (p = 0.03), even after adjustment for potential confounders (p = 0.02), but the relationship between the clusters was reversed; patients in the HRT-associated cluster did worse, indicating that tamoxifen influenced the apparent beneficial prognostic effect of HRT-associated gene expression. This effect was not seen in the study cohort, probably explained by the small number of patients (n = 7; 8%) left without adjuvant hormonal therapy.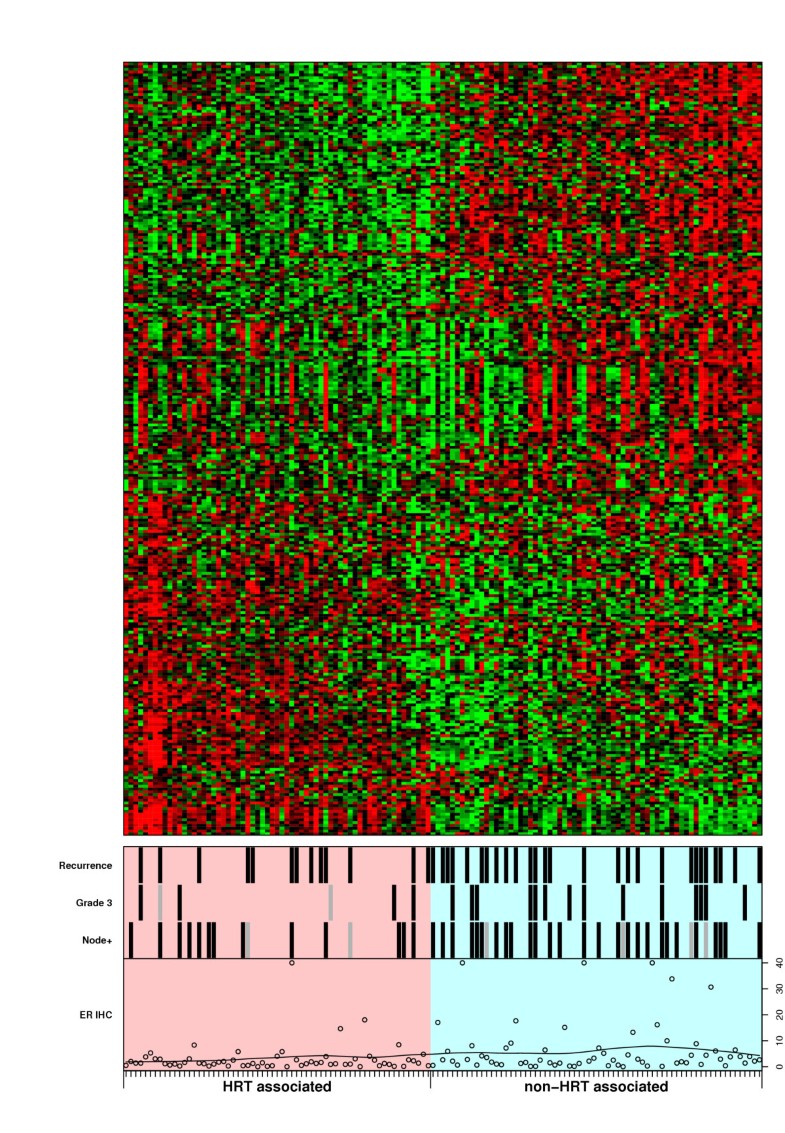 Figure
3
shows the survival (Kaplan-Meier curves, i.e. no adjustment) of the patient cohorts with the respective gene expression signatures. While patients with the HRT-like signature did better in the overall validation cohort (Figure
3b
), the main benefit was experienced by those receiving adjuvant hormonal therapy (Figure
3d
), whereas the small benefit for those treated only with surgery and radiation therapy was convincingly non-significant (Figure
3c
).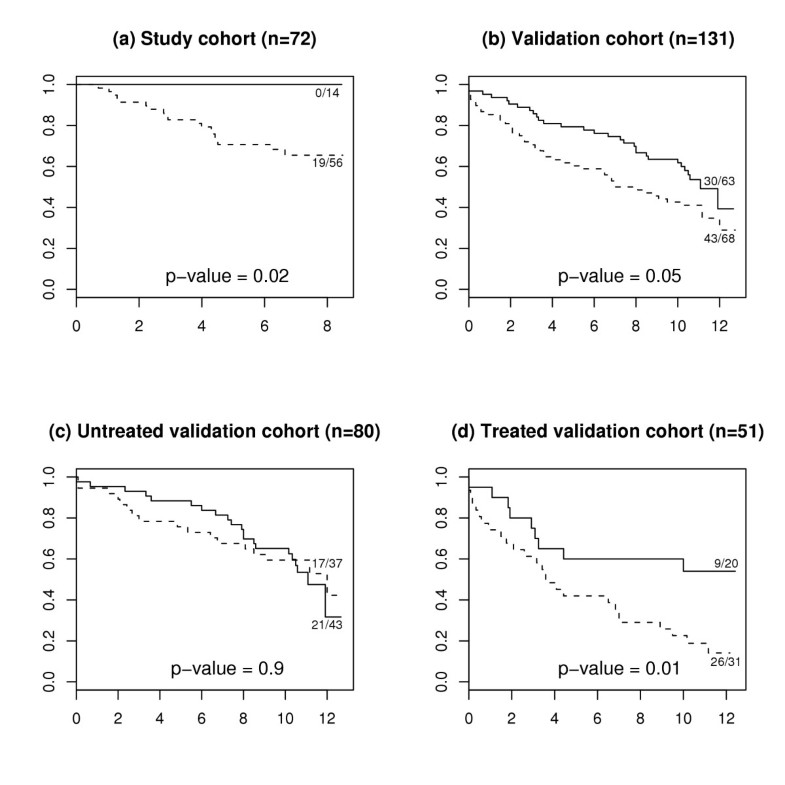 Comparison of expression-fold changes with cell-line results
Of the 276 genes associated with HRT use, 84 unique genes corresponding to 96 probe sets were found to be estrogen- and tamoxifen-responsive in the experimental data described in [
27
] (see
additional file 3
). In order to compare the regulatory effect of HRT in breast cancer, and estrogen and tamoxifen in cell lines, we grouped genes into those that are down-regulated (n = 54) and up-regulated (n = 30) in HRT users. Figure
4
summarizes the fold changes induced in these two groups of genes by estrogen and tamoxifen. Fold changes are shown on a log
2
scale, so the dashed line at zero corresponds to no differential expression, whereas positive values indicate upregulation in treated cells and negative values indicate downregulation in treated cells compared with untreated controls. Figures
4a
and
4b
indicate a negative correlation between the effects of HRT and estrogen; the genes that are downregulated by HRT are predominantly upregulated by estrogen, and vice versa. In contrast, we saw positive correlation between the effects of HRT and low doses of tamoxifen (Figure
4c
); Figure
4d
shows a similar, although weaker relationship for high doses of tamoxifen.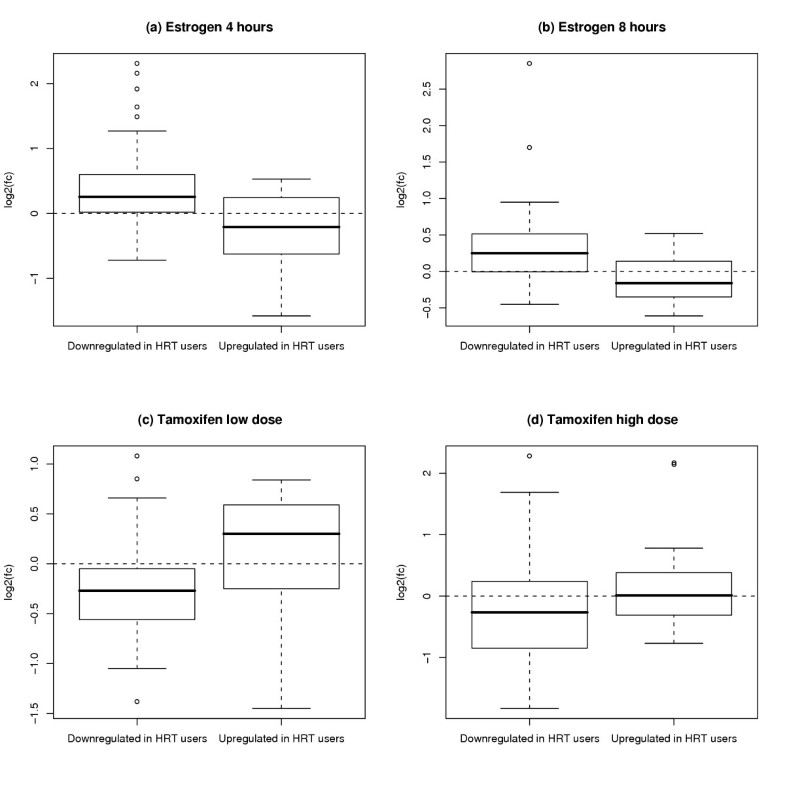 Discussion
We have shown that a gene expression profile in ER-positive HRT users, based on 276 genes, is significantly associated with better survival, despite being linked to lower levels of the ER protein. HRT use by itself could not be used as a predictor of outcome. The gene-expression profile remained significantly associated with survival even after adjusting for Elston grade, lymph-node status, PR status, tumor size, treatment, HRT use, and age. The association between expression profile and survival was validated in a separate cohort of adjuvantly treated patients with breast cancer. On a more speculative note, a comparison with cell line data indicated that long-term use of HRT may exert a tamoxifen-like effect on ER-positive breast-cancer cells. The majority of HRT users exhibiting an HRT-like gene expression pattern used a combined estrogen+progesteron regimen, however, owing to lack of power, we are unable to attach any significance to this finding.
Our results indicate that HRT use appears to alter only the expression profiles of ER-positive breast cancers. This finding is consistent with known biological and clinical observations, given that only ER-positive cells are expected to preferentially respond to estrogen exposure. In agreement with our findings, the Tamoxifen Chemoprevention Trial [31] showed reduction of breast-cancer risk only for ER-positive tumors, further supporting the fundamental specificity of the in vivo ligand-estrogen receptor effects.
In the validation cohort, the superior outcome of the HRT-associated cluster was apparent only in those patients receiving adjuvant tamoxifen, suggesting that we can identify patients who preferentially benefit from tamoxifen therapy. This observation is made more noteworthy by the fact that these patients had lower ER protein levels and would normally be considered less likely to respond to tamoxifen. Thus, the expression pattern of a tumor may add predictive value for the response to hormonal treatment to the ER protein levels.
Paradoxically, although HRT is considered an ER agonist, the expression profile induced after prolonged use of HRT was opposite to that of estradiol and consistent with tamoxifen effects (Figure 4) in MCF-7 cells. The exact ramifications of this observation are not clear, but it is known that very high doses of estradiol (e.g. diethylstilbestrol) induce clinical tumor regression, similar to anti-estrogens [32]. Intriguingly, recent experimental evidence suggests that estradiol induces apoptosis in breast-cancer cells that have developed resistance to tamoxifen therapy [33, 34]. The idea that tamoxifen therapy following estradiol stimulation may have a similar effect as estrogen following tamoxifen on cell death is interesting from a therapeutic point of view, but requires further investigation.
Earlier studies have found HRT-use to be associated with lower mortality [35, 36], which has in part been ascribed to the so called "healthy drug-user effect", i.e. that women using HRT are healthier than average to begin with. Previous studies of the influence of HRT on breast-cancer characteristics and prognosis have yielded somewhat conflicting results. Observational studies indicate less aggressive tumor characteristics in HRT users [5–8, 37–42], while the only randomized study published to date shows that tumors of HRT users are larger and more likely to have spread outside the mammary gland [1]. Favorable tumor characteristics are expected if we assume that HRT users are under closer surveillance and thus would be diagnosed earlier in the tumor progression than non-users. Similarly, improved breast-cancer survival, shown in some studies [43–45], is also anticipated, although the specific contribution from surveillance and actual biological effects of HRT, respectively, are not readily disentangled. Jernstrom et al, however, showed that survival was better even after adjusting for stage [45], which supports the notion that HRT associated tumors are biologically different.
In line with our findings, no significant difference in recurrence or survival was seen in a case-control study when comparing 142 patients with breast cancer using HRT at time of diagnosis with 284 age-matched patients not using HRT [39]. ER levels were, however, both qualitatively and quantitatively decreased in HRT users. This finding was replicated in postmenopausal monkeys (Cynomolgus macaques), where nearly 3 years of exposure to HRT, including estradiol and progesterone, gave significantly lower levels of ER in breast tissue [46].
Among the genes most strongly regulated in the HRT- and non-HRT associated clusters, many were involved in either DNA repair (e.g. RRM2) or cell-cycle regulation (e.g. p63). Regulated by p53, RRM2 is essential for DNA synthesis and repair46. As a p53 homologue, the p63 gene plays a role in tumor progression and differentiation. In our study, p63 was over-expressed in HRT associated tumors and has previously been found to be exclusively expressed on the protein level in normal breast parenchyma, partially expressed in ductal hyperplasia, rarely expressed in carcinoma in situ, and not expressed in invasive carcinomas [48]. Whether patients with invasive tumors used HRT at time of diagnosis was not stated.
The non-randomized setting of our study is a major weakness. It could be argued that the ER negativity seen in HRT users was confounded by their younger age compared with non-users or by a preferential difficulty to include small ER-positive tumors from HRT users (who may be under closer surveillance and thus diagnosed with smaller tumors). Reassuringly, the association between gene-expression profile and survival remained significant after adjustment for age, stage, and grade. However, factors related to both HRT use and tumor biology, e.g. level of endogenous estrogen and receptor proteins or body weight, would still confound our results. Postmenopausal breast-cancer risk associated with high body mass index is largely the result of increase in bioavailable estradiol [49]. However, the increased risk of postmenopausal breast cancer associated with HRT seems confined to non-obese women, thus adding complexity to the relationship between the reason for taking HRT, endogenous factors, and breast-tumor biology [50]. Furthermore, the small sample size reduces precision, leaving subtle differences undetected.
We note in closing that we have not attempted to optimize the 276-gene signature for prediction through the use of cross-validation, as for example done by Pawitan et al [17]. The purpose of this study has been entirely exploratory, and we use prediction only incidentally to validate the superior outcome for the HRT-like expression profile;; the tumor subclasses may have clinical implications, but the gene signature is not intended as a clinical tool, to compare these [13].
Despite recent advances in therapy, approximately one-quarter of all women diagnosed with breast cancer will die from the disease [51]. Improved targeting of future therapies is thus of utmost importance. Our study provides for the first time a description of the effect on the tumor gene expression of HRT use.
Conclusion
HRT alters the expression profiles of ER-positive breast cancers and patients with an HRT-related expression profile had a better prognosis despite lower ER levels. The superior prognosis seen with a HRT-associated expression pattern, also validated in a separate cohort of patients with breast cancer, remained stable even after adjusting for Elston grade, lymph node status, progesterone receptor status, tumor size, treatment, and age. The favorable survival in HRT users seemed to be confined to those treated with tamoxifen. We speculatively propose that similarities in gene expression between HRT-exposed tumors and tamoxifen-treated breast cancer cells may indicate the mechanism by which the HRT profile is related to survival.
Declarations
Acknowledgements
Thanks to Nancy Perkins (BMS) and Karen Reeves (BMS) for performing the expression profiling analysis of the study cohort.
This study was supported by the Swedish Cancer Society, Stockholm Cancer Society, King Gustav V Jubilee Fund, Sweden, Bristol Meyer Squibb, USA, and the Agency for Science Technology and Research of the Singapore government. The funding organizations took no part in interpreting or analyzing the data or writing the manuscript.
Authors' Affiliations
(1)
Department of Medical Epidemiology and Biostatistics, Karolinska Institutet, Stockholm, Sweden
(2)
Department of Oncology and Pathology, Cancer Center Karolinska, Karolinska Institutet and Hospital, Stockholm, Sweden
(3)
Bristol-Myers Squibb, Princeton, USA
(4)
Genome Institute of Singapore, Republic of Singapore
(5)
Department of Pathology, Uppsala University Hospital, Uppsala, Sweden
Copyright
© Hall et al; licensee BioMed Central Ltd. 2006
This article is published under license to BioMed Central Ltd. This is an Open Access article distributed under the terms of the Creative Commons Attribution License (http://creativecommons.org/licenses/by/2.0), which permits unrestricted use, distribution, and reproduction in any medium, provided the original work is properly cited.