Opinion

Open Access

Open Peer Review
This article has Open Peer Review reports available.
Moody microbes or fecal phrenology: what do we know about the microbiota-gut-brain axis?
Received: 3 December 2015
Accepted: 18 March 2016
Published: 19 April 2016
Abstract
Introduction
The microbiota-gut-brain axis is a term that is commonly used and covers a broad set of functions and interactions between the gut microbiome, endocrine, immune and nervous systems and the brain. The field is not much more than a decade old and so large holes exist in our knowledge.
Discussion
At first sight it appears gut microbes are largely responsible for the development, maturation and adult function of the enteric nervous system as well as the blood brain barrier, microglia and many aspects of the central nervous system structure and function. Given the state of the art in this exploding field and the hopes, as well as the skepticism, which have been engendered by its popular appeal, we explore recent examples of evidence in rodents and data derived from studies in humans, which offer insights as to pathways involved. Communication between gut and brain depends on both humoral and nervous connections. Since these are bi-directional and occur through complex communication pathways, it is perhaps not surprising that while striking observations have been reported, they have often either not yet been reproduced or their replication by others has not been successful.
Conclusions
We offer critical and cautionary commentary on the available evidence, and identify gaps in our knowledge that need to be filled so as to achieve translation, where possible, into beneficial application in the clinical setting.
Keywords
Microbiome
Enteric Nervous system
Germ free
Antibiotic
Vagus
Introduction
Communication between the gut and brain occurs constantly, largely at a subconscious level, and plays a critical role in maintaining optimal health. Indeed, it is even suggested that defects in gut-brain axis communication are an underlying cause of functional bowel disorders such as irritable bowel syndrome (IBS) [1] and potentially contribute to inflammatory bowel diseases [2]. This gut-brain axis consists of "hard-wired" anatomical connections, involving vagal and spinal nerves, and humoral components provided by the microbiota and their products, gut tissues, endocrine and immune systems.
The gastrointestinal tract, in addition to being the largest endocrine organ, is a nexus of communication between the highest concentration of immune cells in the body, a network of 200-600 million neurons and the trillions of bacteria, fungi and viruses [3] that constitute the human gut microbiota. With this knowledge it seems reasonable to think that intestinal bacteria would influence gut to brain communication and potentially lead to modulation of central nervous system (CNS) function. However, only in the past decade, with advances in sequencing technology, metabolomics and neurophysiology, has the concept of the microbiota-gut -brain axis gained serious attention.
To date there is good evidence that the gut microbiota do play a role in normal CNS development and, in particular, influences systems associated with stress response, anxiety [4–6] and memory [7]. Exposure to certain key commensals can also attenuate the effects of early life stress on CNS development [8, 9]. It is also clear that exposure to specific non-pathogenic bacteria can modulate brain chemistry and behavior in adult animals [10, 11]. Overall, evidence for the existence of a microbiota gut–brain axis is strong. Indeed, growing awareness of the level of integration between host and microbes has led to the suggestion that most living organisms can no longer be considered as individuals; and must be considered holobionts, "whose anatomical, physiological, immunological and developmental functions evolved in shared relationships of different species" [12]. Within the context of the holobiont paradigm, the influence of the gut microbiota over brain development, mood, motivation and behaviour is a natural consequence of the co-evolution of a multi-species organism.
While the potentially paradigm shifting [
13
] implications of the microbiota-gut-brain axis have garnered much attention in recent years [
14
–
16
], we are, nevertheless, at the very early stages of our understanding of this field, and there is limited information, though much speculation, on the complex communication systems involved (Fig.
1
).Here we briefly review our current understanding of the mutualistic relationship between gut microbes and the CNS, highlighting recent progress, while identifying gaps in our knowledge and limitations of current methodologies used to explore the microbiota-gut-brain axis.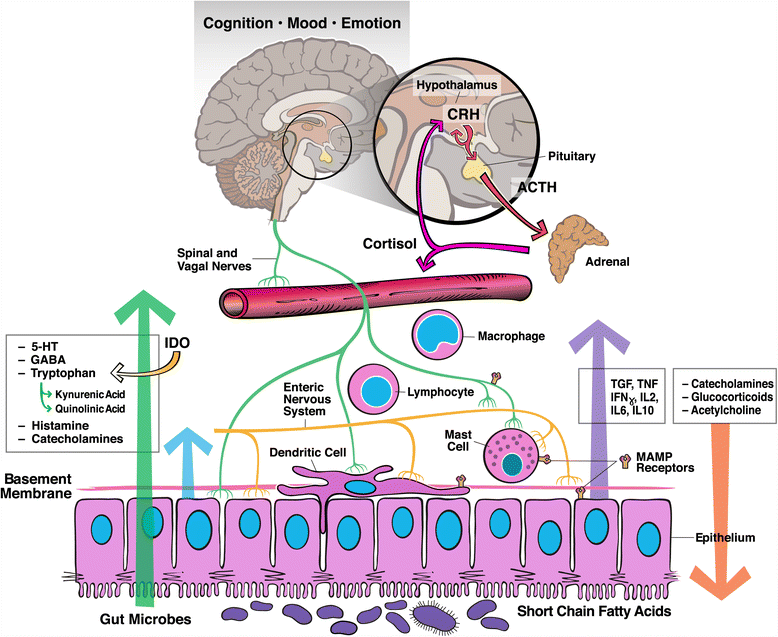 Conclusions
There are major gaps in our knowledge regarding how the brain perceives signals from gut bacteria. What is the commensal-induced chemical code triggering ENS and vagal discharge associated with an anxiolytic response? Furthermore, how does the brain process and respond to the multiple signaling pathways relaying information from the microbiota? Consequently, to what extent does disruption of the microbiota or microbe-generated signals contribute to mood, cognition and the development and severity of psychiatric pathology?
Overall, it seems clear that having a gut microbiota is important to the normal development of the central and enteric nervous systems as it also is to essential metabolic activities related to digestion such as appetite, satiety and glucose homeostasis [124]. How qualitative differences in the microbiota might influence neural development and function is less clear. Certainly, the gut microbiota responds to changes in the neurophysiological state of the host, as it responds to changes in diet and circadian rhythm. However we cannot, as yet, claim a profile related to any neurodevelopmental or mood disorder, or ascribe a particular organism or group of organisms to "playing a role" in any such disorders. There is some evidence, in both animal models and humans, that oral exposure to transient organisms can modulate brain chemistry and potentially behavior, but there are no clear indications that altering the resident microbiota would be of therapeutic benefit. There are intense research efforts being made in these areas and it is certain that such studies will help us better understand mental health and the biological underpinnings of mood and neurodevelopmental disorders.
Are we at the whim of our microbes? Or are we expounding "fecal phrenology"? Reality, no doubt, falls somewhere in between, but much more robust, reproducible research, particularly in human subjects, is required before we can confirm the promise of initial experimentation and identify the true implications and therapeutic potential of the microbiota-gut-brain axis.
Declarations
Funding
PF and JB are funded by a grant from the Office of Naval Research (#N00014-14-1-0787).
Open AccessThis article is distributed under the terms of the Creative Commons Attribution 4.0 International License (http://creativecommons.org/licenses/by/4.0/), which permits unrestricted use, distribution, and reproduction in any medium, provided you give appropriate credit to the original author(s) and the source, provide a link to the Creative Commons license, and indicate if changes were made. The Creative Commons Public Domain Dedication waiver (http://creativecommons.org/publicdomain/zero/1.0/) applies to the data made available in this article, unless otherwise stated.
Authors' Affiliations
(1)
Department of Medicine, McMaster University, Hamilton, Canada
(2)
Department of Psychiatry & Behavioural Neurosciences, McMaster University, Hamilton, Canada
(3)
Department of Pathology & Molecular Medicine, McMaster University, Hamilton, Canada
(4)
McMaster Brain-Body Institute, St. Joseph's Healthcare, Hamilton, Canada
(5)
Firestone Institute for Respiratory Health, St. Joseph's Healthcare, Hamilton, Canada