Opinion
Open Access
Open Peer Review
This article has Open Peer Review reports available.
Towards the concept of disease-modifier in post-stroke or vascular cognitive impairment: a consensus report
Received: 11 November 2016
Accepted: 6 May 2017
Published: 24 May 2017
Abstract
Background
Vascular cognitive impairment (VCI) is a complex spectrum encompassing post-stroke cognitive impairment (PSCI) and small vessel disease-related cognitive impairment. Despite the growing health, social, and economic burden of VCI, to date, no specific treatment is available, prompting the introduction of the concept of a disease modifier.
Consensus and suggestions
Within this clinical spectrum, VCI and PSCI remain advancing conditions as neurodegenerative diseases with progression of both vascular and degenerative lesions accounting for cognitive decline. Disease-modifying strategies should integrate both pharmacological and non-pharmacological multimodal approaches, with pleiotropic effects targeting (1) endothelial and brain–blood barrier dysfunction; (2) neuronal death and axonal loss; (3) cerebral plasticity and compensatory mechanisms; and (4) degenerative-related protein misfolding. Moreover, pharmacological and non-pharmacological treatment in PSCI or VCI requires valid study designs clearly stating the definition of basic methodological issues, such as the instruments that should be used to measure eventual changes, the biomarker-based stratification of participants to be investigated, and statistical tests, as well as the inclusion and exclusion criteria that should be applied.
Conclusion
A consensus emerged to propose the development of a disease-modifying strategy in VCI and PSCI based on pleiotropic pharmacological and non-pharmacological approaches.
Keywords
Disease-modifying therapyPost-stroke cognitive impairmentVascular cognitive impairmentVascular dementiaClinical trialMultimodal approach
Background
Given the aging population, increased prevalence of cognitive impairment and dementia in the coming decades has been likened to a "tsunami", due to the human, social, and economic consequences they will engender [1]. Cerebral or systemic vascular diseases play a relevant role in this "tsunami". Vascular cognitive impairment (VCI) leading to vascular dementia (VaD) is a clinical spectrum that can be related either to an acute event, namely a stroke (i.e., post-stroke cognitive impairment; PSCI), or to progressive vascular lesions (leukoaraiosis, Binswanger leukoencephalopathy, white matter lesions, microbleeds) related to small vessel disease. Post-stroke VaD and VaD itself were the first presentations to be recognized. VaD was initially represented by multi-infarct dementia, although the concept was then expanded to subcortical ischemic VaD, strategic-infarct dementia, hypoperfusion dementia, and hemorrhagic dementia. In a second step, the existence of mixed Alzheimer's disease (AD) and VaD was recognized [2]. More recently, cognitive decline has been identified to exist even prior to the stage of overt dementia, and mild cognitive impairment related to vascular lesions has been identified as the preferred target of therapeutic strategies in order to slow or stop the decline, thus avoiding progression towards dementia and related loss of autonomy in daily living.
All clinical aspects of VCI share the frequent association with vascular risk factors or systemic vascular diseases that lead patients to be prone to developing large or small artery remodeling, explaining the occurrence of vascular brain lesions. The scenario is more complex when considering the potential direct impact of vascular or metabolic risk factors on cognition and the interaction between vascular load and neurodegenerative lesions such as AD-related pathology [
3
,
4
] (Fig.
1
). Frailty syndrome could be also a contributor to this complexity [
5
]. Cognitive dysfunction and dementia frequently occur following an acute stroke, and they are an important cause of stroke-related morbidity. Dementia may be related to a pure VaD or to a mixed form, which occurs after a stroke, or can represent the progression of pre-stroke vascular or degenerative-related cognitive impairment [
6
] (Fig.
2
). There is a large variability in terms of manifestations of cognitive decline in a vascular context, and a delay in the diagnosis when there are no evident or acute symptoms is often observed. The occurrence of an acute event, such as a stroke, provides unique opportunities to follow cognitive function and for the early detection of VCI from a preventive or therapeutic perspective. Indeed, prevention and treatment of PSCI and VCI are the critical priorities for both clinical care and scientific research. The growing health, social, and economic burden of PSCI or VCI is driving the demand for clinical studies that evaluate the benefits and risks of both pharmacological and non-pharmacological interventions [
7
]. A better understanding of the risk factors and an estimation of the risk scores for PSCI or VCI are of crucial importance for the selection of patients and the design of preventive clinical trials.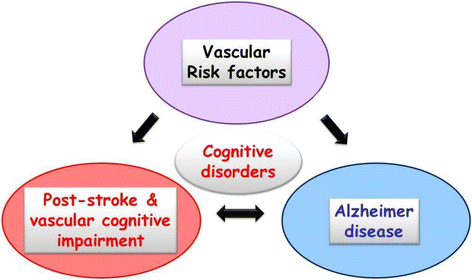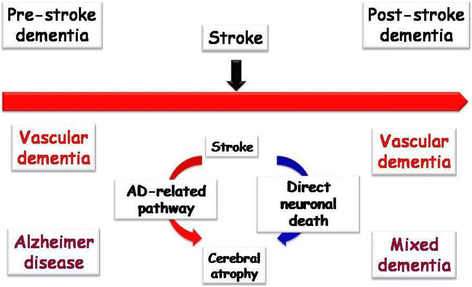 Despite the presence of an initial acute event, both VCI and PSCI remain pathodynamic conditions, as neurodegenerative diseases, since there is a progression of both vascular and degenerative lesions accounting for cognitive decline [8]. A prodromal phase might be represented by the period when vascular or metabolic risk factors induce silent brain lesions or by the frailty syndrome, which has been recently considered as a prodromal of VaD [9]. In terms of treatment, research has focused largely on the acute phase of vascular lesions rather than their progression, whereas the main issue remains related to the combination of both vascular and degenerative factors that overlap, despite exhibiting distinctive pathophysiological mechanisms [10]. At the present time, the proposal of the concept of a disease modifier within the spectrum of VaD is warranted. Nevertheless, several issues should be addressed to make this concept operant in its specific field given the complexity of this medical spectrum in terms of evolution (occurrence or not of an acute event), cognitive phenotype, lesion burden, and pathophysiology (pure or mixed lesions). It is also necessary to highlight the differences and similarities with the concept of a disease modifier in the context of neurodegenerative diseases. A disease-modifying strategy, defined as a therapeutic approach aiming to change the natural course of an illness, applies primarily to chronic diseases. In the field of neurological disorders, this concept has been used for neurodegenerative and neuroinflammatory diseases. The mechanisms involved in these conditions are multiple, and therapeutic options are not limited to a single neuroprotection but are integrated in a multimodal approach, including anti-inflammatory, antioxidants or vascular mechanisms, as well as the modulation of protein aggregation and synaptic or neuronal plasticity [11, 12]. Along with neurodegenerative diseases, PSCI and VCI share a preclinical phase prior to the progressive appearance of the first symptoms or after an acute event such as a stroke. PSCI and VCI also resemble neuroinflammatory diseases that show the peculiarity, in their remittent form, to couple the occurrence of acute episodes with a gradual evolution to functional deficits, especially related to motor and cognitive manifestations. Therefore, the natural clinical history suggests that the concept of a disease-modifying effect is applicable to PSCI and VCI, as well as in neurodegenerative or neuroinflammatory pathologies. Moreover, particularly in older patients, VCI or PSCI are rarely "pure" but more often combined with AD-type lesions that contribute to the evolution and justify a disease-modifying strategy [6].
When embarking on trials of potentially disease-modifying treatments for VCI, a look at what we have learnt from disease modification and prevention trials in the neighboring field of AD is commendable. Assuming that the β-amyloid (Aβ) pathology is causally related to dementia in AD, anti-amyloid treatments (e.g., γ-secretase inhibitors, monoclonal antibodies) have been considered as disease-modifying agents par excellence, although a close relationship between amyloid and cognition has not been well established [13]. After a number of failed clinical trials, the role of amyloid is being re-considered, although its feasibility as a therapeutic target has become questionable; even inhibition of γ-secretase led to a faster cognitive and functional decline, probably due to the involvement of this enzyme in other biochemical pathways such as in notch signaling [14]. Anti-Aβ immune therapy is still being tried in mild to moderate AD. However, positron emission tomography studies have shown that amyloid deposition mostly takes place before the dementia stage of AD and reaches a plateau once overt dementia is present [15]. Aβ is therefore still considered by some to be the right target, but the dementia stage of the disease may be beyond the window of opportunity. Moreover, amyloid imaging sub-studies of two bapineuzumab phase-III trials found that, in 6.5% of Apolipoprotein E ε4 carriers and in 36% of non-carriers, the cortical amyloid load was below the specified threshold for amyloid positivity (i.e., the therapeutic target was missing) [16]. Similar rates of patients with sparse or lacking amyloid plaques were found in an autopsy trial involving 200 patients with a primary diagnosis of AD [17]. In a number of trials testing the disease-modifying potential of treatments, progression to dementia was chosen as the primary outcome (e.g., [18]). To date, the exact determination of the temporal point at which, during the course of an ongoing disease, a specific threshold is crossed has remained problematic [19].
The multifactorial pathogenesis of PSCI and VCI needs to consider drug combinations or multimodal agents to change the course of the disease, as well as the search of selective ligands targeting distinctive cellular or molecular pathways. Beyond pharmacological agents, non-pharmacological approaches might also be included in this scenario. Nevertheless, potential pitfalls should be taken into consideration, including (1) addressing the wrong target, (2) interfering with the target pathology outside the window of opportunity, (3) patients lacking the target pathology, and (4) choosing insensitive outcomes.
The main objective of this paper is to demonstrate the relevance of a disease-modifying multimodal strategy based on the known pathophysiological pathways and to propose a model of preclinical and clinical development. Even though PSCI forms part of the VCI spectrum, the two entities are distinguished throughout since the different onset type for the two clinical conditions is able to induce a difference in the assessment of the disease-modifying strategy.
Methodology
A focus meeting on disease modifiers in VCI was held as a part of the "9th International Congress on Vascular Dementia" in Ljubjana, Slovenia, in October 2015. Experts in this field attending the meeting reviewed the current evidence and literature data. For the purpose of this topic review, a comprehensive search on Medline, PubMed, and Embase databases for studies published until April 30, 2016, was conducted. The keywords used in the current search were disease modifier, disease-modifying drug, disease-modifying therapy, disease-modifying strategy, post-stroke cognitive disorder, post-stroke dementia, vascular cognitive impairment, and vascular dementia. Following review of all relevant abstracts, few articles were related to the topic of the paper, prompting the panel experts to define, by themselves, the concept and to highlight the main themes enriching the concept, namely the pathophysiology and pharmacological targets, the potential role of existing drugs, the interest of non-pharmacological approaches, and the need for a specific methodology for future clinical trials. A proposal on disease modifiers in PSCI and VCI was drafted and reviewed by the group. The draft was repeatedly circulated and discussed before being finalized.
Conclusion
For the first time, a scientific and methodological rationale is proposed to highlight the interest of disease-modifying strategy applications in VCI and PSCI. This proposal is based on the observation of pathophysiological substrates and clinical aspects, which are dynamic processes justifying the need of disease-modifying strategies. The second line of conclusion is that this strategy needs to be multimodal to achieve the best chance of success. Indeed, the complexity of pathophysiology explains that modulation of several targets is necessary through pleiotropic drugs or a combination with an emphasis on existing or repurposing drugs. The multimodal approach should be based on both pharmacological and non-pharmacological strategies. Finally, a specific method for the development of such an approach, in particular in the early phases, should associate (1) a better stratification of patients based on several animal models able to mimic the complete spectrum and (2) the integration of biomarkers as outcome measures to refine the assessment of relevant disease-modifying strategies.
Declarations
Funding
The consensus group was supported by Vascular Dementia Congress.
Authors' contributions
RB and AG led the consensus group and coordinated the writing of this paper. All authors contributed to the intellectual content, to the literature review, and to the writing of the first draft. All authors contributed to critical revision of the paper. All authors read and approved the final manuscript.
Competing interests
The authors declare that they have no competing interests.
Publisher's Note
Springer Nature remains neutral with regard to jurisdictional claims in published maps and institutional affiliations.
Open AccessThis article is distributed under the terms of the Creative Commons Attribution 4.0 International License (http://creativecommons.org/licenses/by/4.0/), which permits unrestricted use, distribution, and reproduction in any medium, provided you give appropriate credit to the original author(s) and the source, provide a link to the Creative Commons license, and indicate if changes were made. The Creative Commons Public Domain Dedication waiver (http://creativecommons.org/publicdomain/zero/1.0/) applies to the data made available in this article, unless otherwise stated.
Authors' Affiliations
(1)
University of Lille, Inserm, CHU, U1171 'Degenerative and vascular cognitive disorders', Lille, France
(2)
University of Duesseldorf, Alexian Research Center, Krefeld, Germany
(3)
Department of Neurology, Tel Aviv University, Ramat Aviv, Israel
(4)
Department of Neurology IC, Oasi Institute for Research on Mental Retardation and Brain Aging (IRCCS), Troina, Italy
(5)
University Medical Centre Ljubljana, Neurologic Hospital, Neurorehabilitation Unit, Ljubljana, Slovenia
(6)
Dr. Willmar Schwabe GmbH & Co. KG, Karlsruhe, Germany
(7)
Department of Neurology, Neurosurgery and Genetics, Russian National Research Medical University, Moscow Research and Clinical Center for Neuropsychiatry, Moscow, Russia
(8)
Département de Pharmacologie Médicale, Faculté de Médecine, Lille Cedex, France