Research article

Open Access

Open Peer Review
This article has Open Peer Review reports available.
Differential endothelial cell gene expression by African Americans versusCaucasian Americans: a possible contribution to health disparity in vascular disease and cancer
Received: 14 June 2010
Accepted: 11 January 2011
Published: 11 January 2011
Abstract
Background
Health disparities and the high prevalence of cardiovascular disease continue to be perplexing worldwide health challenges. This study addresses the possibility that genetic differences affecting the biology of the vascular endothelium could be a factor contributing to the increased burden of cardiovascular disease and cancer among African Americans (AA) compared to Caucasian Americans (CA).
Methods
From self-identified, healthy, 20 to 29-year-old AA (n = 21) and CA (n = 17), we established cultures of blood outgrowth endothelial cells (BOEC) and applied microarray profiling. BOEC have never been exposed to in vivo influences, and their gene expression reflects culture conditions (meticulously controlled) and donor genetics. Significance Analysis of Microarray identified differential expression of single genes. Gene Set Enrichment Analysis examined expression of pre-determined gene sets that survey nine biological systems relevant to endothelial biology.
Results
At the highly stringent threshold of False Discovery Rate (FDR) = 0, 31 single genes were differentially expressed in AA. PSPH exhibited the greatest fold-change (AA > CA), but this was entirely accounted for by a homolog (PSPHL) hidden within the PSPH probe set. Among other significantly different genes were: for AA > CA, SOS1, AMFR, FGFR3; and for AA < CA, ARVCF, BIN3, EIF4B. Many more (221 transcripts for 204 genes) were differentially expressed at the less stringent threshold of FDR <.05. Using the biological systems approach, we identified shear response biology as being significantly different for AA versus CA, showing an apparent tonic increase of expression (AA > CA) for 46/157 genes within that system.
Conclusions
Many of the genes implicated here have substantial roles in endothelial biology. Shear stress response, a critical regulator of endothelial function and vascular homeostasis, may be different between AA and CA. These results potentially have direct implications for the role of endothelial cells in vascular disease (hypertension, stroke) and cancer (via angiogenesis). Also, they are consistent with our over-arching hypothesis that genetic influences stemming from ancestral continent-of-origin could impact upon endothelial cell biology and thereby contribute to disparity of vascular-related disease burden among AA. The method used here could be productively employed to bridge the gap between information from structural genomics (for example, disease association) and cell function and pathophysiology.
Keywords
False Discovery Rate
African American
Caucasian American
Admixture Mapping
Shear Stress Response
Background
Despite the enormous advances over the last century in the understanding of, and the ability to therapeutically manipulate, medical biology, both health disparities and the high prevalence of cardiovascular (including cerebrovascular) disease continue to be perplexing, worldwide medical challenges. From a world health perspective, [1] health disparities are evident comparing continents, countries, regions, and population subgroups defined, for example, by socioeconomic factors or ethnic/racial group. The reasons these exist are legion, but they basically fall into the categories of environment (in the broadest sense) and genetics. So understanding the basis for extant health disparities is (or will be) a goal of health delivery efforts worldwide.
The present study addresses a specific case of health disparity that is particularly amenable to analysis, the higher burden of cardiovascular disease borne by those of African ancestry who reside within the United States. In so doing, we illustrate the feasibility of a novel investigational approach that offers a way to bridge the current gap between the information provided by structural genomics (for example, identification of loci, genes, alleles, haplotypes associated with disease or disease risk) and the actual consequent impact upon cellular biology and disease pathophysiology. Thus, by demonstrating a way to link these two distinct facets of modern medial biology for vascular disease, the present approach may be very useful. For example, it could help tease out the enormously confounding effect of inter-individual epigenetic changes on attempts to associate a locus with a disease phenotype.
Methods
All aspects of this study were performed with the approval of and monitoring by the Institutional Review Board at the University of Minnesota and were in compliance with the Helsinki Declaration.
Results
Single gene expression
Analysis by FDR-based SAM
Comparison of BOEC from AA versus CA demonstrated that 31 genes were differentially expressed by the two groups when we employed the highly stringent requirement that FDR = 0. As shown in Table
1
, the expression of four genes was increased in AA compared to CA, while expression of 27 genes was lower in AA. (Note that entries in Table
1
are ranked in order of numerical fold-change, so those with the greatest up-regulation are at the top, but those with the greatest down-regulation are at the bottom.)
Table 1
Single gene differences (at FDR = 0) by BOEC from AA (n = 21) versus CA (n = 17).*
| Affymetrix ID | Gene Name | FDR | Fold Change (AA vs CA) | Welch t-test (P) | Gene Description |
| --- | --- | --- | --- | --- | --- |
| 205048_s_at | "PSPH" ‡ | 0 | 4.08 | 4 × 10-9 | Phosphoserine Phosphatase |
| 212777_at | SOS1 | 0 | 1.36 | 1 × 10-7 | Son of Sevenless Homolog 1 |
| 202203_s_at | AMFR | 0 | 1.72 | 4 × 10-6 | Autocrine Motility Factor Receptor |
| 204379_s_at | FGFR3 | 0 | 1.24 | 2 × 10-5 | Fibroblast Growth Factor Receptor 3 |
| 219417_s_at | FLJ20014 | 0 | 0.91 | 6 × 10-5 | Chromosome 17 Open Reading Frame 59 |
| 208416_s_at | SPTB | 0 | 0.91 | 1.9 × 10-4 | Spectrin, Beta, Erythrocytic |
| 206763_at | FKBP6 | 0 | 0.90 | 6 × 10-5 | FK506 Binding Partner 6, 36 kDa |
| 202253_s_at | DNM2 | 0 | 0.90 | 2.3 × 10-4 | Dynamin 2 |
| 214380_at | PRPF31 | 0 | 0.90 | 9 × 10-5 | Precursor mRNA-processing Factor 31, S. Cerevisiae, Homolog of |
| 213209_at | TAF6L | 0 | 0.89 | 8 × 10-7 | TAF6-like RNA Polymerase II, p300/6CBP Associated Factor (PCAF), Associated factor, p65 |
| 216204_at | ARVCF | 0 | 0.89 | 4 × 10-6 | Armadillo Repeat Gene Deletes in Velocardiofacial Syndrome |
| 213585_s_at | PDCD2 | 0 | 0.89 | 3 × 10-5 | Programmed Cell Death 2 |
| 201572_x_at | DCTD | 0 | 0.89 | 2.1 × 10-4 | Deoxycytidylate Deaminase |
| 203589_s_at | TFDP2 | 0 | 0.89 | 3.3 × 10-4 | Transcription Factor DP-2 (E2F Dimerization Partner 2) |
| 211096_at | PBX2 | 0 | 0.88 | 3 × 10-6 | Pre B-cell Leukemia Transcription Factor 2 |
| 215844_at | TNPO2 | 0 | 0.88 | 8 × 10-5 | Transportin 2 |
| 206182_at | ZNF134 | 0 | 0.88 | 2.3 × 10-4 | Zinc Finger Protein 134 |
| 219125_s_at | LOC55974 | 0 | 0.87 | 2 × 10-5 | Stromal Cell Protein |
| 201557_at | VAMP2 | 0 | 0.87 | 6 × 10-5 | Vesicle-associated Membrane Protein 2 (Synaptobrevin2) |
| 202700_s_at | KIAA0792 | 0 | 0.87 | 1.3 × 10-4 | Transmembrane Protein 63A |
| 209009_at | ESD | 0 | 0.87 | 2 × 10-4 | Esterase D |
| 200076_s_at | MGC2749 | 0 | 0.86 | 3 × 10-5 | Hypothetical Protein MGC2749 |
| 207415_at | PLA2R1 | 0 | 0.86 | 2 × 10-5 | Phospholipase A2 Receptor 1, 180 kDa |
| 222129_at | C2orf17 | 0 | 0.86 | 1.6 × 10-4 | Chromosome X Open Reading Frame 17 |
| 202646_s_at | D1S155E | 0 | 0.85 | 1.1 × 10-4 | Cold-shock Domain-containing E1, RNA-binding; CSDE1 |
| 222199_s_at | BIN3 | 0 | 0.85 | 7 × 10-5 | Bridging Integrator 3 |
| 219939_s_at | D1S155E | 0 | 0.82 | 1 × 10-4 | Cold-shock Domain-containing E1, RNA-binding; CSDE1 |
| 203538_at | CAMLG | 0 | 0.82 | 7 × 10-4 | Calcium-modulating Cyclophilin Ligand |
| 208757_at | HSGP25L2G | 0 | 0.81 | 1 × 10-6 | GP25L2 Protein |
| 218354_at | LOC51693 | 0 | 0.81 | 3.5 × 10-4 | Hematopoietic Stem/progenitor Cells 176 |
| 204340_at | CXorf12 | 0 | 0.77 | 2 × 10-4 | Chromosome X Open Reading Frame 12 |
| 219599_at | EIF4B | 0 | 0.76 | 4 × 10-5 | Eukaryotic Translation Initiation Factor 4B |
Using the more customary, and less stringent, filter requiring only that FDR <.05, we identified for AA compared to CA: 21 transcripts representing 20 up-regulated genes, and 200 transcripts representing 184 down-regulated genes (see Additional File 3 and Additional File 4, respectively).
Analysis by t-test
Each of these Tables additionally displays the results of testing for significance using the Welch t-test. As shown in Table 1 for genes with FDR = 0, the same 4 genes identified by FDR for AA > CA, and 15 of the genes identified for AA < CA, additionally have P < 10-4. Since different investigators prefer different stringencies of Bonferroni correction, we display the raw P-values.
Analysis by fold-change
Fold-change in expression (expressed as AA/CA) is also shown in each Table. In Table 1 the four up-regulated genes with fold-change approximately 1.25 or greater (PSPH, SOS1, AMFR, and FGFR3) and the two strongest, equivalently (fold change ≤.80) down-regulated genes (EIF4B, CXorf12) are most noteworthy.
Phosphoserine phosphatase, Affymetrix "PSPH"
Of the genes shown in Table
1
, "
PSPH"
stands out because it exhibits the highest differential expression among AA subjects (4.08-fold increase, FDR = 0,
P
= 4 × 10
-9
) (Figure
1A
). However, only two of the Affymetrix probes for
PSPH
are specific for authentic
PSPH
, while the others additionally detect the known homolog,
PSPHL
. Indeed, qRT-PCR revealed that expression of authentic
PSPH
was not significantly different for AA versus CA, and it was very modest (Figure
1B
). In contrast, expression of
PSPHL
was significantly elevated (
P
= .015) for the AA subjects (Figure
1C
), and this entirely accounts for the false positive array result for
PSPH
. Interestingly, qRT-PCR analysis showed that
PSPHL
was undetectable in 12/17 CA donors but only 1/21 AA subjects.

The homolog, PSPHL, has partial sequence identity to PSPH, and the 31-residue overlap region contains some, but not all, of those involved in substrate hydrolysis [54, 55]. The PSPHL product is thus unlikely to display enzymatic activity. Consistent with published data [54], authentic PSP exhibited half-activity on L-phosphoserine at 2 μM, while the PSP-homolog had no activity. To screen for possible inhibitory activity by the homolog, we examined the L-phosphoserine phosphatase activity of AA versus CA BOEC. Despite PSPHL having higher levels in AA BOEC (Figure 1C), the L-phosphoserine phosphatase activities of BOEC from AA and CA were equivalent: 1.16 ± 0.22 and 1.21 ± 0.31 μmole Pi/μg total cell lysate, respectively. The amount of endogenous free Pi in AA BOEC (2.80 ± 0.77 μmole Pi/μg) was slightly, but not significantly, higher than in CA BOEC (2.29 ± 0.93 μmole Pi/μg).
qRT-PCR
We used qRT-PCR to examine (previously-cryopreserved) BOEC from all study subjects for expression of several genes from Table 1, and fold-changes were 1.26 for authentic-PSPH (P = NS) and 3.96 for PSPHL (P = .0154) for AA versus CA. As predicted from the small fold-changes detected by microarray, qRT-PCR was unable to confirm a significant difference for the generally similar fold-changes for SOS1, AMFR, HSGP25L2G, Cxorf12, or EIF4B.
Biological systems analysis
To consider whole biological systems relevant to endothelial biology, we used GSEA to test BOEC from AA versus CA for evidence that any of nine specific systems tended to have altered expression: adhesion, apoptosis, angiogenesis, coagulation, hypoxia response, inflammatory signaling, redox response, shear stress response, and vasoregulation [
37
,
49
]. This comparison revealed a significant whole-system differential expression in one biological system, shear stress response genes. This was evidenced not only by
P
= .027 and FDR = .14, but also by the fact that these indicators are, simply by inspection, unambiguously different from the values for the other eight systems (Table
2
). The component composition of the shear response gene set is provided in Table
3
which also indicates which members of this set actually contributed to identification of this particular biological system as being different for AA versus CA (that is, those exhibiting "core enrichment"). The expanded names of these gene identifiers are provided in Additional File
5
. All genes within the core enrichment group were found to have changed in direction of increased expression.
Table 2
GSEA results for nine biological systems, comparing AA versus CA.*
| Biological System | Gene Set Size | Nominal P | FDR |
| --- | --- | --- | --- |
| Adhesion | 146 | 0.907 | .100 |
| Angiogenesis | 131 | 0.960 | .946 |
| Apoptosis | 79 | 0.202 | .551 |
| Coagulation | 152 | 0.416 | .815 |
| Hypoxia | 104 | 0.547 | .780 |
| Inflammation | 117 | 0.989 | .987 |
| Redox | 83 | 0.788 | .932 |
| Shear stress | 156 | 0.027 | .140 |
| Vasoregulation | 101 | 0.822 | .920 |
Table 3
Shear Stress Biological Gene Set (156 Members)
Gene Contributes to Core Enrichment

Gene Does Not Contribute to Core Enrichment

BMP4

SP1

ACTB

GJA1

PDPK1

BMP6

TBXAS1

AKAP1

GNAS

PECAM1

CCL2

TGFB1

ANXA2

GNB2

PFDN5

CD34

THBD

ANXA5

GNG5

PTGS2

CENPF

THBS1

APOE

GRN

RGS5

CTGF

TRA1

APS

HADHSC

RPL30

CXCL12

TUBG1

ARF4L

HMOX1

RPL34

CYP1B1

VCAM1

ASS

ICAM1

RPS11

CYR61

VIPR1

CAV1

IFITM3

RPS7

DPYSL3

XPO1

CCL15

IL13RA1

SAT

EDN1

CCL25

IL15

SCGF

EEF1A2

CD164

IL16

SELE

ELN

CD1D

IL1R1

SERPINE1

F3

CD58

IL1RL1

SERPINE2

FGF2

CD68

ITGB3

SLC35F2

FN1

CDKN1A

JARID1A

SMARCD1

GAPD

CEACAM1

JUN

SOD2

GBP1

CYP1A1

KLF2

SPARC

GJA5

DKK2

LAMB1

SPTA1

GSTP1

E2F5

LIMS1

SPTAN1

IL8

EDN3

LRP2

STAM

ILK

EFEMP1

METAP2

TEK

JAG2

EGR1

MGP

TFPI

JUNB

EIF4EBP2

MMP1

TGFB1I4

KIF20A

EIF4G3

MMP14

THBS4

KLF4

ESM1

MMRN1

TNFRSF1A

LIG3

F2

MYD88

TNFRSF5

MAPRE1

F2R

NFKB1

TNFSF8

MATN2

FGF6

NOTCH4

TUBA3

MYC

FGFR3

NQO1

TXNRD1

NOS3

FLT1

NUMA1

UNG

PFDN2

FOS

OGT

VCL

PLAT

FOSL1

OLR1

VEGFC

RGS3

FTH1

PBP

VWF

RHOA

FTL

PCQAP

WNT2B

RHOB

GARS

PDGFRA

S100A10

GAS

PDGFRB
Discussion
We here examined whether, at the level of gene expression, there are detectable endothelial cell differences associated with continent-of-origin that possibly could impact on the biology of the vessel wall such that risk for vascular disease would be influenced. The present results indicate that the endothelial expression of a number of genes does differ for AA versus CA, and the biological system of shear stress responsiveness is different for AA as well. The high relevance of these observations to endothelial biology is discussed below. But in summary, the present results support the notion that genetically-determined differences in endothelial gene expression (determined by ancestral continent of origin) can influence vascular wall biology and, therefore, impact on vascular disease risk. Moreover, this study illustrates the feasibility of utilizing this method to help bridge the gap between structural information provided by genomics and the consequent impact upon cell biology and pathophysiology.
To accomplish our goal we took advantage of a unique source of endothelial reporter cells, BOEC, which have never been influenced by in vivo signalling, for example, by the plasma milieu or tissue-specific factors. Therefore, their phenotype is influenced only by culture conditions and the genetic composition of the BOEC donor. Since the cultures are performed meticulously and are controlled fastidiously, we believe that this method can preliminarily identify potential, genetically-influenced differences in endothelial cell biology. A previously reported example of this approach is noted in the Introduction, and it describes the methods validation that was conducted for both BOEC cultures and specific application of microarray profiling to them [37]. Since BOEC, unlike other endothelial sources, cryopreserve well they can be banked at time of initial culture harvest and be saved for confirmatory future examination by cell biologic or other methods in studies that have been informed by the gene expression results.
Single gene expression
We detected 31 genes that met our most stringent criterion for differential expression significance, that FDR = 0, with 4 changed in the AA > CA direction, and 27 changed in the AA <CA direction (Table 1). All transcripts that showed a significant degree of change at the much more commonly utilized threshold of FDR <.05 are displayed in Additional File 3 (21 transcripts for 20 genes for AA >CA) and Additional File 4 (200 transcripts for 184 genes for AA <CA).
PSPH and PSPHL
"PSPH" was differentially expressed (AA >CA) at highest fold-change. However, this was fully accounted for by elevated expression of the known homolog, PSPHL (Figure 1), which exhibited no activity either as a L-phosphoserine phosphatase or as an inhibitor thereof. No studies have examined it for the possibility of other biological activities. Nonetheless, since its expression distributes largely according to self-identification of race (Figure 1), it conceivably is of interest. It may be useful as a marker of continent-of-origin, and this is the likely reason that increased PSPHL expression has been noted in prostate and breast cancers of AA individuals, as well as specifically in the tumor stroma of breast cancer [56, 57]. Yet, since most CA (12 of 17) in the present study had no detectable expression of the homolog, the (unknown) reason that its expression was detectable at all in most AA (20 of 21) might itself be of interest. To date, the cell-type restriction, if any, for its expression has not been reported. It is known that PSPH and PSPHL reside at different locations: chromosomes 7p 15.1 to 15.2 and 7q 11.2, respectively.
As a caution to investigators, we note that the "PSPH" Affymetrix 205048_s_at probeset (on both U133A and U133A 2.0 arrays) actually detects both PSPH and PSPHL, as described above. This same probeset has erroneously been labelled PSPHL in at least one previous report [56], and is erroneously labelled PSPH by Affymetrix.
Other genes of possible interest
Many of the genes shown to be differentially expressed at the thresholds of FDR = 0 (Table 1) and FDR <.05 (Additional Files 3 and 4) have direct relevance to endothelial cell biology. While we do not wish to overstate their potential importance, the following discussion of some from Table 1 (presented in order of their listing therein) attempts to illustrate possible biological roles.
eNOS
Our results revealed no significant difference between our study groups in NOS3 expression: AA >CA by 1.31-fold; t-test P = .071; FDR = not significant. Thus, the eNOS-related differences observed both clinically and experimentally (see Introduction) perhaps reflect acquired changes (e.g., enzyme uncoupling) rather than alterations in the endothelial expression level of the protein. As noted above, one such possibility would perhaps derive from the diminished level of DNM2 presented above.
Biological systems approach
Our second analysis examined whether any of nine biological systems relevant to endothelial cell biology would display a tendency toward altered expression for AA versus CA. Indeed, on a systems basis, AA had significantly altered expression of the gene set representing the shear response biological system, a major determinant of endothelial phenotype and vascular homeostasis (Table 2). The component members within this gene set which contributed to this result are shown in Table 3.
Laminar shear stress induces endothelial "quiescence" (anti-inflammatory, anti-thrombotic, anti-adhesive, anti-angiogenic, anti-oxidant, anti-atherosclerotic, and with optimal vasoregulatory balance), while areas of low or disturbed shear stress exhibit opposite changes [
70
–
73
]. This actually is oversimplified, since experimental data indicate that the induced results also can differ depending upon whether the flow is pulsatile or oscillatory. In any case, shear responsiveness is mediated partly by its induced levels of transcription factor KLF2 (Kruppel-like factor-2), a "master switch" that regulates perhaps a third of the approximately 1,000 shear responsive genes. For example, the 47/156 members of the shear responsiveness gene set that accounted for the observed difference between AA and CA are depicted in Figure
2
, which additionally highlights those that are directly influenced by KLF2. The genes that share the property of shear responsiveness actually are participants in multiple endothelial cell biologies as is summarized in limited fashion in Table
4
. For example, some of the chemokines that promote development of atherosclerotic lesions are shear responsive [
74
], for example, CCL2 (monocyte chemoattractant protein 1) which is one of the genes contributing to the present implication of shear responsiveness (Table
3
). Notably, KLF2 and NFκB down-regulate each other as significant regulators in orchestrating endothelial inflammatory phenotype.
Table 4
Shear stress biology genes contributing to core enrichment: spectrum of vascular biological functions
Cell Migration

Angiogenesis and

Vascularization

Vasomotor

Immune

System

Chemotaxis,

and so on

Hemostasis and

Hematologic

Gene name

BMP4

X

X

X

X

X

BMP6

X

X

CCL2

X

X

X

X

CD34

X

X

X

CENPF

CTGF

X

X

CXCL12

X

X

X

CYP1B1

X

X

CYR61

X

X

X

X

DPYSL3

X

EDN1

X

X

X

X

EEF1A2

ELN

X

X

F3

X

X

X

X

FGF2

X

X

X

FN1

X

X

X

X

X

GAPD

X

X

GBP1

GJA5

X

X

X

GSTP1

IL8

X

X

X

X

X

ILK

X

X

X

X

JAG2

X

X

JUNB

X

X

KIF20A

KLF4

X

X

X

LIG3

MAPRE1

MATN2

X

MYC

X

X

X

X

NOS3

X

X

X

X

X

PFDN2

PLAT

X

X

X

X

RGS3

X

X

RHOA

X

X

X

X

RHOB

X

S100A10

X

X

X

SP1

X

X

X

X

TBXAS1

X

X

X

X

TGFB1

X

X

X

THBD

X

X

THBS1

X

X

X

X

X

TRA1

X

TUBG1

VCAM1

X

X

X

VIPR1

X

XPO1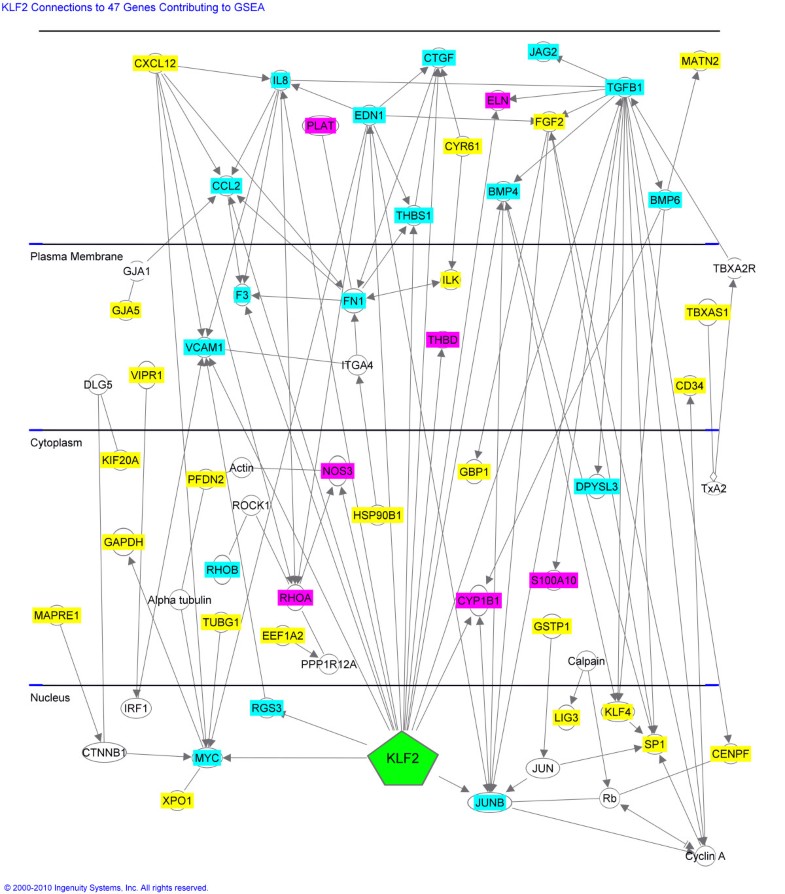 The present study cannot identify whether the changes observed for AA would yield a net beneficial or net harmful effect on vessel wall biology, or whether they would even alter biological shear responsiveness. The increased expression among AA was inexplicably observed for genes that, in the normal process of establishing a quiescent endothelium, both increase in response to KLF2 (for example, NOS3, PLAT, THBD) and decrease in response to it (for example, EDN1, F3, TGFB1, JUNB, VCAM1) (Table 3, Figure 2). The explanation for this is not known at this time. Interestingly, there was no concurrent differential expression of the two major shear response "master switches," KLF2 (fold-change 1.05, P = .646, FDR = .678) or Nrf2 (1.06-fold change, P = .408, FDR = .588). However, we emphasize that the present method would be insensitive to, for example, a KLF2 SNP that alters its function but not expression.
Yet, this dilemma may derive, in part, from the fact that BOEC in this study perhaps would have had a relaxed shear response system, as opposed to a shear-modulated one. Unfortunately, existing shear responsiveness studies are not very enlightening regarding this concept because they generally have described changes induced by a shear regime rather than possible inter-individual differences in the starting phenotype. We speculate that the present data, in suggesting a tonic increase in multiple shear responsive genes for AA subjects, may be hinting at some underlying, functional variation of the apparatus that senses shear stress and induces phenotypic changes. We emphasize, however, that there is no direct evidence for this at the present time. Shear responsiveness is complex, incompletely understood, and involves multiple steps: mechanosensitivity, trans-membrane mechanotransduction, chemical mechanotransduction, downstream signalling and feedback loops, and ultimately transcription and translation [70]. We are currently utilizing the banked, cryopreserved BOEC from the AA and CA subjects in the present study to examine their gene expression shear responsiveness in a flow chamber system, and also to further delineate reason(s) for any difference.
Integration of results and disease biology
The importance of the endothelial cell in disease biology cannot be overstated. It resides at the physical and functional interface between blood and tissue and somehow integrates the input from a panoply of biological modifiers. Some of the physiological processes regulated by these cells are noted in the Introduction. Beyond the conclusions and speculations already presented, we cannot say exactly how the observed gene expression changes, if present in vivo in AA, actually impact upon vascular biology. However, the potential ways in which genetically-influenced heterogeneities in endothelial biology could impact on disease genesis are endless. The present implication of shear responsive genes is particularly interesting, given the fundamental role that this biological system plays in vascular homeostasis. In particular, it is directly relevant to the problem of hypertension in AA, the disease process that is the most likely candidate to reside proximate to the other vascular problems. Interestingly, this biological system is particularly amenable to influence by gene-environment interaction. Its functional integrity is susceptible to the confluence of effects of salt, lipids, arterial wall stiffening, oxidation biology, endothelial dysfunction and disturbance of vasodilators and vasoconstrictors.
Specific examples of dietary salt and lipid influences were noted in the Introduction. Emerging data emphasize the common occurrence of cardiovascular disease despite an absence of customary risk factors and suggest the importance of coincidental concurrence of genetic variability (genetic high risk) and environmental factors such as tobacco smoke exposure (environmental high risk) in premature and/or accelerated disease genesis [30]. An illustrative example of this in the general population, inherited variation in APOE alleles, is provided by the large role that oxidative stress probably plays in cardiovascular disease genesis. Compared to the majority of individuals having the ε3 isoform (gene frequency approximately 0.77), the fewer individuals having the ε2 isoform (gene frequency approximately 0.08) have the highest levels of blood APOE and lower cholesterol levels and protection from cardiovascular disease and stroke. Conversely, those with the ε4 isoform (gene frequency approximately 0.15) have the lowest APOE levels and higher cholesterol. However, the disease risk elevation observed for ε4 individuals is largely seen in those having environmental exposure to tobacco smoke [30]. Furthermore, the antioxidant capability of APOE shows apoE2 > apoE3 >apoE4, and the latter individuals exhibit higher levels of lipid hydroperoxides, which are harmful to endothelium [30]. In linking genetic makeup with dietary habits and environmental exposure, this provides a dramatic example of gene-environment interaction and the contextual complexity of its role as a determinant of vascular disease phenotype. As noted elsewhere: 'Genes load the gun, but the environment pulls the trigger' (attributed to Dr. Elliot Joslin) [30].
Finally, as noted in the Introduction, health disparities occur worldwide and in many forms. Undoubtedly, some reflect mostly environmental/social factors and others are more dependent upon genetic factors. However, a genetic admixture at some level is a universal characteristic of the human population, so the present study is widely relevant in the general sense. Admixture mapping studies for disease association loci are in the earlier stages of development, so at this time they are applied to more dramatic cases of genetic admixture in populations. One example, derived from an admixture a few hundred years (approximately six to seven generations) ago, is described here. Another prominent admixture occurred in western China, where the Uyghurs display an approximately 50/50 admixture of Asian and European backgrounds [75]. This example occurred more remotely, perhaps approximately 100 generations ago, and is likely explained by the fact that the Uyghurs have lived astride the historical Silk Road. Therefore, it most likely represents a version of admixture that is more historically representative of the human experience, admixture accompanying commerce or migration.
The endothelium in cancer biology
Quite separately from cardiovascular health, endothelial cells play a fundamental role in cancer biology since tumor growth is rate-dependent on angiogenesis [59]. AA are known to have cancers (for example, of prostate in men [56, 62] and breast in women [57, 76]) that exhibit greater aggressiveness, present in more advanced stages, and entail higher mortality rates, compared to their behavior in CA. Of great relevance to the theme of the present study, an examination of breast tumor microenvironment suggested that it exhibits a greater degree of angiogenesis (largely a host response to tumor presence) in AA compared to CA [57]. And in the general population, increased likelihood of invasive and metastatic breast cancer (previously shown to be influenced by the degree of tumor angiogenesis) is associated with specific vascular endothelial growth factor alleles [76], as is the aggressiveness of prostate cancer in men [62]. Therefore, the approach used in the present study may well be of use to further identify the influences of genetics and continent-of-origin on the endothelial biology of angiogenesis insofar as it contributes to cancer cell behavior.
Caveats regarding this study
Self-identification of race and genetic admixture
Race is strictly a societal construct based on awareness of superficial traits, but it has been used for (presumptively) identifying continent-of-origin ever since genetic considerations began being applied to humans. Although self-identification of race is hazardous in societies that have high degrees of both diversity and genetic admixture (for example, Brazil [77]), within the United States excellent correspondence between self-reported race/ethnicity and genetic markers reflecting ancient geographic ancestry has been observed [78].
On the other hand, a genetic admixture of individuals having different ancestral origins is the major determinant of genetic structure in the United States [78]. Thus, an admixture of European and African genetic backgrounds over six to seven generations has resulted in the average African American having approximately 20% European admixture [79, 80], although on an individual basis this ranges widely from approximately 5% to approximately 70% [80]. The African origin component is almost entirely from West and West-Central, sub-Saharan Africa [79]. In our region of the United States, the Upper Midwest, reported degrees of admixture are similar, for example, approximately 19% for Chicago and approximately 16% for Detroit [80, 81]. The level of admixture in the opposite direction, African into European, is estimated to be about 0.4% [80].
The degree of admixture in AA probably exerts an impact upon development of disease, as revealed by the expanding use of admixture mapping [82]. In turn, one should expect that variation in degree of admixture could exert an influence upon endothelial gene expression, as studied here, and upon endothelial function, as implied by the present studies. However, insofar as African origin accounts for the differences observed here, the effect of admixture on present results would be in the direction of diminishing the difference between the AA and CA. In other words, differences in endothelial gene expression reflecting continent-of-origin are observed here despite any diluting impact of admixture. That the degree of admixture for the present subjects is unknown should not be an issue, since the very point of this study was to examine AA subjects sampled in the same fashion they were for the seminal studies demonstrating that, despite undefined individual degrees of admixture, the AA sub-population has higher level of stroke and hypertension [2, 3].
We note, however, that our approach could be productively employed to study the endothelial features of subjects who were specifically selected for their known and defined degree of admixture(s).
Absence of detailed medical information
The 20- to 29-year-old subjects selected for this study claimed cardiovascular health, and incidentally were not obese. We did not examine them for risk factors such as BMI, blood lipid levels, fasting glucose, hypertension and so on. However, as for the preceding section, that was the point of this first study. Without pre-study bias due to knowing such information, we obtained the present results. We again note that our approach could be utilized to study subjects known to have specific disease risk variables, and specific perturbing influences of interest (for example, oxidized lipid) could thereby be examined in vitro in a known genetic context.
Are "young and healthy" subjects really healthy?
Consistent with the preceding paragraphs, the intention of this study was to examine AA who were "young and healthy" in the sense that they would be so judged during a visit to a medical clinic, prior to conduct of any medical history, examination, or testing. Indeed, statistical divergence of the higher AA prevalence of first myocardial infarction (the gold-standard clinical indicator of underlying vascular disease) does not emerge until the 35 to 44 age range [8].
On the other hand, the situation for those <35 years is more an absence of evidence rather than evidence of absence. Indeed, it is notable that onset of some cardiovascular risk conditions prior to adulthood has become a feature of modern society, as evidenced by the epidemic of obesity among children and adolescents in the United States. Compared to CA in the same age group, AA adolescents have a lower prevalence of smoking (approximately 13% versus approximately 26%) but a higher prevalence of an inadequate level of physical activity (approximately 39% versus approximately 30%), and adolescent AA females, but not males, have an increased prevalence of obesity (approximately 24% versus approximately 15%) [83]. In the general adolescent population, obese children are more likely to exhibit higher systolic blood pressure [84] and blood lipid levels [85], and to have type-2 diabetes at 9- and 26-year follow-up visits [86].
Although these data suggest that the "young and healthy" may not actually be so healthy, the correspondence between many of these risk factors is with obesity. We are unable to find in the literature the prevalence of such risk factors for non-obese AA children and adolescents. Nonetheless, the present method offers a way to actually test the endothelial biology of (genetically- or clinically-defined) high-risk adolescents, long before they actually develop clinical cardiovascular disease.
Small number of subjects
The present results were obtained by comparison of a relatively small number of subjects (n = 21 AA, and n = 17 CA). However, as noted in Methods, power estimates based on the present and prior data from our laboratory reveal that with about 20 subjects in each of two groups, our method has an approximately 100% power of detecting single gene expression differences if they are 1.5-fold or greater, with erosion of power for lower fold changes. In practice, as is evident here, we have found that the potential sensitivity of the method has somewhat greater power than predicted.
Verification
Although we cannot "increase the n" for the present study (since an aspect of the method is use of a single lot of chips and a single batch of culture components), we did seek verification of our present results by examining another data set.
We applied the present GSEA analysis method to a previous (and non-overlapping) group of AA (n = 18) versus CA (n = 9) that were controls for our previous sickle stroke study [37], and we again identified a significant difference for shear stress responsiveness genes: P = .033, FDR = .140. However, this significance was weaker than the current one because it was true only for the core enrichment sub-group of the shear responsiveness gene set (that is, the sub-group that actually accounts for the present implication of that biological system (Table 3)). This probably is because the prior subject groups were of less homogeneous age range (18 to 60), and group size was much smaller. Furthermore, subjects for that previous study were recruited from our health center itself, so either or both CA and AA groups could have been enriched for those with established disease (that is, potentially having higher genetic risk profile).
Adding additional support to the present results, we note that for those single genes that exhibited significant differential expression for both previous and current AA versus CA data sets, the correlation between them for the fold-change (AA versus CA) was excellent (r = .810). Finally, we now understand that our preliminary observation in that prior report that shear stress responsiveness did not differ for comparison of AA versus CA [37], was simply because it employed a much less-sensitive (and now discarded) method for analysis. Verifying this, application of that old method to the present study groups also fails to identify the significant AA versus CA differences evident for the present study groups. In aggregate, these considerations provide verification for the present results.
Conclusions
Using blood outgrowth endothelial cells (BOEC) as reporter cells, we determined whether, at the level of gene expression, there might be insights related to the excess vascular disease burden of AA compared to CA. At the high stringency threshold requiring FDR = 0, this approach successfully identified 31 genes that exhibited differential expression among AA. At the more customary stringency level requiring FDR <.05 considerably more were differentially expressed (221 transcripts representing 204 genes). Many of the identified genes are directly relevant to endothelial cell biology, for example to vasoregulation or angiogenesis. In our separate approach, use of pre-determined gene sets to survey expression within each of nine biological systems relevant to endothelial cell biology revealed an apparent tonic increase for many genes within the biology of shear stress responsiveness, which is a major determinant of endothelial phenotype and vascular homeostasis, including its regulation of vascular tone. Consequently, our results provide support for the concept that inherited inter-individual variation in endothelial gene expression, reflecting continent-of-origin, might impact on endothelial cell and vascular biology and, thereby, upon disparity in vascular and cancer disease burdens for AA compared to CA. Also, our results identify needed research directions.
It is true that the present approach requires participation of subjects that are of known genotype or clinical phenotype (in terms relevant to the specific study question at hand), as well as very meticulous performance of laboratory procedures. Nonetheless, the ability of this method to provide information from small groups of subjects suggests that it may be of substantial value to future studies of genotype-phenotype correlation as the field of functional genomics evolves toward a whole cell, systems biology perspective.
Abbreviations
AA:

African Americans
BOEC:

blood outgrowth endothelial cells
CA:

Caucasian Americans
FDR:

false discovery rate
GSEA:

gene set enrichment analysis
PSPH :

L-phosphoserine phosphatase
PSPHL :

the PSP-homolog
RMA:

robust multiarray average
SAM:

significance analysis of microarray.
Declarations
Acknowledgements
We thank Carol Taubert for assistance in manuscript preparation and Jim Kiley for technical assistance. This study was funded by the National Institutes of Health: P01 HL55552 and P01 HL68970.
Authors' Affiliations
(1)
Vascular Biology Center, Department of Medicine, Medical School, University of Minnesota, Minneapolis, USA
(2)
Division of Biostatistics, School of Public Health, University of Minnesota, Minneapolis, USA
(3)
Division of Hematology-Oncology-Transplantation, Department of Medicine, Medical School, University of Minnesota, Minneapolis, USA
(4)
Division of Biostatistics and Human Genetics Center, School of Public Health, University of Texas Health and Science Center at Houston, Houston, USA
Copyright
© Wei et al; licensee BioMed Central Ltd. 2011
This article is published under license to BioMed Central Ltd. This is an Open Access article distributed under the terms of the Creative Commons Attribution License (http://creativecommons.org/licenses/by/2.0), which permits unrestricted use, distribution, and reproduction in any medium, provided the original work is properly cited.