Review

Open Access

Open Peer Review
This article has Open Peer Review reports available.
Regulation of vascular tone by adipocytes
Received: 15 November 2010
Accepted: 16 March 2011
Published: 16 March 2011
Abstract
Recent studies have shown that adipose tissue is an active endocrine and paracrine organ secreting several mediators called adipokines. Adipokines include hormones, inflammatory cytokines and other proteins. In obesity, adipose tissue becomes dysfunctional, resulting in an overproduction of proinflammatory adipokines and a lower production of anti-inflammatory adipokines. The pathological accumulation of dysfunctional adipose tissue that characterizes obesity is a major risk factor for many other diseases, including type 2 diabetes, cardiovascular disease and hypertension. Multiple physiological roles have been assigned to adipokines, including the regulation of vascular tone. For example, the unidentified adipocyte-derived relaxing factor (ADRF) released from adipose tissue has been shown to relax arteries. Besides ADRF, other adipokines such as adiponectin, omentin and visfatin are vasorelaxants. On the other hand, angiotensin II and resistin are vasoconstrictors released by adipocytes. Reactive oxygen species, leptin, tumour necrosis factor α, interleukin-6 and apelin share both vasorelaxing and constricting properties. Dysregulated synthesis of the vasoactive and proinflammatory adipokines may underlie the compromised vascular reactivity in obesity and obesity-related disorders.
Keywords
Nitric OxideAdipose TissueBrown Adipose TissueWhite Adipose TissueTelmisartan
Introduction
For a long time, adipose tissue or body fat was believed to be simply involved in total body lipid and overall energy homeostasis. White adipose tissue stores excess energy in the form of triglycerides, while brown adipose tissue is actively involved in the regulation of body temperature [1, 2]. However, in recent years, it has become clear that adipose tissue is far more than a storage facility and thermoregulator and is in fact an active secretory organ of multiple mediators known as adipokines [3]. These adipokines include hormones (for example, leptin and adiponectin), inflammatory cytokines (for example, tumor necrosis factor α (TNFα), interleukin (IL)-6, omentin and visfatin) and other proteins (for example, plasminogen activator inhibitor (PAI)-1, angiotensinogen, resistin and apelin) [4, 5]. Furthermore, adipose tissue is known to release an as yet unidentified adipocyte-derived relaxing factor (ADRF) [6] which relaxes several arteries. Here we give an overview of the influence of different adipokines on vascular tone and on their potential role in obesity and obesity-related disorders.
Adipokines
Adipose tissue (see "Adipose tissue" text box below) is known to produce and release numerous bioactive substances, known as adipokines, into its direct surroundings (auto- or paracrine) and into the bloodstream (endocrine) [
3
]. Adipokines are involved in various physiological processes (Table
1
), including the regulation of arterial tone [
4
,
7
]. Therefore, adipose tissue affects not only overall metabolism but also the functionality of many organs and tissues, such as muscle, liver, brain and the vasculature. Total absence of adipose tissue has been reported to be associated with nonviability, which emphasizes the essential role of adipose tissue in human physiology [
8
]. Maintenance of a normal amount of adipose tissue is essential because imbalance can cause serious health problems and dysregulated release of adipokines may lead to vascular disturbances and inflammation.
Table 1
Physiological processes in which adipokines are involveda
| Physiological processes | Adipokines involved |
| --- | --- |
| Glucose metabolism | Adiponectin, resistin |
| Lipid metabolism | CETP, retinol-binding protein |
| Immunity | Adipsin |
| Inflammation | TNFα, IL-6 |
| Coagulation | PAI-1 |
| Maintaining normal reproduction | Leptin, ghrelin |
| Pancreatic β-cell function | IL-6, adiponectin, visfatin |
| Angiogenesis | Leptin, VEGF, HGF |
| Feeding behaviour | Leptin |
| Regulation vascular tone | ADRF, leptin, adiponectin |
Vasoactive adipokines in physiology and obesity
Under normal circumstances, vascular tone is influenced by adipokines (Figure
1
and Table
2
). However, it is thought that vascular tone regulation is compromised in obesity and obesity-related disorders, in which the amount of adipose tissue has grown out of proportion. This eventually leads to a dysregulated synthesis of vasoactive adipokines by dysfunctional adipose tissue in favour of harmful proinflammatory adipokines (for example, leptin) [
7
] (Figure
2
). The dysregulated synthesis and/or secretion of adipokines and the infiltration of macrophages into adipose tissue, possibly as a result of monocyte chemoattractant protein (MCP)-1 [
9
] and leptin [
10
] release from adipocytes, lead to a state of inflammation within adipose tissue. A proinflammatory state in adipose tissue can induce not only a dysregulation of vascular tone but also local insulin resistance, adhesion of monocytes, vascular remodelling, foam cell formation in the arterial wall and endothelial dysfunction. Endothelial dysfunction is reflected as a decrease in nitric oxide (NO) bioavailability, endothelium-dependent relaxation and impaired ability of the endothelium to respond to circulating hormones. All of these changes clearly promote the development of cardiovascular diseases and type 2 diabetes [
11
].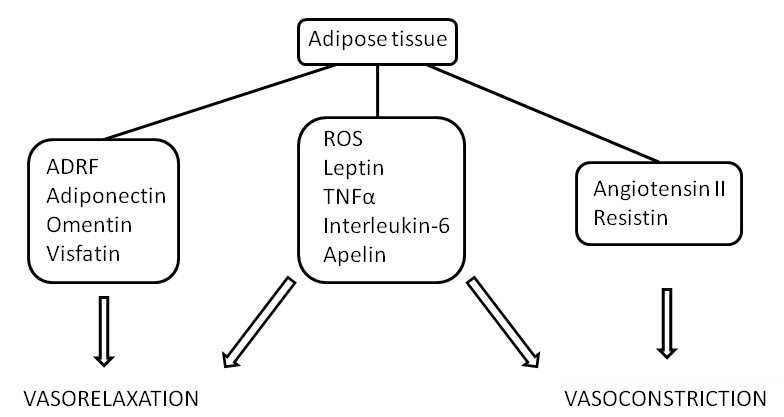 Table 2
Vasoactive effect of adipokinesa
| Adipokines | Vasoactive effect | References |
| --- | --- | --- |
| Superoxide anion | Vasoconstriction through Ca2+ sensitization; impairs EC-dependent relaxation by decreasing NO bioavailability; enhances vasoconstriction to perivascular nerve activation by electrical field stimulation | |
| Hydrogen peroxide | EC-dependent and EC-independent vasorelaxation mediated by opening KCa, Kv and KATP channels; Ca2+-dependent and Ca2+-independent vasoconstriction | |
| Leptin | Vasoconstriction due to sympathetic nervous system activation; EC-dependent and EC-independent vasorelaxation | |
| TNFα | EC-dependent and EC-independent vasorelaxation; triggers ET-1- and Ang-induced vasoconstriction; impairs EC-dependent vasorelaxation due to decreased NO or increased ROS production; reduces vasorelaxing effect of PVAT due to increased ROS production | |
| IL-6 | EC-independent vasorelaxation; reduces vasorelaxing effect of PVAT due to increased ROS production; impairs endothelial function due to increased ROS and decreased NO production | |
| Apelin | NO-dependent vasorelaxation; EC-independent vasoconstriction | |
| Adiponectin | NO-dependent vasorelaxation mediated by opening Kv channels | |
| Omentin | EC-dependent and EC-independent vasorelaxation | [100] |
| Visfatin | NO-dependent vasorelaxation | [107] |
| ADRF | Vasorelaxation through opening of KATP, KCNQ or KCa channels depending on the species | |
| Ang II | Vasoconstriction via binding on AT1 receptors | [124] |
| Resistin | No effect on contractility of blood vessels; impairs endothelial function due to increased ET-1 production and decreased NO production | |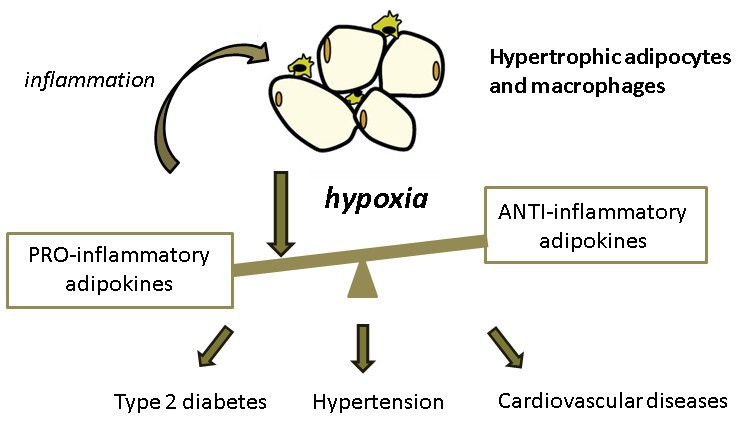 It has been proposed that hypoxia underlies this inflammatory response, as hypoxia occurs in areas of fat depots when the vascular oxygen supply is compromised because of tissue mass expansion [4]. Direct evidence that growing adipose tissue becomes hypoxic has recently been shown in mice [12, 13]. Furthermore, cell culture studies using murine and human adipocytes strongly support the modulatory role of hypoxia in the production of several proinflammatory adipokines [14, 15].
Furthermore, angiogenesis is promoted in response to hypoxia [16]. Novel vascularisation can be considered an automatic fail-safe to counter hypoxia and ensure sufficient nutrient and oxygen supply to the different tissues. Hypoxia upregulates inducible transcription factors, which trigger the expression of angiogenic adipokines such as vascular endothelial growth factor (VEGF), hepatocyte growth factor and PAI-1 [7], which promote vascular endothelial cell proliferation and the later stages of new vessel formation [17]. Also, other adipokines, such as leptin, basic fibroblast growth factor and IL-6, have been shown to induce angiogenesis, while adiponectin and TNFα have pro- and antiangiogenic properties [17]. The vasoactive adipokines and their role in physiological conditions as well as in obesity and obesity-related disorders are described in more detail in the following subsection.
Adipokines with vasorelaxing and vasocontractile properties
Vasocontractile adipokines
Angiotensinogen and Ang II
Brown and white adipocytes are rich sources of angiotensinogen, the precursor protein of a major vasocontractile peptide called Ang II [124], and possess all the enzymes necessary to produce Ang II [125]. These findings suggest the existence of a local renin-angiotensin system in adipose tissue. Moreover, the amount of angiotensinogen mRNA in adipose tissue is 68% of that in the liver, supporting an important role for adipose angiotensinogen in Ang II production [126]. The importance of this angiotensinogen source in blood pressure regulation by the renin-angiotensin system was shown in wild-type and angiotensinogen-deficient mice in which adipocyte-derived angiotensinogen was overexpressed. When angiotensinogen expression was restricted to adipose tissue (in an angiotensinogen-deficient background), circulating angiotensinogen was detected and the mice were normotensive. On the other hand, wild-type mice were hypertensive because of the additional amount of angiotensinogen that developed as a result of overexpression of adipocyte-derived angiotensinogen [127].
An important effect of Ang II is that this peptide enhances the metabolism of NO into oxygen free radicals, which damage the vascular tissue [128]. Therefore, an imbalance between Ang II and NO leads to endothelial dysfunction, resulting in a loss of vasodilator capacity. This results in an increased expression of adhesion molecules and proinflammatory cytokines in endothelial cells, which promotes monocyte and leukocyte adhesion and migration to the vessel wall [129]. Furthermore, Ang II exerts detrimental effects on the progression and destabilization of atherosclerotic plaque because of an increased release of PAI-1, causing thrombosis and increased expression of growth factors, which leads to smooth muscle cell proliferation and migration [129]. Most data support an elevation of angiotensinogen mRNA expression in adipose tissue during obesity [130]. Furthermore, several studies have highlighted a contribution of adipose tissue-derived angiotensinogen and/or angiotensin II to obesity-related hypertension [130]. High Ang II levels may deteriorate obesity-related hypertension because of an increased secretion of proinflammatory cytokines [131], decreased adiponectin secretion [132] and increased leptin production in adipocytes [133].
Resistin
Resistin, which is expressed in brown and white adipose tissue, is a member of the family of cysteine-rich proteins called resistin-like molecules [86, 134]. Resistin is secreted into the medium by cultured adipocytes and circulates in plasma, indicating that it is a secretory product of adipose tissue. However, circulating monocytes and macrophages in particular seem to be responsible for resistin production in humans [40]. Although resistin does not directly affect the contractility of isolated blood vessels [135], coronary blood flow, mean arterial pressure or heart rate [136], it has been associated with endothelial dysfunction and coronary artery disease [137].
Initial findings have been reported regarding an association between obesity and elevated plasma resistin levels [138, 139]. However, this finding was not confirmed by other investigators [140, 141]. Resistin expression is stimulated by TNFα and IL-6, both of which are increased in obesity [142], which offers an explanation for an increased level of resistin in obesity. Resistin augments endothelin-1 release, which causes endothelial dysfunction. Moreover, resistin impairs endothelial function with [143] or without [136] augmenting superoxide production, resulting in decreased expression of endothelial NO synthase and NO levels [144]. Resistin also augments the expression of VCAM-1 and MCP-1, both of which are involved in early atherosclerotic lesion formation [145]. It has also been shown that high plasma resistin levels are independently associated with an increased risk for hypertension among nondiabetic women [146].
Conclusions
Adipose tissue produces and secretes several adipokines. Some of these adipokines possess vasoactive properties (Figure 1). Arterial tone can be controlled through the release of ROS, leptin, adiponectin, TNFα, IL-6, Ang II, omentin, resistin, visfatin, apelin and ADRF. The regulation of arterial tone might be compromised in obesity and obesity-related disorders (for example, type 2 diabetes, cardiovascular disease and hypertension) because of alterations in the secretion of vasoactive adipokines by dysfunctional adipose tissue. Circulating levels of adiponectin and omentin are decreased, while levels of leptin, resistin, apelin and proinflammatory cytokines are increased. One therapeutic strategy to counter the progression of obesity-related vascular diseases is to elevate adiponectin and omentin levels. Adiponectin levels are already elevated by the use of thiazolidinediones, telmisartan, angiotensin-converting enzyme inhibitors, rimonabant and taranabant [88]. On the other hand, the development of specific agonists to target adiponectin and omentin receptors or inhibit detrimental adipokine signalling pathways may be new and promising methods to attenuate the proinflammatory effects and ultimately to reduce the progression of obesity-related vascular diseases.
Adipose tissue
Adipose tissue is predominantly located around blood vessels (perivascular), around internal organs (visceral or abdominal) or subcutaneously. Adipose tissue consists of a heterogeneous mixture of cellular structures (that is, adipocytes, precursor cells, macrophages, fibroblasts and endothelial cells) and tissue structures (that is, small blood vessels and nerve tissue) [147]. The predominant cell type in adipose tissue is the adipocyte, which may be white or brown. In accordance with the type of adipocytes which compose it, adipose tissue is subdivided into white and brown adipose tissue.
White adipose tissue comprises up to 20% to 25% of total body weight. In general, white adipose tissue acts mainly as an energy store or reserve (that is, lipid storage) and expands during obesity. It also provides thermal insulation (subcutaneous adipose tissue) and supports the body against mechanical shocks (for example, skin or kidney) [1].
Brown adipose tissue regulates body temperature by lipid metabolism in newborn mammals and some hibernating animals [2]. Recent studies have shown that healthy adult humans still possess a substantial fraction of metabolically active brown adipose tissue in the supraclavicular and neck regions, along with some additional paravertebral, mediastinal, paraaortic and suprarenal locations [148, 149]. Although the obesity-preventive role of brown adipose tissue has long been a matter of debate, more recent data clearly show an inverse correlation between body mass index and brown adipose tissue activity in humans [148, 150].
Declarations
Acknowledgements
This work was supported by a grant from Geconcerteerde Onderzoeksactie (GOA) of Ghent University and from Interuniversity Attraction Poles P6/30 (Belgian government).
Authors' Affiliations
(1)
Department of Pharmacology, Ghent University, Ghent, Belgium
Copyright
© Maenhaut and Van de Voorde; licensee BioMed Central Ltd. 2011
This article is published under license to BioMed Central Ltd. This is an Open Access article distributed under the terms of the Creative Commons Attribution License (http://creativecommons.org/licenses/by/2.0), which permits unrestricted use, distribution, and reproduction in any medium, provided the original work is properly cited.