Research article

Open Access

Open Peer Review
This article has Open Peer Review reports available.
A pilot systematic genomic comparison of recurrence risks of hepatitis B virus-associated hepatocellular carcinoma with low- and high-degree liver fibrosis
Received: 12 July 2017
Accepted: 8 November 2017
Published: 7 December 2017
Abstract
Background
Chronic hepatitis B virus (HBV) infection leads to liver fibrosis, which is a major risk factor in hepatocellular carcinoma (HCC) and an independent risk factor of recurrence after HCC tumor resection. The HBV genome can be inserted into the human genome, and chronic inflammation may trigger somatic mutations. However, how HBV integration and other genomic changes contribute to the risk of tumor recurrence with regards to the different degree of liver fibrosis is not clearly understood.
Methods
We sequenced mRNAs of 21 pairs of tumor and distant non-neoplastic liver tissues of HBV-HCC patients and performed comprehensive genomic analyses of our RNAseq data and public available HBV-HCC sequencing data.
Results
We developed a robust pipeline for sensitively identifying HBV integration sites based on sequencing data. Simulations showed that our method outperformed existing methods. Applying it to our data, 374 and 106 HBV host genes were identified in non-neoplastic liver and tumor tissues, respectively. When applying it to other RNA sequencing datasets, consistently more HBV integrations were identified in non-neoplastic liver than in tumor tissues. HBV host genes identified in non-neoplastic liver samples significantly overlapped with known tumor suppressor genes. More significant enrichment of tumor suppressor genes was observed among HBV host genes identified from patients with tumor recurrence, indicating the potential risk of tumor recurrence driven by HBV integration in non-neoplastic liver tissues. We also compared SNPs of each sample with SNPs in a cancer census database and inferred samples' pathogenic SNP loads. Pathogenic SNP loads in non-neoplastic liver tissues were consistently higher than those in normal liver tissues. Additionally, HBV host genes identified in non-neoplastic liver tissues significantly overlapped with pathogenic somatic mutations, suggesting that HBV integration and somatic mutations targeting the same set of genes are important to tumorigenesis. HBV integrations and pathogenic mutations showed distinct patterns between low and high liver fibrosis patients with regards to tumor recurrence.
Conclusions
The results suggest that HBV integrations and pathogenic SNPs in non-neoplastic tissues are important for tumorigenesis and different recurrence risk models are needed for patients with low and high degrees of liver fibrosis.
Keywords
HBV-HCC
HBV integration
Fusion transcript
Pathogenic SNPs
Tumor recurrence
Liver fibrosis
Background
Chronic infection with hepatitis B virus (HBV) is one of the primary risk factors for development of hepatocellular carcinoma (HCC). Viral proteins, such as HBx and truncated pre-S protein, have oncogenic properties by influencing diverse signaling pathways and changing expression level of host genes [1–4]. In addition, chronic HBV infection induces inflammation, oxidative stress, and a prolonged fibrotic response [5, 6]. This inflammatory and regenerative environment may lead to hepatocyte transformation and HCC development [7].
Integration of HBV DNA into the host genome contributes to hepatocarcinogenesis by inducing genomic instability and altering expression of cancer-related genes [8–11]. With the advances of genome-wide sequencing techniques, it is possible to identify HBV DNA integration sites in the human genome [12]. Sung et al. [13] studied HBV integration in 81 HCC patients using Whole Genome Sequencing (WGS) and reported 344 and 55 HBV integration events in tumor and normal liver tissues, respectively. Jiang et al. [14] reported 255 HBV integration sites from WGS profiles of four HCC patients and found more integration sites in tumor tissues. Ding et al. [15] devised a massive anchored parallel sequencing to isolate and sequence HBV integrants of 40 pairs of HCC and normal tissues and identified 296 HBV integration events; while they detected a similar set of host genes as other studies, they reported fewer integration events in tumors compared to normal tissues. Chiu et al. [16] studied HBV fusion transcripts of 16 pairs of HBV–HCC and their corresponding normal tissues and found 413 and 94 unique integration sites from normal and tumor tissues, respectively. In these studies, HBV integration events were observed in a few common host genes, including KMT2B (also known as MLL4), FN1, and TERT, while integration events in many other host genes were unique to each study. This suggests that HBV integration might be a random event associated to physical properties [14] across the whole genome; however, it is not yet clear how HBV integration events are associated with the disease phenotypes and progression. Most existing studies have identified and characterized HBV integration events at the DNA level, yet whether HBV integration into the human genome impacts gene function or expression remains to be fully characterized.
HCC is notorious for the high risk of tumor recurrence even after successful surgical resection [17]. HCC recurrence is closely associated with overall survival (Additional file 1: Figure S1). Patients with a high risk for recurrence may be considered for adjuvant therapies or liver transplant without liver resection – it has been shown that survival after liver transplant dramatically decreased for patients having previously undergone liver resection [18]. Unlike hepatitis C-associated HCC, where the majority of cancers form through orderly progression from chronic inflammation, fibrotic injury and liver cirrhosis, HBV-associated HCC can develop in livers of varying degrees of fibrosis [19, 20]. In our previous study based on a cohort of 189 HBV-HCC patients in New York City, 35% of HBV-HCC developed in livers with low fibrosis (histologically defined as Ishak stage 0–3) [20]. HCC patients with minimal liver fibrosis remain a poorly defined subgroup and the molecular mechanisms underlying hepatocarcinogenesis are not yet clear understood since most of the previous genomic studies of HBV-HCC have focused on patients with cirrhosis. Whether the same genetic and genomic features lead to hepatocarcinogenesis and HCC recurrence after tumor resection in HCC patients with low fibrosis or cirrhosis is not well studied.
Herein, we focus on a comparison of genomic features associated with high risk for HCC recurrence in HCC patients with low or end-stage fibrosis (Fig.
1
). We aim to assess the impact of clinical parameters (liver fibrosis, tumor size and differentiation), HBV integration, and other genomic features on the risk of HCC recurrence. We performed transcriptome profiling in paired tumor and distant non-neoplastic liver tissues of 21 patients with minimal fibrosis or end-stage fibrosis (Methods) using paired-end sequencing technology. First, we applied a systematic approach to identify the viral-human gene fusion transcripts in both tumor and non-neoplastic liver tissues of the 21 patients. We developed a robust pipeline modified from VirusFinder [
21
] to identify HBV integration sites in tumor and non-neoplastic liver tissues. HBV integration events and human transcripts with HBV integration were characterized in tumor and non-neoplastic liver tissue. Unlike previous studies, we focused on HBV-human gene fusion transcripts, which represent a small fraction of HBV integration events but likely result in biological changes in host cells. Next, we compared potential pathological SNP loads in mRNA transcripts with regard to HCC recurrence and stage of liver fibrosis. Our observations suggest that there are different genomic features and tumorigenesis mechanisms associated with the risk of HBV-HCC recurrence in patients with different liver fibrosis stages. Although our sample size is small and further validation is required, some of our observations replicated previous HBV-HCC sequencing studies.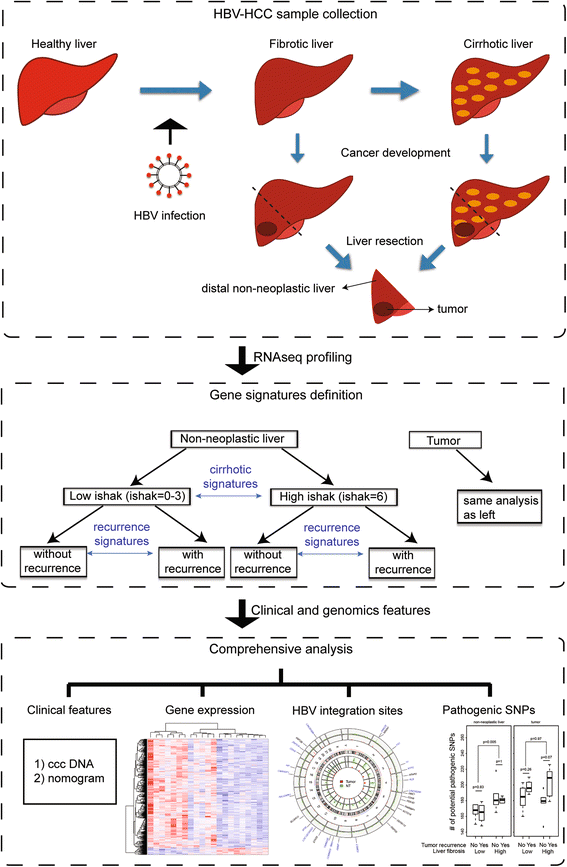 Results
Most previous HBV-HCC studies have focused on cirrhosis patients as it is commonly believed that there is a linear path from chronic inflammation induced by HBV infection to liver cirrhosis, and subsequently to hepatocarcinogenesis [36]. However, 35% of HBV-HCC patients have low liver fibrosis [20]. Herein, we systematically compared the clinical and genomic features associated with HCC recurrence risk in patients with different liver fibrosis stages (Fig. 1).
Discussion
HCC recurrence is a significant risk factor for mortality after curative liver resection (Additional file 1: Figure S1). Salvage liver transplantation after HCC recurrence following curative liver resection has inferior overall survival rates compared to primary liver transplantation (no liver resection) for HCC patients [18]. Thus, it is critical to predict which HCC patients have a high risk for recurrence so that they can be treated with adjuvant therapies or considered for liver transplantation prior to surgical resection. Herein, we characterized genomic changes related to HBV infection with regard to HCC recurrence risk. HBV infection induces HBV integration into the host genome and somatic mutations in liver tissue. We examined an HBV insertion and potential pathogenic SNPs in HCC tumor and non-neoplastic liver tissues in HBV-HCC patients of low or high liver fibrosis stage. Recently, Zhao et al. [11] reported distinct patterns of HBV integration host genes in cirrhosis-dependent HCC, but our study is the first to suggest that potentially different tumorigenesis mechanisms underlie tumor recurrence in patients with varying liver fibrosis stages.
To accurately identify HBV integration events of low IAF, we developed a pipeline based on VirusFinder. Our results showed that there were more HBV integration sites in the non-neoplastic liver tissues than in tumor tissues, suggesting that selective clone expansion occurs during tumorigenesis (Fig. 4a). This observation is consistent with results from the validation datasets (BGI, TCGA, and ICGC datasets) analyzed through our pipeline and from previously reported studies [15, 16] (Additional file 12: Figure S5). However, they contradict those from other studies reporting more integration sites in tumor tissues [11, 13, 14], likely due to the low sequence coverage in DNA sequencing in the datasets. It is worth noting that our results were based on RNAseq data, which had higher depth of coverage than the common depth of the available WGS data.
HBV integration does not occur at random sites, but tends to occur in regions with active transcription and with repetitive sequences [15, 51]. For example, herein, HBV integration in FN1 occurred preferentially in patients with high liver fibrosis stage to in those with low fibrosis stage. Fibronectin is an abundantly expressed transcript in non-neoplastic liver, and its expression increases during liver fibrogenesis [52]. Around the virus integration sites, human and virus genome sequences are likely similar, termed as microhomologous (MH) [53], and MH-mediated DNA repair may be a main mechanism mediating virus integration processes [53]. MH sequences between the human and virus genomes are significantly enriched near integration breakpoints for HPV [53] and HBV [11, 13, 53]. We collected flanking regions at the HBV integration sites and compared background numbers of a specific MH size (Additional file 3: Supplementary Materials). MH sequences were enriched near HBV integration sites in our dataset, and the enrichment was significant for a MH size of 2 and 5 bp (Additional file 24: Figure S10A). To the best of our knowledge, this is the first RNAseq-based study replicating the MH enrichment observed in previous studies [11]. We also compared HBV integration sites with regards to CpG islands and common/rare fragile sites [54] (Additional file 3: Supplementary Materials and Methods), and observed no enrichment over that expected by chance (Additional file 24: Figure S10B and S10C).
We identified a few host genes recurrently targeted by HBV integration, which overlapped with several HBV host genes previously reported, including ALB, KMT2B, FN1, and TERT. Our study also identified many novel HBV fusion transcripts such as ARAP2, PRKCE, and TCF4. HBV integration in ARAP2 occurred in two patients, both with integration within the promoter region, and was associated with lower expression in non-neoplastic liver (Additional file 17: Figure S7B). Interestingly, the two patients with HBV integration in ARAP2 both had end-stage liver fibrosis and cancer recurrence. ARAP2 is known to regulate focal adhesion dynamics that connect the actin cytoskeleton with the extracellular matrix [55]. While its functions suggest potential roles in tumor progression and metastasis, no previous implications between ARAP2 and HBV-HCC have been reported. Changes in TCF4 expression have been linked to tumor progression through stimulation of the Wnt pathway [56]. However, it has not been shown that TCF4 can be a direct target of the virus. PRKCE was one of the most frequently targeted fusion transcripts in non-neoplastic liver (5/21, 24%). It is worth noting that HBV insertion locations in these five samples were identical at chr2:46344574, which is located at intron 11 of the gene. PRKCE, protein kinase C, is a tumor suppressor gene involved in apoptosis [57].
In non-neoplastic tissues of both low and high liver fibrosis host genes with HBV insertion in patients with cancer recurrence were enriched for tumor suppressor genes (Fig. 5a), suggesting that non-neoplastic tissues contain information for potential cancer recurrence. These results indicate that both the number of integration events and specific host genes with HBV insertion are critical for tumor recurrence.
Our results also suggested that the number of potential pathogenic SNP gains in tumor over non-neoplastic liver tissues were significantly associated with tumor recurrence in patients of both low and high liver fibrosis (Fig. 6c). Genotypes from non-neoplastic tissues of HBV-HCC patients may be different from germline genotypes (Fig. 6a). To investigate whether the number of pathogenic SNP gains over germline genotype in either tumor or non-neoplastic tissues is associated with tumorigenesis and tumor recurrence, germline genotypes measured in tissues not affected by HBV are needed. It is interesting that genes with pathogenic somatic mutations significantly overlap with HBV fusion host genes in non-neoplastic liver tissues (Additional file 19: Table S11), indicating that both HBV integration and mutations might target a similar set of genes for tumorigenesis. All our analyses results consistently suggest that transcripts with HBV integration and pathogenic SNPs in non-neoplastic liver tissues carry important information of tumorigenesis potential. Accumulation of a few pathogenic somatic mutations on top of these pathogenic SNPs and HBV fusion transcripts may lead to tumorigenesis. However, the potential to accumulate critical somatic mutations may reflect in genomic features in non-neoplastic liver tissues.
Of note, the sample size in the current study was small. Further studies of large sample sizes are needed to validate the associations between HBV-HCC recurrence and HBV integration patterns and/or pathogenic SNP loads. However, compared with the two largest TCGA and ICGA liver cancer sequencing studies, the sample size of our HBV-HCC RNA sequencing study was similar (Additional file 2: Table S1) and the clinical follow-up was more comprehensively recorded herein. Importantly, our study was designed with balanced groups in terms of fibrosis stage and tumor recurrence such that the potential tumorigenesis mechanism differences between high and low liver fibrosis groups could be assessed. Regardless of the sample size limitation, our findings are consistent with results from other independent dataset such as BGI, TCGA, ICGC, and Chiu et al. [16] HBV-HCC cohorts. The association between HBV insertion events and intrahepatic HBV replicative activity suggests that a potential approach to prevent HBV-HCC recurrence is to continuously administer anti-HBV drugs following tumor resection; however, further testing of this in formal clinical trials is needed.
Conclusions
We performed systematic comparison of molecular features of HBV-HCC patients with low- and high-degree of liver fibrosis. The results suggest that HBV integrations and pathogenic SNPs in non-neoplastic tissues are important for tumorigenesis and different recurrence risk models are needed for patients with low and high degrees of liver fibrosis. Further study of larger sample size will shed more light on molecular mechanisms underlying differences between two groups of patients.
Abbreviations
FET:

Fisher's exact test
HBV:

hepatitis B virus
HCC:

hepatocellular carcinoma
IAF:

insertion allele frequency
WGS:

whole genome sequencing
Declarations
Grant support
This study was partially funded by NIH U01HG008451 (to JZ).
Authors' contributions
SY and JZ conceived and designed the experiments. WW developed the pipeline for identifying HBV integration sites. EL contributed analytic tools. QW, MIF and SPH provided HBV-HCC specimens, clinical information, and biological interpretation. SY, WW, QW, SPH and JZ analyzed data and provided comments. SY, WW, QW, SPH, and JZ wrote and revised the manuscript. All authors read and approved the final manuscript.
Competing interests
The authors declare that they have no competing interests.
Publisher's Note
Springer Nature remains neutral with regard to jurisdictional claims in published maps and institutional affiliations.
Open AccessThis article is distributed under the terms of the Creative Commons Attribution 4.0 International License (http://creativecommons.org/licenses/by/4.0/), which permits unrestricted use, distribution, and reproduction in any medium, provided you give appropriate credit to the original author(s) and the source, provide a link to the Creative Commons license, and indicate if changes were made. The Creative Commons Public Domain Dedication waiver (http://creativecommons.org/publicdomain/zero/1.0/) applies to the data made available in this article, unless otherwise stated.
Authors' Affiliations
(1)
Department of Genetics and Genomic Sciences, Icahn Institute of Genomics and Multiscale Biology, Icahn School of Medicine at Mount Sinai, New York, USA
(2)
Icahn Institute for Genomics and Multiscale Biology, Icahn School of Medicine at Mount Sinai, New York, USA
(3)
Department of Surgery, Division of Surgical Oncology, Icahn School of Medicine at Mount Sinai, New York, USA
(4)
Department of Pathology, Icahn School of Medicine at Mount Sinai, New York, USA
(5)
Sema4, a Mount Sinai venture, Stamford, USA