Correspondence

Open Access

Open Peer Review
This article has Open Peer Review reports available.
Reporting recommendations for tumor marker prognostic studies (REMARK): explanation and elaboration
Received: 19 April 2011
Accepted: 29 May 2012
Published: 29 May 2012
Abstract
Background
The Reporting Recommendations for Tumor Marker Prognostic Studies (REMARK) checklist consists of 20 items to report for published tumor marker prognostic studies. It was developed to address widespread deficiencies in the reporting of such studies. In this paper we expand on the REMARK checklist to enhance its use and effectiveness through better understanding of the intent of each item and why the information is important to report.
Methods
REMARK recommends including a transparent and full description of research goals and hypotheses, subject selection, specimen and assay considerations, marker measurement methods, statistical design and analysis, and study results. Each checklist item is explained and accompanied by published examples of good reporting, and relevant empirical evidence of the quality of reporting. We give prominence to discussion of the 'REMARK profile', a suggested tabular format for summarizing key study details.
Summary
The paper provides a comprehensive overview to educate on good reporting and provide a valuable reference for the many issues to consider when designing, conducting, and analyzing tumor marker studies and prognostic studies in medicine in general.
To encourage dissemination of the Reporting Recommendations for Tumor Marker Prognostic Studies (REMARK): Explanation and Elaboration, this article has also been published in PLoS Medicine.
Keywords
Overall Survival
Multivariable Model
Standard Variable
Prognostic Study
Selective Reporting
Background
The purpose of this paper is to provide more complete explanations of each of the Reporting Recommendations for Tumor Marker Prognostic Studies (REMARK) checklist items and to provide specific examples of good reporting drawn from the published literature. The initial REMARK paper [
1
–
7
] recommended items that should be reported in all published tumor marker prognostic studies (Table
1
). The recommendations were developed by a committee initially convened under the auspices of the National Cancer Institute and the European Organisation for Research and Treatment of Cancer. They were based on the rationale that more transparent and complete reporting of studies would enable others to better judge the usefulness of the data and to interpret the study results in the appropriate context. Similar explanation and elaboration papers had been written to accompany other reporting guidelines [
8
–
11
]. No changes to the REMARK checklist items are being suggested here. We hope that the current paper will serve an educational role and lead to more effective implementation of the REMARK recommendations, resulting in more consistent, high quality reporting of tumor marker studies.
INTRODUCTION

1

State the marker examined, the study objectives, and any pre-specified hypotheses.

MATERIALS AND METHODS

Patients

2

Describe the characteristics (for example, disease stage or co-morbidities) of the study patients, including their source and inclusion and exclusion criteria.

3

Describe treatments received and how chosen (for example, randomized or rule-based).

Specimen characteristics

4

Describe type of biological material used (including control samples) and methods of preservation and storage.

Assay methods

5

Specify the assay method used and provide (or reference) a detailed protocol, including specific reagents or kits used, quality control procedures, reproducibility assessments, quantitation methods, and scoring and reporting protocols. Specify whether and how assays were performed blinded to the study endpoint.

Study design

6

State the method of case selection, including whether prospective or retrospective and whether stratification or matching (for example, by stage of disease or age) was used. Specify the time period from which cases were taken, the end of the follow-up period, and the median follow-up time.

7

Precisely define all clinical endpoints examined.

8

List all candidate variables initially examined or considered for inclusion in models.

9

Give rationale for sample size; if the study was designed to detect a specified effect size, give the target power and effect size.

Statistical analysis methods

10

Specify all statistical methods, including details of any variable selection procedures and other model-building issues, how model assumptions were verified, and how missing data were handled.

11

Clarify how marker values were handled in the analyses; if relevant, describe methods used for cutpoint determination.

RESULTS

Data

12

Describe the flow of patients through the study, including the number of patients included in each stage of the analysis (a diagram may be helpful) and reasons for dropout. Specifically, both overall and for each subgroup extensively examined report the number of patients and the number of events.

13

Report distributions of basic demographic characteristics (at least age and sex), standard (disease-specific) prognostic variables, and tumor marker, including numbers of missing values.

Analysis and presentation

14

Show the relation of the marker to standard prognostic variables.

15

Present univariable analyses showing the relation between the marker and outcome, with the estimated effect (for example, hazard ratio and survival probability). Preferably provide similar analyses for all other variables being analyzed. For the effect of a tumor marker on a time-to-event outcome, a Kaplan-Meier plot is recommended.

16

For key multivariable analyses, report estimated effects (for example, hazard ratio) with confidence intervals for the marker and, at least for the final model, all other variables in the model.

17

Among reported results, provide estimated effects with confidence intervals from an analysis in which the marker and standard prognostic variables are included, regardless of their statistical significance.

18

If done, report results of further investigations, such as checking assumptions, sensitivity analyses, and internal validation.

DISCUSSION

19

Interpret the results in the context of the pre-specified hypotheses and other relevant studies; include a discussion of limitations of the study.

20

Discuss implications for future research and clinical value.
Our intent is to explain how to properly report prognostic marker research, not to specify how to perform the research. However, we believe that fundamental to an appreciation of the importance of good reporting is a basic understanding of how various factors such as specimen selection, marker assay methodology and statistical study design and analysis can lead to different study results and interpretations. Many authors have discussed the fact that widespread methodological and reporting deficiencies plague the prognostic literature in cancer and other specialties [12–21]. Careful reporting of what was done and what results were obtained allows for better assessment of study quality and greater understanding of the relevance of the study conclusions. When available, we have cited published studies presenting empirical evidence of the quality of reporting of the information requested by the checklist items.
We recognize that tumor marker studies are generally collaborative efforts among researchers from a variety of disciplines. The current paper covers a wide range of topics and readers representing different disciplines may find certain parts of the paper more accessible than other parts. Nonetheless, it is helpful if all involved have a basic understanding of the collective obligations of the study team.
We have attempted to minimize distractions from more highly technical material by the use of boxes with supplementary information. The boxes are intended to help readers refresh their memories about some theoretical points or be quickly informed about technical background details. A full understanding of these points may require studying the cited references.
We aimed to provide a comprehensive overview that not only educates on good reporting but provides a valuable reference for the many issues to consider when designing, conducting and analyzing tumor marker studies. Each item is accompanied by one or more examples of good reporting drawn from the published literature. We hope that readers will find the paper useful not only when they are reporting their studies but also when they are planning their studies and analyzing their study data.
This paper is structured as the original checklist, according to the typical sections of scientific reports: Introduction, Materials and Methods, Results and Discussion. There are numerous instances of cross-referencing between sections reflecting the fact that the sections are inter-related, for example, one must speak about the analysis methods used in order to discuss presentation of results obtained using those methods. These cross-references do not represent redundancies in the material presented and readers are reminded that distinctions in focus and emphasis between different items will sometimes be subtle.
One suggestion in the REMARK checklist is to include a diagram showing the flow of patients through the study (see Item 12). We elaborate upon that idea in the current paper. The flow diagram is an important element of the Consolidated Standards of Reporting Trials (CONSORT) Statement, which was developed to improve reporting of randomized controlled trials (RCTs) [8, 22, 23]. Many papers reporting randomized trial results present a flow diagram showing numbers of patients registered and randomized, numbers of patients excluded or lost to follow-up by treatment arms, and numbers analyzed. Flow diagrams are also recommended in the Strengthening the Reporting of Observational Studies in Epidemiology (STROBE) Statement for reporting observational studies, including cohort studies [9]. A diagram would indeed be useful for prognostic studies to clarify the numbers and characteristics of patients included at each stage of the study. There are additional key aspects of prognostic studies that need to be reported and would benefit from standardized presentation. Accordingly we have developed a 'REMARK profile' as a proposed format for describing succinctly key aspects of the design and analysis of a prognostic marker study; we discuss the profile in detail in Item 12 below.
The original scope of the REMARK recommendations focused on studies of prognostic tumor markers that reported measurement of biological molecules found in tissues, blood and other body fluids. The recommendations also apply more generally to prognostic factors other than biological molecules that are often assessed in cancer patients, including the size of the tumor, abnormal features of the cells, the presence of tumor cells in regional lymph nodes, age and gender among others. Prognostic research includes study of the wide variety of indicators that help clinicians predict the course of a patient's disease in the context of standard care. REMARK generally applies to any studies involving prognostic factors, whether those prognostic factors are biological markers, imaging assessments, clinical assessments or measures of functional status in activities of daily living. REMARK applies to other diseases in addition to cancer. The processes of measuring and reporting the prognostic factors may differ, but the same study reporting principles apply.
We suggest that most of the recommendations also apply to studies looking at the usefulness of a marker for the prediction of benefit from therapy (typically called a predictive marker in oncology). Traditionally, predictive markers are evaluated by determination of whether the benefit of the treatment of interest compared to another standard treatment depends on the marker status or value. (See also Items 3 and 9 and Box 1 below.) A logical corollary to such a finding is that the prognostic value of that marker depends on the treatment the patient receives; for this reason, some view predictive markers as a special class of prognostic markers. Consequently, REMARK items apply to many aspects of these studies. In the explanations that follow for each of the checklist items, we attempted to make note of some special considerations for studies evaluating predictive markers. We hope that authors who report predictive marker studies will therefore find our recommendations useful. As predictive markers are usually evaluated in randomized trials, CONSORT [11] will also apply to reporting of predictive marker studies.
Although REMARK was primarily aimed at the reporting of studies that have evaluated the prognostic value of a single marker, the recommendations are substantially relevant to studies investigating more than one marker, including studies investigating complex markers that are composed of a few to many components, such as multivariable classification functions or indices, or are based on prognostic decision algorithms. These reporting recommendations do not attempt to address reporting of all aspects of the development or validation of these complex markers, but several key elements of REMARK do also apply to these developmental studies. Moreover, once these complex markers are fully defined, their evaluation in clinical studies is entirely within the scope of REMARK.
The development of prognostic markers generally involves a series of studies. These begin with identification of a relationship between a biological feature (for example, proliferative index or genetic alteration) and a clinical characteristic or outcome. To establish a clear and possibly causal relationship, a series of studies are conducted to address increasingly demanding hypotheses. The REMARK recommendations attempt to recognize these stages of development. For example, the discussion of Item 9 acknowledges that sample size determination may not be under the investigator's control but recommends that authors make clear whether there was a calculated sample size or, if not, consider the impact of the sample size on the reliability of the findings or precision of estimated effects. We anticipate that more details will be available in later stage studies, but many of the recommendations are also applicable to earlier stage studies. When specific items of information recommended by REMARK are not available, these situations should be fully acknowledged in the report so that readers may judge in context whether these missing elements are critical to study interpretation. Adherence to these reporting recommendations as much as possible will permit critical evaluation of the full body of evidence supporting a marker.
Checklist items
Discussion and explanation of the 20 items in the REMARK checklist (Table 1) are presented. For clarity we have split the discussion of a few items into multiple parts. Each explanation is preceded by examples from the published literature that illustrate types of information that are appropriate to address the item. Our use of an example from a study does not imply that all aspects of the study were well reported or appropriately conducted. The example suggests only that this particular item, or a relevant part of it, was well reported in that study. Some of the quoted examples have been edited by removing citations or spelling out abbreviations, and some tables have been simplified.
Each checklist item should be addressed somewhere in a report even if it can only be addressed by an acknowledgment that the information is unknown. We do not prescribe a precise location or order of presentation as this may be dependent upon journal policies and is best left to the discretion of the authors of the report. We recognize that authors may address several items in a single section of text or in a table. In the current paper, we address reporting of results under a number of separate items to allow us to explain them clearly and provide examples, not to prescribe a heading or location. Authors may find it convenient to report some of the requested items in a supplementary material section, for example on a journal website, rather than in the body of the manuscript to allow sufficient space for adequate detail to be provided. One strategy that has been used successfully is to provide the information in a supplementary table organized according to the order of the REMARK items [24]. The elements of the supplementary table may either provide the information directly in succinct form or point the reader to the relevant section of the main paper where the information can be found. Authors wishing to supply such a supplementary table with their paper may find it helpful to use the REMARK reporting template that is supplied as Additional file 1; it can also be downloaded from http://www.equator-network.org/resource-centre/library-of-health-research-reporting/reporting-guidelines/remark.
Introduction
Item 1. State the marker examined, the study objectives, and any pre-specified hypotheses
Examples
Marker examined
'Using the same cohort of patients, we investigated the relationship between the type, density, and location of immune cells within tumors and the clinical outcome of the patients.' [25]
Objectives
'The purpose of this study was to determine whether CpG island hypermethylation in the promoter region of the APC gene occurs in primary esophageal carcinomas and premalignant lesions, whether freely circulating hypermethylated APC DNA is detectable in the plasma of these patients, and whether the presence and quantity of hypermethylated APC in the plasma have any relationship with outcome.' [26]
'The goal of this study was to develop a sensitive and specific method for CTC [circulating tumor cell] detection in HER-2-positive breast cancer, and to validate its ability to track disease response and progression during therapy.' [27]
Hypotheses
"The prespecified hypotheses tested were that TS expression level and p53 expression status are markers of overall survival (OS) in potentially curatively resected CRC.' [28]
Explanation
Clear indication of the particular markers to be examined, the study objectives and any pre-specified hypotheses should be provided early in the study report. Objectives are goals one hopes to accomplish by conducting the study. Typical objectives for tumor marker prognostic studies include, among others, an evaluation of the association between tumor marker value and clinical outcome, or determination of whether a tumor marker contributes additional information about likely clinical outcome beyond the information provided by standard clinical or pathologic factors.
The description of the marker should include both the biological aspects of the marker as well as the time in a patient's clinical course when it is to be assessed. The biological aspects should include the type of molecule or structure examined (for example, protein, RNA, DNA or chromosomes) and the features assessed (for example, expression level, copy number, mutation or translocation). Most prognostic marker studies are performed on specimens obtained at the time of initial diagnosis. The marker could also be assessed on specimens collected at completion of an initial course of therapy (for example, detection of minimal residual disease or circulating tumor cells to predict recurrence or progression) or at the time of recurrence or progression. A thorough description of the marker and timing of specimen collection is necessary for an understanding of the biological rationale and potential clinical application.
The stated objectives often lead to the development of specific hypotheses. Hypotheses should be formulated in terms of measures that are amenable to statistical evaluation. They represent tentative assumptions that can be supported or refuted by the results of the study. An example of a hypothesis is 'high expression levels of the protein measured in the tumor at the time of diagnosis are associated with shorter disease-free survival'.
Pre-specified hypotheses are those that are based on prior research or an understanding of a biological mechanism, and they are stated before the study is initiated. Ideally, a systematic review of the literature should have been performed. New hypotheses may be suggested by inspection of data generated in the study. Analyses performed to address the new hypotheses are exploratory and should be reported as such. The distinction between analysis of the pre-specified hypotheses and exploratory analyses is important because it affects the interpretation (see Item 19) [9].
Results
Data
Item 12. Describe the flow of patients through the study, including the number of patients included in each stage of the analysis (a diagram may be helpful) and reasons for dropout. Specifically, both overall and for each subgroup extensively examined report the number of patients and the number of events
Examples
'Tumor samples from 375 patients were sent to the central laboratory for EGFR assays by IHC, and evaluable assay results were obtained for 325 patients (87%). Among the 50 patients with unevaluable results, 38 (76%) had insufficient tumor cells in their tumor sample, six (12%) had extensive necrosis, three (6%) had inadequate control staining, two (4%) had poor tumor preservation, and one (2%) had a broken slide.' [155]
Explanation
The interpretation of prognostic studies depends on having a good understanding of the patients included in the study, the methods used, the analyses conducted and the amount of data available at each stage. In contrast to RCTs, exploratory analyses play a much more important role (see Item 10). In general, several analyses are conducted of which only some are fully reported, with the results of others mentioned only briefly in the text (and easily overlooked) or not reported at all. This selective reporting practice gives rise to biased results and biased interpretation and should be avoided. Important information, such as the effective sample size (see Item 9), is usually not given for many analyses. At present, hardly any report fully meets the needs of readers [20, 21].
One way to ensure completeness of reporting of key information is via a structured display. Even for RCTs, which are relatively straightforward, it is often impossible to understand from the text why the numbers of patients in analyses differs from the numbers enrolled in the trial. Thus the CONSORT flow diagram [8] has become a widely used simple depiction of the flow of participants in an RCT from enrolment through to inclusion in the final analysis.
Analyzing and reporting prognostic studies is in general more complicated than for RCTs. Therefore, we suggest two complementary displays that authors can use to summarize key aspects of a prognostic study, especially the derivation of the sample and details of the analyses performed. A flow diagram provides an easy to follow view of the major changes in the population as the study proceeds; a study profile (see below) provides a succinct summary of the analyses performed and the data used in them.
The upper part of a study profile can be used to show the derivation of the sample of patients included in the study. It is analogous to the CONSORT [8] and STROBE [156] flow diagrams, but gives the information in a more condensed way and may make a flow diagram, as shown in the examples, redundant (see also Item 2). Its inclusion in reports of prognostic studies would help to clarify the extent to which the analyzed patients were selected from a larger series.
Knowing how many patients were included in a study is important, but information should be given about the amount of data available for each analysis. Missing values (see Box 2) are much more common in retrospective studies than in prospective studies due to the use of historical data. The complete case analysis is the most widely used method (see Item 10e); as a consequence, the number of patients and events will often vary across analyses according to the choice of adjusting variables. Further, the outcome measure and any restriction to a subgroup also affect the number of patients and events. These numbers are a key element determining the statistical reliability of any analysis. Readers thus need to understand which patients (and how many events) were included in each analysis, and also which variables were used. For all of these reasons, a standard format for reporting all analyses performed would be extremely helpful and is strongly recommended.
We developed a two-part study profile which has already been used in a paper on the reporting of prognostic studies [
20
]. As illustrated in the examples below, the first part gives details about how the marker of interest was handled in the analysis and which further variables were available. In addition, key information can usefully be provided in this part about the patient population, inclusion and exclusion criteria, and the number of eligible patients and events for each outcome in the full data set. In the first example (Table
2
), the number and reasons for patients excluded are given, but not the numbers for each reason. These numbers can easily be given and would help readers to assess a study.
a) Patients, treatment and variables

Study and marker

Remarks

Marker (If non-binary: how was marker analyzed? continuous or categorical. If categorical, how were cutpoints determined?)

M = ploidy (diploid, aneuploid)

Further variables

(variables collected, variables available for analysis, baseline variables, patient and tumor variables)

v1 = age, v2 = histologic type, v3 = grade, v4 = residual tumor, v5 = stage, v6 = ascitesa, v7 = estrogena, v8 = progesteronea, v9 = CA-125a

Patients

n

Remarks

Assessed for eligibility

257

Disease: Advanced ovarian cancer, stage III and IV

Patient source: Surgery 1982 to 1990, University Hospital Freiburg

Sample source: Archived specimens available

Excluded

73

General exclusion criteriab, non-standard therapyb, coefficient of variation > 7%b

Included

184

Previously untreated.

Treatment: all had platinum based chemotherapy after surgery

With outcome events

139

Overall survival: death from any cause

b) Statistical analyses of survival outcomes

Analysis

Patients

Events

Variables considered

Results/remarks

A1: Univariable

184

139

M, v1 to v5

Table 2, Figure 1

A2: Multivariable

174

133

M, v1, v3 to v5

Table 3 [v2 omitted because many missing data; Backward selection, see text]

A3: Effect for ploidy adjusted for v4

184

139

M, v4

Figure 2 [Based on result of A2]

A4: Interaction: ploidy and stage

175

133

M, v1, v2, v4, v5

See text

A5: Ploidy in stage subgroups

v5 = III

128

88

M

Figure 3

v5 = IV

56

51

M

Figure 4
As the patient population is often heterogeneous with regard to stage of the disease, treatment and other factors, it is common practice to assess the marker in several more homogeneous subgroups of the population. Furthermore, several outcomes (for example, DFS, distant DFS or overall survival, OS) are usually considered. Figures showing Kaplan-Meier estimates are often presented for a univariable assessment, for a continuous marker divided into subgroups. However, the results of further analyses and details about variables in a multivariable model are often only briefly summarized in the text or perhaps not mentioned at all. (See Box 5 for discussion of the implications of selective reporting.)
To help the reader understand the multiplicity of analyses and better assess the results, the second part of the proposed profile gives an overview of all analyses. Nearly all reports of prognostic marker studies include univariable, multivariable and subgroup analyses. Several multivariable analyses are often reported in prognostic marker studies. It is critical to know which variables were available in order to determine the most appropriate multivariable analysis for a given study. Also, it is frequently unclear which variables have been adjusted for in each analysis. Often, some analyses and their results are mentioned in just one sentence in the text (for example, 'the effect of marker x was the same in subgroup A' or 'the effect of marker x was unchanged when adjusting for the three variables v1, v2 and v3') and will only be noticed by a careful reader. Further, it may not be obvious that some analyses were based on only a small number of patients and a handful of events.
Reporting of estimated effects from models and estimates of survival curves often concentrate on DFS and results from OS are less prominently shown. One reason may be the larger number of DFS events, even though OS may be the more important outcome. Reporting the number of deaths may reveal that the effective sample size is very small. To assess the value of any analysis it is important to know both the number of patients and events (the effective sample size) for the outcome.
We attempt to illustrate the issues described above in relation to two rather different studies. The study by Pfisterer et al. [157] investigated the effect of ploidy in advanced ovarian cancer (see Table 2). As the disease has a very bad prognosis, the authors decided to consider OS as the only outcome of interest. Part (a) presents the information about the patients, treatments and variables studied. Part (b) gives an overview of all analyses with numbers of patients and events, and the reader is guided to where those results are presented in the report.
The study by Wadehra
et al
. [
158
] investigated the expression of epithelial membrane protein-2 in patients with endometrial adenocarcinoma (Table
3
). In contrast to the first example, both DFS and OS were investigated. Several features are immediately apparent: the sample sizes for these two outcomes differ, only one multivariable analysis was reported for each of the two outcomes, and the marker of interest did not enter the final model for OS. The profile thus gives reviewers, editors and readers a greater opportunity to evaluate what was done and whether anything important is missing. Indeed, creating such a profile should be helpful to authors too.
Table 3
Example of the REMARK profile illustrated using data from a study of expression of epithelial membrane protein-2 in patients with endometrial adenocarcinoma [158].
a) Patients, treatment and variables

136 Patients with endometrial adenocarcinoma assessed for eligibility, 37 excluded (33 no informative immune histochemistry, 4 without clinical information)

99 Patients included, stages IA to IVB

Formalin fixed, paraffin embedded endometrial tissue samples, Department of Pathology, UCLA Los Angeles, USA

Marker (and how was the marker handled in analysis?)

M = epithelial membrane protein-2

Immunoreactive score obtained by multiplying subscores for intensity (0 to 3+) and distribution of immunoreactivity (0 to 4+) grouped as negative (score 0), weak (1 to 3) or moderate-to-strong (4 to 12)

Outcomes:

DFS (97 patients, 42 events), OS (99 patients, 32 events)

Further variables:

v1 = age, v2 = ER, v3 = PR, v4 = vascular invasion, v5 = stage, v6 = histology, v7 = grade

b) Statistical analyses of survival outcomes

DFS

OS

Aim

Patients

Events

Patients

Events

Variables considered

Results/remarks

A1: Univariable

97

42

99

32

M, v1-v7

Figure 3, Figure 4, Table 2, Table 3

DFS: except v1 all significant

OS: all significant

A2: Multivariable

97

42

99

32

DFS: M, v2-v7

Table 4, Table 5

OS: M, v1-v7

In multivariable analysis: all significant in A1, then stepwise selection

Variables in final models: DFS: M, v5, v6; OS: v4, v6, v7 (M is not included)
Because of the large variety of analyses that may be performed, the profile for a specific study may need to differ in structure from these examples. However, we propose that the key elements of the profile, as shown in the two examples, be included. Wide adoption of this presentation format would considerably aid the transparent reporting of prognostic marker research and help to remedy the widespread deficiencies that have been well documented.
The need for a study profile is supported by the difficulty we encountered in finding published articles that presented all the information to construct a profile. Also, a review of 50 articles in cancer journals in 2006 to 2007 reporting tumor marker prognostic studies found that typically only half of the REMARK profile items were reported and these were often difficult to find [20]. Half of the articles did not report the number of events for any analyses or outcomes.
Item 13. Report distributions of basic demographic characteristics (at least age and sex), standard (disease-specific) prognostic variables, and tumor marker, including numbers of missing values
Examples
See Table
4
, Figure
2
and Figure
1
in [
29
]
Table 4
Example of tabular reporting of patient characteristics [180].
Patients

All

CK-19mRNA +

CK-19mRNA -

Characteristic

Number

%

Number

%

Number

%

P

Patients enrolled

444

100

181

40.8

263

59.2

Age, years

   Median

54

54

55

   Range

26 to 78

26 to 74

30 to 78

0.752

Menopausal status

0.075

   Premenopausal

191

43

87

45.5

104

54.5

   Postmenopausal

253

57

94

37.2

159

62.8

Tumor size

0.648

   T1

157

35.4

61

38.9

96

61.1

   T2

251

56.5

103

41

148

59

   T3

36

8.1

17

47.2

19

52.8

Histology grade

0.316

   I/II

204

46

87

42.6

117

57.4

   III

191

43

72

37.7

119

62.3

   Unknown

49

11

22

27

Infiltrated axillary lymph nodes

0.538

   0

163

36.7

61

37.4

102

62.6

   1 to 3

122

27.5

53

43.5

69

56.5

   ≥4

159

35.8

67

42.1

92

57.9

ER

0.779

   Negative

175

39.4

71

40.6

104

59.4

   Positive

260

58.6

109

41.9

151

58.1

   Unknown

9

2

1

8

PR

0.126

   Negative

234

52.7

89

38

145

62

   Positive

201

45.3

91

45.3

110

54.7

   Unknown

9

2

1

8

HER2

0.897

   0, 1+

290

65.3

122

42.1

168

57.9

   2+

53

11.9

21

39.6

32

60.4

   3+ by IHC

88

19.8

35

39.8

53

60.2

   Unknown

13

3

3

10

Adjuvant chemotherapy

0.425

   CMF

43

9.7

14

32.6

29

67.4

   FEC

209

47.1

84

40.2

125

59.8

   EC-T

192

43.2

83

43.2

109

56.8

Surgery

0.478

   L

310

69.8

123

39.7

187

60.3

   M

134

30.2

58

43.3

76

56.7

Radiotherapy

0.799

   No

81

18.2

32

39.5

49

60.5

   Yes

363

81.8

149

41

214

59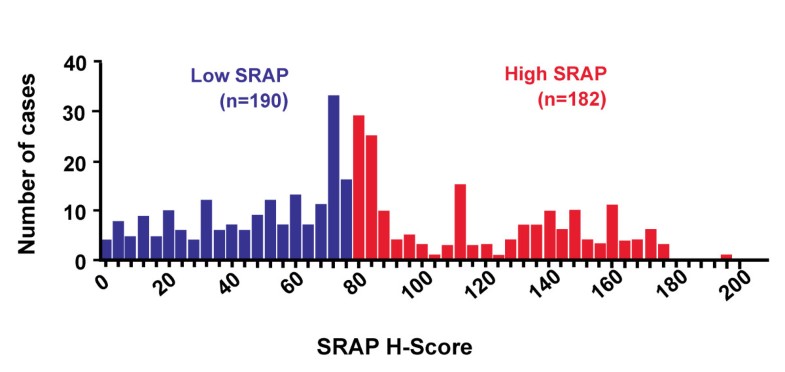 Explanation
Inclusion and exclusion criteria (Item 2) describe the target patient population. The group of patients included in a particular study is a sample from that population. Distributions of basic demographic variables and standard prognostic variables should be reported to characterize the group of patients who were actually studied. These demographic and standard prognostic variables are often the variables to be considered for inclusion in multivariable analyses (see Item 8). Distributions of age and sex should routinely be reported. If available, racial or ethnic distributions are sometimes helpful to report, as some markers have shown association with race and/or ethnicity (for example, the positive association between epidermal growth factor receptor gene mutation and Asian ethnicity). For most types of cancers, there are some standard clinical and pathologic prognostic variables (for example, pathologic stage information including nodal status, tumor size and presence of metastases, or clinical measures such as performance status), and distributions of these variables should be reported. The number of patients with missing values should be reported for each variable as should the number of patients for whom there are complete data on all variables or on those variables whose effect on a survival outcome is assessed in a multivariable model.
If patients are a subsample from a randomized trial or large defined cohort it is helpful to compare the characteristics of those with and without tumor marker measurements to help judge the generalizability of the findings.
A thorough description of the distribution of the marker of interest should also be provided. The distribution may be described by a frequency table or bar chart for categorical variables or numerically by use of summary statistics such as mean, median, percentiles, range and standard deviation for continuous variables. Figures such as histograms or boxplots are informative for continuous variables. Presenting continuous data only in categories is insufficient (see Box 4), but grouped data can be presented in addition to the summary statistics.
Analysis and presentation
Discussion
Item 19. Interpret the results in the context of the pre-specified hypotheses and other relevant studies; include a discussion of the limitations of the study
Examples
'We evaluated the prognostic significance of three VEGF SNPs in a large cohort of patients with esophageal cancer. In multivariate analysis, we showed that the heterozygous and homozygous variant genotype of VEGF 936C/T conferred an improved OS compared with the homozygous wild-type genotype ... Although this is the first study to evaluate VEGF SNPs in esophageal cancer, two prior gastric cancer studies reported conflicting results ... There are limitations to this study. Although others have correlated these VEGF SNPs with plasma VEGF levels, due to the lack of available tissue samples, we were unable to correlate VEGF genotype with VEGF mRNA or protein expression within tumors ... Secondly, the sample size of 361 is very large for esophageal cancer but is only average for all studies evaluating VEGF polymorphisms and cancer outcomes (median sample size, 413; range, 100-1193). Finally, we used a candidate polymorphism approach, which allows us to compare with studies of other disease sites and focuses on functional variants, but therefore will not evaluate the entirety of polymorphic variation across this gene.' [169]
'Our data demonstrate that COX-2 expression is associated with larger tumors, younger patient age, and generally more aggressive breast cancer. These findings are consistent with several other studies that have shown COX-2 expression to be associated with more aggressive disease. Studies evaluating COX-2 expression as it relates to breast cancer aggressiveness and outcome are summarized in Table 4.' [170]
Explanation
The discussion is the appropriate section for authors to interpret the data and suggest further research that might be needed. The section should begin by briefly restating the purpose of the study and recalling any pre-specified hypotheses. A simple summary of the major findings should follow. This allows the reader to assess if the study met its goals and to evaluate the evidence. A clear distinction should be made between conclusions based on pre-specified hypotheses and hypotheses suggested during the course of the data analysis.
The authors should critically evaluate the reported results. This evaluation should include an acknowledgment of any biases or inconsistencies in the data, limitations of the assay methods or limitations of the design or data analysis methods. For example, the study may have been underpowered, it may have been limited to only tumors of sufficiently large size, the assay might be lacking in reproducibility, important standard variables may have not been available (for example, tumor grade in breast cancer) and there may have been a large amount of missing data requiring certain assumptions to be made in the analyses. If there are strong biologically plausible subgroup effects, the discussion should review how the prognostic value of the marker varies across those subgroups. A thorough and open discussion will maximize the value of the study results to the broader community, regardless of whether the study results are as the investigators had hoped at the initiation of their study. This discussion should include the authors' assessment of whether the results of the study are generalizable to other populations not studied in the current report. Any unexpected findings should be identified. Even disappointing or unexpected findings can yield important insights.
Following the summary, there should be a discussion of how the results from the study integrate into the existing body of evidence. It is helpful to include an explanation for the choice of references cited (for example, only large studies or only studies in a similar patient population) to allow the reader to evaluate whether selective citation of references has influenced the interpretation of the results. If a systematic review was conducted, it should be described. (If the review was performed prior to initiation of the study, its description may fit better in Item 1.) Authors should comment on whether the results are consistent with, or differ from, the general tendency in previous studies and offer potential explanations for differences.
Item 20. Discuss implications for future research and clinical value
Example
'The association of SMAD4 gene inactivation with poorer prognosis and an increased propensity to metastasize has direct clinical implications. Some patients with pancreatic cancer have ''borderline'' resectable tumors - they have resectable pancreatic head cancers that are at high risk for a margin-positive resection. Whereas further work is needed, our results, combined with those previously reported in the literature, suggest that patients with borderline resectable pancreatic cancers and SMAD4 gene inactivation might be spared the risk of surgery because their cancer is more likely to metastasize, whereas patients with borderline resectable pancreatic cancers and intact SMAD4 may benefit from the local control provided by neoadjuvant therapy and surgical resection.' [171]
Explanation
The rationale for studying any marker, prognostic or otherwise, is to gain relevant information about the biology of the disease, to find new tools to aid in clinical decision-making or to develop new treatments. Observation of a statistically significant association between a marker and an outcome may be encouraging, but in the long term the difference in outcome should have clinically important implications for patient care. If a prognostic marker does not provide added value to existing prognostic information, it may nevertheless be useful if it can be assessed more easily, at lower cost or measured more reproducibly than markers currently used to provide clinically meaningful information.
In some cases, the results of a study will suggest that a marker has some promise for clinical value, but a firm conclusion cannot be drawn due to insufficient information. It is helpful in the discussion of future research plans to specifically identify information that is still lacking or inadequate. For example, further studies might need to be conducted in expanded patient populations or different patient subsets. Contemporary patient populations diagnosed and staged using updated methods and receiving more modern therapies and supportive care might need to be studied. Further research studies may be required to resolve differences in the performance of the marker noted in the literature. The assay method might need refinement to improve its robustness and accuracy before it is ready to be used in routine clinical settings.
Ultimately, the goal of the research is to provide a tool of clinically meaningful value to improve patient outcomes. The discussion needs to provide a clear understanding of what the current study has achieved toward that goal and what steps remain.
Final comments
Physicians seek information about tumor markers to inform therapeutic decisions for individual patients. The availability of a marker that can distinguish subsets of patients may also influence the design of clinical trials. In order for information about the utility of tumor markers to be appropriately evaluated, the methods used to study the markers and the results generated must be fully reported. The REMARK recommendations were designed to help authors ensure that reports of their tumor marker studies contain the information that readers need. Good reporting reveals the strengths and weaknesses of a study and facilitates sound interpretation and application of study results. The REMARK recommendations may also aid in planning new studies, and may be helpful for peer reviewers and editors in their evaluation of manuscripts.
It was always our intention to supplement the checklist publication [1–7] with a long explanatory paper, as has been done for CONSORT, STROBE and the Preferred Reporting Items for Systematic Reviews and Meta-Analyses (PRISMA) statement, for example [9–11, 172]. Following the same model as those articles, in this paper we have provided extensive discussion of each item in the REMARK checklist, providing the rationale and including illustrative examples of good reporting. Where possible we have referred to relevant empirical evidence from reviews of publications. We have also included several boxes to provide additional discussion of some key aspects of prognostic studies.
Although we have primarily focused on studies of single prognostic markers, most of the recommendations apply equally to other types of prognostic studies, including studies of multiple markers, studies to predict response to treatment and studies to develop prognostic models. The REMARK recommendations offer criteria against which to judge the completeness of reporting of marker studies. We hope that improvements will be seen over time, but as yet reviews have shown that incomplete reporting is regrettably common [15, 18, 20, 21, 173]. We believe that the REMARK recommendations should be useful in specialties other than cancer, and there are already examples that this is so [21, 174–176].
REMARK is not intended to dictate standards for the quality of research and it should not be used as such. However, it can be a useful tool to help assemble the information needed in order to assess the quality and relevance of research.
Reporting recommendations should change as necessary to reflect new empirical evidence and changes in our understanding of which aspects of research are important. We intend to monitor the literature for new evidence and critical comments in the expectation that the checklist will be updated in the future.
Several cancer journals ask authors to follow the REMARK recommendations in their instructions to authors; we encourage more journals to follow this example. Up-to-date information on REMARK and numerous other reporting guidelines can be found on the website of the EQUATOR Network http://www.equator-network.org.
Box 1. Subgroups and interactions: the analysis of joint effects
It is often of interest to consider whether the effect of a marker differs in relation to a baseline variable, which may be categorical or continuous. Categorical variables, such as stage of disease, naturally define subgroups and continuous variables are often categorized by using one or more cutpoints. Investigating whether the marker effect is different (modified) in subgroups is popular. Epidemiologists speak about effect modification; more generally this phenomenon refers to the interaction between two variables.
In the context of randomized trials, one of these variables is the treatment and the other variable defines subgroups of the population. Here the interaction between treatment and the marker indicates whether the marker is predictive of treatment effect (that is, a predictive marker) [185]. This analysis is easiest for a binary marker. Subgroup analyses are often conducted. The interpretation of their results depends critically on whether the subgroup analyses were pre-specified or conducted post hoc based on results seen in the data. Subgroup differences are far more convincing when such an effect had been postulated; unanticipated significant effects are more likely to be chance findings and should be interpreted as being interesting hypotheses needing confirmation from similar trials. The same principles apply to consideration of subgroups in prognostic marker studies.
Subgroup analyses need to be done properly and interpreted cautiously. It is common practice to calculate separate P values for the prognostic effect of the marker in separate subgroups, often followed by an erroneous judgment that the marker has an effect in one subgroup but not in the other. However, a significant effect in one group and a non-significant effect in the other is not sound evidence that the effect of the marker differs by subgroup [186, 187]. First, a single test of interaction is required to rigorously assess whether effects are different in subgroups [188]. Interactions between two variables are usually investigated by testing the multiplicative term for significance (for example, in a Cox model). In many studies the sample size is too small to allow the detection of other than very large (and arguably implausible) interaction effects [189]. If the test of interaction is significant, then further evaluation may be required to determine the nature of the interaction, particularly whether it is qualitative (effects in opposite directions) or quantitative (effects in same direction but differing in magnitude). Because of the risk of false positive findings, replication is critical [190].
For continuous variables, categorization is a popular approach, but it has many disadvantages: the results depend on the chosen cutpoints (see Item 11 and Box 4), and it reduces the power to detect associations between marker variables and outcome [191]. The multivariable fractional polynomial interaction approach is an alternative that uses full information from the data and avoids specification of cutpoints. It allows investigation of interactions between a binary and a continuous variable, with or without adjustment for other variables [191, 192].
Another approach to assess the effect of treatment in relation to a continuous variable is the Subpopulation Treatment Effect Pattern Plot [193].
Both approaches were developed in the context of randomized trials, but they readily apply to observational prognostic studies investigating the interaction of a continuous marker with a binary or a categorical variable such as sex or stage [110, 194].
Box 2. Missing data
Missing data occur in almost all studies. The most common approach to dealing with missing data is to restrict analyses to individuals with complete data on all variables required for a particular analysis. These complete-case analyses can be biased if individuals with missing data are not typical of the whole sample. Furthermore, a small number of missing values in each of several variables can result in a large number of patients excluded from a multivariable analysis. The smaller sample size leads to a reduction in statistical power.
Imputation, in which each missing value is replaced with an estimated value, is a way to include all patients in the analysis. However, simple forms of imputation (for example, replacing values by the stage-specific mean) are likely to produce standard errors that are too small.
Data are described as missing completely at random (MCAR) if the probability that a specific observation is missing does not depend on the value of any observable variables. Data are missing at random (MAR) if missingness depends only on other observed variables. Data are missing not at random (MNAR) if the probability of being missing depends on unobserved values including possibly the missing value itself.
Small amounts of missing data can be imputed using simple methods, but when multiple variables have missing values, multiple imputation is the most common approach [130, 195, 196]. Most imputation methods assume data are MAR, but this cannot be proved, and these methods require assuming models for the relationship between missing values and the other observed variables. Use of a separate category indicating missing data has been shown to bias results [195].
The plausibility of assumptions made in missing data analyses is generally unverifiable. When more than minimal amounts of data are imputed it is valuable to present results obtained with imputation alongside those from complete case analyses, and to discuss important differences (Item 18).
Box 3. Clinical outcomes
It is important to clearly define any endpoints examined (see Item 7). Events typically considered in tumor marker prognostic studies include death due to any cause, death from cancer, distant recurrence, local recurrence, tumor progression, new primary tumor or tumor response to treatment. The clinical endpoint is reached when the event occurs. For death, recurrence, progression and new primary tumor, there is usually interest not only in whether the event occurs (endpoint reached), but also the time elapsed (for example, from the date of surgery or date of randomization in a clinical trial) until it occurs. Time until last evaluation is used for patients without an event (time censored). The clinical outcome is the combination of the attainment or non-attainment of the endpoint and the time elapsed. Such clinical outcomes are referred to as time-to-event outcomes. Commonly examined outcomes in tumor marker prognostic studies are disease-free survival (DFS), distant DFS, and overall survival (OS). Different event types are sometimes combined to define a composite endpoint, for example DFS usually includes any recurrence (local, regional or distant) and death due to any cause. For composite endpoints, the time-to-event is the time elapsed until the first of any of the events comprising the composite endpoint occurs. As recently shown, a majority of articles failed to provide a complete specification of events included in endpoints [197].
Many clinical endpoints do not have standard definitions, although there have been some recent efforts to standardize definitions for some disease sites. The STandardized definitions for Efficacy End Points (STEEP) system [67] proposed standardized endpoint definitions for adjuvant breast cancer trials to address inconsistencies such as the fact that new primary tumors, non-cancer death and in situ cancers may or may not be included as events in DFS for breast cancer. Different names may be used interchangeably for one survival time outcome, for example, recurrence-free survival and DFS. Furthermore, there is not always agreement on which endpoint is the most relevant endpoint to consider in a particular disease setting. For example, reliable information about cause of death is sometimes not available, so considering death due to any cause is often preferred. In some situations, for example, in an older patient population with small risk of dying from the cancer, it can be argued that death due to cancer is more relevant because it is expected that many deaths will be unrelated to the cancer and including them in the endpoint could make the estimated prognostic effect of the marker difficult to interpret.
The endpoints to be examined should be decided on the basis of clinical relevance. The results for all endpoints that were examined should be reported regardless of the statistical significance of the findings (see Items 15 to 17 and Box 5). A demonstrated association of a marker with one of these endpoints does not guarantee its association with all of the endpoints. For example, local recurrence may be an indication of insensitivity to local or regional therapy (such as radiation therapy) whereas distant recurrence requires that tumor cells have the ability to metastasize. Different markers may be indicative of these distinct characteristics.
Box 4. Continuous variables
Many markers are recorded as continuous measurements, but in oncology it is common to convert them into categorical form by using one or more cutpoints (Item 11). Common reasons are to simplify the analysis, to make it easier for clinicians to use marker information in decision making, because the functional form of the influence of a marker is often unknown, and to facilitate graphical presentation (for example, Kaplan-Meier curves). Although categorization is required for issues such as decision making, it has to be stressed that categorization of continuous data is unnecessary for statistical analysis. The perceived advantages of a simpler analysis come at a high cost, as explained below. The same considerations apply to both the marker being studied and other continuous variables.
Categorization
Categorization allows researchers to avoid strong assumptions about the relationship between the marker and risk. However, this comes at the expense of throwing away information. The information loss is greatest when the marker is dichotomized (two categories).
It is well known that the results of analyses can vary if different cutpoints are used for splitting. Dichotomizing does not introduce bias if the split is at the median or some other pre-specified percentile, as is often done. If, however, the cutpoint is chosen based on multiple analyses of the data, in particular taking the value which produced the smallest P value, then the P value will be much too small and there is a large risk of a false positive finding [198]. An analysis based on the so-called optimal cutpoint will also heavily overestimate the prognostic effect, although bias correction methods are available [199].
Even with a pre-specified cutpoint, dichotomization is statistically inefficient and is thus strongly discouraged [153, 200, 201]. Further, prognosis is usually estimated from multivariable models so if cutpoints are needed as an aid in classifying people into distinct risk groups this is best done after modeling [153, 202].
Categorizing a continuous variable into three or more groups reduces the loss of information but is rarely done in clinical studies (by contrast to epidemiology). Even so, cutpoints result in a model with step functions which is inadequate to describe a smooth relationship [110].
Keeping variables continuous
A linear functional relationship is the most popular approach for keeping the continuous nature of the covariate. Often that is an acceptable assumption, but it may be incorrect, leading to a mis-specified final model in which a relevant variable may not be included or in which the assumed functional form differs substantially from the unknown true form.
A check for linearity can be done by investigating possible improvement of fit by allowing some form of nonlinearity. For a long time, quadratic or cubic polynomials were used to model non-linear relationships, but the more general family of fractional polynomial (FP) functions provide a rich class of simple functions which often provide an improved fit [203]. Determination of FP specification and model selection can be done simultaneously with a simple and understandable presentation of results [108, 110].
Spline functions are another approach to investigate the functional relationship of a continuous marker [101]. They are extremely flexible, but no procedure for simultaneously selecting variables and functional forms has found wide acceptance. Furthermore, even for a univariable spline model, reporting is usually restricted to the plot of the function because presentation of the parameter estimates is too complicated.
When the full information from continuous variables is used in the analysis, the results can be presented in categories to allow them to be used for tasks such as decision making.
Box 5. Selective reporting
Publication of the findings of only some of the research that was done in a field will lead to bias when publication choices are made with the knowledge of study findings. Selection is mostly in relation to whether or not results were statistically significant (P < 0.05) or show a trend in the favored direction. Selective reporting of studies, or selective reporting of only some analyses within studies, both lead to larger effects being seen in smaller studies, and literature that is biased towards overestimating the prognostic importance of tumor markers [204].
Evidence of biased non-publication of whole studies has been accumulating for many years, but recently research has demonstrated evidence of additional within-study selective reporting [205, 206]. Empirical evidence of study publication bias and within-study selective reporting primarily relates to randomized controlled trials, but it is likely to be a major concern for prognostic studies. Publication bias in prognostic studies may be worse as many of these studies are based on retrospective analysis of existing clinical databases. Indeed, there is no indication that a particular marker or marker-related hypothesis has been studied until and unless it is published. A review of 1915 articles on cancer prognostic markers found that less than 1.5% were fully negative, in that they did not present any statistically significant prognostic results [207]. A systematic review of studies of Bcl2 in non-small cell lung cancer revealed that almost all the smaller studies showed a statistically significant relationship between Bcl2 and risk of dying with large hazard ratios, whereas the three large studies were all non-significant and showed much smaller effects [208]. A review of the prognostic importance of TP53 status in head and neck cancer showed clearly that published studies had larger effects than unpublished studies [17, 209]. Such studies point to the value of a register of biomarker studies [210].
Possible within-study selective reporting could take several forms. For example, in cancer studies two principal outcomes are time to death (overall survival) and time to recurrence of disease (that is, disease-free survival). Many studies report only one of these outcomes. Although both unadjusted and adjusted results are usually provided, some studies only report unadjusted results [211]; in general they will be larger than adjusted results. Similar concerns relate to selective reporting of only some subgroup analyses performed. Reports should include discussion of all analyses performed and whether they were pre-planned (see Item 12). Often a number of exploratory analyses are conducted. The exploratory nature should be clearly stated. Reasons for these analyses and results can be summarized in a few sentences. A further issue is that some results are only reported partially, for example, solely as 'not significant', preventing that study from contributing to a subsequent meta-analysis.
Problems that can arise from selective reporting are discussed in relation to clinical endpoints, the flow of patients through the study and reporting of events and estimated effects for all variables in Items 7, 12 and 16, respectively. Obviously, selective reporting is an important impediment to reliable assessment of a marker according to evidence based medicine criteria [19, 212–214].
Declarations
Acknowledgements
We are grateful to the US National Cancer Institute and the European Organization for Research and Treatment of Cancer for their support of the first NCI-EORTC International Meeting on Cancer Diagnostics, from which the idea for these recommendations originated. We thank the US National Cancer Institute for the continued support through the preparation of this thorough explanation of the REMARK recommendations.
We wish to express special thanks to Margaret M Cavenagh (National Cancer Institute) for her exceptional help in setting up a protected website for document exchange and version control, setting up and documenting our international conference calls and assisting with reference checking.
We want to thank the colleagues who agreed to read and provide comments on an earlier draft of this manuscript: Dr Nils Brünner, Dr Gary Clark, Dr Henrica CW de Vet, Dr Massimo Gion, Dr Daniel F Hayes, Professor John Ioannidis, Dr Panayiotis A Kyzas, Professor Karel GM Moons, Dr David Ransohoff. Their comments were most helpful in developing the final document.
Funding
No direct funding was received for this study. DGA is supported by a grant from Cancer Research UK (C5529). The other authors were personally salaried by their institutions during the period of writing (though no specific salary was set aside or given for the writing of this paper). The funders had no role in study design, data collection and analysis, decision to publish, or preparation of the manuscript.
Authors' Affiliations
(1)
Centre for Statistics in Medicine, University of Oxford, Oxford, UK
(2)
US National Cancer Institute, Bethesda, USA
(3)
Institut fuer Medizinische Biometrie und Medizinische Informatik, Universitaetsklinikum Freiburg, Freiburg, Germany
(4)
ST-Consulting, Bethesda, USA
Copyright
© Altman et al.; licensee BioMed Central Ltd. 2012
This article is published under license to BioMed Central Ltd. This is an open access article distributed under the terms of the Creative Commons Attribution License (http://creativecommons.org/licenses/by/2.0), which permits unrestricted use, distribution, and reproduction in any medium, provided the original work is properly cited.