Research article

Open Access

Open Peer Review
This article has Open Peer Review reports available.
How do autoimmune diseases cluster in families? A systematic review and meta-analysis
Jorge Cárdenas-Roldán

1,

Adriana Rojas-Villarraga

1 and

Juan-Manuel Anaya

1

Email author
Received: 24 July 2012
Accepted: 18 March 2013
Published: 18 March 2013
Abstract
Background
A primary characteristic of complex genetic diseases is that affected individuals tend to cluster in families (that is, familial aggregation). Aggregation of the same autoimmune condition, also referred to as familial autoimmune disease, has been extensively evaluated. However, aggregation of diverse autoimmune diseases, also known as familial autoimmunity, has been overlooked. Therefore, a systematic review and meta-analysis were performed aimed at gathering evidence about this topic.
Methods
Familial autoimmunity was investigated in five major autoimmune diseases, namely, rheumatoid arthritis, systemic lupus erythematosus, autoimmune thyroid disease, multiple sclerosis and type 1 diabetes mellitus. Preferred Reporting Items for Systematic Reviews and Meta-Analysis (PRISMA) guidelines were followed. Articles were searched in Pubmed and Embase databases.
Results
Out of a total of 61 articles, 44 were selected for final analysis. Familial autoimmunity was found in all the autoimmune diseases investigated. Aggregation of autoimmune thyroid disease, followed by systemic lupus erythematosus and rheumatoid arthritis, was the most encountered.
Conclusions
Familial autoimmunity is a frequently seen condition. Further study of familial autoimmunity will help to decipher the common mechanisms of autoimmunity.
Keywords
Autoimmune diseasesfamilial autoimmunityaggregationgenetic epidemiologyautoimmune tautology
Background
Autoimmune diseases (ADs) are chronic conditions initiated by the loss of immunological tolerance to self-antigens; they represent a heterogeneous group of disorders that afflict specific target organs or multiple organ systems [1]. The chronic nature of these diseases places a significant burden on the utilization of medical care, increases direct and indirect economic costs, and diminishes quality of life. The estimated incidence of ADs is approximately 80 per 100,000 person years and their prevalence could be well beyond 3% of the population [2]. Most of the ADs asymmetrically affect middle-aged women and are among the leading causes of death for this group of patients. Although the frequency of ADs varies between countries [3], various studies have shown that, for some ADs, associations are found across populations [4].
ADs share several clinical signs and symptoms (that is, subphenotypes), physiopathological mechanisms, and genetic factors. These shared characteristics have been grouped under the term autoimmune tautology [
5
–
10
]. In clinical practice two conditions support this theory, namely, polyautoimmunity and familial autoimmunity, both of which are considered as being part of the 'kaleidoscope of autoimmunity' [
11
–
14
]. Whereas polyautoimmunity is the presence of two or more ADs in a single patient, familial autoimmunity occurs when relatives from a nuclear family present diverse ADs [
9
] (Figure
1
). These conditions indicate that similar genetic, epigenetic, and environmental factors influence the development of ADs [
7
]. The best examples of polyautoimmunity are the multiple autoimmune syndrome (MAS), which occurs when a patient has three or more ADs [
15
,
16
], and the polyglandular autoimmune syndromes type II, III and IV [
17
], which are in fact MAS.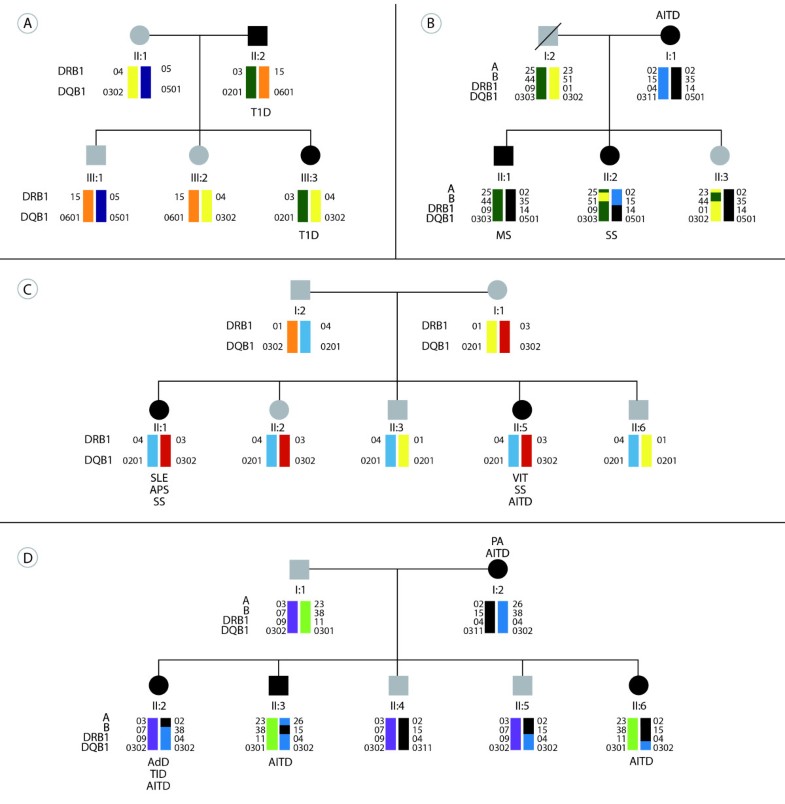 ADs do not begin at the moment they become clinically apparent but several years before. This implies that there is a chance to predict autoimmunity. Over the years, several risk factors have been associated with the onset of ADs. Among these the most widely studied are female gender [18], specific alleles at HLA and non-HLA loci [2, 19] and some environmental agents [20, 21]. In addition, the presence of auto antibodies may also predict specific clinical manifestations, disease severity and disease progression [22–27]. As reviewed by Tobon et al. [5] many auto antibodies have a predictive ability and they can be serologically evaluated long before the appearance of clinical disease. Thus, identification of these markers as well as a family history of autoimmunity and evaluation of their predictive value could be useful for personalized medicine.
A primary characteristic of complex diseases is that they are likely to aggregate in families (that is, familial aggregation, also referred to as recurrence risk or lambda, λ). The aggregation of a phenotype is observed when a disease occurs at a higher frequency in the relatives of an affected individual as compared with the frequency observed in the general population. Values of λ >1.0 indicate aggregation [9]. Aggregation of the same autoimmune condition, also referred to as familial autoimmune disease, has been extensively evaluated. However, aggregation of diverse autoimmune diseases, also known as familial autoimmunity, has been overlooked (Figure 1). Therefore, a systematic review and meta-analysis were performed aimed at gathering evidence about this topic.
Methods
Systematic review
A literature search was done even though 'familial autoimmunity' is not a Medical Subject Headings (MeSH) term. Nevertheless, the search was done in the electronic databases Medline and Embase, and included articles, from 1966 for the former and 1980 for the latter, up to June 2012. The search strategy was limited to humans and included the words '(familial OR clustering OR aggregation)' AND 'autoimmunity followed by each of the diseases we have focused on: 'multiple sclerosis,' 'diabetes mellitus, Type 1,' 'arthritis, rheumatoid' and 'lupus erythematosus, systemic' using MeSH terms and key words for 'autoimmune thyroid disease'. In order not to miss potentially eligible studies we used wild cards for the words familial, clustering and aggregation in the following manner: famil*, aggrega* and cluster*. No language restrictions were used. Articles were included if they fulfilled the following conditions: ADs diagnosis was carried out according to international criteria or through international classification of diseases, articles were published as full articles and, as mentioned earlier, if ADs in first degree relatives (FDRs) were different than in the proband. Studies were excluded if they only referred to autoantibody prevalence, if a clear cut distinction between diseases was not possible, if it was not possible to distinguish between probands and FDRs, if the studies were case reports, and if they dealt with a single family. Unpublished data were also excluded. Eligibility assessment was done by a primary reviewer who screened all titles and abstracts of publications. Retrieved articles were rejected if eligibility criteria were not met and a secondary reviewer was consulted in cases in which eligibility criteria were unclear. References from the articles that seemed to be relevant for our review were hand-searched. All articles were assessed according to the Oxford Centre for Evidence-based Medicine 2011 Levels of Evidence [28]. The search returned articles in which familial autoimmunity was assessed in other ADs and they were included. From each study we extracted data including total number of FDRs, numbers of FDRs affected, prevalence of ADs and, where possible, extraction of crude and adjusted measures of association, that is, odds ratio (OR) or risk ratio (RR). With the prevalences extracted, aggregation for different ADs across the five index diseases mentioned earlier was calculated by dividing the prevalence of a given AD in FDRs by the prevalence in the general population (λrelatives). We extracted data on prevalences from five reports [2, 29–32]. Inclusion criteria for the meta-analyses were applied to publications that provided epidemiological data on risk factors, RR and OR with confidence intervals (CI), or that provided information that allowed us to calculate these data. If the study did not report the number of subjects in each group, either the RR or the OR with the CI, must have been reported in order for them to be included in the meta-analyses calculations.
In order to study aggregation, we determined worldwide prevalences of ADs from five studies mentioned earlier [2, 29–32]. If a range was reported, we arbitrarily calculated the mean.
Meta-analyses
Data were analyzed using the Comprehensive Meta-Analysis Version 2 program (Biostat, Englewood, NJ, 2004). Calculations were carried out for the whole group of articles depending on the binary data available for any AD: number of subjects and risk data (OR and RR with the corresponding 95% CI). Effect size was calculated based on studies that reported an OR with its respective 95% CI and from raw data given by case-control and cohort studies. If raw data from cohort studies were available, a second effect size was calculated with studies that only showed the RR and the respective 95% CI. Different study designs were used to compute the same effect size since the effect size had the same meaning in all studies and was comparable in relevant aspects. In order to perform the analyses, the association measures were transformed to log values, and then the results were converted back to ratio values for presentation. This approach prevented the omission of studies that used an alternative measure. Two types of meta-analyses were done in order to analyze autoimmunity as a trait. First, a given AD in FDRs was analyzed through all the studies regardless of the AD of the proband. The second type of meta-analysis analyzed ADs in FDRs through all the studies from a specific AD present in the proband.
Additional meta-analyses were done for studies with complex data structures and non-cumulative results as the information for the different effects was not totally independent. This is the case for studies reporting multiple independent subgroups, that is, aggregation for son and daughter separately, within a study. A flow diagram of the current study is shown in Figure
2
.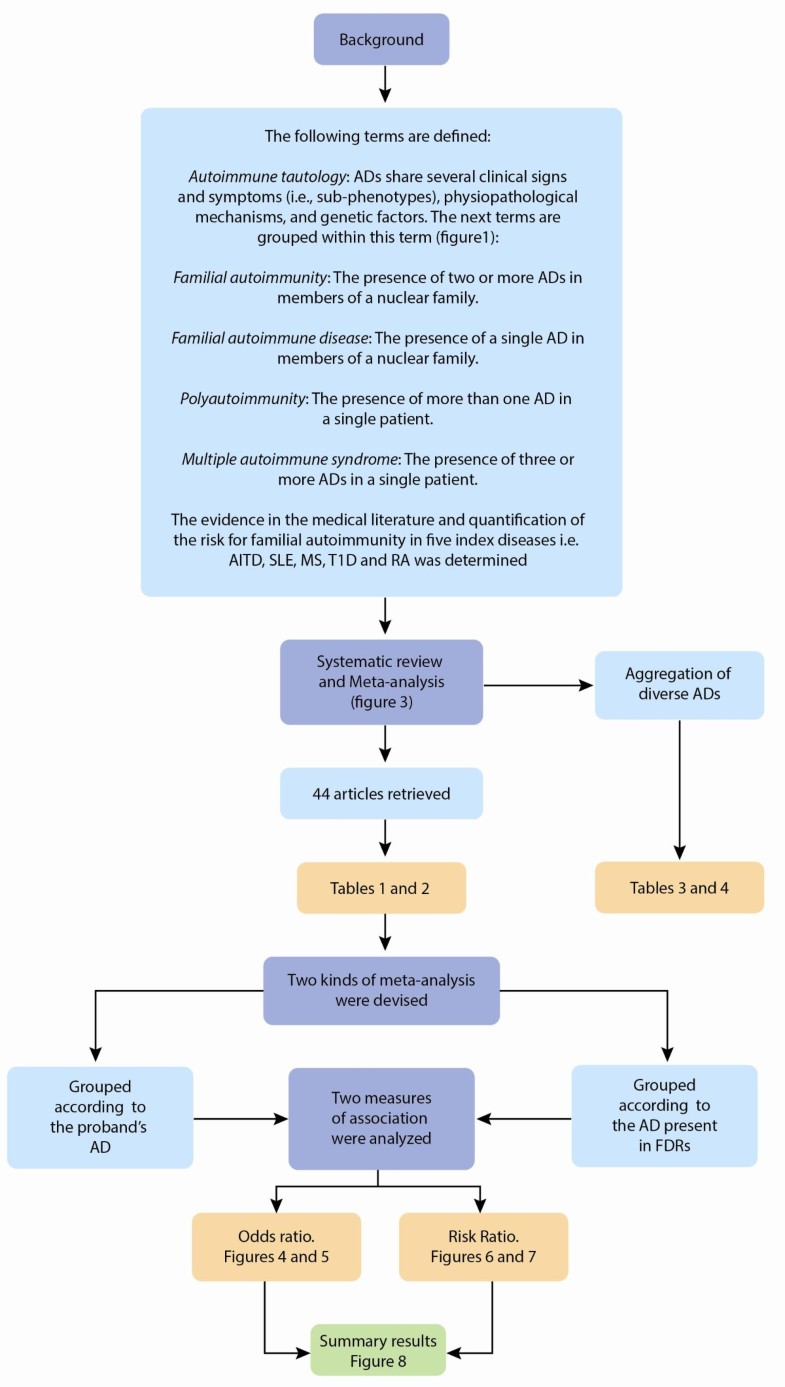 ORs were grouped by weighing individual ORs by the inverse of their variance. For each analysis, the final effect OR and 95% CI were obtained by means of the random effect model, which was preferred because it accepts distributions of true effect sizes rather than one true effect and assigns a more balanced weight to each study. It was also used because all the studies were considered to be unequal in terms of specific ADs.
Heterogeneity was calculated by means of Higgins's (I 2 ) tests. The variance between studies was estimated by the DerSimonian and Laird method. The I 2 test showed the proportion of observed dispersion that was real rather than spurious and was expressed as a ratio ranging from 0% to 100%. I 2 values of 25%, 50%, and 75% were qualitatively classified as low, moderate, and high, respectively. Publication bias was determined using Funnel plots and Egger's regression asymmetry tests.
Discussion
The results found in this work support aggregation of diverse ADs (that is, familial autoimmunity) and the view of a common origin for ADs (that is, the autoimmune tautology). While polyautoimmunity [
7
–
9
,
90
,
91
] and familial autoimmune disease [
1
,
9
,
42
,
92
–
94
] are well-supported concepts in the medical literature, few articles have familial autoimmunity as their primary concern. Familial autoimmunity is still a topic that has not been thoroughly explored. To our knowledge, this is the first study specifically designed as a systematic review and meta-analysis to find evidence for familial autoimmunity in five major ADs. Familial autoimmunity uses the concept of 'autoimmune disease' as a trait that encompasses all pathologies showing evidence of an autoimmune origin. AITD followed by SLE and RA were the most frequent ADs encountered (Figure
8
).

Our meta-analysis was developed in two stages. First, we wanted to determine the presence of familial autoimmunity as a trait in probands with the five index diseases mentioned earlier. However, a meta-analysis of studies having probands with SLE was not feasible. For the other four index diseases the meta-analyses indicate an increased risk of familial autoimmunity with RRs of 2.4, 1.6, 1.5, and 1.3 for AITD, T1D, RA and MS, respectively. It is not surprising to have AITD as the disease with a greater risk for familial autoimmunity as it is the most common AD worldwide. Meta-analyses with ORs as a measure of association were also done showing a significant relationship of familial autoimmunity with RA and MS probands.
Conversely, for our second approach, instead of grouping the studies for the meta-analyses by the proband's disease, we grouped the studies according to the disease present in FDRs. We must look at familial autoimmunity as a two way relationship depending upon which member of the nuclear family is the proband. Accordingly, we developed our second approach which also disclosed the presence of familial autoimmunity in a variety of ADs (Figure 4 and Additional file 1).
Several reasons may account for the heterogeneity found in our study, which have been also acknowledged by other authors [90, 95], namely, different study designs, geographical differences, lack of adequate controls, use of a selected group of probands, and information bias, that is, recall bias [96], diverse population characteristics, and assorted study dates. The quality of studies was certainly influenced by the lack of awareness of familial autoimmunity. In addition, with time diagnostic approaches may have a better performance which may lead to a false increase in diagnoses frequencies.
Aggregation analyses disclosed extreme values (Table 3 and Table 4), with familial recurrence risk values over 100 as in the case of SSc (λ for SSc in FDRs of SLE probands = 500 to 595) or the case for SLE (λ for SLE in FDRs of MS probands = 471). In addition to these extreme values, we had conflicting results as in the case between MS and RA, and T1D and AITD for which some studies found a lack of aggregation whereas others found the opposite. These discrepancies may be explained by the fact that there are differences in prevalence according to geographical location, that aggregation involves genetic and environmental factors and, also, by the arbitrary calculation of means whenever a prevalence range was reported.
In the clinical setting, clinicians should be aware of familial autoimmunity whenever they are attending patients with ADs (Figure 8). A search for autoimmunity in their FDRs should be encouraged by exploring the presence of auto-antibodies [5] and other risk factors [20, 21]. Since healthy subjects may have positive autoantibody titers, we decided only to include studies that were based on clinical diseases and not on the presence of autoantibodies.
ADs follow a multifactorial (or complex) inheritance pattern which represents an interaction between the collective effect of the genotype at multiple loci (polygenic or multigenic effects) either to raise or to lower susceptibility to disease, combined with a variety of environmental exposures that may trigger, accelerate, exacerbate, or protect against the disease process. Besides assessing the increased frequency of familial autoimmunity, the search also retrieved studies describing how this familial autoimmunity presents. A predominant inheritance of the autoimmunity trait from mothers was evident in some ADs including SS [62], juvenile idiopathic arthritis [97] and T1D [40]. This is indicative of a preferential transmission of susceptibility alleles from mothers to offspring. Maternal transmission of autoimmunity could be influenced by the high preponderance of ADs in women as compared with the general population. However, this higher than expected frequency of maternal transmission of the autoimmunity trait would warrant further studies of mitochondrial DNA, genomic imprinting, maternal-offspring compatibility, gene-environment and indirect genetic effects in ADs [62].
Another factor that influences familial autoimmunity is race [40, 98, 99]. Houghton et al. [98] compared the prevalence of familial autoimmunity between 'native' (Amerindian) and other groups in pediatric patients in the United States. In a small sample (6 Amerindians with SLE versus 34 non Amerindian population with SLE ), 83% of the native probands had a familial history of ADs while this was true for only 19% of the non-natives [98]. Meanwhile, with a larger sample size, the GLADEL study found that mestizos had more familial autoimmunity than other racial groups [42]. In fact, ancestry influences the risk and outcome of autoimmunity [99].
We would like to acknowledge the limitations of our study. First, the search was focused on five principal ADs, but we identified articles with probands from other ADs. It is probable that the number of articles retrieved from these ADs is less than if a specific search was done for each of these diseases. Second, we recall the heterogeneity of the study [100, 101]. Third, in our search we found articles that did not distinguish between the presence of autoantibodies and a clinical diagnosis of an AD. This also should be taken into account in future studies as the presence of autoantibodies may occur in healthy people. Nevertheless, as stated earlier, they may herald a later onset of a given AD and, therefore, it may be clinically important to follow up those individuals.
Conclusions
The importance of familial autoimmunity has been shown [102]. AITD followed by SLE and RA are the most frequent ADs in familial autoimmunity. Although non-genetic factors may have an effect on familial aggregation, shared genetic factors, in fact, may be the more likely cause for this aggregation [9]. Genes with larger effects (higher penetrance) are related to Mendelian patterns of inheritance, whereas those with smaller effects (lower penetrance) are related rather to complex traits, such as ADs. Identification of such genes, predisposing and affecting the outcome of ADs, is a major challenge for the near future. Given the clinical and etiologic heterogeneity of ADs, understanding the relationship of genotype to phenotype is an extremely important goal for research aimed at gene identification. Thus, further studies of familial autoimmunity will help in increasing the knowledge about the common mechanisms of autoimmunity. Genomics and other related disciplines will offer the tools to accomplish this task, allowing us to predict and prevent ADs, tailor individual medical decisions, and provide personalized healthcare while facilitating the patients' participation in their treatment and eventual cure of their disease [103].
Abbreviations
AA:

alopecia areata
AdD:

Addison's disease
AD:

autoimmune disease
AITD:

autoimmune thyroid disease
AS:

ankylosing spondylitis
C&C:

case control
CD:

celiac disease
CI:

confidence interval
CrD:

Crohn's disease
DL:

discoid lupus
FDRs:

first degree relatives
GLADEL:

Grupo Latinoamericano de Estudio de Lupus
HA:

hemolytic anemia
IBD:

inflammatory bowel disease
IIM:

idiopathic inflammatory myositis
JDM:

juvenile dermatomyositis
JRA:

juvenile rheumatoid arthritis
JSLE:

juvenile systemic lupus erythematosus
MAS:

multiple autoimmune syndrome
MG:

myasthenia gravis
MS:

multiple sclerosis
OR:

odds ratio
PA:

pernicious anemia
PAN:

polyarteritis nodosa
PBC:

primary biliary cirrhosis
PSO:

psoriasis
RA:

rheumatoid arthritis
RR:

risk ratio
SIR:

standardized incidence ratio
SLE:

systemic lupus erythematosus
SS:

Sjögren's syndrome
SSc:

systemic sclerosis
T1D:

type 1 diabetes
UC:

ulcerative colitis
VIT:

vitiligo
WG:

Wegener's granulomatosis
λ:

recurrence risk.
Declarations
Acknowledgements
We thank the reviewers for their constructive and helpful suggestions, as well as our colleagues Mauricio Arcos-Burgos, Pierre Youinou and Yehuda Shoenfeld for their fruitful discussions. This work was supported by Universidad del Rosario and Colciencias (122254531722), Bogota, Colombia.
Authors' Affiliations
(1)
Center for Autoimmune Diseases Research (CREA), School of Medicine and Health Sciences, Universidad del Rosario, Bogota, Colombia
Copyright
© Cárdenas-Roldán et al; licensee BioMed Central Ltd. 2013
This article is published under license to BioMed Central Ltd. This is an Open Access article distributed under the terms of the Creative Commons Attribution License (http://creativecommons.org/licenses/by/2.0), which permits unrestricted use, distribution, and reproduction in any medium, provided the original work is properly cited.